Bond experts' top 5 concerns are bad news for Illinois taxpayers
As long as the state mandates pension rules and regulations for local governments, unfunded pension liabilities will continue to pressure local budgets.
Public pensions and the proliferation of municipal bankruptcies are among the top five most important issues facing municipal bond markets, according to a recent survey by Janney Capital Markets. The survey results included responses from 162 municipal bond credit analysts.
Municipal pension liabilities are particularly concerning in Illinois because local governments don't have the ability to reform their local pension systems – pension rules and regulations are set by the state. The unsustainable burden caused by these mandates is putting pressure on local budgets across Illinois, even as residents are stuck paying the second-highest property taxes in the nation.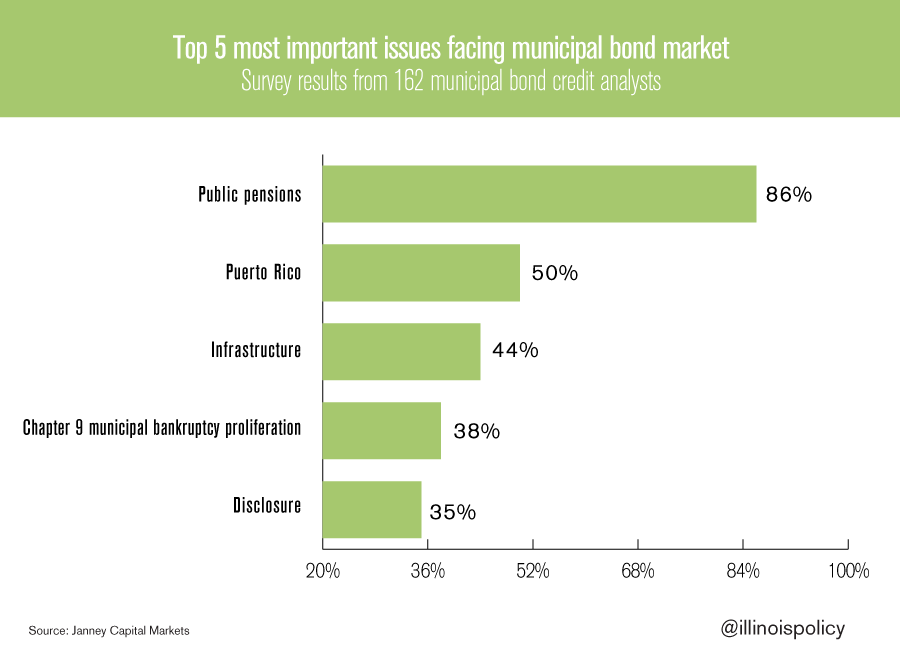 "It's 2015, we're multiple years out of the recession and there are still several state and local governments that are experiencing structural imbalances and their pension funding levels are still inadequate, or I'd say very inadequate," said Tom Kozlik, a municipal credit analyst at Janney Capital Markets.
Unfunded pension liabilities have been a significant drag on state and local governments – leading to multiple rating downgrades in Chicago just over the last few months.
In February, Moody's Investors Service downgraded Chicago's credit rating to Baa2 from Baa1, and maintained a negative outlook. Chicago debt now stands a mere two notches above junk-bond status. Moody's attributed the downgrade to "expected growth in Chicago's already highly elevated unfunded pension liabilities and continued growth in costs to service those liabilities, even if recent pension reforms proceed and are not overturned in legal appeal."
Moody's also downgraded Chicago Public Schools to Baa3, just one notch above junk status, and citied the pressure that pension debt is having on the school system and the city of Chicago.
It's clear that absent structural reform, pension liabilities caused by the state-mandate status quo will result in additional credit downgrades for the city of Chicago, its sister governments and municipalities across Illinois. This can only mean further tax hikes and service cuts for the state's tapped-out residents.