Bottle racket: Illinois' high alcohol taxes boost cost of Independence Day celebrations
The Land of Lincoln has some of the highest alcohol taxes in the Midwest. And Illinoisans preparing for Independence Day are feeling the pinch.
Americans spend more than $1.5 billion on beer and wine alone in preparing for their Independence Day celebrations. But those purchases won't come cheap for many Illinoisans, as the Prairie State has some of the highest alcohol taxes in the Midwest.
Illinois' alcohol excise taxes stick out among many of its neighboring states, leaving many border-state businesses at a disadvantage. Bob Myers, president of the Associated Beer Distributors of Illinois, estimates Illinois loses out on up to $30 million per year to cross-border alcohol purchases.
Illinois taxes beer at 23 cents per gallon, wine at $1.39 per gallon and distilled spirits at $8.55 per gallon.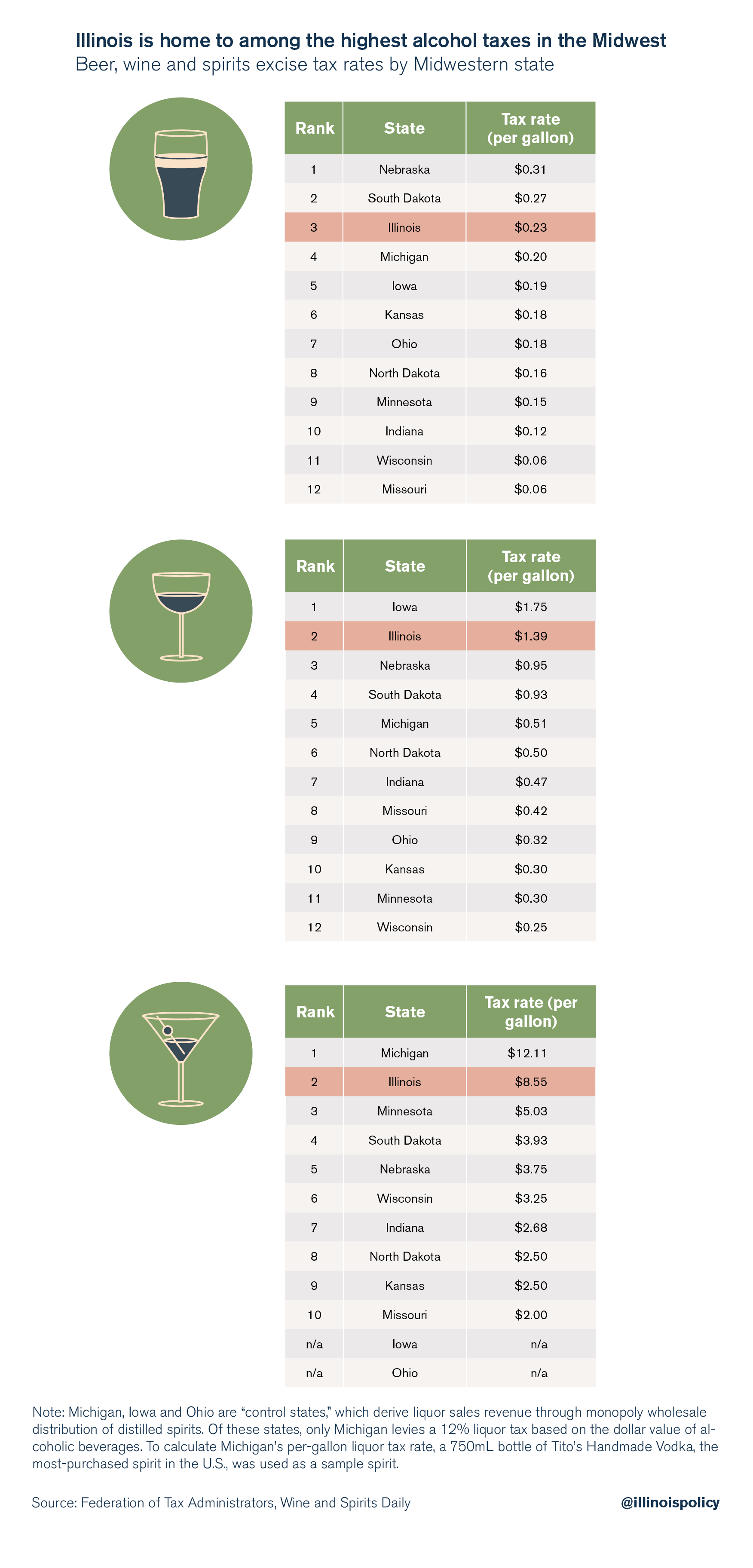 Nebraska and South Dakota are the only states in the Midwest to tax beer at a higher rate than Illinois. Illinois' wine taxes are second highest among Midwestern states, only surpassed by Iowa. And Illinois' taxes on distilled spirits are second highest in the Midwest to Michigan, while ranking third highest nationwide.
Federal and state excise taxes on alcohol are factored into the retail price of alcoholic beverages. But added onto that price tag are state and local taxes, which combine to make Illinois' average sales tax burden the highest in the Midwest.
And that's not all. In some municipalities, local alcohol taxes are also heaped onto the retail price. The city of Chicago, for example, tacks an additional tax of 29 cents per gallon onto beer, and Cook County levies another 9 cents per gallon. Purchasing hard liquor in Chicago, consumers will incur a combined local alcohol tax of $5.18 per gallon – with $2.68 per gallon and $2.50 per gallon levied by the city and county, respectively – on top of state and federal alcohol taxes.
All told, Chicagoans stocking up for Independence Day will be hit with four layers of excise taxes – federal, state, county and city alcohol taxes – in addition to state and local sales taxes.
These layers of taxation drive up the total price of alcoholic beverages, tightening Illinoisans' Independence Day budgets. Alcohol taxes are just one example of how governments at all levels squeeze consumers in Illinois. In keeping with Illinoisans' growing favor for cross-border fireworks errands, many residents will likely be making their holiday liquor purchases across state lines as well.