Chicago alderman proposes tax on childbirth
Amid Illinois' population decline, Ald. Ray Lopez proposed taxing conception and licensing childbirth.
The tragic death of an infant in Chicago's 15th Ward provoked a volatile Twitter response from local Ald. Ray Lopez, which included calls to create new barriers for couples who wish to conceive and raise children.
Among the desired proposals included in Lopez's tweets were "conception fees" and a license on childbirth, before later conceding that "this is not China" and that such measures were unlikely lawful in the United States.
Lopez's tweets also called for a "toddler escrow." He told the Chicago Sun-Times that he "was serious" and that if it were possible "to legally implement parental licensing or conception fees" he would spearhead the effort.
"We're not a Communist country with child-bearing laws," Lopez lamented, according to the Sun-Times.
"Tired of these sick bastards killing babies because they are too immature to be parents," Lopez tweeted in response to an autopsy showing a 9-month-old had died after suffering horrifying physical abuse. The infant's father, Joshua Jarez, is being held without bail on one count of first-degree murder.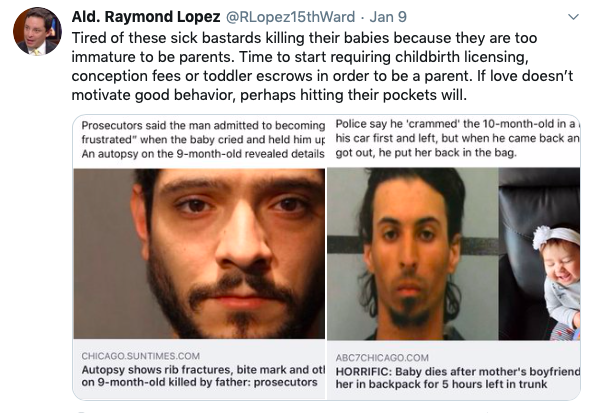 Coincidentally, high taxes are already cutting into Illinois' population.
Illinois saw the largest raw population decline in the nation over the previous decade, driven by a loss of prime working-age residents to other states.
The No. 1 reason Illinoisans cite for wanting to leave the state? High taxes.
Illinois voters will face a choice on their November ballots on whether to approve a $3.7 billion progressive income tax hike, a proposal championed by Gov. J.B. Pritzker and House Speaker Mike Madigan.