Chicago City Council records reveal severe shortage of serious legislation
Substantive ordinances make up less than 2 percent of all legislation considered by the current City Council over the past two years.
The Chicago City Council has reached the midpoint of its elected term. With historic levels of violence in the city, dismal out-migration numbers, and the continuing budget crises of Chicago Public Schools and Chicago as a whole, there is no shortage of problems to tackle.
So what has the City Council been up to? A review of city records shows substantive legislation is an unfortunate rarity.
Chicago's current City Council took office May 18, 2015. Between May 2015 and May 2017, aldermen have considered nearly 19,000 pieces of legislation. These numbers increase when accounting for honorary resolutions, which are vehicles for aldermen to congratulate, mourn or otherwise recognize individuals. Aldermen have drafted 1,627 honorary resolutions, or 8 percent of all legislation, since taking office. All told, the City Council has considered over 20,000 pieces of legislation.
The Committee on Transportation and Public Way and the Committee on Pedestrian and Traffic Safety heard the majority of these items, considering 4,730 grants of privilege for use of the public way (24.9 percent), 4,364 disabled parking permits (23 percent), and 2,570 sidewalk café permits (13.5 percent) between May 2015 and May 2017.
Meanwhile, substantive citywide legislation, including new fines and fees, the regulation of items and businesses, and subject matter hearings, accounted for only 307 pieces of legislation, or 1.5 percent – far fewer than the number of honorary resolutions considered.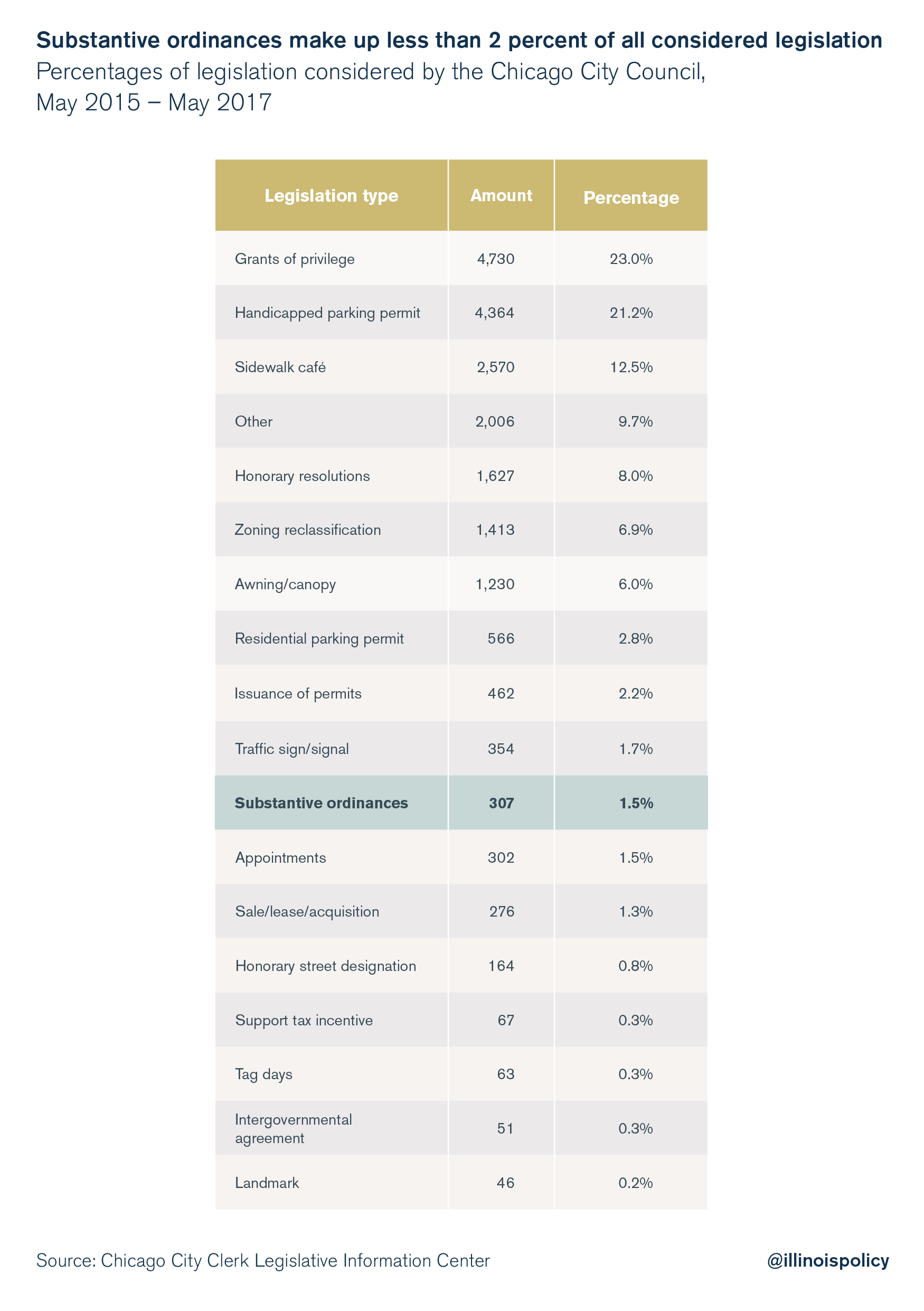 Even when removing the count of honorary resolutions, substantive ordinances make up less than 2 percent of all legislation considered.
When examining all the legislation, it's clear that the City Council spent a significant amount of time considering standard procedural items. Most of these items have already had departmental consideration and approval. For example, the Committee on Transportation and Public Way considers sidewalk café permits. A restaurant owner who wishes to obtain this permit must submit an application to the Chicago Department of Business Affairs and Consumer Protection, obtain the alderman's signature in support, and then have the permit introduced and considered by the Committee on Transportation and Public Way and the full City Council. Furthermore, the committee "packages" all sidewalk café permits together and passes them without discussion or other consideration. This amounts to a duplicative level of government oversight that consumes time and resources.
Mayor Rahm Emanuel reorganized the City Council committees in 2011 by reducing the number of committees to 16. While this reduced some overhead, it failed to truly address the government waste that exists in the committee structure. The City Council should consider eliminating duplicative layers of government where possible to free up valuable resources to combat the major problems the city faces.
More broadly, Chicago City Council should take steps toward becoming a true legislative body, wherein aldermen are expected primarily to consider issues of citywide importance, rather take on an administrative, ombudsman-like role within their wards. The former can yield more solutions for Chicago's problems, open debate and a robust decision-making process. The latter works against those ends.