Chicago only major U.S. city to lose population from 2015 to 2016
While major headlines broke over news that Chicago was the only one of America's largest 20 cities to shrink from July 2015 to July 2016, most of Illinois' other cities with 50,000 people or more also lost population.
The majority of major cities in Illinois are shrinking as the Land of Lincoln depopulates due to massive out-migration to other states.
But while most of Illinois' cities and towns are continuing to shrink, the majority of cities and towns in Illinois' bordering states are growing, according to data from the U.S. Census Bureau.
When Illinoisans are polled on why they are leaving, taxes are the No. 1 reason they cite. Yet Illinois politicians continue to raise taxes, showing that political leaders have not yet heard the message of the state's residents.
Chicago shrank more than any other U.S. city, but Berwyn, Cicero and Peoria are shrinking faster on a per capita basis
Chicago's population declined by 8,638 people from July 2015 to July 2016, a larger loss than any other major American city. Illinois has 29 cities with 50,000 people or more, and 21 of those cities also shrank in total size.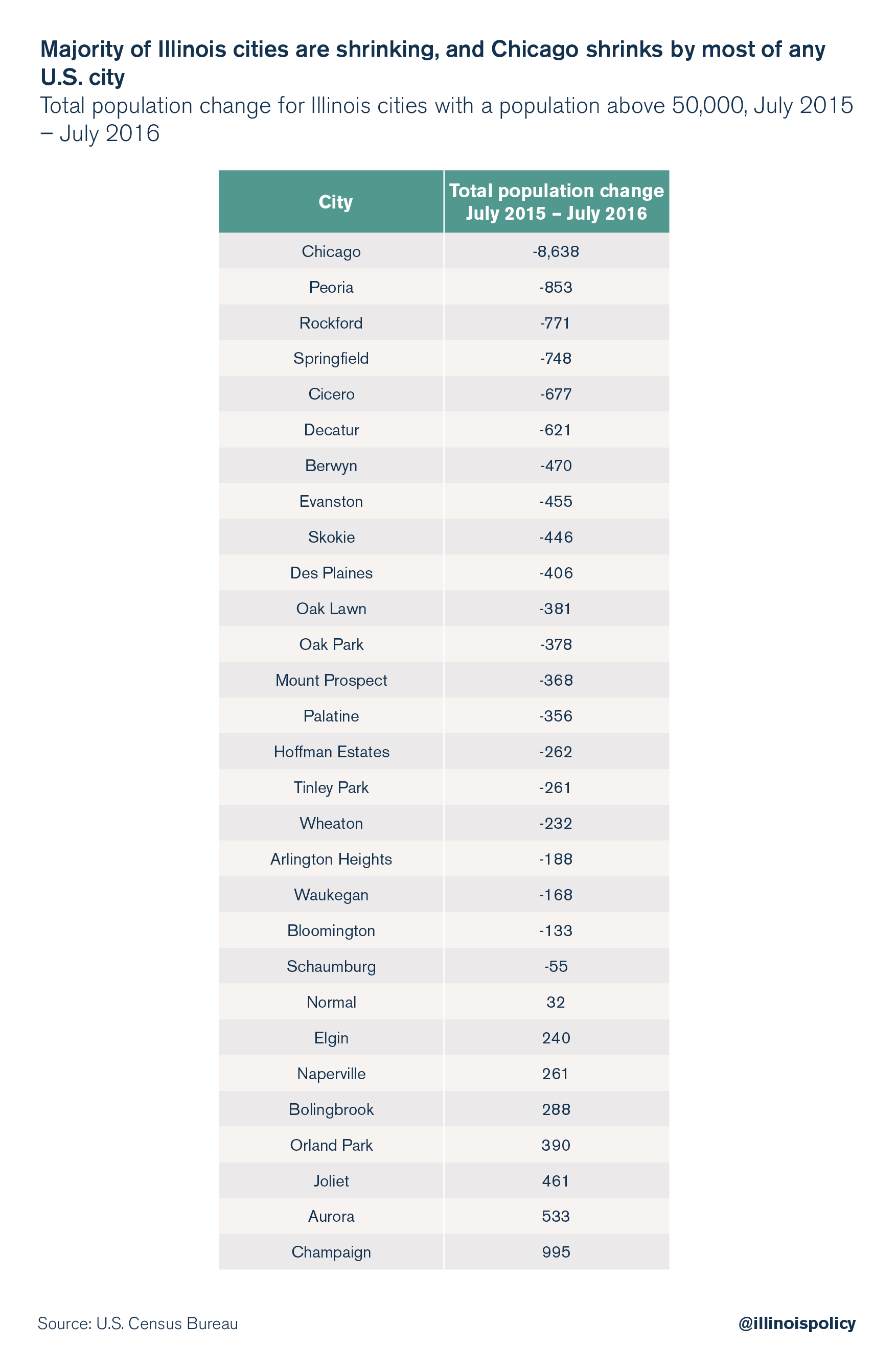 However, on a per capita basis, Decatur is shrinking more than any other city in Illinois. Decatur's population shrank by 8.5 people per 1,000 residents from July 2015 to July 2016. That means that for every 1,000 people in Decatur in 2015, there were 8.5 fewer people in Decatur in 2016.
On a per capita basis, Decatur's loss was followed by Berwyn, Cicero, Peoria and Oak Park, all of which shrank by more than seven people per 1,000 residents.
Eight of these larger Illinois cities had population growth year over year. Champaign is the only Illinois city that had more than 1 percent population growth, fueled almost entirely by the arrival of international students at the University of Illinois.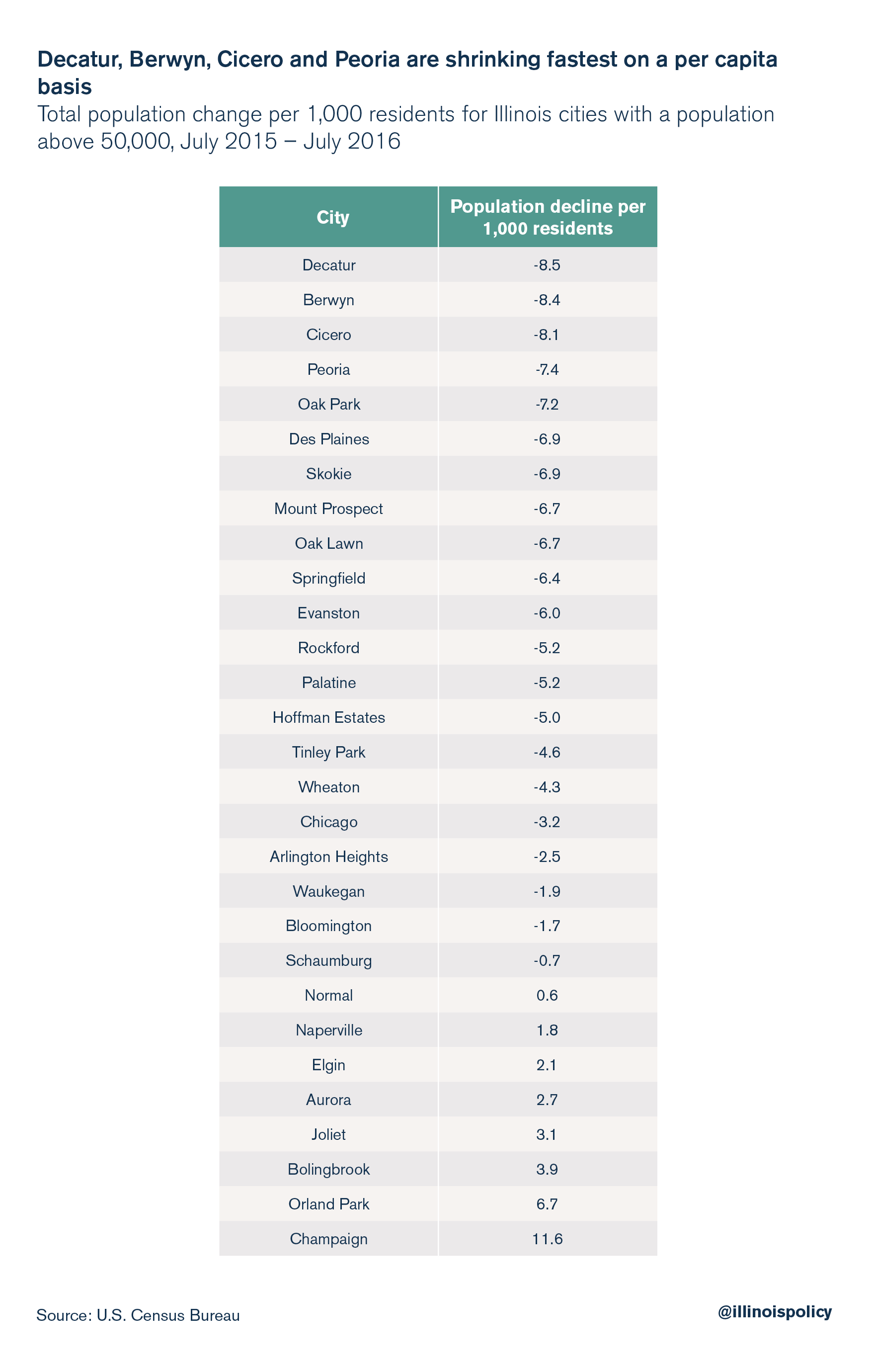 Most of these cities are shrinking because there are so many people leaving for other parts of the country. Those losses to other parts of the country outweigh the normal population gains experienced across the state from having more births than deaths, and having a small inflow of international immigrants.
Illinois' neighbors are watching most of their biggest cities grow
The story is different in neighboring states, where most cities with more than 50,000 people are growing. Illinois' border states have 58 cities with more than 50,000 people, and 38 of them are growing. That means that 65 percent of such cities in neighboring states are growing.
In Illinois, only eight of 29 cities with populations of 50,000 or more are growing, which is only 28 percent of Illinois cities with more than 50,000 people.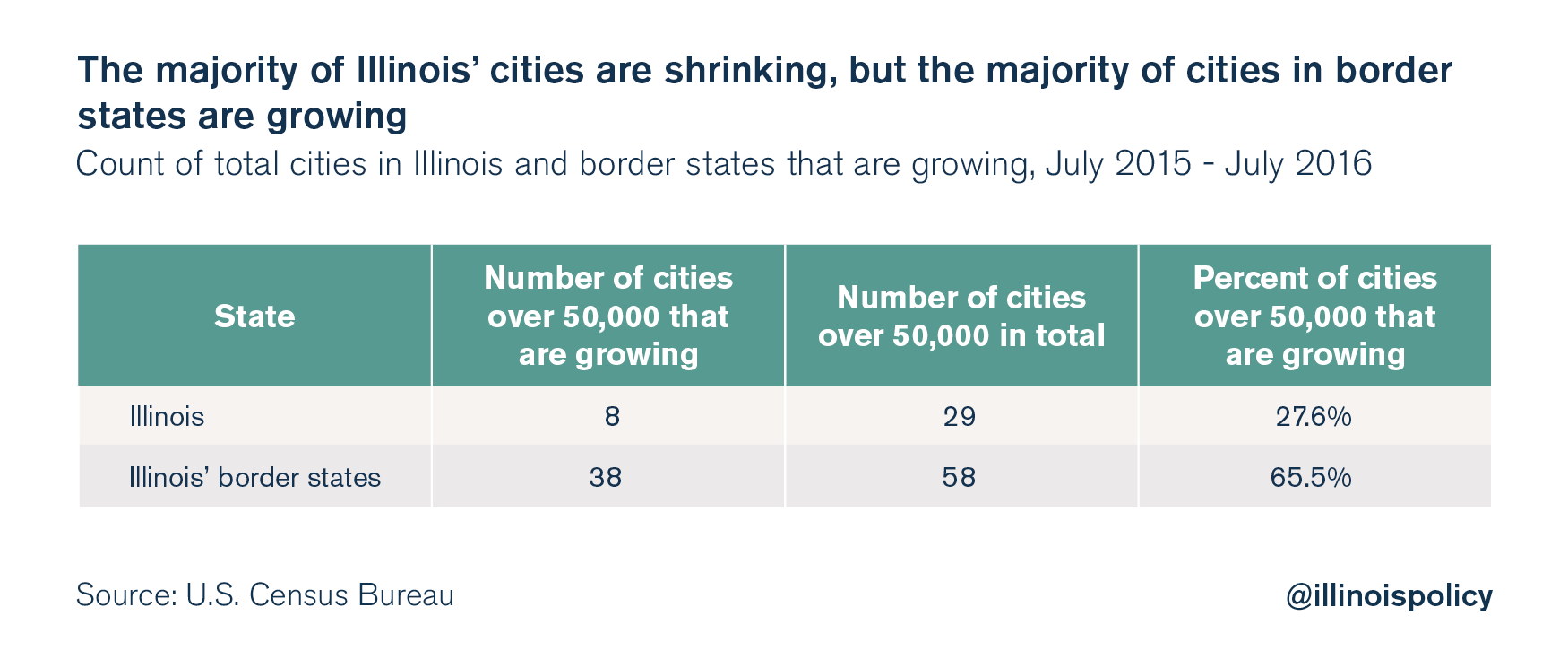 A large part of the reason Illinois' border states have growing cities and Illinois has shrinking cities is because Illinois is losing the border wars with all of its neighbors. Illinoisans are flooding into bordering states faster than ever before. Over the last 10 years, Illinois has experienced large net migration losses to nearly all of its bordering states, and those losses have accelerated in recent years. (The exception to this 10-year trend is Michigan, which shares a lake border with Illinois and to which Illinois had net losses of residents over only the two most recent years of data.)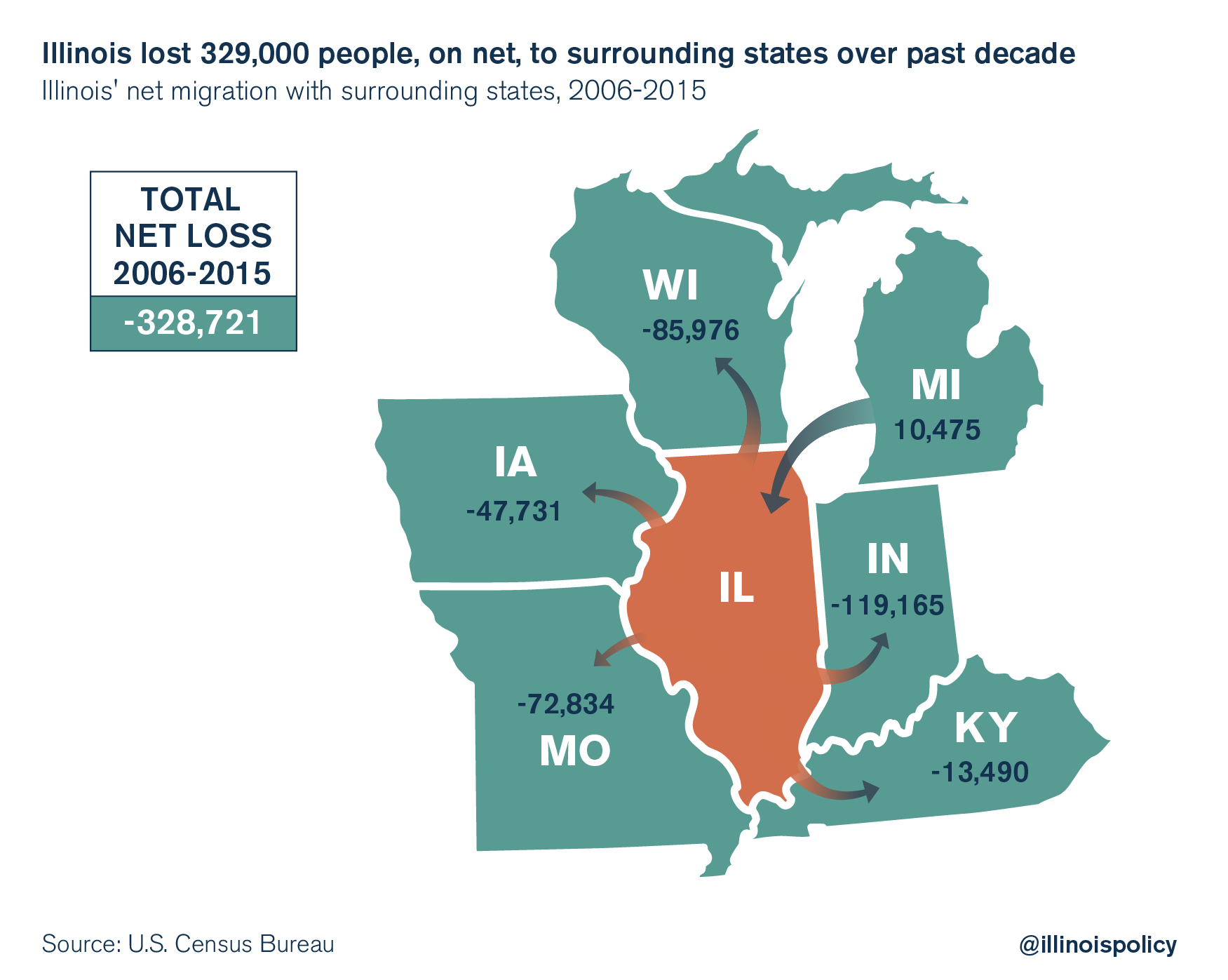 Higher taxes will push more residents out of state
The Census Bureau released its out-migration data the same week the Illinois Senate passed a massive tax hike bill.
This is a significant development in a state where residents are fed up with the high tax burden, and this frustration is pushing more and more people to leave. According to a Paul Simon Public Policy Institute poll released in October 2016, 47 percent of Illinoisans surveyed said they want to leave the state. And taxes were the most commonly cited reason people gave for their desire to move.
And according to a recent poll commissioned by the Illinois Policy Institute, fewer than 1 in 3 likely Illinois voters support raising taxes to balance the state's books. Yet the General Assembly continues to insist on tax hikes as the way to close the budget deficit.
Illinoisans are taxed enough already, and the state will continue to lose residents until it reins in taxes and adopts policies to support more jobs growth.
The General Assembly has run a losing strategy for years: raising taxes and failing to reform spending drivers. This has not brought prosperity or opportunity to the state, and will not do so over the longer term, either.
Illinois will not become sustainable again until the state implements reforms so that the government, its bureaucracies and special interests serve the people rather than the other way around.
Until Illinois is fixed, Illinoisans will continue to vote with their feet against staying in the Land of Lincoln.