Chicago issued over 1,836 red-light camera tickets per day in last 4 years
Chicago's red-light cameras are merely a way for the city to extract more money from drivers; they have nothing to do with public safety.
Chicago collected $285 million in red-light camera tickets from May 2011 through July 2015, according to the Chicago Sun-Times, which received these data from a Freedom of Information Act request.
Each ticket costs $100.
Over that span of 1,552 days, the city hit drivers with 2.2 million tickets.
That boils down to a rate of more than 1,418 tickets per day worth $183,570, or about 59 tickets per hour worth $7,649.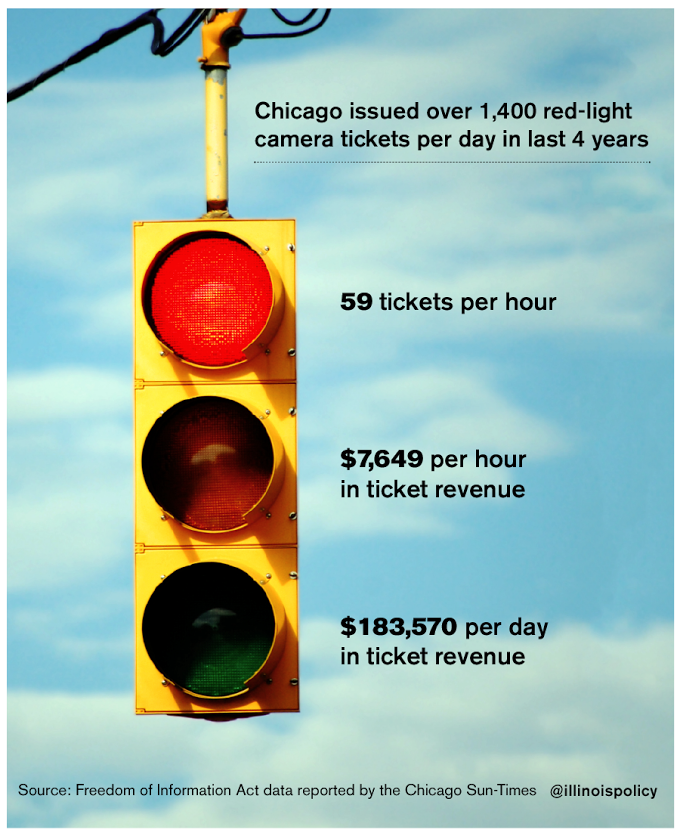 Apart from revenue, what did the city's nearly 300 red-light cameras do for Chicago?
There's no evidence proving that red-light cameras have made Chicago's streets any safer. In fact, a Chicago Tribune investigation proved the city's red-light program provided few safety benefits at all. Chicago's red-light cameras caused a "22 percent increase in rear-end crashes that caused injuries" according to the Tribune's research, which also debunked Mayor Rahm Emanuel's claim that the program is responsible for a "47 percent reduction in dangerous right-angle, or 'T-bone,' crashes."
The program has also been mired in scandal.
On Aug. 13, 2014, the Federal Bureau of Investigation revealed that Chicago's red-light camera program's former leader and the ex-CEO of Redflex Traffic Systems Inc. (the city's former vendor) were indicted on conspiracy charges related to a $2 million federal bribery investigation.
Chicago isn't the only city where Redflex is coming under fire – the company was also involved in litigation in Louisiana related to a red-light camera program that ended in 2010 in Jefferson Parish.
In Nassau County, New York, a class-action lawsuit has been filed against the county's red-light system. Like administrative law judge Robert A. Sussman in Chicago, plaintiffs in the New York lawsuit claim that yellow-light times are less than the three-second minimum.
Just across the Hudson River in Piscataway, N.J., the township's red-light camera program is causing an increase in accidents. Reports show that accidents in neighboring South Plainfield are up 50 percent near red-light cameras on the Piscataway border. American Traffic Solutions, the company that operates the red-light cameras in Nassau County and Piscataway, settled with drivers in 2013 for $4.2 million. The lawsuit, which claimed stoplights did not take into account average road speeds and did not give drivers ample time to hit the brakes, applied to 18 towns throughout New Jersey, including Piscataway.
The experiences in Chicago and on the East Coast highlight that red-light camera systems are prone to error and abuse. These cities and many others need to switch gears on their traffic-safety policies.
Chicago voters don't want red-light cameras. These systems make it easy for cities to forget about everything besides ticket revenues, as cities across the country have already discovered. Traffic safety rules should stick to one simple principle: ensuring driver and pedestrian safety.