Chicago Mayor Rahm Emanuel endorses pension amendment to Illinois Constitution
Outgoing Mayor Rahm Emanuel is publicly pushing for a constitutional amendment to the state's pension clause. Pension reform is the only way to combat rising property taxes and prevent further budget chaos in Illinois state and local governments.
Chicago Mayor Rahm Emanuel in a speech to the City Council Dec. 12 called for a constitutional amendment to Illinois' restrictive pension clause. State lawmakers must vote to amend the constitution with three-fifths majorities in both chambers of the General Assembly before an amendment can go to voters for approval on the 2020 general election ballot.
A constitutional amendment to allow changes to future, unearned pension benefits is the only way to stop rising property taxes and income taxes, as well as prevent annual pension contributions from crowding out government spending on education and social services, both at the state and local levels.
Illinois spends the most in the nation on pension benefits at the state and local levels, as a share of all government spending. The Land of Lincoln has the worst pension debt-to-revenue ratio of any U.S. state ever recorded.
According to the Chicago Tribune, Emanuel declared:
"Think about it. What kind of progressive, sustainable system guarantees retirees 3 percent annual compounded pay increases when inflation has been at basically zero and current employees have at times been furloughed, laid off, or received 1 percent raises?

"There is nothing progressive about 3 percent compounded raises for retirees and furloughs for workers. The mantle of progressivity must not just be more taxes on the wealthy, it must be more respect for our workers' paychecks. I applaud our labor unions for being willing to fix this inequity in 2012 with me."
The focus on Illinois' guaranteed 3 percent post-retirement benefit increases is particularly important. Emanuel is right to refer to these increases as "raises," because they are not true cost-of-living-adjustments, or COLAs.
A COLA is intended to help pension benefits keep pace with inflation so purchasing power stays the same over the course of retirement, but if the increase is a guaranteed rate, regardless of inflation, then it does not account for "cost of living" at all.
Arizona law used to provide for "permanent benefit increases." However, lawmakers, voters and labor unions joined together in that state to make changes to pension benefits, including pegging future increases to inflation, making them true COLAs. Arizona has a pension clause that is virtually identical to Illinois', and Arizona state courts struck down previous attempts to alter the benefit increases through statute.
In other words, Arizona was in almost the same situation as Illinois, and amending the Arizona Constitution provided the way out.
According to the Tribune, Emanuel also called for 100 percent of the city's share of revenue from legalized recreational marijuana to be used to pay for pensions.
In total, the Chicago-related pension funds have more than $41 billion in pension debt.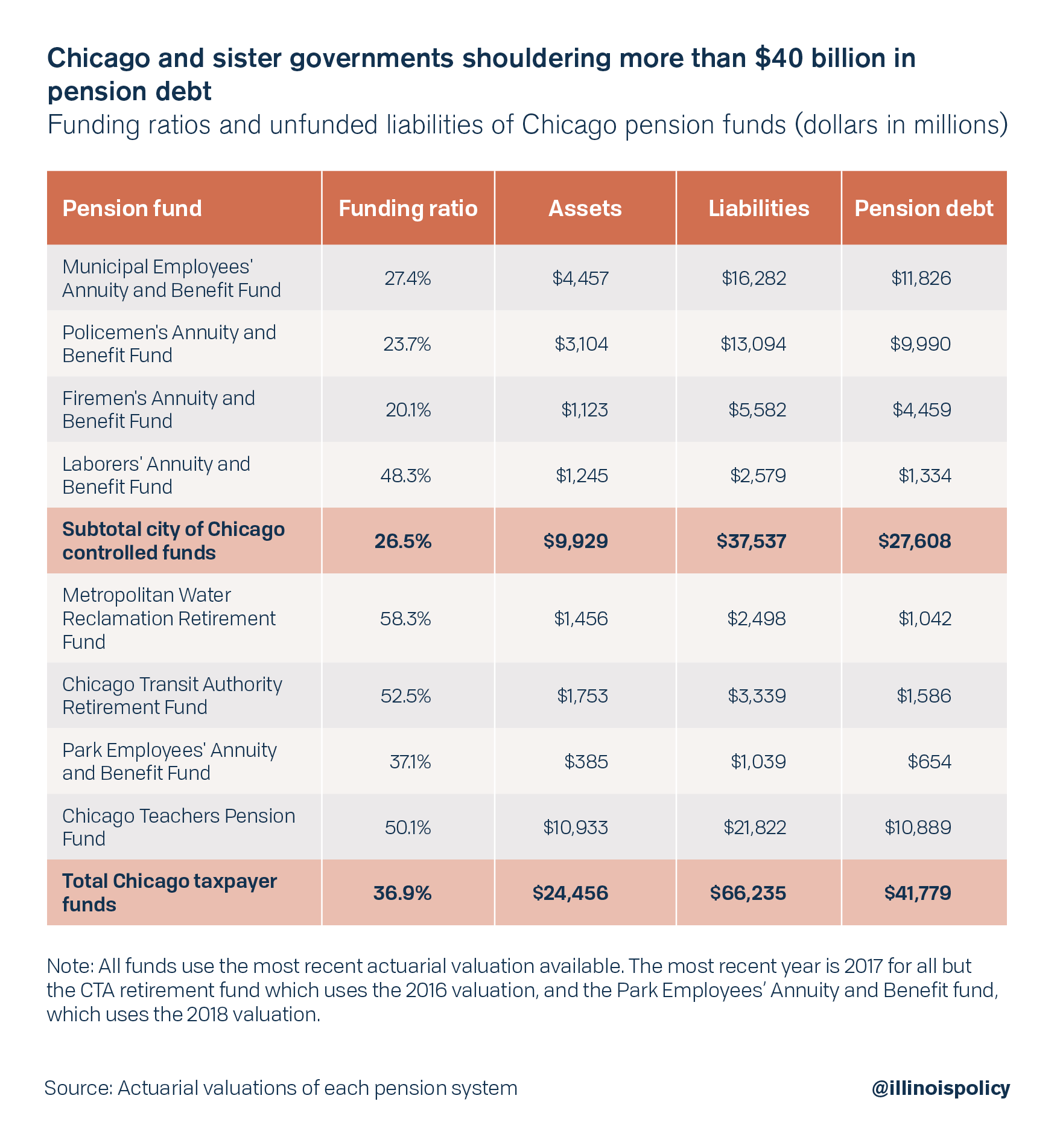 Moody's Investors Service currently gives the city a junk credit rating, largely due to unfunded pension liabilities.
Chicago has struggled to make pension contributions since the last national recession, despite massive tax hikes including a property tax increase of $543 million over four years, new taxes on ridesharing and e-cigarettes, tax increases on water and sewer services and 911 calls, and hikes in fees ranging from garbage collection to building permits.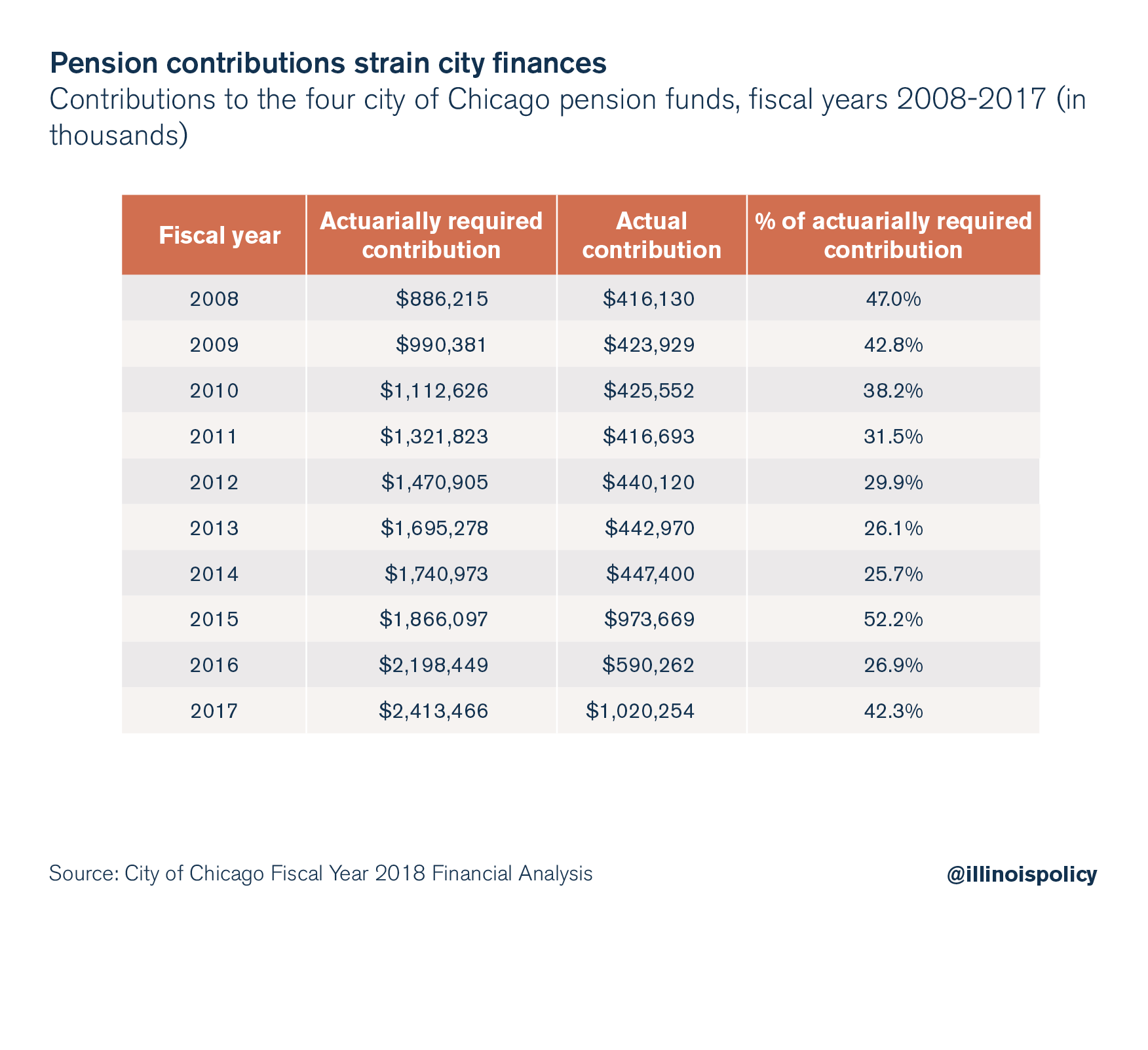 The next mayor of Chicago will inherit a pension mess with contributions set to spike sharply in the next few years. The pension payment is set to increase by nearly $1 billion five years from now, compared with this years' payment.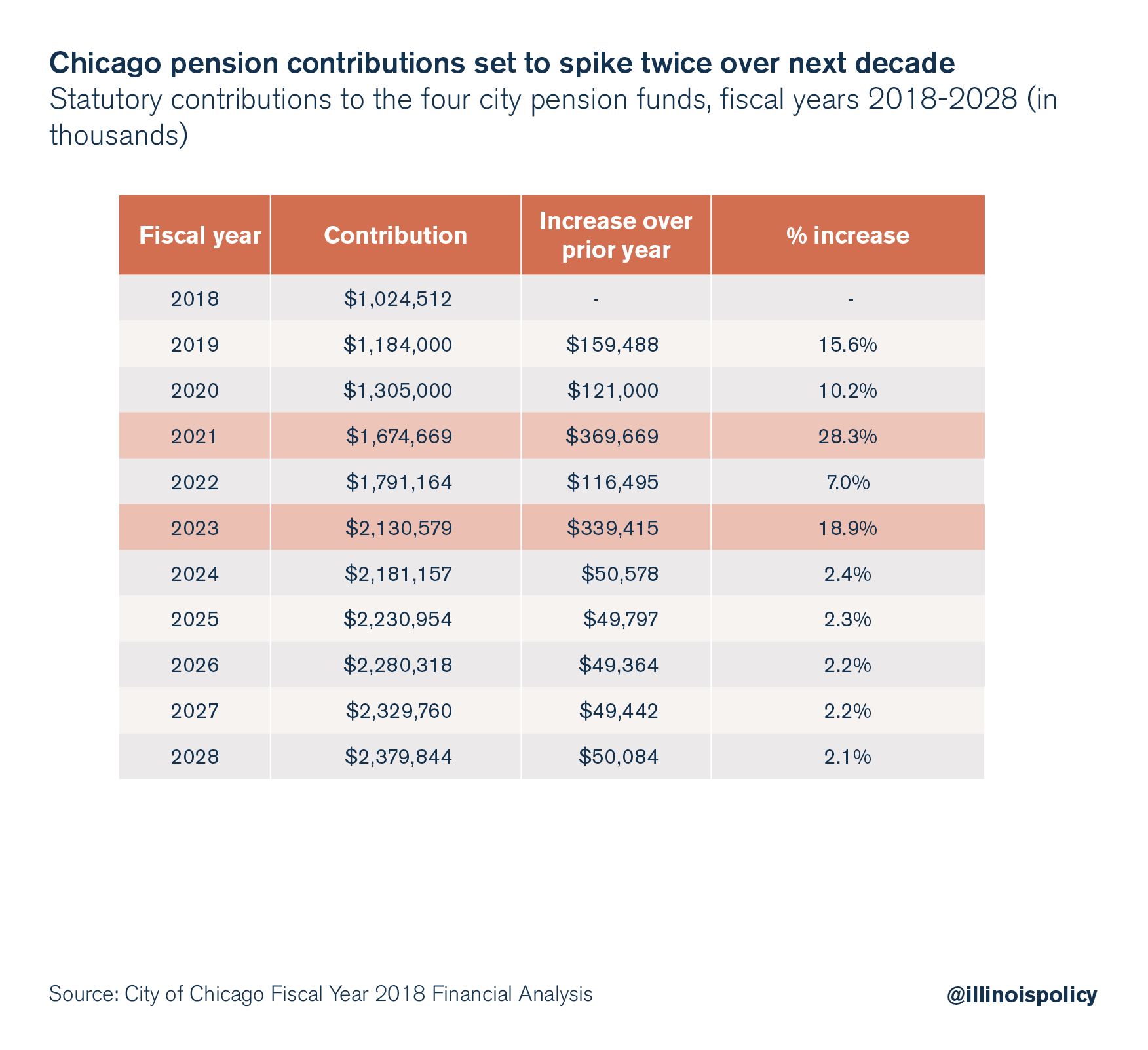 Illinois' and Chicago's only responsible long-term option for getting out of the mess is meaningful pension reform that starts with a constitutional amendment to allow changes to unearned, future benefits. Changes should include raising retirement ages for younger workers, capping maximum pensionable salary, and doing away with guaranteed permanent benefit increases in favor of a true cost of living adjustment pegged to inflation.
The alternative is a future in which state and local governments ask taxpayers to pay more for less, calling for tax hikes while cutting services to pay for pensions. This is already happening in cities including Harvey, Peoria, Rockford, Jerome and Chicago, just to name a few.
The concept of future benefit reforms is similar to pension reform measures successfully passed through the General Assembly earlier in Emanuel's term, with help from the mayor and negotiations with labor unions. Unfortunately, Illinois' Supreme Court struck down those reforms, placing Chicago and other cities across Illinois in financial handcuffs.
Emanuel is right to go after the root cause of the pension problem in his call for an amendment.