Cook County's exodus revealed in new tax documents
Shrinking opportunities go hand in hand with a shrinking tax base.
Marty Flaska runs Hoist Liftruck, a family-owned manufacturing company located just west of Chicago city limits, in Cook County's Bedford Park. Flaska has helmed the highly successful business for 17 years, taking raw steel and transforming it into thousands of top-of-the-line forklifts.
But in August, news broke that Flaska had pulled the trigger on moving Hoist and nearly 300 well-paying manufacturing jobs to Northwest Indiana, where he also plans to create 200 more jobs at his new facilities over the next few years.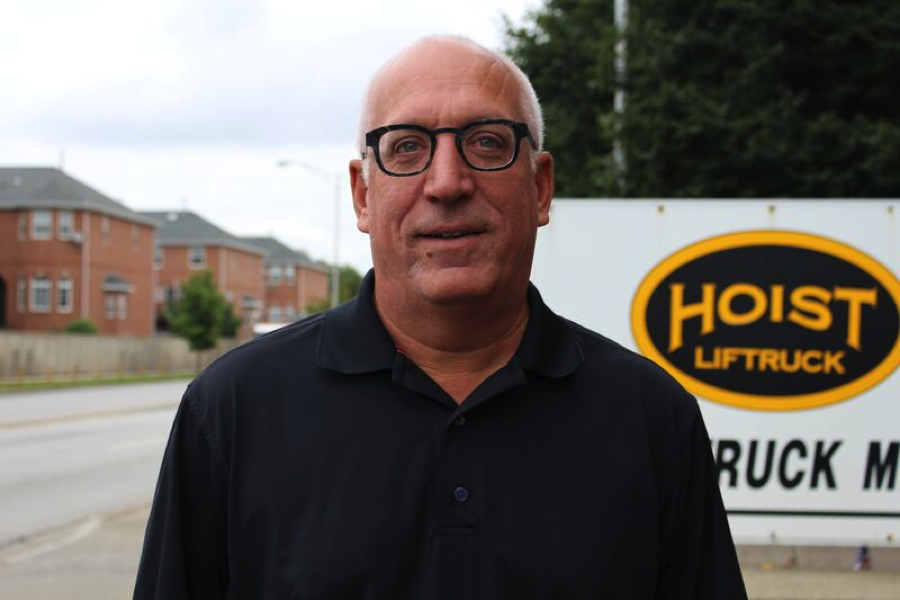 Marty Flaska, president and CEO of Hoist Liftruck
How did he sell his workers on the move?
"I put it in simple terms," Flaska said.
"When they look at actually relocating for the wage we pay, they're going to have a substantially better lifestyle, with equivalent schools, with equivalent experience in the community, leaving a lot more money in their pocket."
"They have lower property taxes so the house rent per month goes from $1,500 to $800. They've got a lot more money left in their wallet," he said.
"When explained that way I have almost zero pushback."
News of Hoist's exit comes at a time when new data from the Internal Revenue Service are painting a picture of Cook County – and Illinois – that's painful to see.
The IRS released new data on Aug. 24 showing county-level migration trends from tax year 2012. As with the 2011 data released in July, the numbers don't look good for Cook County.
In fact, Cook County's situation worsened in 2012 – by more than a billion dollars.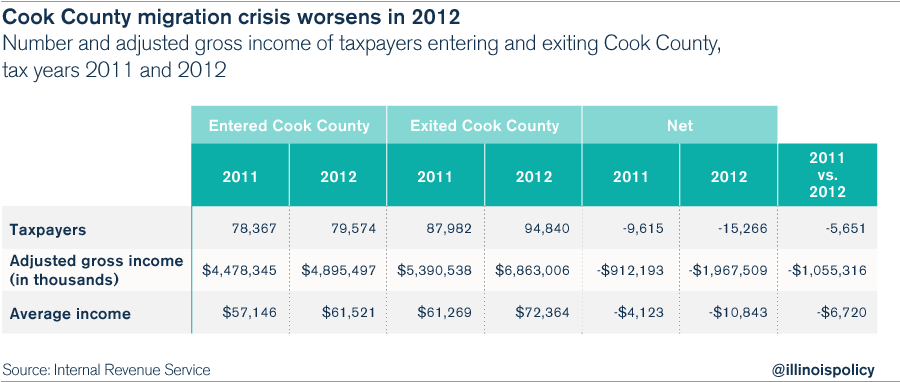 More than 15,000 taxpayers left Cook County on net in 2012, a 60 percent increase from the previous year. The income of the people who left Cook County in 2012 was $2 billion more than the income of the people who moved into Cook County. That loss of income is $1.1 billion more than what disappeared in 2011. It is also an all-time high.
The 2011 and 2012 out-migration will cost the county nearly $30 billion in taxable income over the next decade. And that's not including the future incomes of the kids who left the county along with their parents – Cook County lost nearly 45,000 dependents on net in those two years alone.
Perhaps the most worrisome trend revealed by the new data is the gap between the incomes of the individuals who left Cook County versus those who entered. While county-level data only allow one to calculate an average wage ($72,364 for those leaving the county versus $61,269 for those entering the county in 2012), state-level data reveal a large driver of income loss is the exodus of taxpayers with the types of jobs Hoist Liftruck will move to Indiana by the end of the year: those offering wages ranging from $50,000 to more than $100,000.
"There's a big focus in local governments [in Illinois] on retail jobs … because of the sales tax." Flaska says. "But the jobs that are being provided [in retail] are all very low-paying jobs: between $8 and $13 an hour."
"Those types of jobs aren't going to buy homes in [Bedford Park]. They're not going to put kids through college."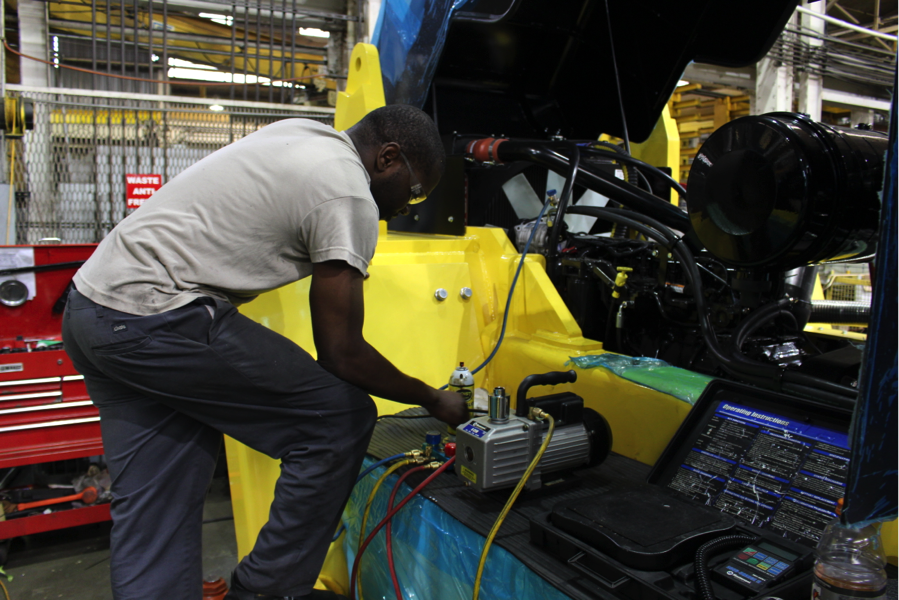 A Hoist Liftruck worker runs tests on a forklift.
The manufacturing sector – currently dying a slow, painful death in Illinois as lawmakers spurn the types of reforms that have spurred massive industrial growth in neighboring Michigan and Indiana – is different.
"It's the kinds of jobs we offer that will do that," Flaska said. "[These jobs] will take a blue-collar worker with little to no education and let him improve the standard of living for his family."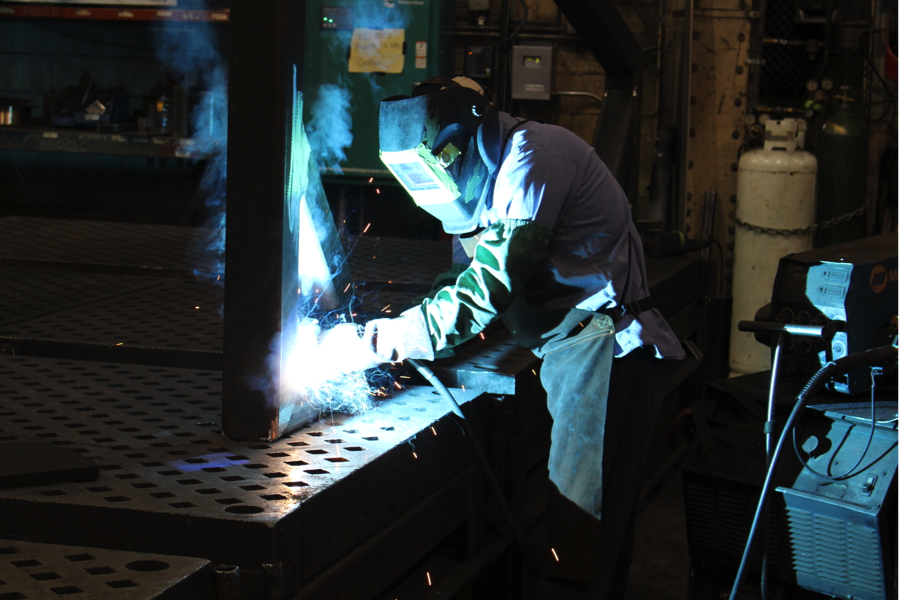 Hoist Liftruck welder at work in the Bedford Park facility. He holds one of 300 jobs that will move to East Chicago, Indiana, by the end of 2015.
Gallup polling shows the No. 1 reason residents cited for wanting to move out of Illinois is a better work and business climate.
The types of jobs more competitive business environments provide are increasingly available outside of Cook County and Illinois borders – and so are former Illinoisans looking for a better future.