Decatur, Peoria and Elgin hardest hit by job loss during Illinois lockdown
Record April job losses hurt some communities even more than Illinois' statewide decline of 13.4%.
The COVID-19 pandemic hit Illinois workers hard, but it was worse for those in Decatur, Peoria and Elgin, recent labor numbers show.
Illinois lost 762,200 jobs from mid-March through mid-April, the largest monthly jobs loss in state history. While the majority of these losses came from the Chicago area, the downturn has disproportionately affected communities outside of the city, according to new Bureau of Labor Statistics data released May 28.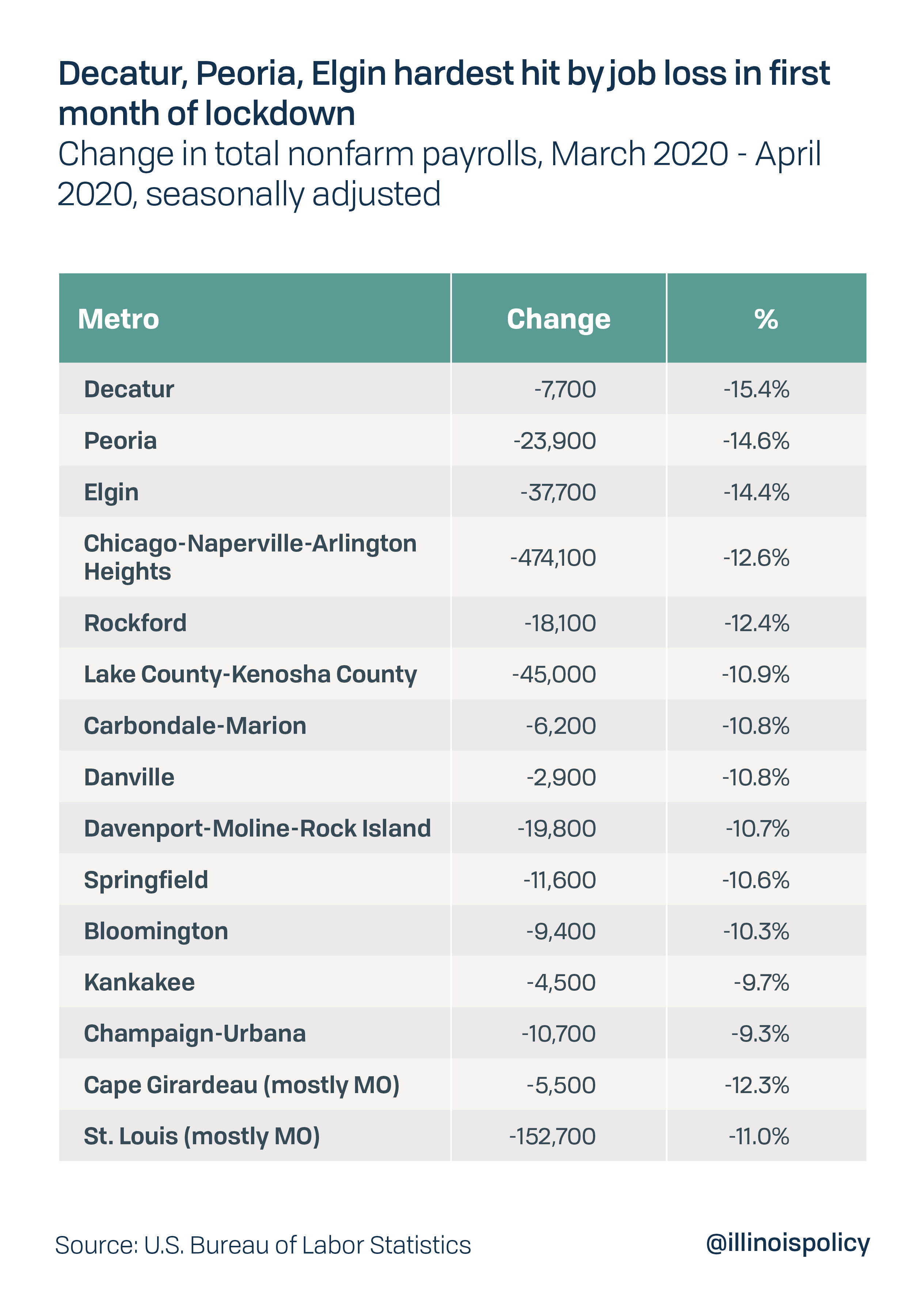 One Peoria business owner kept his people working by defying Gov. J.B. Pritzker's closure order. Adam White reopened his RC Outfitters running shoe and apparel store May 4.
"I have over 30 employees. I'm blessed to have these men and women on my team, and they would lose their jobs if we close," he said. "That's a tough spot for a business owner to be in."
While all metropolitan areas throughout the state suffered massive monthly job losses, some communities bore the brunt of the decline. Decatur (-15.4%), Peoria (-14.6%) and Elgin (-14.4%) suffered the heaviest jobs losses from mid-March to mid-April. For context, the statewide average decline for the month was -13.4%.
The decline was more extreme in these areas because of the disparate impact COVID-19 and lockdowns have had on certain sectors of the economy. Illinois' leisure and hospitality sector has been devastated, losing 50% of its jobs from mid-March to mid-April statewide. Decatur's leisure and hospitality sector lost 80% of its jobs compared to April 2019, Peoria has lost 77% of these positions compared to last year.
Since mid-April, when the most detailed monthly jobs numbers end, an additional 379,608 Illinoisans have filed for unemployment benefits. These claims indicate that labor markets across the state are still suffering as Illinois heads into its 10th week of lockdown. The state's estimated real-time unemployment rate now tops 23%.
However, this is likely too low because it does not include those who have stopped looking for work during the crisis. When you add those who have dropped out of the labor force – many of whom are likely not being counted due to mismanagement of the unemployment application system – the estimated unemployment rate would have been nearly 26%.
Illinois' estimated unemployment rate of 23.1% is 43% higher than Missouri's rate of 16.1%, and also higher than Iowa (16.2%), Wisconsin (20.7%) and Indiana (22.8%). Of Illinois' border states, only Kentucky, with an estimated unemployment rate of 32.8%, surpasses Illinois.
Illinois families cannot afford to be out of work for an extended period of time. Many are still waiting to have their unemployment claims processed and have little to no savings to feed themselves or cover other expenses. Other countries and other U.S. states are beginning to phase in the re-opening of their economies.
Business and consumer confidence are a cheap form of stimulus. Pritzker now has an outline of a plan, but Illinoisans need more detail for it to provide the certainty needed to make economic decisions.
Uncertainty could only increase were the progressive income tax to pass on the Nov. 3 ballot. It would add up to 47% to the tax burden of more than 100,000 small businesses – the state's most prolific job creators – just as they were trying to put their employees back to work and recover from the COVID-19 recession.