Despite 3,400 new jobs in October, Illinois' labor market is nothing to celebrate
A positive jobs report for October does little to buck discouraging long-term trends in Illinois.
After two months of heavy jobs losses, Illinois employment grew by 3,400 jobs in October, according to the Illinois Department of Employment Security.
The gains came from manufacturing (+1,600); trade, transportation and utilities (+2,800); education and health services (+2,200); and financial activities (+1,400). This marked two consecutive months of job creation in Illinois' manufacturing sector, especially welcome news as October was "manufacturing month."
The trade, transportation and utilities sector also made a remarkable comeback in October, since the sector had lost 4,900 jobs since January 2017.
Does this mean Illinois' economy is healthy?
It's tempting to believe October's jobs gains are a sign of a healthy Illinois economy. Another measure that seems positive on its face is Illinois' unemployment rate, which has seen a year-over-year decline.
But Illinoisans shouldn't rejoice just yet.
Unemployment counts the number of job seekers. A decrease in the number of unemployed would spell good news if that decrease had been caused by an increase in the number of people finding work. Instead, more Illinoisans abandoned their job search and left the state than the number of individuals who found a suitable job in 2017. More than 97,800 individuals have left Illinois' labor force since January 2017.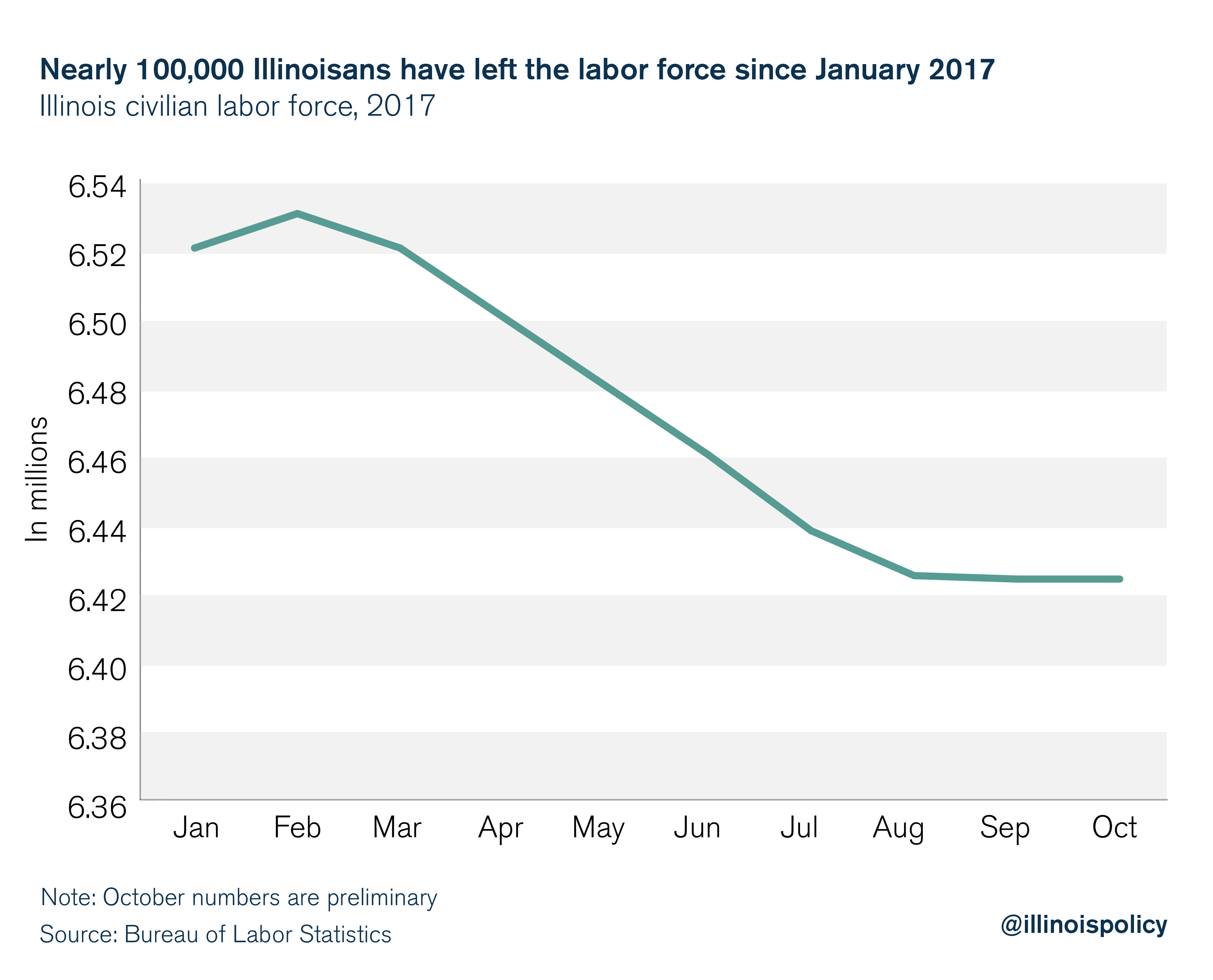 Additionally, Illinois has the slowest income growth in the nation, according to the Bureau of Economic Analysis.
October jobs growth is certainly welcome news. But it should be viewed in a larger context of a sluggish state economy.
Why is Illinois' economy shrinking?
Since 2013, the state's population has declined by an average of 30,000 individuals each year.
The Paul Simon Public Policy Institute cites taxes as the No. 1 reason people give for wanting to leave Illinois.
Economists find that higher taxes – the "push effect" – dominate the pull effect from lower taxes at a potential destination. The fact that the push effect dominates means individuals run away from tax increases. Illinois' budget crisis is well known, and expectations over future tax increases are running people out of town – not to mention the actual tax hikes state lawmakers passed this summer.
Before that record-breaking tax hike, Illinoisans already saw a higher share of their income go to income and property taxes than residents of every neighboring state.
As higher-earning individuals continue to leave Illinois, those who can't afford to move are left to bear the burden of a fiscally irresponsible, bloated government sector. That means higher income and property taxes for Illinoisans who can least afford it.
How to improve labor market prospects and grow incomes in 2018
To stop the bleeding of the state's labor force, one of the most important actions the General Assembly can take is to calm Illinoisans' fears of further tax hikes. Lawmakers can achieve this by enacting a suite of spending reforms – including pension reform and comprehensive property tax reform.
The high cost of doing business in Illinois, excessive regulations and the threat of more tax hikes as the state struggles with $9 billion in unpaid bills and more than $250 billion in pension debt will keep new businesses from settling in Illinois until reforms are made.
In order to reverse Illinois' outmigration problem in the long term, state leaders must reduce the cost of government while taking material steps to improve Illinois' business climate. Positive monthly jobs reports shouldn't be such a rarity.