Did your state representative take Madigan money?
Campaign finance records reveal more than 60 sitting state representatives have received nearly $15 million from the state's most powerful politician over the course of their careers. In turn, they often give him one of the most important votes he needs to maintain power: the vote for speaker of the House.
Business as usual in Springfield typically begins and ends with the same person: House Speaker Mike Madigan.
Madigan is the longest-serving House speaker in U.S. history. He is also the most powerful state legislative leader in the nation – no other state grants its House speaker so much control over the legislative process. It is with that power through which Madigan has muzzled debate on issues such as term limits, property tax reform and anti-corruption measures.
One of the main avenues through which Madigan maintains that power is through his role as chairman of several campaign committees that give money directly to other state representatives. These lawmakers, in turn, give Madigan what he wants on a crucial vote every two years: the vote for House speaker.
Over the course of their careers in the General Assembly, more than 60 sitting state representatives have received nearly $15 million in total from Madigan's campaign committees, according to campaign finance reports filed with the Illinois State Board of Elections. Those representatives have collectively cast 281 votes for Madigan for speaker.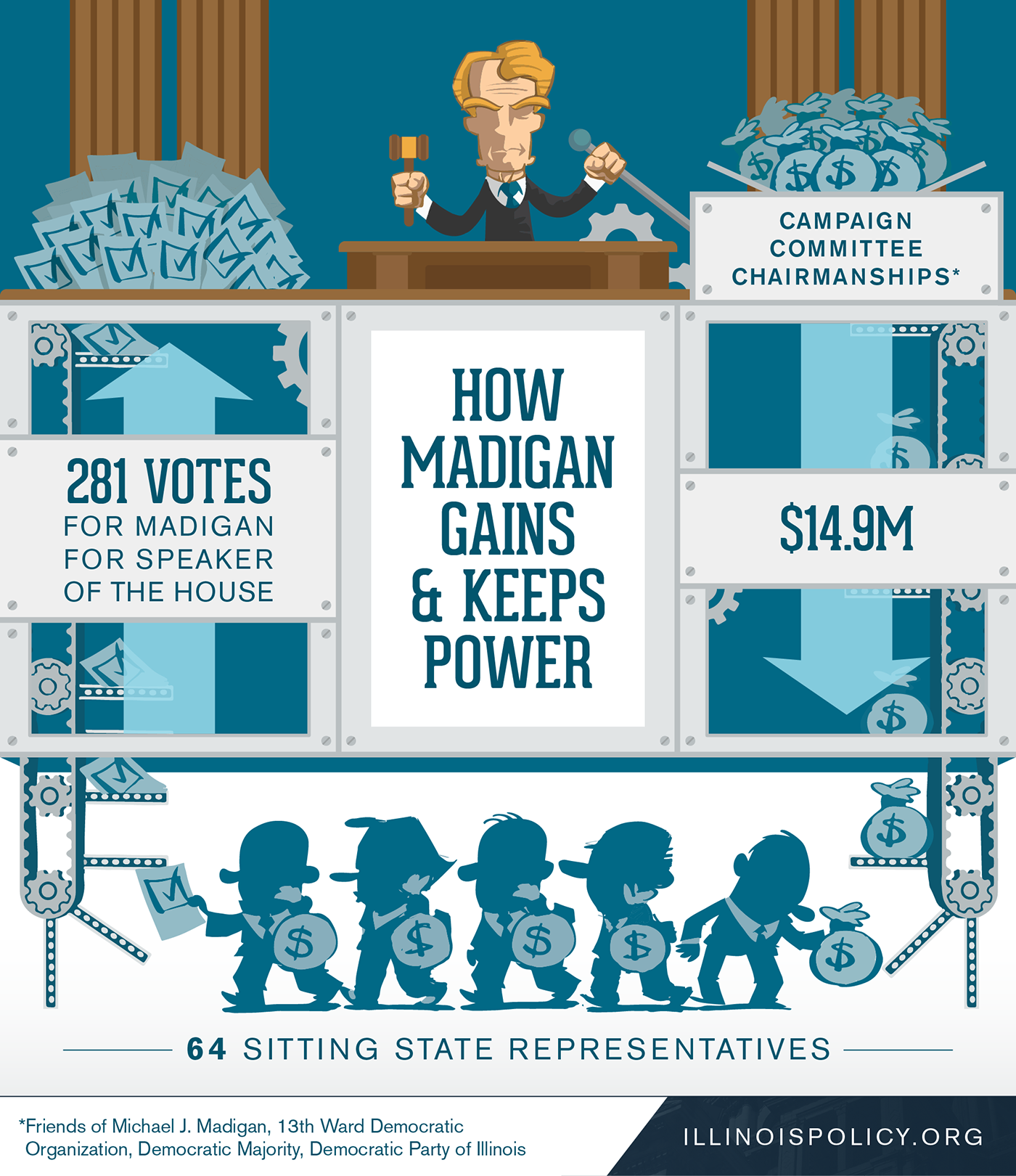 Three sitting state representatives have received more than $1 million from Madigan's committees as of Aug. 1:
Carol Sente, D-Vernon Hills ($1,548,047)
Sam Yingling, D-Grayslake ($1,493,600)
Deb Conroy, D-Villa Park ($1,313,932)
Each has voted for Madigan for speaker of the House at least three times.
The following state representatives have received over half a million dollars from Madigan's committees:
Marty Moylan, D-Des Plaines ($981,242)
Fred Crespo, D-Hoffman Estate ($895,336)
Sue Scherer, D-Decatur ($892,609)
Katie Stuart, D-Edwardsville ($869,501)
Michelle Mussman, D-Schaumburg ($869,089)
Stephanie Kifowit, D-Oswego ($732,852)
Kathleen Willis, D-Addison ($588,821)
Each of those representatives has also cast one or more votes for Madigan to retain his record-breaking speakership.
The following table shows every sitting state representative who has taken money from Madigan's committees, and their corresponding votes for Madigan as speaker of the House. (Don't know your state representative? You can look up his or her name here.)

Madigan controls four active campaign committees in Illinois: Friends of Michael J. Madigan, the 13th Ward Democratic Organization, Democratic Majority and the Democratic Party of Illinois. Madigan is the only state legislative leader in the nation to also serve as a party chairman, according to the Illinois Campaign for Political Reform.
It's important to note that if a lawmaker is not listed as a recipient of funds from one of these four committees, it doesn't mean he or she has not received money directed at Madigan's behest.
Lawmakers seeking to hold Madigan accountable for the state's crushing property tax burden, his lucrative and ethically dubious side job as a property tax appeals attorney, and two income tax hikes since 2011 will certainly require independence from the longtime speaker.