Emails reveal Rock Island superintendents used public resources to push tax hike
District superintendents and the regional superintendent from Rock Island County coordinated with an active political action committee to push a sales-tax hike.
It's perfectly legal for people working for local government to engage in politics in their free time, but if they are using taxpayer resources or facilities for political campaigns, it can be a criminal act.
The Illinois State Officials and Employees Ethics Act bars public officials from campaigning for or against any referendum question during public time. It also prohibits the use of public resources in such campaigns. The law is extended to local officials, including school districts, which must enact their own ethics policies that are "no less restrictive" than the state's.
However, according to documents obtained by the Illinois Policy Institute, district superintendents and the regional superintendent from Rock Island County have been coordinating with an active political action committee, the stated purpose of which is "to promote passage of the 1% school facility sales tax in Rock Island County."
The referendum is set for April 7.
These records include documentation of an Aug. 20 meeting between Rock Island superintendents and Mike Thoms and Sarah Bohnsack, the chairman and treasurer, respectively, of "Making Cents for R I County Students YES," at the Rock Island County Regional Office of Education. The purpose of the meeting was to discuss the sales-tax hike referendum.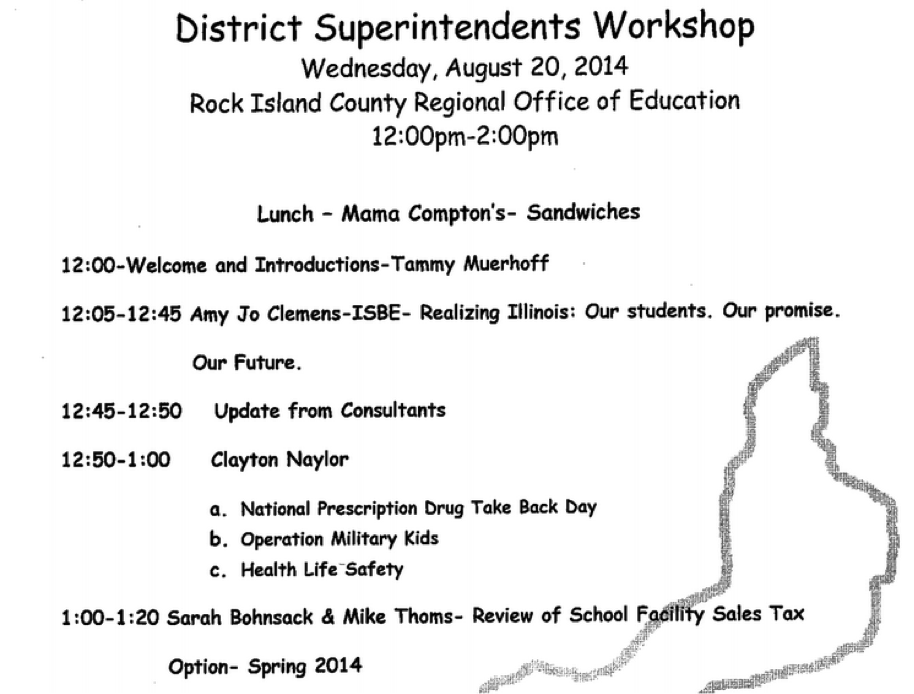 It is illegal for public officials to get involved in referendums such as these in their official capacity using public resources.
That didn't stop Riverdale School District Superintendent Ron Jacobs from emphatically supporting the referendum in an Oct. 28 email, writing, "Let's get after this thing!!" and congratulating Rock Island-Milan School District Superintendent Michael Oberhaus by writing, "Thanks Mike for getting our campaign coordinators on board," using a public email address.

Jacobs' email was in response to an Oct. 27 message from Oberhaus, using his private email address, highlighting a number of potentially prohibited political activities, including coordinating with a political committee, meeting at a public facility with a political committee to share a campaign plan, and having superintendents recruit citizens to assist a political committee.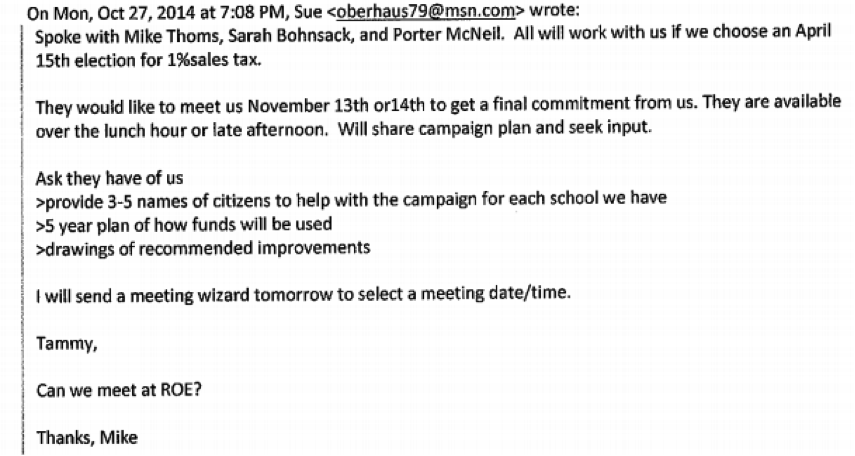 State law says it is illegal for public officials to work with political referendum campaigns in their official capacity using public resources. Despite an email dripping with prohibited political activities, Rock Island Regional Superintendent Tammy Muerhoff had no qualms about meeting with campaign operatives at "ROE," or Rock Island County Regional Office of Education, facilities. Her only issue was making sure appropriate meeting space was available to accommodate the superintendents and campaign operatives.

In another example of prohibited political coordination between Rock Island County superintendents and an active campaign committee, Oberhaus emailed other superintendents from his public email account urging them to push referendum resolutions in December at the behest of the campaign committee. Ostensibly, the sooner the referendum is set for the ballot, the earlier a campaign committee can fundraise and otherwise begin organizing for a sales-tax hike referendum push.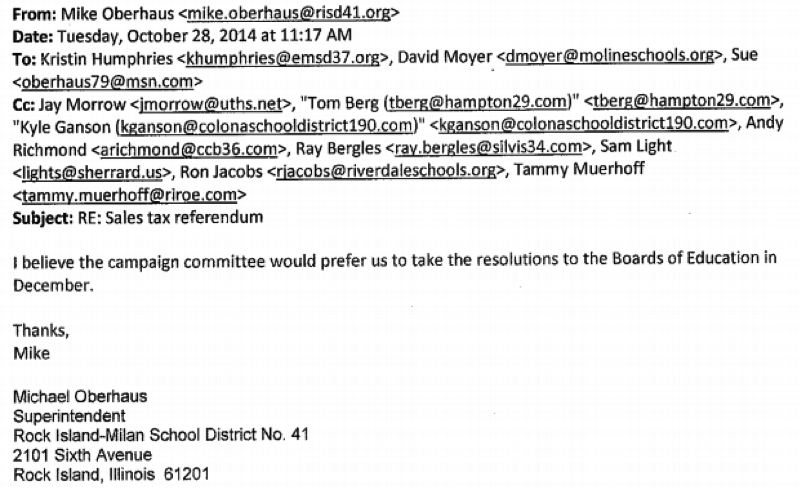 Furthermore, Muerhoff sent an inquiry to Whiteside County Regional Superintendent Bob Sondgeroth to "discuss what strategies you feel worked well in order to have successful passage" of a sales-tax hike referendum. Emails suggest Sondgeroth was brought in to meet with Rock Island County superintendents on Nov. 20.
Sondgeroth also discussed partisan politics and congratulated Muerhoff for surviving a "Republican onslaught" in Rock Island County's November elections.
Despite repeated examples of prohibited political activities taking place using public resources in Rock Island County, none of the superintendents, regional superintendents or other public employees included in the various email chains where prohibited political activity has been discussed have raised concerns or have filed an ethics complaint about these activities.
Please contact David Giuliani at dgiuliani@illinoispolicy.org if you know of other illegal electioneering activity by public officials.
All of the documents obtained by Illinois Policy Institute investigators from the regional superintendent can be found here.