Food trucks fight for the right to exist
City officials in Chicago and across the state are crushing a pillar of the culinary community. But food trucks are fighting back.
Pepe Balanzar learned to make tamales from his grandmother.
Growing up in the restaurant business, she would make one batch for selling and one batch for family. The family batch had more meat, more "masa," or dough, and more flavor.
So when Balanzar opened one of Chicago's first food trucks, he had to choose a side: Which batch would he make?
The choice was simple. "We give customers what we serve to our family," he said.
Balanzar's food truck, Tamale Spaceship, quickly launched him into the hearts of thousands. His product has had such success over the years that he opened a brick-and-mortar shop in 2014.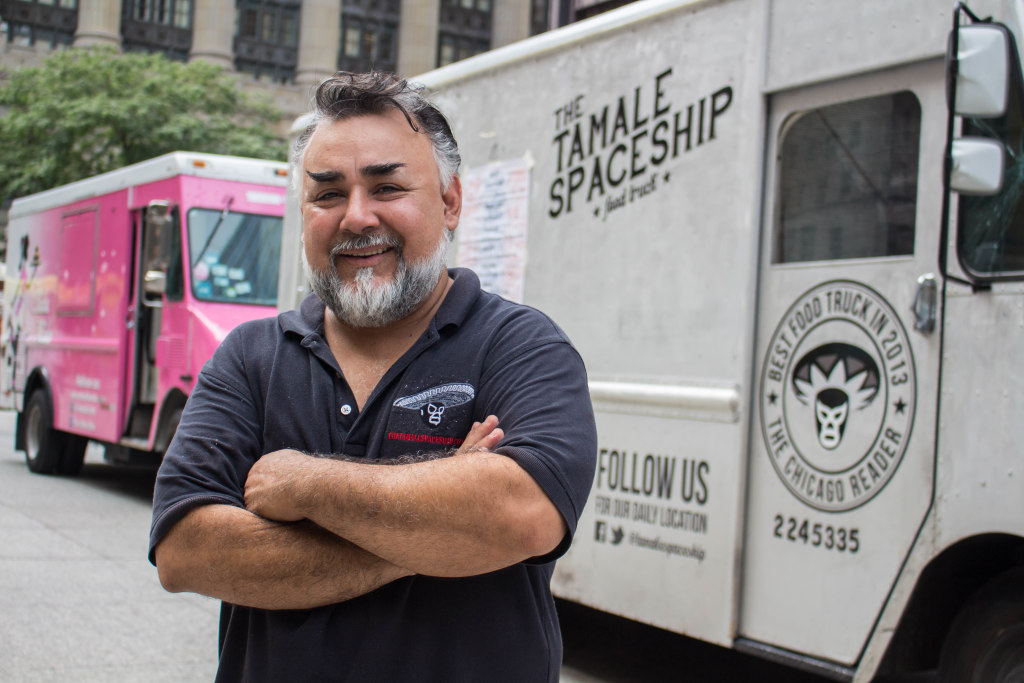 But local governments across Illinois aren't treating food trucks like family. Chicago, for example, has begun an unprecedented crackdown on the popular lunchtime option for workers in the Loop. Officials are enforcing some of the nation's most restrictive rules for food trucks among major cities.
In 2012, Chicago City Council bound the food-truck industry to absurd regulations.
Food trucks may not park within 200 feet of a brick-and-mortar restaurant. A restaurant is defined as anything from the ritziest steakhouse to a corner bodega. This rule effectively bans food trucks from every block in the Loop, save for a handful of small zones where the city explicitly allows trucks to park.
This has lead to fierce competition for scarce parking as the number of licensed food trucks increases each year.
When truck owners can find a legal spot to park, they are required to leave after two hours. Customers lined up around the corner? Too bad. Pack up or prepare to be ticketed.
It's a maddening system. And to enforce it, the city has dispatched a worker to monitor the trucks all day, every day. Identifying himself only as "John," he doles out tickets, conducts constant inspections and scares away hungry customers. Balanzar says his truck was inspected four times in a single week.
"It wasn't a problem, but you almost feel like a criminal," he said. "You feel like you are doing something wrong."
On the day I spoke with Frankie Abate, owner of pizza truck Da Pizza Dude, he turned around to find his truck had been ticketed for violating the two-hour rule during our interview. The fines range from $1,000 to $2,000 – over 10 times more than the fine for parking in front of a fire hydrant in the city of Chicago.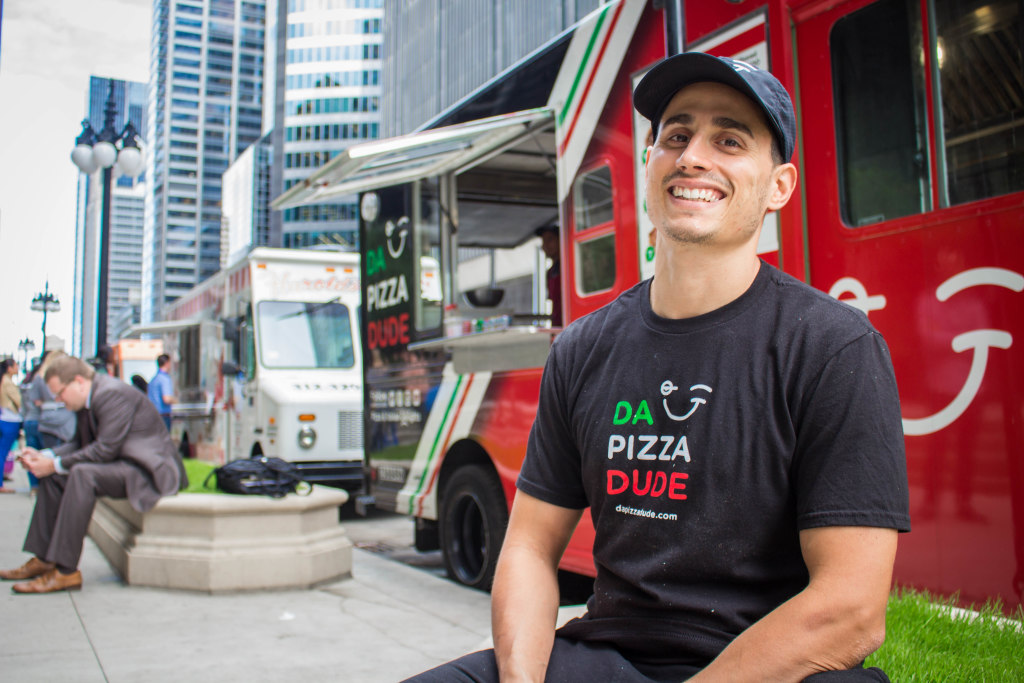 Doesn't Chicago government have more important things to worry about?
"They should just give me an ankle bracelet when I come to work," Abate said. "That would be easier than what's going on right now."
If city officials expect food trucks to follow these rules to the letter, it's odd that the city can't even follow its own rules. At least three of the city's food-truck stands downtown are inaccessible due to either construction or poor placement.
Food-truck owners aren't the only ones up in arms. An Illinois Policy Institute survey revealed more than half of people who work in downtown Chicago think the two-hour rule is unfair, and nearly 60 percent support changing city rules to allow for more food trucks.
Unfortunately, Chicago city limits aren't the only unfriendly confines for this business.
Aurora, for example, bans food trucks entirely; save for special events where owners must get special permits from the city. Aurora city officials have said this rule was written explicitly to protect restaurant owners.
Naperville allows for food trucks, but only on private property.
And until recently, the city of Evanston only allowed owners of local brick-and-mortar restaurants to operate food trucks. City officials lifted that restriction this summer because of a costly legal battle, but maintain restrictions on food trucks' distance from restaurants.
Stringent food truck regulations are often pushed at the behest of a small interest group: restaurant owners. The rules then serve to drive a wedge between traditional restaurants and their counterparts on four wheels.
Some complain that food trucks don't shoulder the same costs as restaurants. That's true. They also don't enjoy tables, chairs, wait staff or climate control. Different business models have different advantages.
When food trucks came onto the Chicago scene, the owners of Cheesie's, a successful pub and grill chain in the city, didn't complain. They adapted. Their food truck is now one of Chicago's most beloved. But city government has dampened their spirits.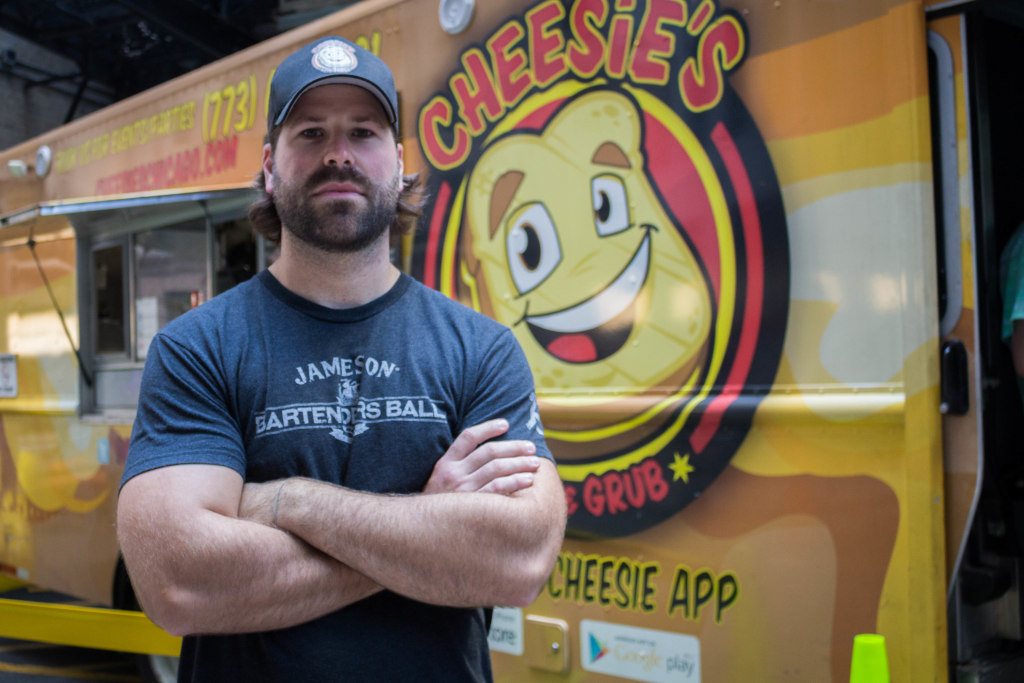 "It's so frustrating," said David Johnston, who runs Cheesie's with his brother Chris.
"We're out here making money for the city but they make it really difficult," he said. "We're a small business, man. Food truck people are people, too. We're not monsters."
Customers know this. Government, meanwhile, is taking too long to catch up.