Forging failure: The truth about Illinois' manufacturing meltdown
Thousands of Illinois manufacturing jobs aren't going to anonymous sweatshops overseas, they're simply crossing state lines.
Many politicians – President Barack Obama, for example – are quick to blame Illinois' manufacturing woes on globalization. Indeed, the state's struggles in this sector are far too real: Illinois has bled manufacturing jobs in 21 of the last 30 months. But these complaints overlook the fact that many of those jobs are simply escaping Illinois' borders for neighboring states.
Why? Poor public-policy choices have made stepping across a state line yield savings on par with a transcontinental transplant.
If Illinois' manufacturing base had truly been hollowed out by a global race to the bottom, neighboring states wouldn't be flush with middle-class manufacturing jobs, courtesy of the Land of Lincoln.
Just look at Illinois' exodus of steel manufacturers.
United States Steel Corp. announced on March 25 it will shutter its Granite City plant at the end of May, giving pink slips to 2,080 workers. U.S. Steel employees in Indiana kept their jobs. One week later, South Holland's T&B Tube announced it would be hopping the border to Gary, Indiana, taking 100 new jobs and $5.6 million in investment with it. Romeoville-based American Stair Corp. Inc., a manufacturer of steel stairs and railings, will move to Indiana by the year's end, too. Nearly 200 new jobs will follow. Chicago' Edsal Manufacturing, one of America's largest producers of steel shelving, announced on April 16 it will begin hiring 300 new workers at a new plant in Gary next month.
These manufacturing jobs aren't going to anonymous sweatshops overseas, they're moving a matter of inches on the global scale. The same policy errors hurting Illinois' middle class at large have driven manufacturing businesses across state lines. High taxes, the absence of a Right-to-Work law and a farcical workers' compensation system are a few main drivers.
Workers' compensation costs in Illinois are among the highest in the nation. In fact, these costs can be more than three times higher for Illinois' steel manufacturers than Indiana's – for the same work.
In fact, an Illinois company employing 1,000 steel fabricators earning $40,000 a year can save $2 million to more than $3 million annually in workers' compensation costs alone by moving to neighboring Iowa, Wisconsin, Michigan, Indiana or Kentucky, according to data from the National Council on Compensation Insurance.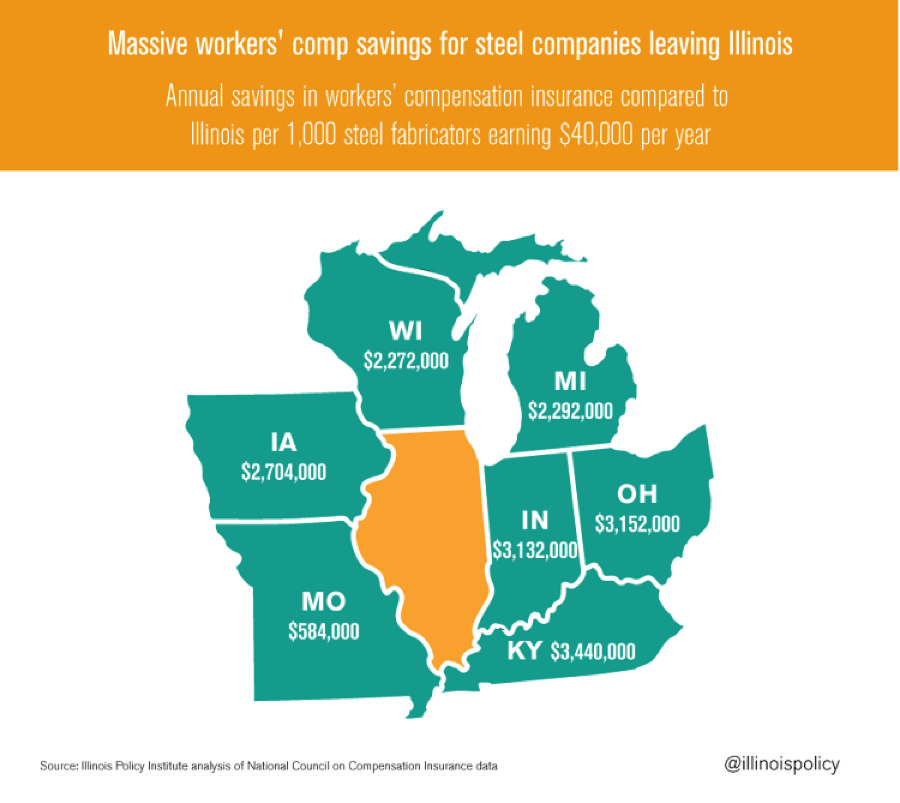 Lack of a Right-to-Work law is another policy misstep through which neighboring states have snatched well-paying jobs from Illinois.
Indiana enacted a Right-to-Work law in 2012. Since then, the Hoosier State has added nearly 40,000 manufacturing jobs while Illinois lost more than 3,000, according to data from the Bureau of Labor Statistics.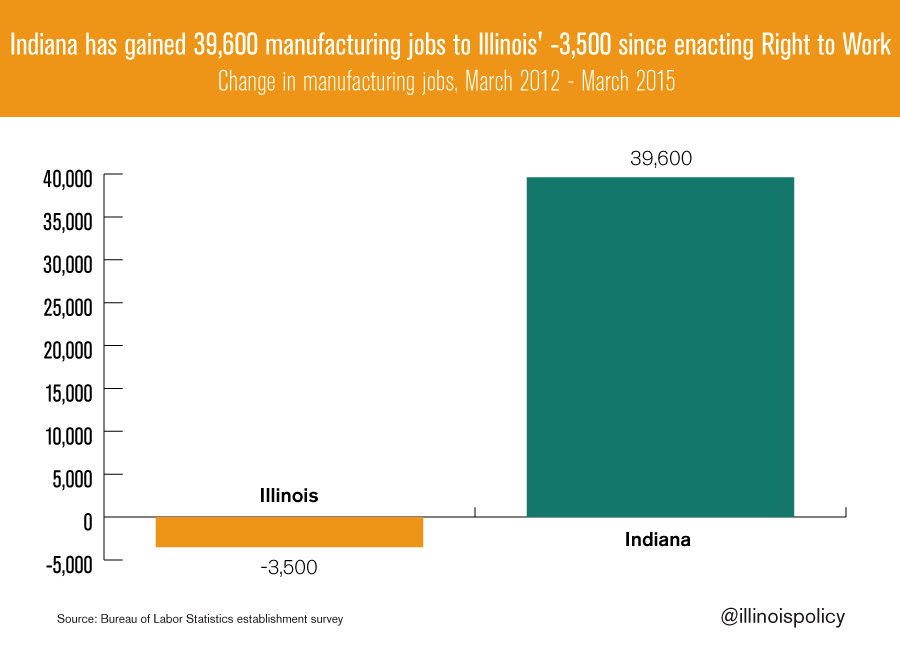 Michigan enacted Right to Work in 2013. Since then, Michigan has added nearly 40,000 manufacturing jobs while Illinois has lost more than 4,600. With a workforce three-fourths the size, Michigan actually passed Illinois for total manufacturing employment at the tail end of last year.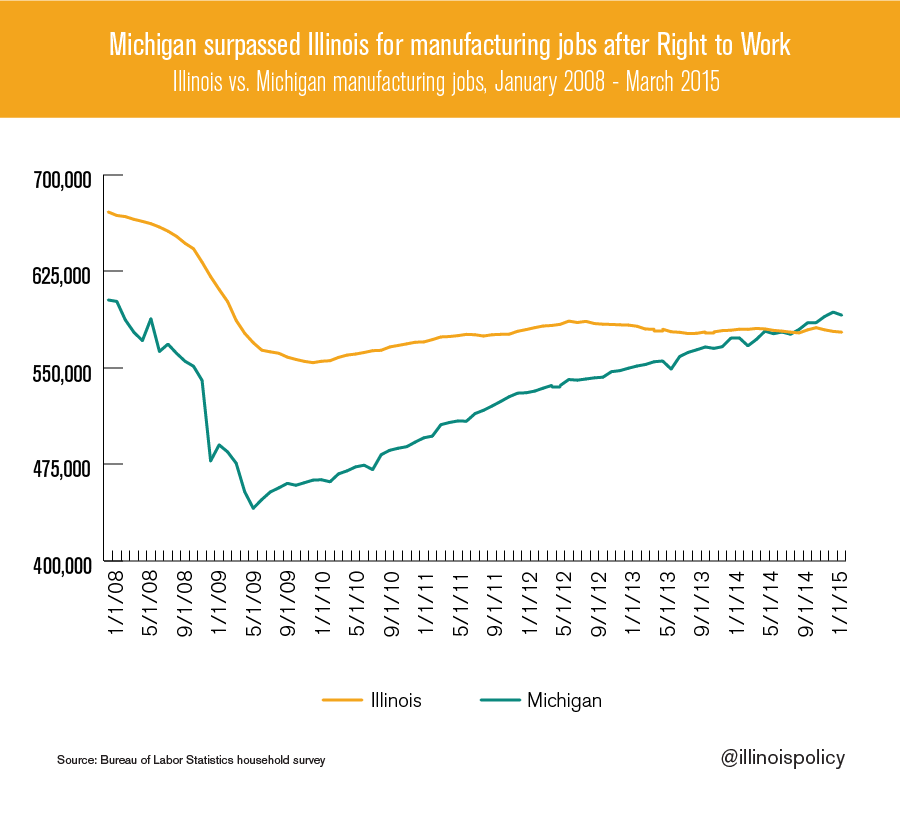 While it would be foolish to deny the effects of globalization on Illinois commerce, it's equally myopic to deny Illinoisans' suffering under policy errors that have been fixed a few miles away.
It's not just manufacturers leaving the state; middle-class families are bolting for the border, too. Given Illinois is home to the nation's worst post-recession employment recovery and the second-highest property taxes in the country, many would be crazy not to. Due to record out-migration, Illinois' population actually shrunk by 10,000 people last year.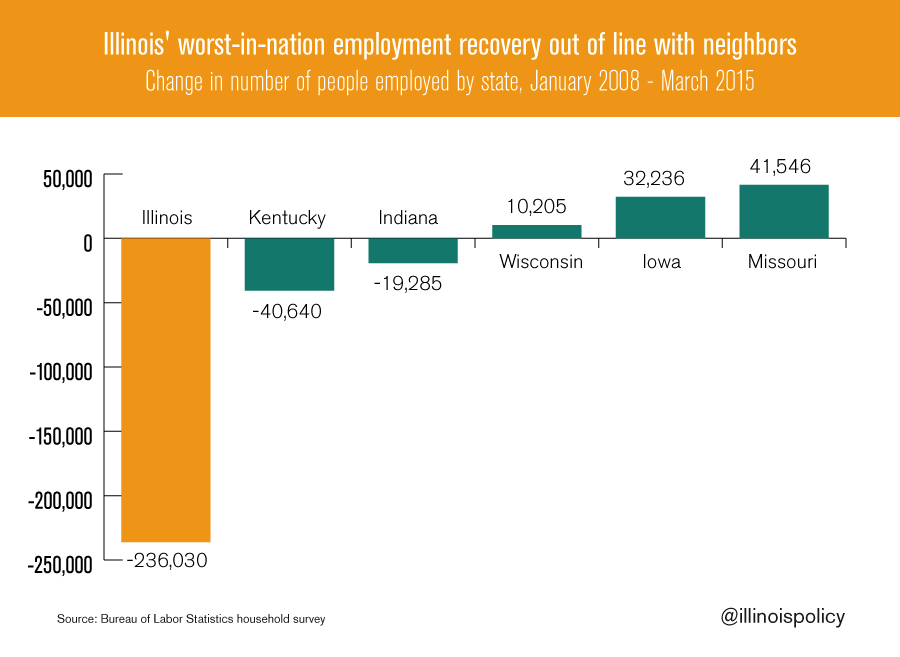 To what far-off lands did they migrate? India? China? Myanmar? No. Most went to high-growth states, such as Indiana or Texas, according to the U.S. Census Bureau.
Pro-growth polices in neighboring states have been poaching Illinois industry and talent for years. Lawmakers must internalize this truth, regardless of its partisan implications.
In Illinois, fighting for the state's middle class doesn't mean adopting a regulatory climate on par with Beijing, Bangladesh or Bangalore – it means making the reforms necessary to keep up with its neighbors.
Image credit: Joey Gannon