March jobs report: Illinois workforce shrinks, manufacturing continues bleeding
Illinois' manufacturing payrolls have declined in 21 of the last 30 months.
Illinois' unemployment rate remained at 6 percent in March, according to the April 21 economic release from the Bureau of Labor Statistics. But this rate doesn't show the underlying weakness of this month's report. The number of people working in Illinois fell by 10,000, in lockstep with a shrinking state workforce. Meanwhile, the number of people unemployed in Illinois barely changed, according to the bureau's household survey, which determines the unemployment rate.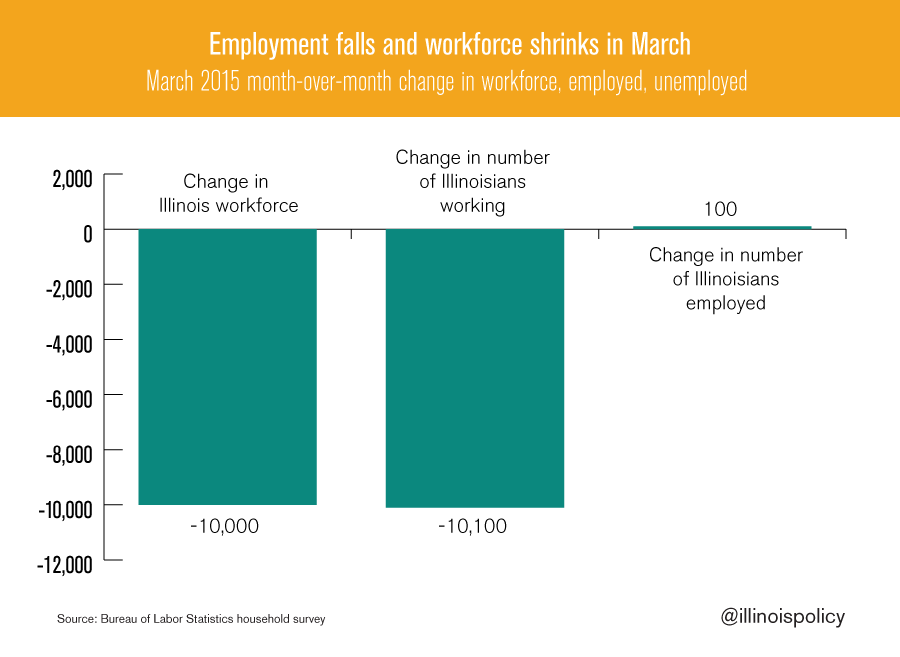 Month over month, Illinois lost 1,800 payroll jobs, according to the bureau's establishment survey, which breaks down the numbers by industry. Areas of strength were trade, transportation and utilities (+4,200), and construction (+3,600). The heaviest losses came in leisure and hospitality (-4,900); other services (-2,900); and financial activities (-2,400). Of particular note is that Illinois once again lost manufacturing jobs, down another 600 for the month of March. Manufacturing payrolls have declined in 21 of the last 30 months.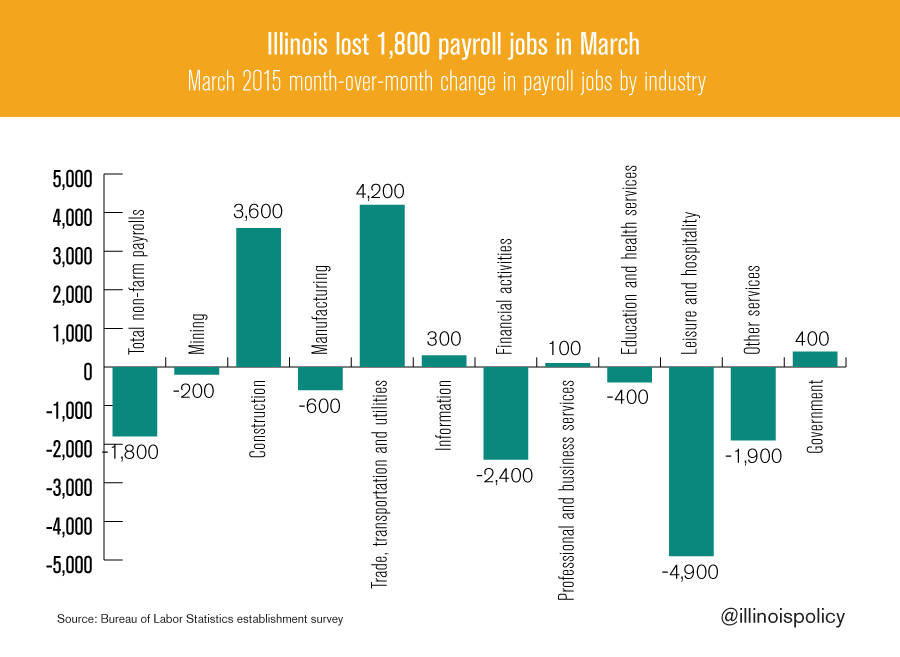 Illinois had mixed jobs reports in January and February, but the March report is negative across both surveys. Two major problems that stick out over time: Illinois' rapidly shrinking workforce, which has masked the state's weak employment recovery, and Illinois' manufacturing decline and exodus. There are 236,000 fewer people working in Illinois today than when the Great Recession began.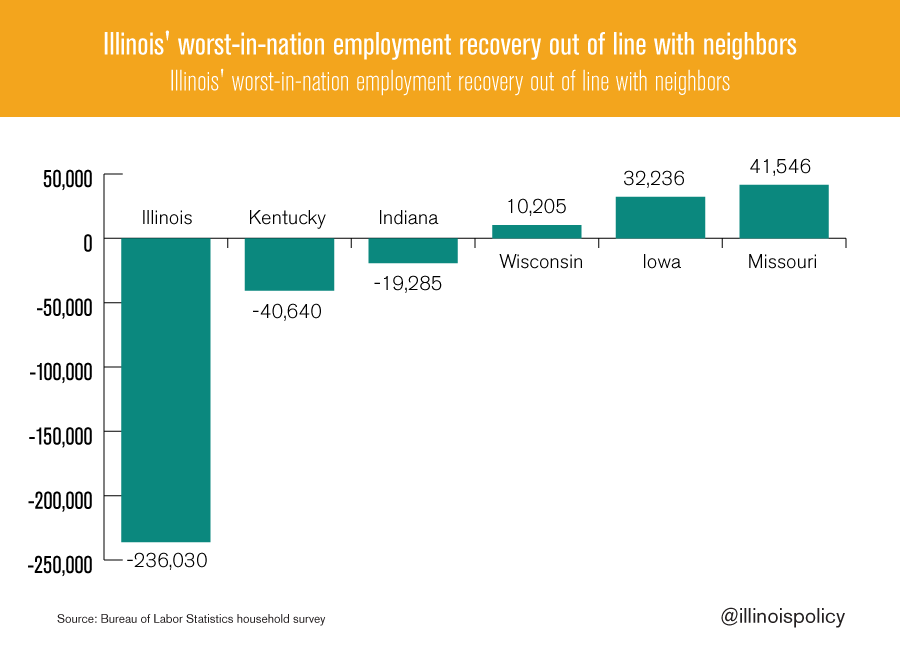 Since Illinois' manufacturing recovery peaked in the summer of 2012, the Land of Lincoln has seen a loss of 8,600 manufacturing jobs. Meanwhile Michigan and Indiana, which both have much more competitive workers' compensation systems and have enacted statewide Right-to-Work legislation, have increased manufacturing jobs by 50,000 and 29,400, respectively.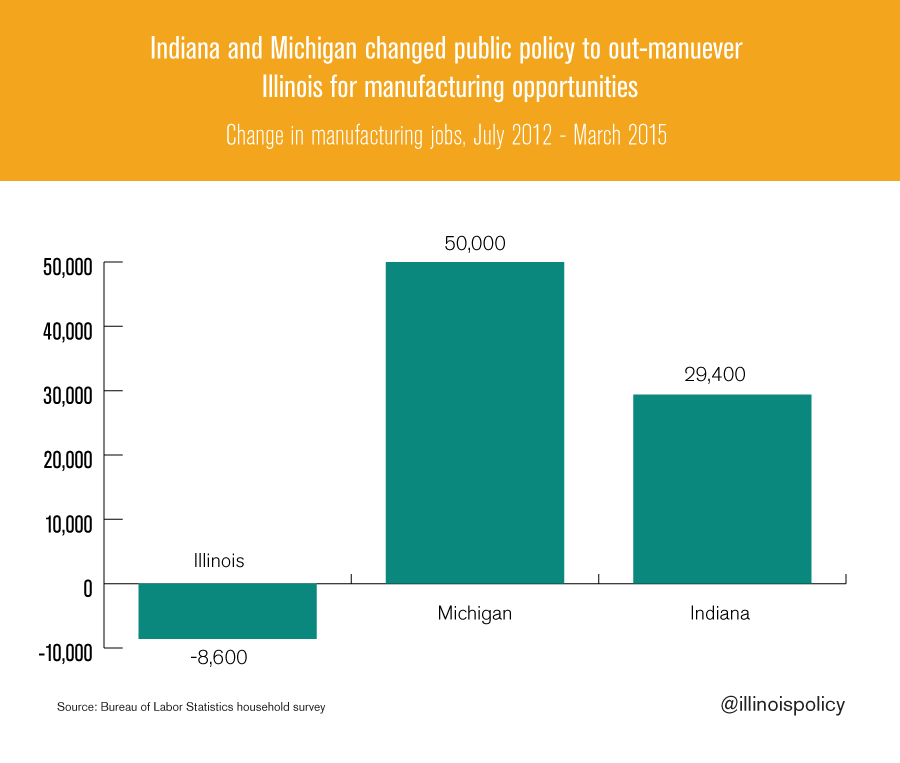 Illinois lawmakers need to create a policy framework to engineer a manufacturing comeback. The framework should include an overhaul of the state's workers' compensation and unemployment-insurance systems, along with municipal solutions such as creating Right-to-Work municipalities in places that want to replenish their manufacturing bases, where the risk of losing manufacturing work has become all too real.
Broader state reforms can help revive entrepreneurship across the Land of Lincoln. Legislators in the General Assembly have taken to championing pro-entrepreneurial policies, including reforms to taxes and fees for entrepreneurs, embracing crowdfunding and abolishing the death tax. This legislative agenda to foster entrepreneurship along with structural reforms to the state's business climate will provide a tremendous spark for creating meaningful opportunities in Illinois.