Illinois' 17-year jobs depression
Illinois has no more jobs in 2015 than it had in 1998.
Much in Illinois has changed since 1998. Michael Jordan officially announced his retirement from professional basketball in January 1999. The Chicago White Sox won the World Series in October 2005. The Chicago Blackhawks won three Stanley Cup championships between 1998 and 2015. And two Illinois governors went to prison.
But here's one thing that hasn't changed: the number of payroll jobs in Illinois.
Illinois has been in a jobs depression for 17 years, according to data from the federal Bureau of Labor Statistics, or BLS. Illinois businesses reported a total of 5.9 million payroll jobs in September 2015. That's the same number as 206 months ago in July 1998, according to BLS data. The data also reveal a startling fact: Illinois hasn't had a hiring recovery from either of the last two national recessions.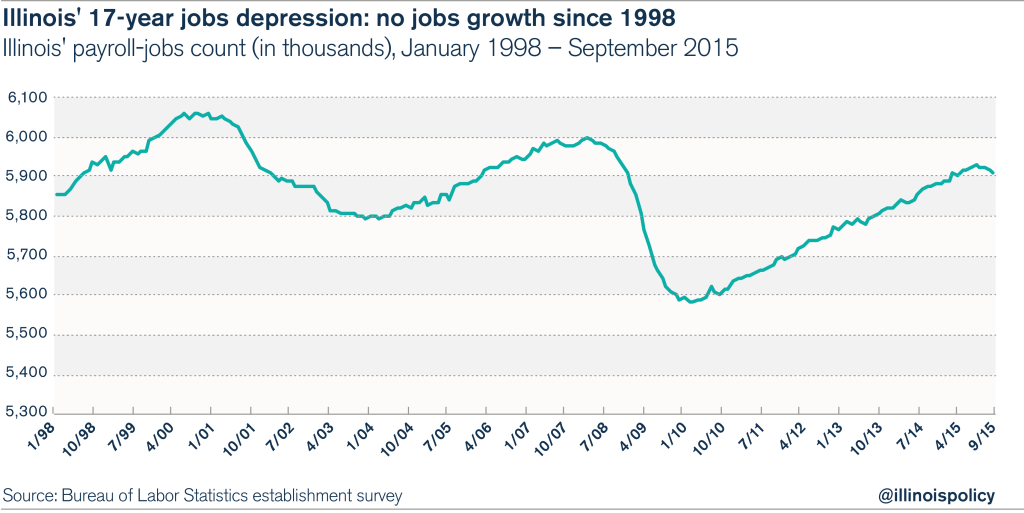 Illinois reached its jobs peak of 6.1 million payroll jobs in August 2000, before the recession of the early 2000s. Illinois jobs then rose to another pre-recession peak in January 2008, albeit at a lower level than the August 2000 jobs peak. But years after the end of the Great Recession, Illinois has 85,000 fewer jobs as of September 2015 than it had at its pre-Great Recession peak in 2008, and 150,000 fewer jobs than it had in August 2000, before the recession of the early 2000s.
Massive job losses in the manufacturing sector have dragged down Illinois' overall jobs numbers. Manufacturing jobs have a multiplier effect because they prompt job creation in the associated supply and services industries. However, since Illinois' jobs depression began in 1998, Illinois has lost 340,000 manufacturing jobs.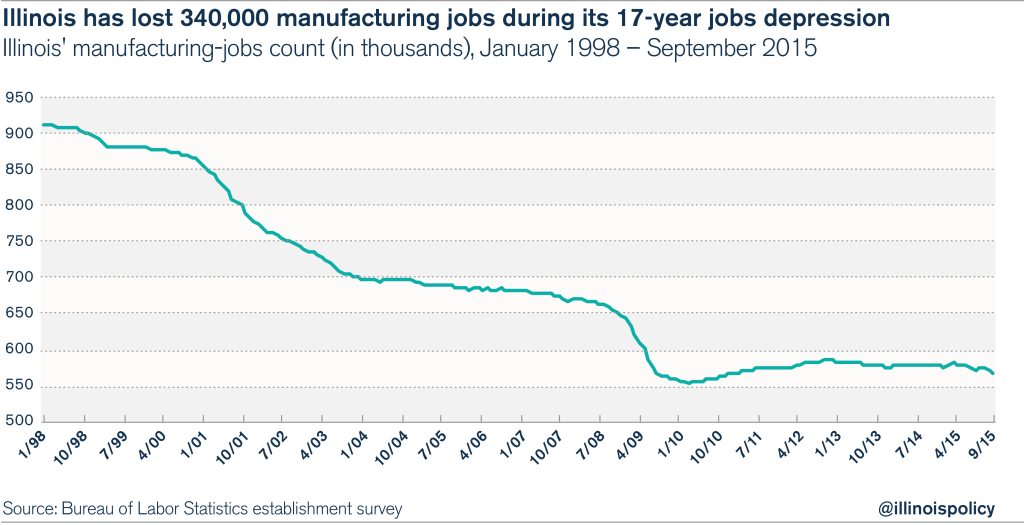 Illinois' jobs depression helps explain the out-migration of residents and income from the state, as well as its annual budget crises. The lack of solid jobs growth in Illinois forces the state's residents to look to other states for work and affordable places in which to live. As more hardworking Illinois taxpayers leave the state, Illinois' ever-expanding government has even greater difficulty covering the state's expenses.
A 17-year jobs depression means Illinoisans can't find good jobs. It means that Illinoisans, especially in blue-collar industries, have a hard time providing for their families. And compared to other states, Illinois' problems have continued to worsen.
Since January 2015, Illinois has added only 2,200 total payroll jobs – anemic when compared to the jobs growth of all nearby states.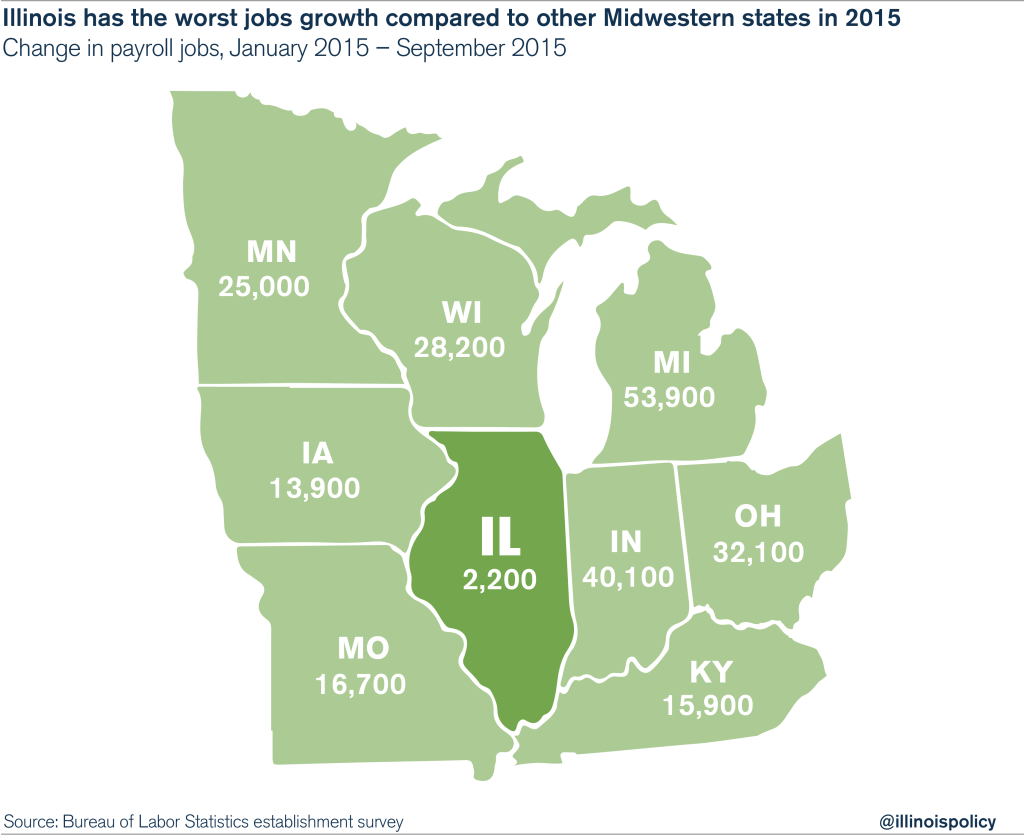 Illinois' manufacturing businesses have shed jobs throughout 2015, with a total loss of 12,500 manufacturing jobs through September 2015. Meanwhile, Illinois' neighbors have added thousands of jobs.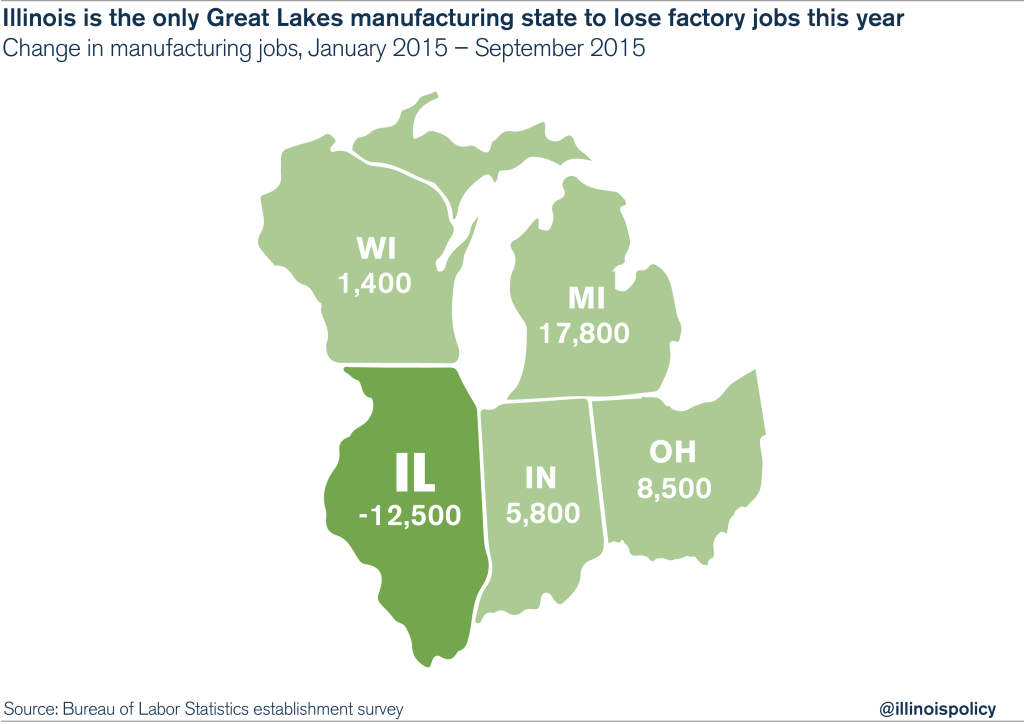 The results of Illinois' current economic policies are anti-worker. Illinois policymakers must focus on unleashing job creation at all income levels.
Gov. Bruce Rauner's agenda puts forth several key reforms to boost Illinois' beleaguered manufacturing sector, including workers' compensation reform and a property-tax freeze. In addition, the governor has proposed lawsuit reform because Illinois has the most anti-business legal climate in the Midwest. Adopting these reforms, as well as addressing Illinois' spending and government-worker pension crises, Illinois' anti-entrepreneur taxes, and forced unionization of unwilling workers would help end Illinois' 17-year-old jobs depression.
Illinois must abandon its culture of special interests and cronyism in favor of a fair playing field and more economic freedom.