Illinois' April jobs report: Workforce shrinks, manufacturing continues to decline
April data put the state's policy pain points on display.
Jobs report
Illinois' unemployment rate remained at 6 percent in April, according to the Thursday economic release from the Illinois Department of Employment Security, or IDES. But underneath the surface, the jobs report showed weakness across the state's economy, except for a pocket of strength in professional and business services. The number of people working in Illinois fell by 7,400, which was accounted for by the state's workforce shrinking by 8,000. Meanwhile, the number of people unemployed in Illinois fell by 500, which was also accounted for by the shrinking workforce.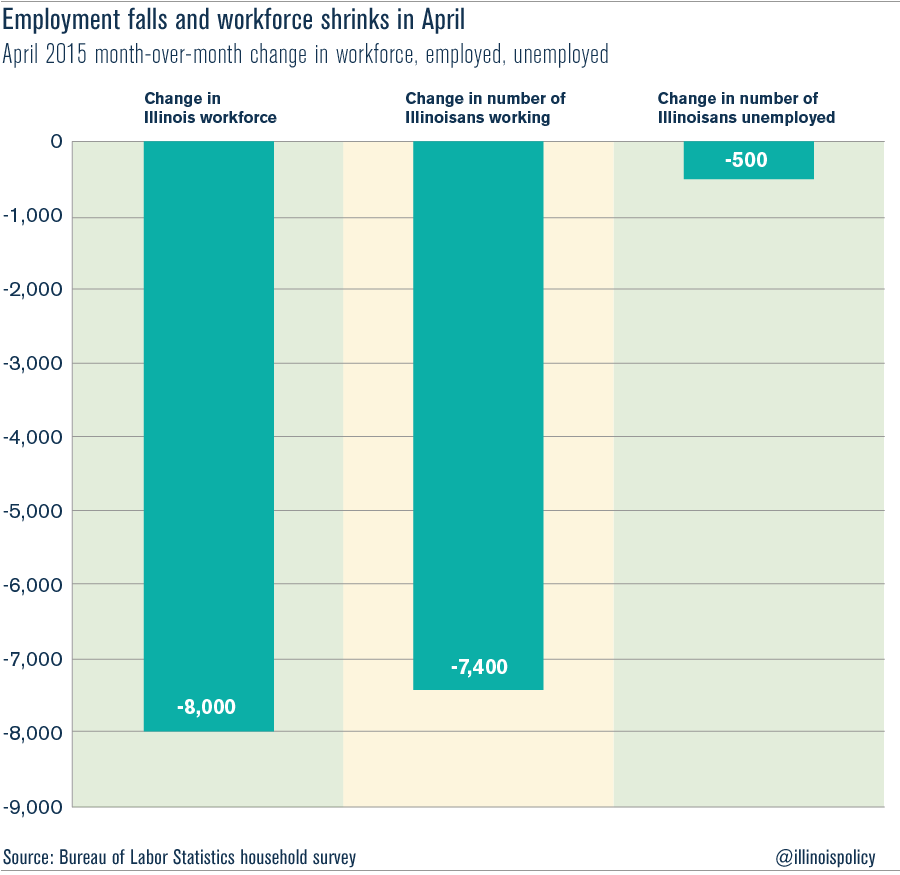 Month-over-month changes in payroll jobs showed a gain of 4,800 payroll jobs, according to IDES, driven by a gain of 8,200 jobs in professional and business services. Other areas of strength were education and health services (+1,100), and other services (+1,400). The heaviest losses came in financial activities (-2,400) and manufacturing (-1,200). Other payroll jobs losses came from construction (-800); government (-700); information (-500); leisure and hospitality (-200); and mining (-100).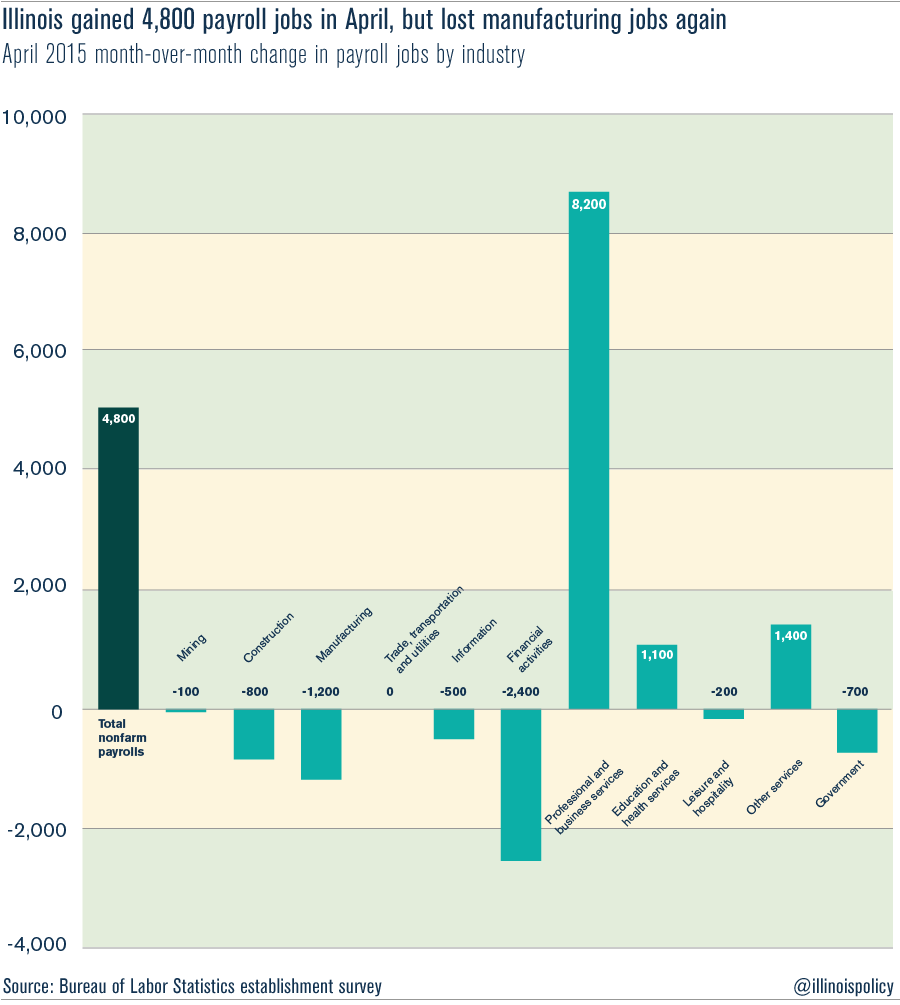 Pain points
Two particular pain points stuck out from the April jobs report that have become consistent problems for the Illinois economy. The first is the further decline in the state's workforce, which shrank by 8,000 people month-over-month. That means Illinois has a new record number of working-age adults out of the workforce. As a result, Illinois' workforce participation rate fell to a new 37-year low at 64.5 percent. The state's workforce participation rate has been in collapse since the Great Recession started causing job losses in January 2008, and has fallen by 4.3 percentage points, more than any other Midwestern state in the same time period.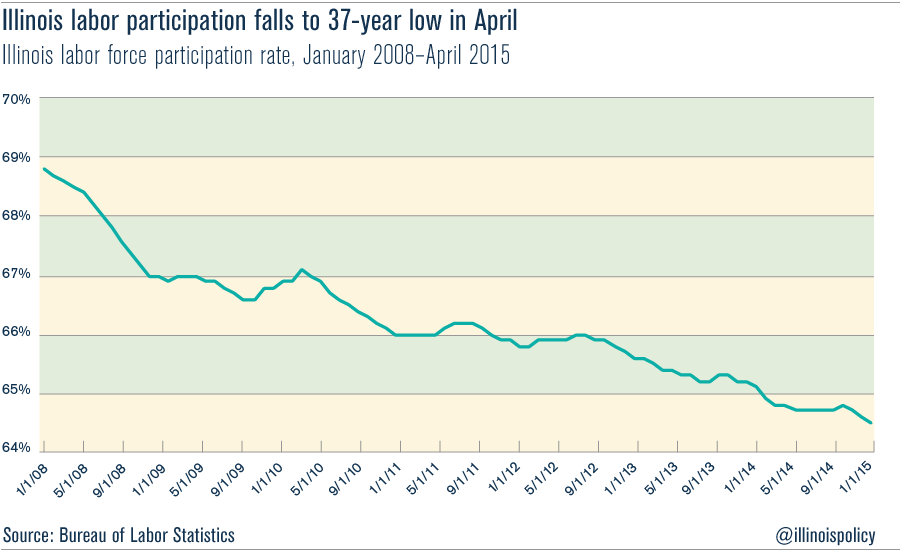 The second pain point is equally concerning: Illinois' consistent loss of manufacturing jobs. Illinois had a brief manufacturing jobs recovery after the Great Recession, which ended in July 2012. Since then, Illinois has lost manufacturing jobs in 24 of the last 33 months, including all four months of 2015. Illinois has seen a net loss of 4,600 manufacturing jobs this year alone.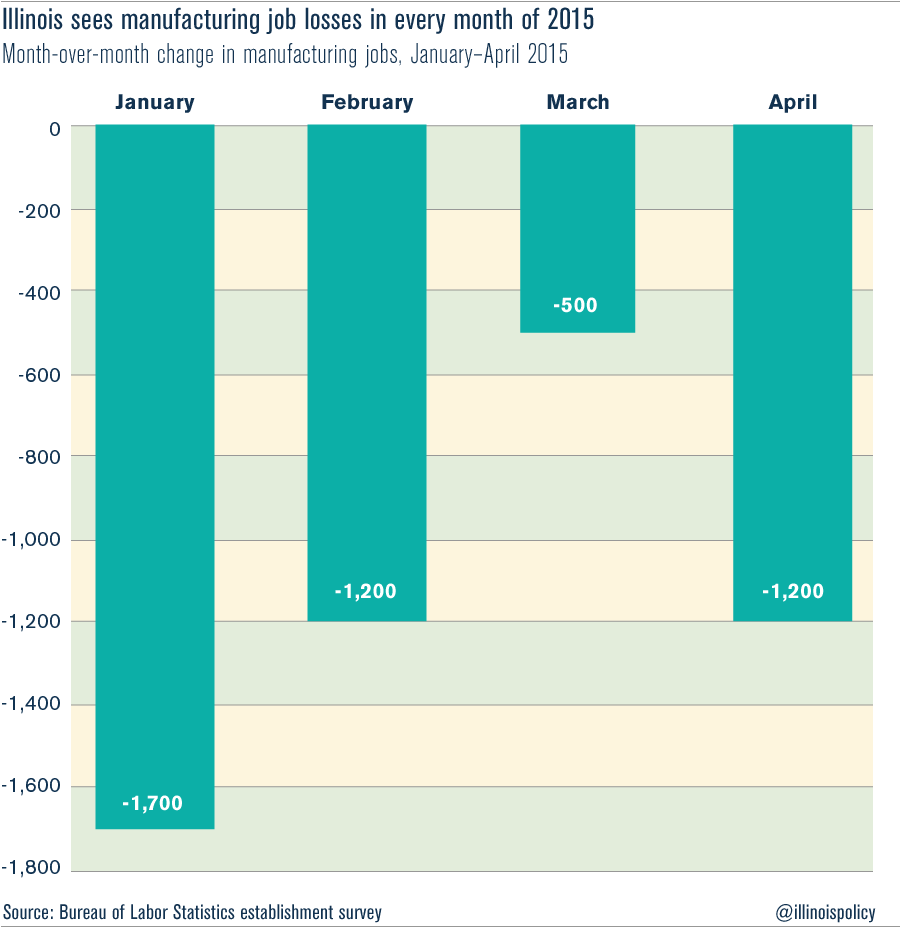 With reports of more steel companies leaving and shutting down, including the pending loss of 2,080 steel manufacturing jobs in Granite City, there are likely more manufacturing job losses to come. Meanwhile, Indiana and Michigan have stepped in to fill the vacuum, and have been consistently gaining manufacturing jobs in the same time period when Illinois has been losing out.
Illinois' consistently shrinking workforce combined with the state's out-migration crisis speaks to a variety of economic-policy pain points. However, the manufacturing losses point to a few specific problems, namely, Illinois' broken workers' compensation system. For example, Illinois' system lacks standards for proving that an injury was primarily caused by the workplace, leading to wild judicial activism and trial lawyers treating businesses like piñatas. The result is a system that is so out of whack that Illinois manufacturers pay double or triple the rates for workplace insurance compared to surrounding states.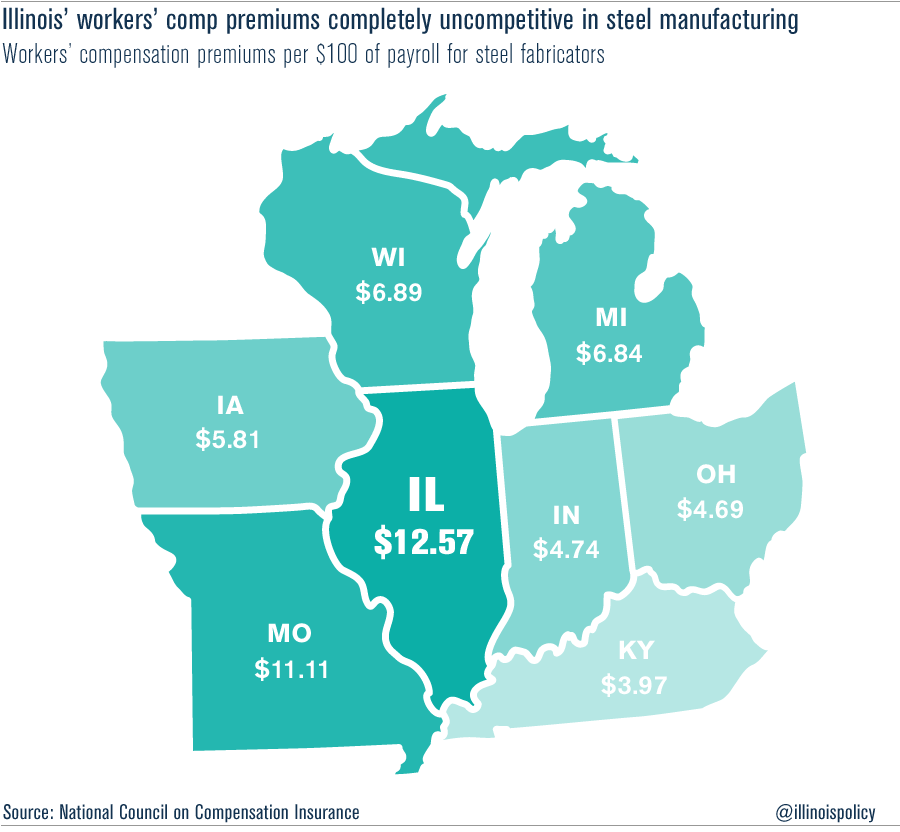 The problem is so bad that Illinois manufacturers can save millions of dollars per year, just on workers' compensation, by finding a new home with almost any other regional competitor. The regulatory cost of workers' compensation is so high that it has manufacturing companies fleeing the state, which means that few if any companies would consider Illinois for expanding production. There is no reason that a businessman would ignore the millions of dollars in workers' compensation savings that can be achieved in another state.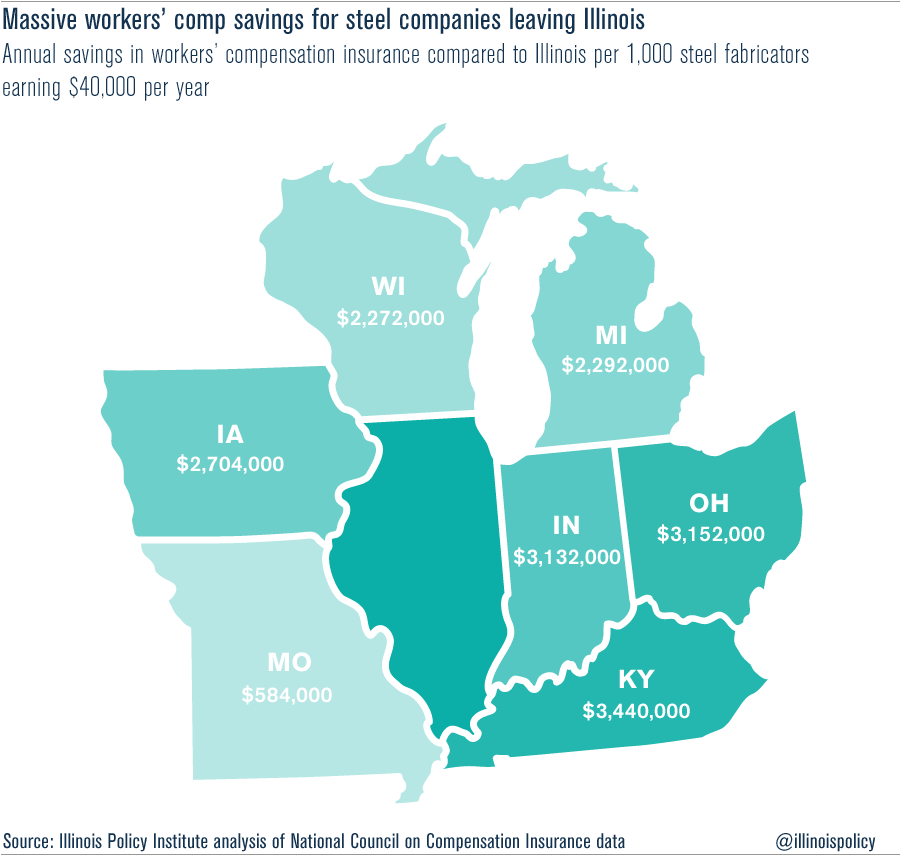 The policy framework for a manufacturing comeback must begin with reform to the state's workers' compensation system. Other issues that speak to Illinois' manufacturing problem are high property taxes and lack of worker freedom, which can be addressed by freezing property taxes and creating Right-to-Work municipalities in places that want to replenish their manufacturing bases.