Illinois' 'extreme' risk of gerrymandering becomes reality through congressional map
The Illinois congressional map proposal released by Democrats has districts that are far from compact, snaking to catch and avoid populations. Republicans label it the 'Nancy Pelosi Protection Plan.'
Democrats in Illinois' General Assembly unveiled a proposed congressional map Oct. 15, with 17 districts that twist, turn and look like the textbook version of a gerrymander.
Lawmakers were tasked with reducing the number of Illinois congressional districts from 18 to 17 after the 2020 Census confirmed Illinois experienced heavy waves of outbound migration. The 2020 Census was the first Census in over 200 years in which Illinois lost population.
If implemented, the new map would most likely yield 14 Democratic and three Republican districts. Currently, Illinois' congressional delegation has 13 Democrats and five Republicans. According to the Chicago Tribune, progressive Democrats argued for a map that would elect 15 Democrats and only two Republicans.
In April, Represent.Us, a nonpartisan, non-profit reform group, released a report revealing Illinois was one of 27 states under extreme risk for partisan gerrymandering.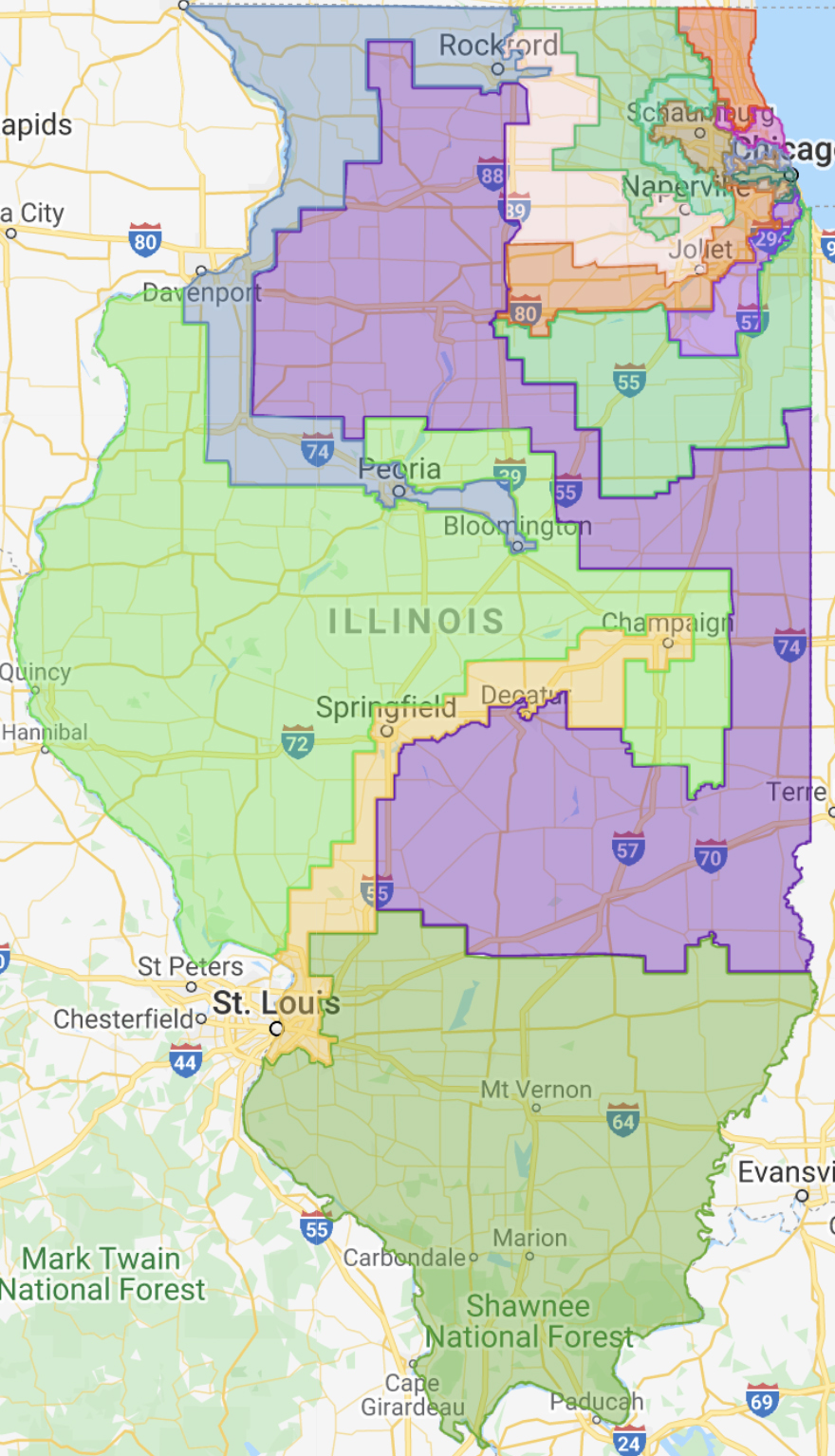 Illinois has a track record of abusing redistricting to protect incumbents from challengers and of grouping voters to ensure the party in power remains in power. Both Illinois Democrats and Republicans have abused the process to protect their own when they were in power.
The 2011 map drawn by Democrats forced incumbent Republicans to face primaries against one another or abandon re-election. In 1991 Republicans reclaimed the General Assembly in the exact same manner.
Gov. J.B. Pritzker previously broke his promise to veto gerrymandered maps, casting doubt that the governor will oppose the newly proposed congressional map. Currently, Illinois' proposed state legislative maps are being challenged in federal court by state Republicans and the Mexican American Legal Defense and Education Fund.
State Republicans have heavily criticized Democrats for drawing what they said is a state legislative map designed to protect incumbents as well as ensure a Democratic majority in the U.S. House of Representatives in the 2022 midterms.
"It's appalling that fair representation, keeping communities of interest together, and transparency in the mapmaking process in Illinois all had to take a back seat to the demands of national politics," Illinois GOP Chairman Don Tracy said. "Call this new Illinois map the 'Nancy Pelosi Protection Plan.'"
One of the main consequences of gerrymandering is discouraging candidates to run for office, as well as reducing voter participation. On average, 4.7 million voting-age Illinoisans live in state legislative districts where there was only one option for state representative on the ballot.
The districts created by Illinois Democrats have been so uncompetitive that in 2020, 44% of Illinois House of Representative seats were uncontested and 11 of 22 Illinois Senate candidates faced no opponent, according to the Chicago Tribune.
Illinois' history, scholarship and experiences of other states all argue for putting mapping power in the hands of a nonpartisan redistricting commission made up of Democrats, Republicans and independents to keep politicians from carving out uncompetitive districts. California and Arizona have seen more competitive elections and fewer safe seats after implementing such commissions.
Illinois could also automate the process, allowing maps to be drawn randomly by algorithm, and then selected by an independent commission.
Public support for redistricting reform is widespread. A 2016 movement to put a fair maps question on the ballot received over 550,000 signatures from Illinois voters before it was derailed by the Illinois Supreme Court. According to polling by the Paul Simon Public Policy Institute, 67% of Illinoisans favored the idea, compared to only 22% who were against it.