Illinois House committee passes bill to ban red-light cameras statewide
Red-light cameras have been the subject of multiple corruption investigations and have cost Illinois drivers over $1 billion.
The Illinois House Rules Committee passed a bill on March 3 that would ban red-light cameras statewide. It now heads to the House Transportation Committee for a hearing at a later date.
State Rep. David McSweeney, R-Barrington Hills, filed House Bill 323 in January 2019 and was joined by a bipartisan group of sponsors. Recent bipartisan pushes to ban the cameras allowed the bill to be brought up for consideration after a year on the table.
McSweeney also was the chief sponsor of a bill that would ban red-light cameras in non-home rule communities. House Bill 322 passed the House on Feb. 26 with only four members voting against it. However, this would only impact 45 communities with red-light cameras, removing just 92 of the state's 607 cameras.
A separate bill introduced in the Illinois Senate would ban the cameras statewide. Senate Bill 2902 is sponsored by state Sen. Mattie Hunter, D-Chicago, and includes home-rule municipalities – meaning the cameras would be outlawed throughout Illinois.
Under House Bill 323, Illinois' 607 red-light cameras would come down. An Illinois Policy Institute study found municipalities around the state collected over $1 billion from the cameras between 2008 and 2018.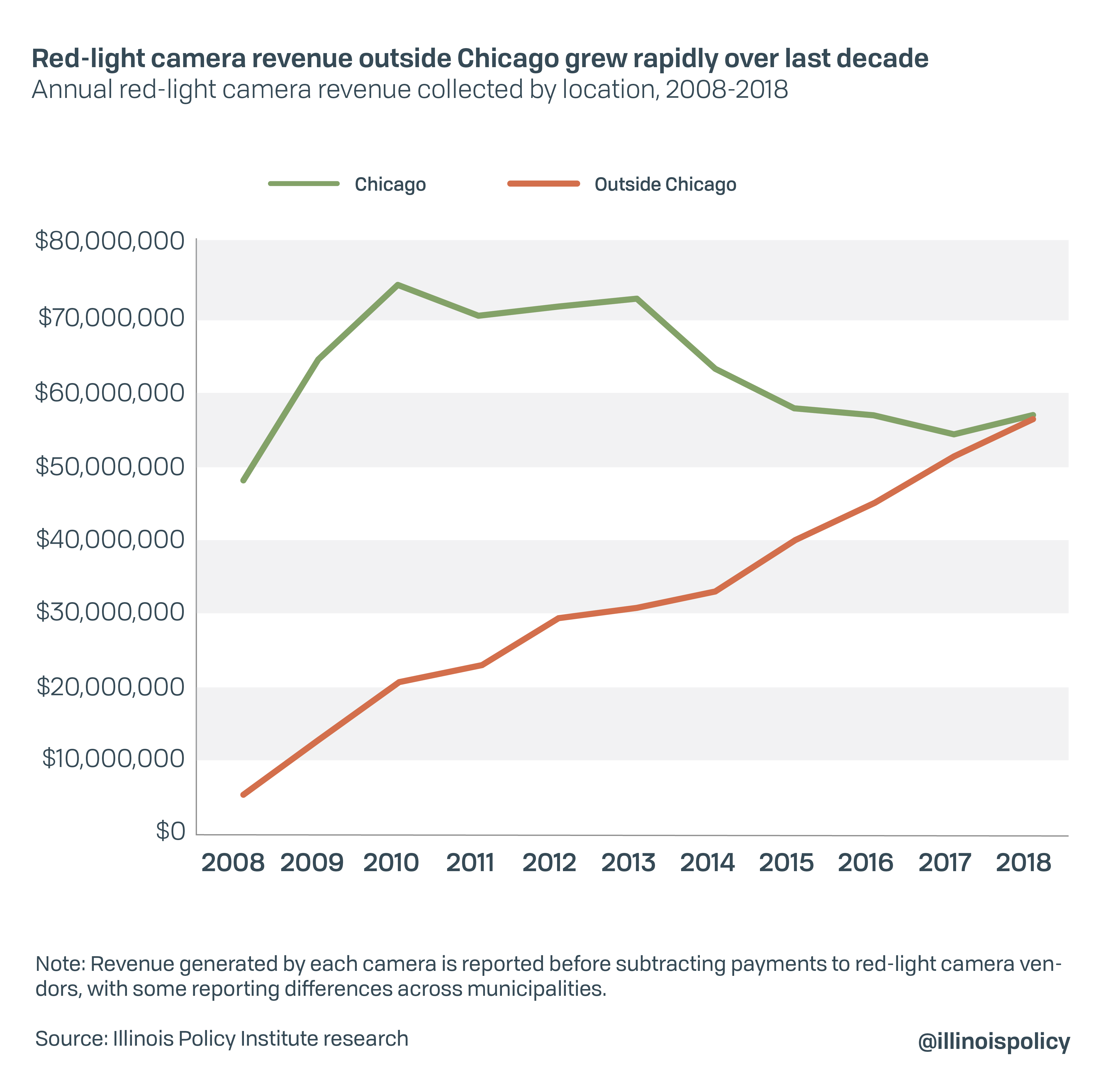 Red-light cameras have been at the heart of a federal corruption investigation that has seen one former state senator get charged along with a list of others.
Oakbrook Terrace saw its mayor resign after FBI agents raided his home and took $60,000 from a safe as part of the probe into red-light camera vendor SafeSpeed LLC. Oakbrook Terrace obtained its cameras after convicted felon and former state Sen. Martin Sandoval intervened with the Illinois Department of Transportation, a move that allowed cameras to glean about $9 million in two years from drivers at an intersection IDOT deemed safe.
Sandoval pleaded guilty Jan. 28 to accepting $250,000 in bribes from SafeSpeed and failing to pay taxes on the money. His Oakbrook Terrace ploy was documented in a Chicago Tribune investigation in 2017, including the large political donations he received from SafeSpeed.
Cook County Commissioner Jeffrey Tobolski submitted his resignations as commissioner as well as mayor of suburban McCook on March 6, both effective March 31. Tobolski's chief of staff on the commission has been charged with bribery related to the cameras and his village was raided by federal agents within days of raids targeting Sandoval.
Charges issued March 5 state a former deputy commissioner of the Chicago Department of Aviation, Bill Helm, bribed Sandoval, according to the Chicago Tribune. Helm was an agent for SafeSpeed and a former top Illinois Department of Transportation official who quit after he was caught by a red-light camera in Chicago driving a state vehicle for personal use.
In January, Illinois Comptroller Susana Mendoza called on communities to reconsider their red-light camera programs. She said her office would no longer assist municipalities in collecting unpaid tickets.
"The comptroller's office isn't going to be in the business (of helping) a program that's broken and morally corrupt," Mendoza said.
The Tribune report found over half of the intersections at which IDOT approved cameras were among the safest in the state, according to the department's own study. Many camera permits were also given for intersections that had no red-light crashes in the previous three years.
Regardless of where they're installed, red-light cameras lack clear-cut safety benefits. A 2018 study from Case Western Reserve University found red-light cameras likely do not increase traffic safety. Researchers looked at traffic accident data from Houston, which operated its red-light camera program from 2006 to 2010, and found that while T-bone collisions did indeed decrease during that time, non-angle collisions, such as rear-end crashes, actually increased. Rather than reducing traffic accidents, the study found red-light enforcement cameras may have increased accidents overall.
A similar study by the Tribune in 2014 found the same results: rear-end crashes were up 22%. In some cases, the number of crashes at an intersection increased after the camera was installed. Many cameras in Chicago were also placed at intersections that already had few accidents.
Crashes also increased at the infamous intersection in Oakbrook Terrace. The police chief in neighboring Oak Brook reported there were only 23 crashes at the intersection in 2015, but that rose to 36 in 2017 after the cameras were installed and then to 49 in 2019. Rear-end crashes jumped from 14 in 2015 to 41 in 2019.
Illinois' red-light camera history is riddled with corruption and has created high costs much more difficult to tally than the $1 billion in fines taken from drivers. It's time for the state to remove all of them, once and for all.