Illinois last among neighbors, 42nd in the nation for jobs growth in 2017
Illinoisans have become accustomed to a state economy that lags behind those with better business climates.
In 2017, Illinois finished dead last among its neighboring states in terms of jobs growth.
Data from the Bureau of Labor Statistics reveal the Land of Lincoln only saw a 0.49 percent increase in the number of nonfarm payroll jobs from December 2016 to December 2017. This sluggish employment growth earned Illinois the title of ninth-worst in the nation.
Meanwhile, Illinois' neighbors have once again seen healthier jobs growth than the Land of Lincoln.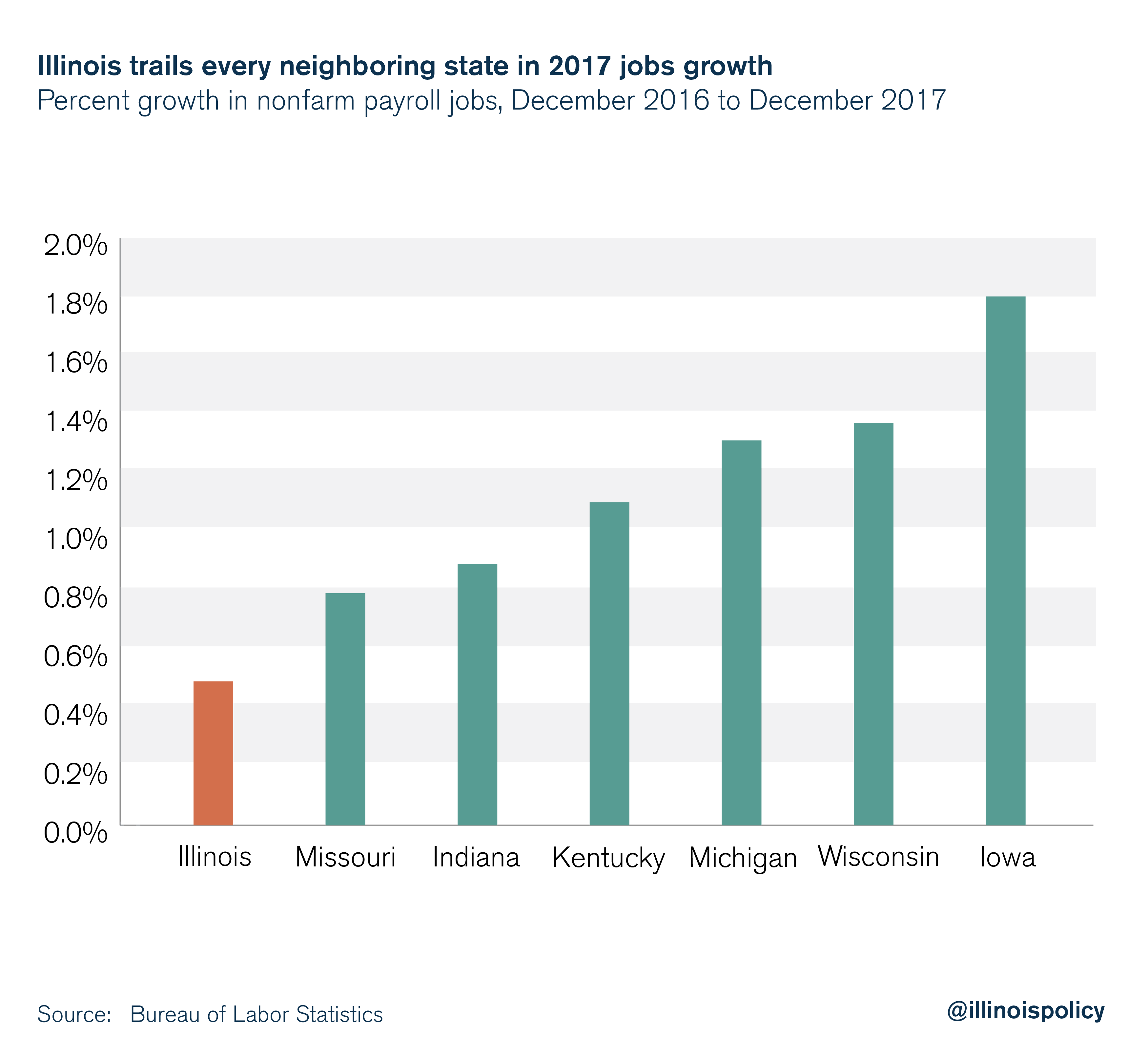 Sadly, this comes as no surprise to those who have followed Illinois' economic woes.
Continuously hiking taxes to pay for years of budget mistakes is a recipe for poor economic performance, meaning fewer job opportunities and slower wage growth for working Illinoisans. In other words, tax hikes are fuel for the state's outmigration crisis.
Most economists agree that when lawmakers raise taxes, economic growth suffers because of the negative impact of higher taxes on investment. This was the case with Illinois' 2011 tax hike, and will be the case with the 2017 tax hike as well.
Illinois has experienced a decline in investment. This is made clear by data from the Bureau of Economic Analysis, which show that noninvestment spending in the private and public sector has taken up an increasing share of Illinois' economy.
Declining investment means a reduction in not just the number of jobs in Illinois, but also in the quality of those jobs.
Sluggish employment growth is not something state lawmakers should be proud of. Instead, they should focus on needed reforms to ensure more Illinoisans can find work.
This does not mean making small business owners – who created 75 percent of the net new jobs in 2016 – pay some of the highest property taxes in the nation and the highest workers' compensation costs in the region. It doesn't mean raising the overall tax burden to fix Springfield's spending problems.
Instead, lawmakers need to rein in the state's spending to create a stable fiscal environment. Passing a $5 billion tax hike in July 2017 only to continue overspending by $1.5 billion has further hindered economic opportunity within the state. Illinois lawmakers need to do what Illinois families across the state do every day – live within their means.
If the Illinois General Assembly could provide a basic level of certainty about the long-term growth of state and local government, and thus ward off future tax hikes, Illinois could once again become an attractive destination for families and businesses.