Illinois loses 16,700 jobs in face of new tax hike proposals
New Illinois jobs data reveal a state with thousands of job losses, unemployment rising to 5.7 percent, a collapsing manufacturing sector, and several downstate communities sliding back into recession — all of which make the Illinois Senate's new tax hike proposal especially harmful.
Illinois lost 16,700 payroll jobs in December 2016, according to a Jan. 20 report from the Illinois Department of Employment Security, or IDES.
In addition, the state's November jobs count was revised down from a gain of 1,700 jobs to a loss of 4,500 jobs. Illinois' unemployment rate went up to 5.7 percent in December, even though Illinoisans continued to drop out of the workforce.
The budget plan coming out of the Illinois Senate couldn't come at a worse time, as it depends on tax hikes that would only hinder job creation.
The state's jobs crisis is spiraling out of control. The IDES report shows Illinois shed thousands of jobs across almost all sectors, with the largest losses coming in education and health services (-5,400); professional and business services (-3,600); and construction (-3,200). Manufacturing also continued a downward spiral in its labor force, dropping another 1,100 jobs on the month.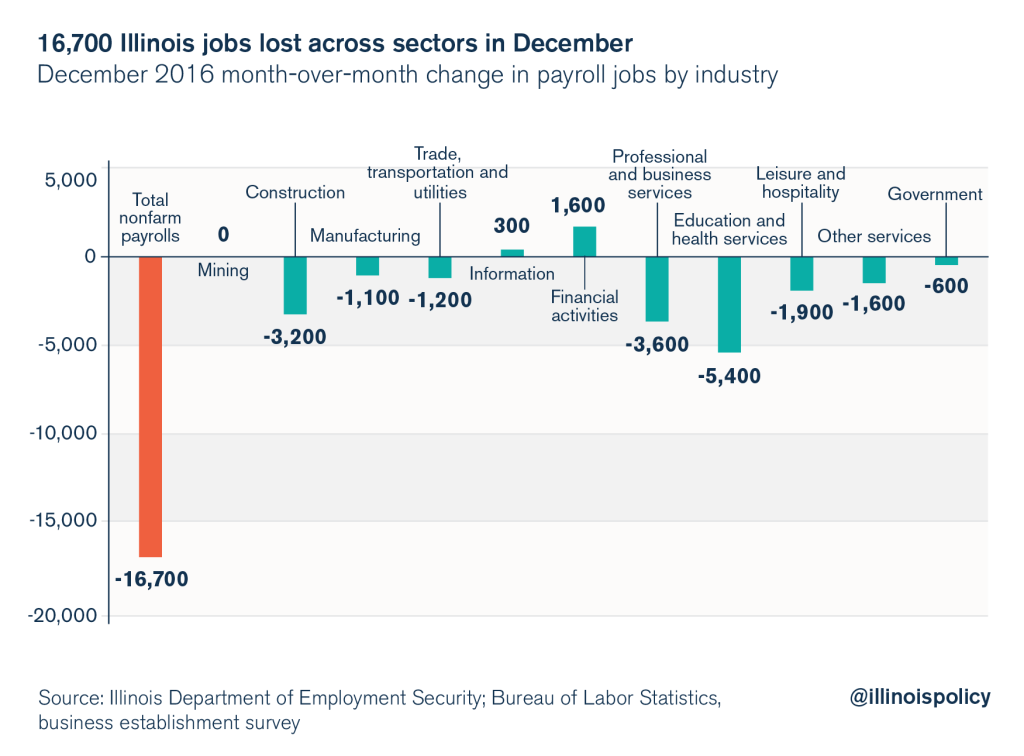 Illinois' unemployment rate rose to 5.7 percent from 5.6 percent. The reason for this spike in unemployment is an increase of 6,100 Illinoisans who were counted as unemployed in December. The labor force continued its long-term slide, shrinking by another 2,500 in December.
The December payroll jobs report was bad news across the board, with losses in both white-collar and blue-collar sectors. Manufacturing had the largest loss of jobs of any sector in 2016, shedding 11,000 jobs in the past year.
After two consecutive years of hemorrhaging manufacturing jobs, Illinois is headed toward its all-time low in factory work. At the bottom of the Great Recession in January 2010, Illinois had only 553,800 manufacturing jobs. Now Illinois has 565,400 production jobs, reflecting weak global demand for some local products, as well as the state's policy-induced exodus of manufacturing investment from Illinois.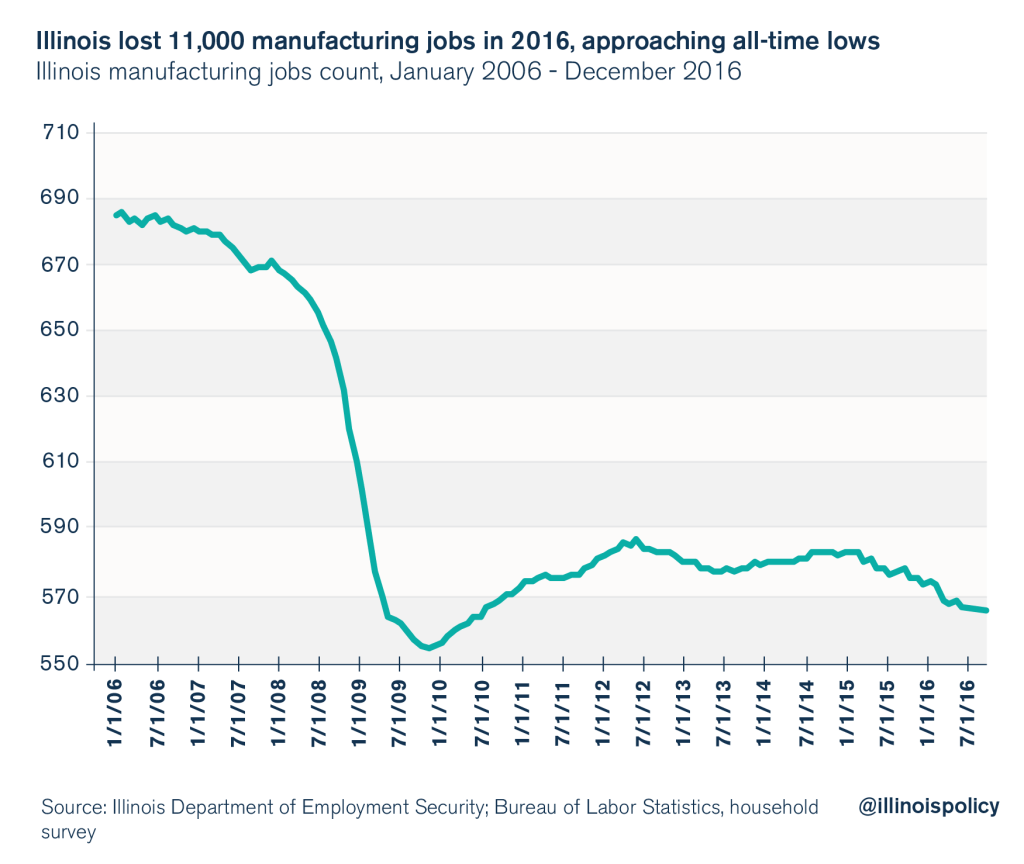 Illinois has a long-running divergence between white-collar and blue-collar job opportunities, with job gains concentrated in the greater Chicago area and job losses occurring in downstate communities. The manufacturing job losses are a sign of this divergence, and reflect the differences in economic opportunity between the two major parts of Illinois.
The "2017 State of Illinois Economic Forecast" prepared for the Commission on Government Forecasting and Accountability shows how stark the difference has become. According to the report, four downstate metro areas are already in recession, and four more have economic recoveries at risk of coming undone. Across the Midwest, there are eight metro areas in recession, and Illinois is home to half of them.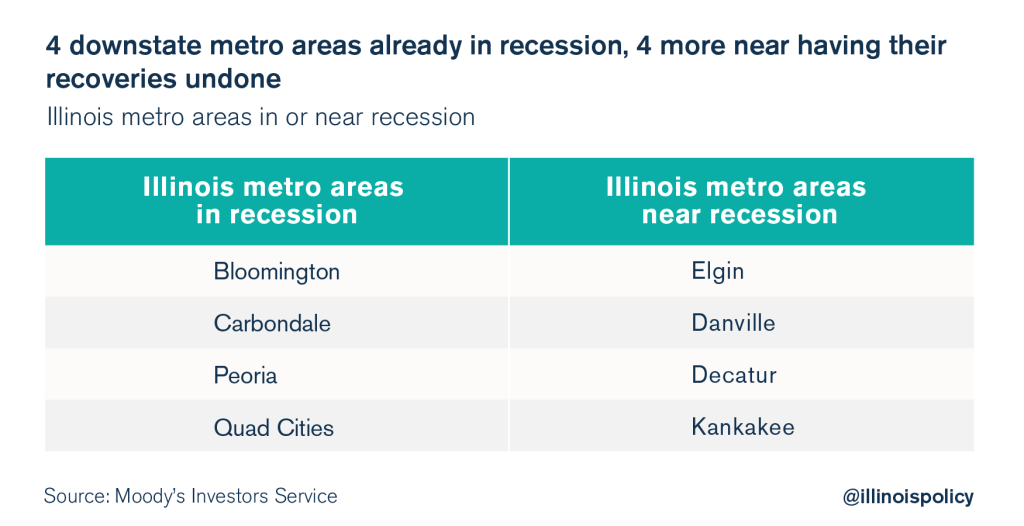 Downstate communities are tipping back into recession even though they never completely recovered from the Great Recession. The Chicago area has gained 110,000 jobs compared with before the recession, while the downstate region has lost 43,000 jobs over the same time.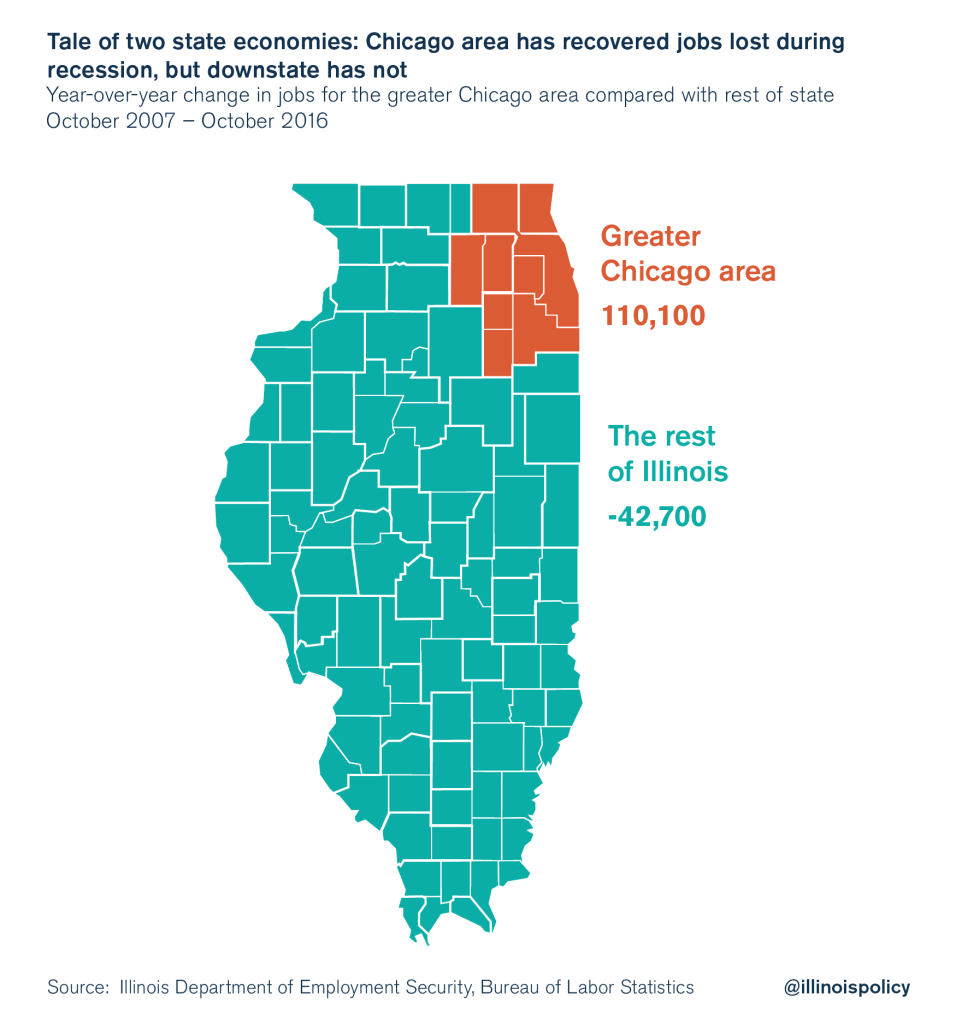 This is one of the worst times imaginable to raise taxes on downstate Illinoisans.
Downstate industrial communities suffer under a tax and regulatory environment that is especially costly for industrial occupations. And the same taxes and regulations that cause problems for downstate communities in need of job creation also harm minority communities in the Chicago area, which is burdened with the nation's highest black unemployment rate. In fact, the Chicago area in general, with looming property tax hikes and skyrocketing debt, could itself edge toward recession with all the tax hikes hitting families and businesses.
Tax hikes lower the wages and standard of living of all taxpayers. Springfield political leaders should address spending drivers instead of asking for still more taxpayer money. Key spending drivers in need of reform include reducing the extraordinary collective bargaining power of government-worker unions, and changing the Illinois Constitution to allow for reform of the state's deeply indebted pension system.
Illinois political leaders need to make the state an attractive place for job-creating businesses to invest. The IDES jobs report brings terrible economic news and should serve as a reminder to the General Assembly that Illinois' structural imbalances need to be fixed – and tax hikes aren't the answer.