Illinois manufacturing workers earn less money, see less growth than Indiana peers
Federal data show how Illinois workers suffer under their state's anti-manufacturing status quo.
In his Jan. 27 State of the State speech, Gov. Bruce Rauner pointed out that manufacturing workers in Indiana are making more money than manufacturing workers in Illinois, after adjusting for cost of living.
Rauner is correct, as verified by data from the federal Bureau of Labor Statistics, or BLS.
In addition to housing better-paid manufacturing workers, Indiana is adding more manufacturing jobs than Illinois. While Illinois has been losing factory jobs for more than three years, Indiana has continued to grow these opportunities.
Several BLS surveys measure the wages of manufacturing and production workers, each capturing slightly different worker populations and aspects of compensation. In all cases, Indiana factory workers come out on top.
The cost-of-living adjustor, which comes from the Tax Foundation, holds that a dollar in Illinois is worth about 99 cents compared to the national average, while a dollar in Indiana is worth $1.09. In other words, Illinois' cost of living is slightly more than 10 percent higher than Indiana's.
The first survey is the BLS' "Occupational Employment and Wage Estimates" from May 2014. According to this survey, "production" workers in Indiana earn about $2,300 more per year than production workers in Illinois, after adjusting for cost of living.

Another survey is the BLS' "Quarterly Census of Employment and Wages." The most recent update of this dataset comes from the second quarter of 2015 and shows the average weekly wage for "manufacturing" workers in each state. After annualizing the weekly wages and adjusting for cost of living, Indiana manufacturing workers make about $1,700 more per year than Illinois manufacturing workers.

Finally, the BLS' "State and Area Employment, Hours, and Earnings" survey measures hourly wages for "production employees" in the "manufacturing" industry. The most recent data come from December 2015, when the average annual wage for these workers in Indiana was $850 higher than for those in Illinois, after adjusting for cost of living.

The wage difference isn't the only story when comparing manufacturing between the two states. There's also an opportunity difference. After a brief and stumbling recovery from the Great Recession, manufacturing jobs peaked for Illinois in July 2012. Since then, Illinois is down by 19,000 manufacturing jobs on net. Meanwhile, Indiana added 32,000 manufacturing jobs over the same time period.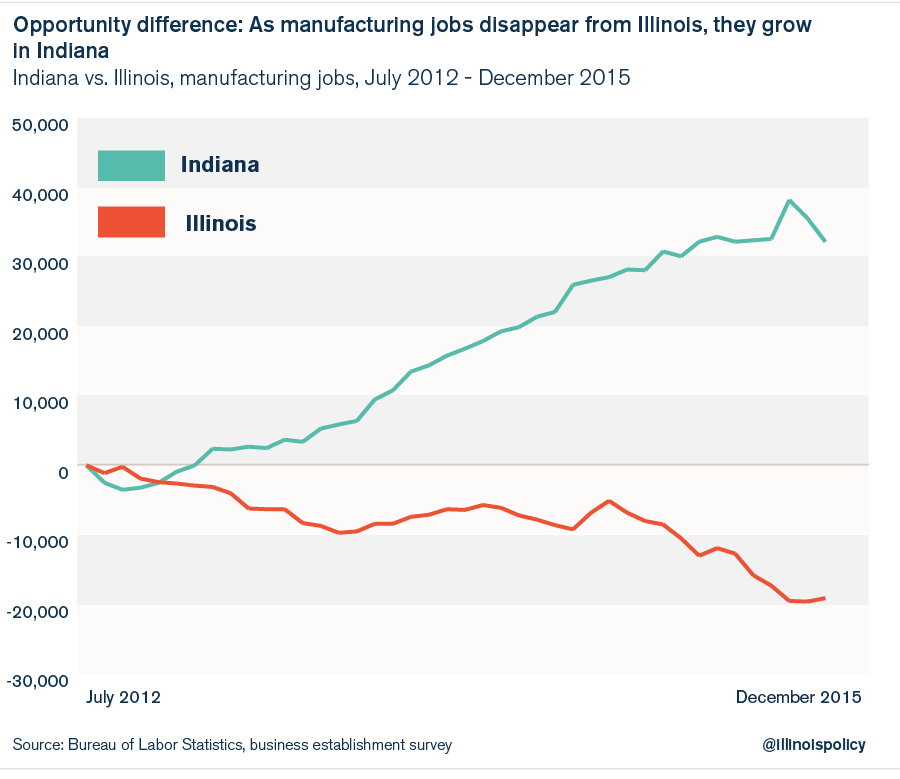 Much of Rauner's reform agenda targets the manufacturing sector, and with good reason. Not only is manufacturing a tremendous industry for blue-collar workers to earn a good living, it's also one of the industries where job opportunities have suffered most under the status quo policies in Illinois. Indiana, on the other hand, has already forged a better path toward more jobs and better wages for its workers.
For starters, two of Rauner's first-year agenda items would boost Illinois' manufacturing sector by reforming major pain points in the Illinois economy. They are:
Additional levels of policy reform will be needed to help Illinois become more competitive over time, including:
Tax reform to exempt all businesses from the sales tax on business inputs. Illinoisans should pay sales tax at the retail level, rather than allowing layers of sales taxes for manufacturing inputs. This broadens the concept behind the manufacturers'-purchase credit and the manufacturing- and machinery-equipment credits.
Statewide or local Right-to-Work laws to protect worker paychecks, as has already begun in Lincolnshire.
Education reform to bring shop class back to high schools. A broader vision for education could include schools that specialize in production skills, especially in manufacturing communities and communities where few students attend college.
The status quo is failing Illinois workers in critical industries such as manufacturing, and the numbers prove it. Whether it's more job opportunities or better wages, manufacturing workers are faring better in Indiana than in Illinois.
And without reform, the Hoosier advantages will grow, while Illinois manufacturers will continue looking east as they plan for new investment, facilities and hiring.