Illinois' southernmost counties see population losses in 2017
As part of Illinois' statewide population drop in 2017, southern Illinois counties saw a continuation of population losses they've been seeing for years.
Southern Illinois is far from immune to Illinois' statewide population drop, new data from the U.S. Census Bureau show, with nearly all of the state's southernmost counties taking a population hit.
From Jefferson County on south, 16 of 17 counties dropped in population. And for many cities, it's been a trend for years.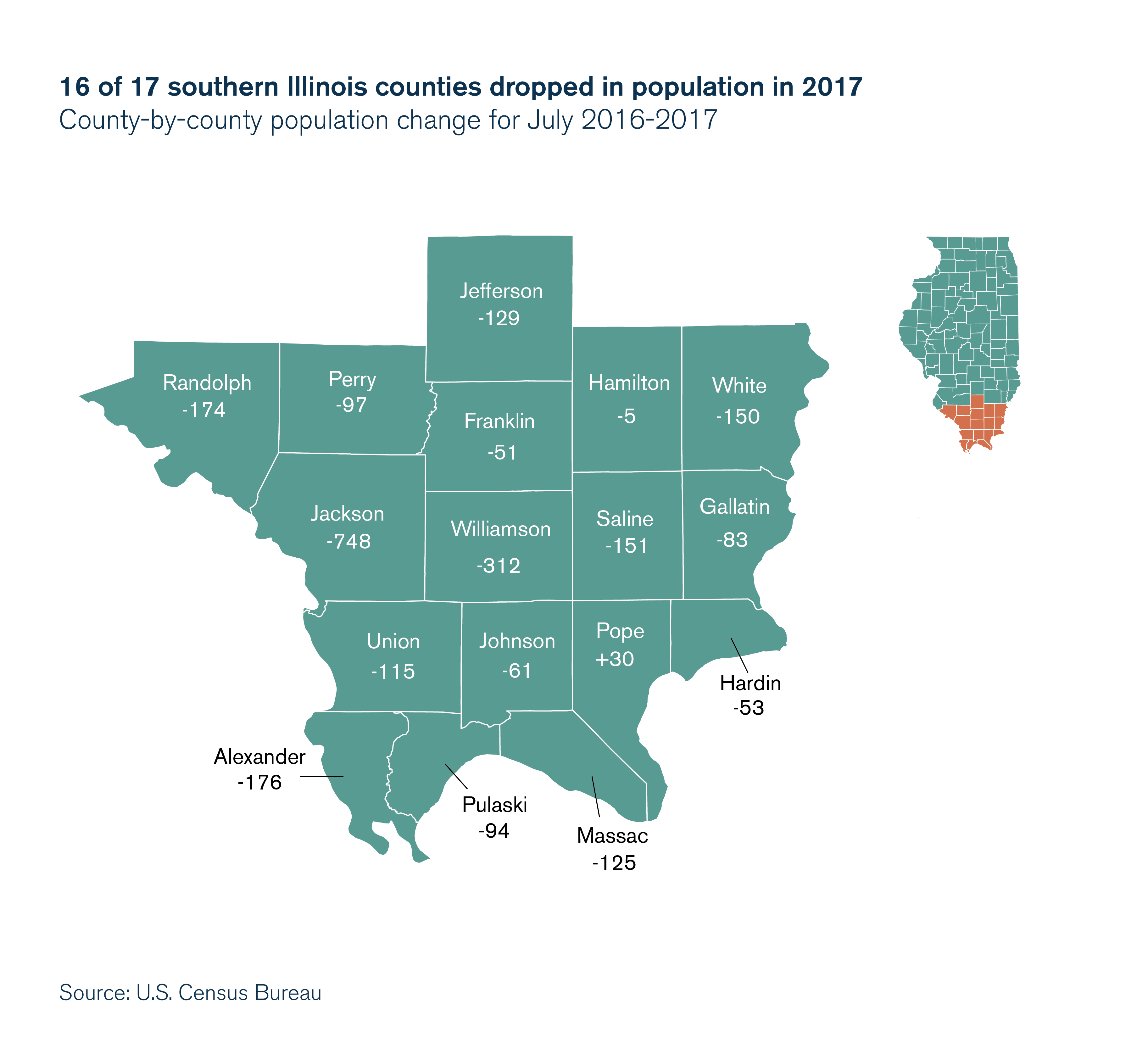 Alexander County lost nearly 200 residents, about 2 percent of its population, from 2016-2017 and has lost nearly 2,000 residents, or about 23 percent of its population, since 2010. Alexander County's county seat of Cairo has lost about 3 percent of its population from 2016-2017 and nearly 20 percent of its population since 2010.
Nearby Jackson County lost nearly 1,000 residents from 2016-2017, continuing a trend it's been seeing since 2013, a time frame in which the county has lost more than 2 percent of its population. The largest Jackson County cities of Carbondale (-295) and Murphysboro (-110) accounted for more than a third the county's losses over the year.
Metropolis – the county seat of Massac County, which borders Kentucky – has lost more than 400 residents, or 7 percent of its population, since 2010, while the county has a whole has lost more than 1,000 residents, including just over 100 from 2016-2017. The neighboring state of Kentucky has a whole gained 1,000 residents from 2016-2017, and has been the beneficiary of Illinois' net outmigration for more than a decade.
With Illinois' neighbors all winning their border wars with the Land of Lincoln, it's clear state lawmakers need to change course.
The Land of Lincoln has too long been a place that lacks business friendliness and has not seen the jobs growth necessary to attract more residents.
One of the most beneficial changes for Illinois taxpayers would be getting its burdensome property taxes more in line with what residents in those neighboring states are paying.
Illinois' statewide average effective property tax rate of 2.22 percent in 2017 was far higher than in Kentucky (0.88 percent), Indiana (0.90 percent), Missouri (1.10 percent), Iowa (1.54 percent) and Wisconsin (1.67 percent), according to ATTOM Data Solutions, a property data company. For taxpayers in Illinois' southernmost counties, it's not a far drive south, east or west to be free from that tax burden.
Policymakers at the state and local level would be wise to address the high cost of government driving these high property taxes. This requires looking at bloated administrative costs and Illinois' duplicative layers of government, among other cost-drivers. Without these reforms, politicians should expect to see these population declines continue, as residents opt for futures they can afford in other states.