Illinois lost 5 residents per day to Kentucky in 2015
Expect Kentucky to gain even more Illinoisans in coming years.
Illinois consistently loses people to Kentucky. And it will likely lose even more in the years ahead, given Kentucky's pro-growth reforms and the Land of Lincoln's downward economic spiral.
According to U.S. Census Bureau year-to-year migration data, Illinois lost more than 2,000 residents to its southeastern neighbor in 2015 alone, amounting to a net loss of more than five Illinoisans to Kentucky each day.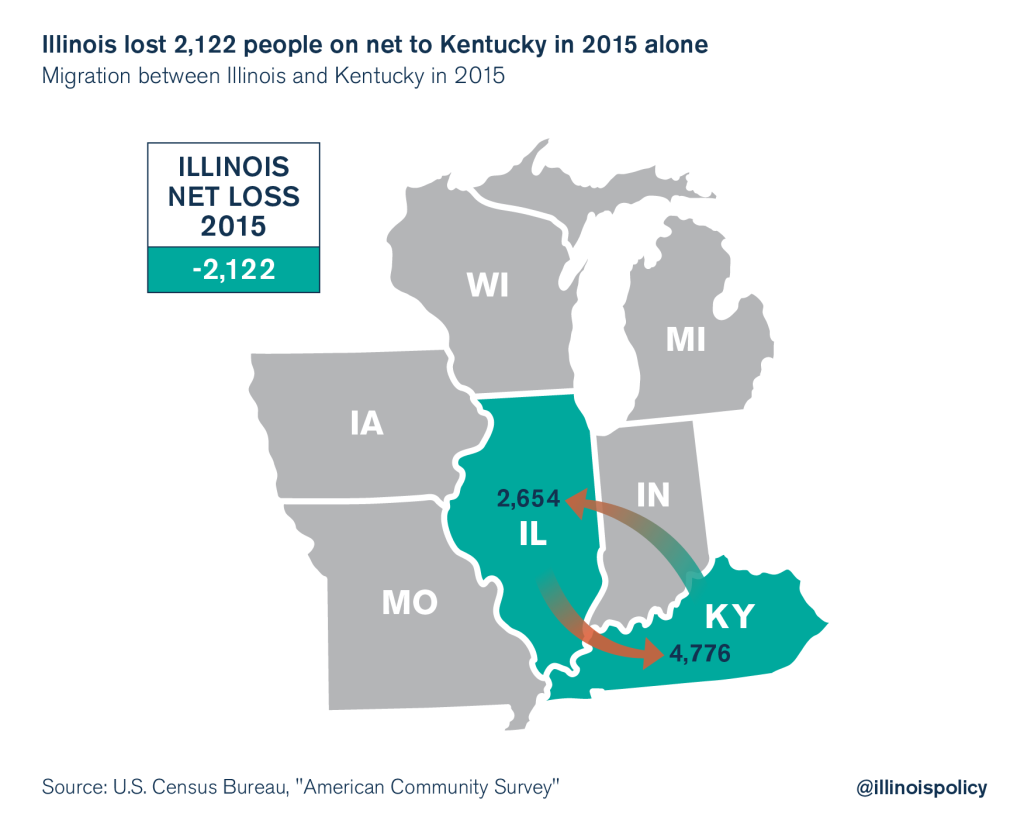 Illinois' loss was not a one-time phenomenon, as the Land of Lincoln lost more than 13,000 people to Kentucky on net between 2006 and 2015. That's a net loss of nearly four Illinoisans to the Bluegrass state per day over this 10-year period.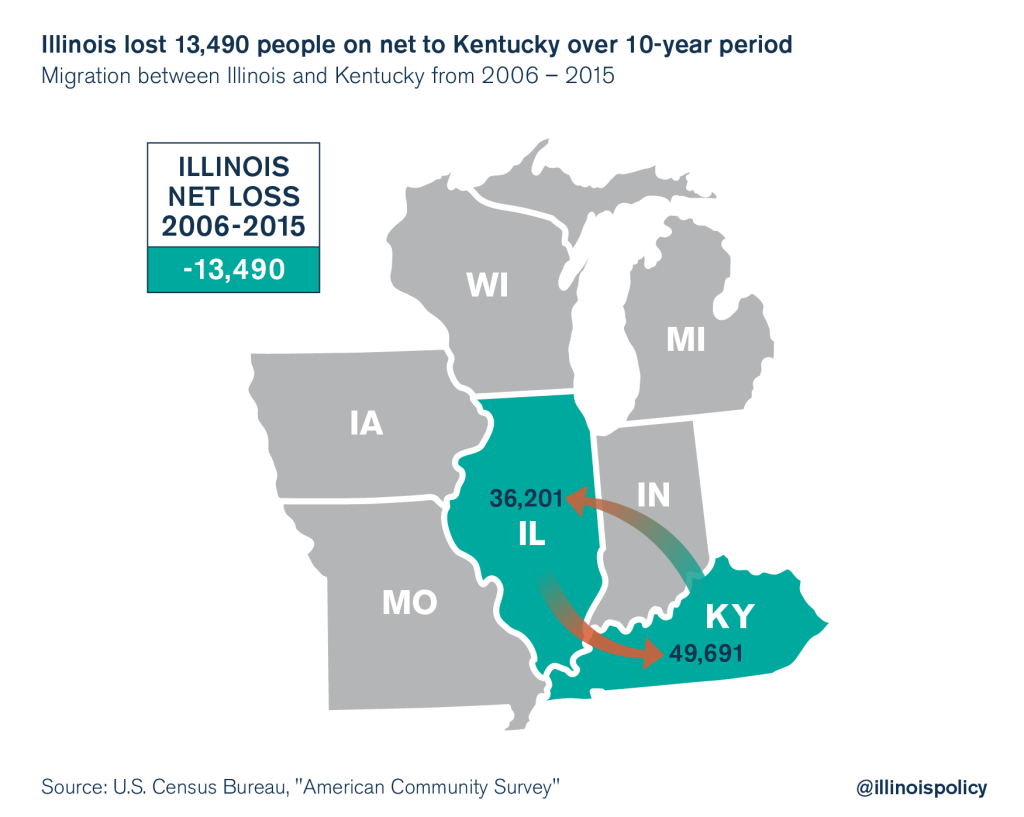 Weather alone is no longer an adequate explanation for Illinois' out-migration. Half of Illinois' out-migrants in 2015 went to other Midwestern states.
For years, Illinoisans have fled the state in search of better opportunity. What's worse, the Illinois General Assembly has failed to enact pro-growth reforms despite the state's faltering economy. But in neighboring states such as Kentucky, policymakers have made pro-growth strides, rendering their states more attractive to outward-bound Illinoisans.
On Jan. 7, 2017, the Kentucky legislature passed Right-to-Work legislation, giving workers the freedom to choose whether to participate in unions and laying the groundwork for industrial investment and jobs growth. Other surrounding Right-to-Work states such as Michigan and Indiana, both experienced income and jobs growth following the passage of Right-to-Work legislation.
Five out of six of Illinois' neighbors are now Right-to-Work states. The sixth, Missouri, is likely to become the nation's 28th Right-to-Work state in the near future. These surrounding states are putting competitive economic pressure on the Land of Lincoln, soon potentially from all sides. And Illinois policymakers' failure to enact Right to Work and other pro-growth reforms could further aggravate the state's out-migration crisis.
Just like weather is not the sole driver of Illinois' out-migration, the failure to adopt Right to Work will not unilaterally drive an Illinois exodus, either. But these surrounding states' more industrial-friendly policies will attract investment over Illinois, causing more Illinoisans to follow the demand for labor in other states.
Meanwhile, Illinois' state tax revenue may be declining, indicating either the beginning phases of a statewide recession, or the erosion of the state tax base due to rampant out-migration. And yet, Illinois policymakers' only solution for filling the economic hole they've dug seems to be tax hikes.
State policymakers can't continue relying on an overburdened and disappearing tax base to subsidize their unsound spending practices, especially without making any pro-growth reforms to put the state on a path to economic recovery.
This kind of status quo nickel-and-diming will only cause more Illinoisans to run for the border. No one wants to invest in a state that stifles opportunity and appears intent on taxing its way deeper into economic decline.
State officials need to stop the outward flood of Illinoisans in order to stabilize the state's economy. They need to give taxpayers some much-needed relief and make commonsense reforms to spur economic growth. Some reforms that may make Illinois more competitive with Kentucky include:
Until Illinois policymakers stop refusing pro-growth reforms and raising taxes while the state teeters on the edge of economic collapse, neighboring states like Kentucky can expect to welcome more and more Illinoisans to their ranks. Meanwhile, Illinois' vanishing tax base will continue to threaten the state's economic future.