Illinois unemployment rises slightly despite shrinking workforce
Illinois' June jobs data show 4,300 more Illinoisans are unemployed and the state's labor force is down 20,400 people.
Illinois saw 24,700 fewer Illinois residents employed and 4,300 more residents unemployed in June, according to the Illinois Department of Employment Security's, or IDES's, latest economic release of Bureau of Labor Statistics, or BLS, data. The latest numbers show continued weakness in the state's economic growth.
Even though 20,400 residents left the labor force in June, the decrease in employment raised Illinois' unemployment rate to 4.7 percent, a 0.1 percent increase from May.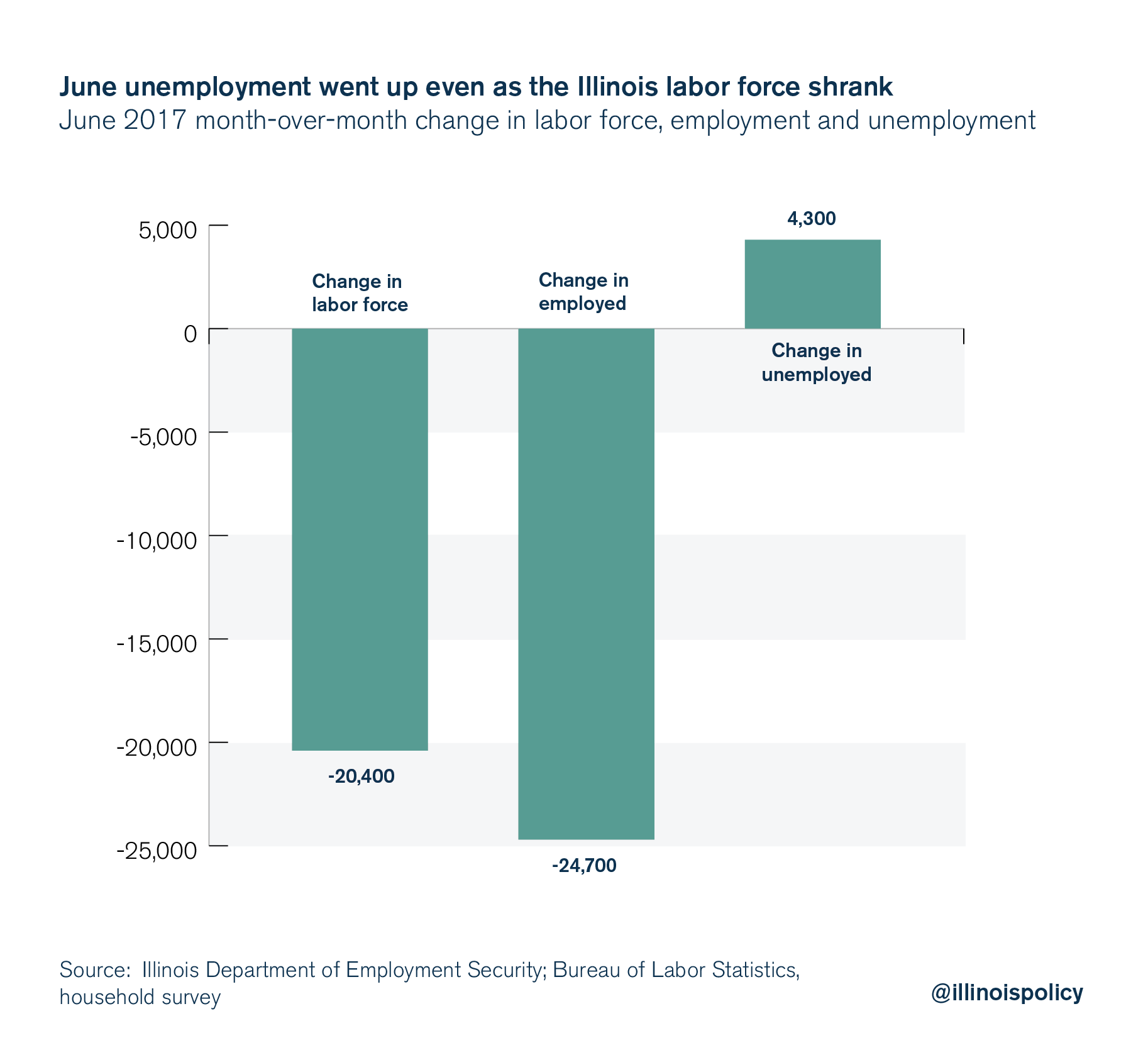 Illinois posted a small increase in nonfarm payroll jobs, gaining 8,600 jobs over the month. Jobs have grown by 0.9 percent since June 2016; meanwhile, jobs growth for the rest of the country is around 1.6 percent. Illinois jobs growth was concentrated in professional and business services (+5,600), leisure and hospitality (+4,600), and government (+1,400). While these areas experienced job gains, education and health services (-2,600), construction (-1,000) and financial activities (-500) saw job losses.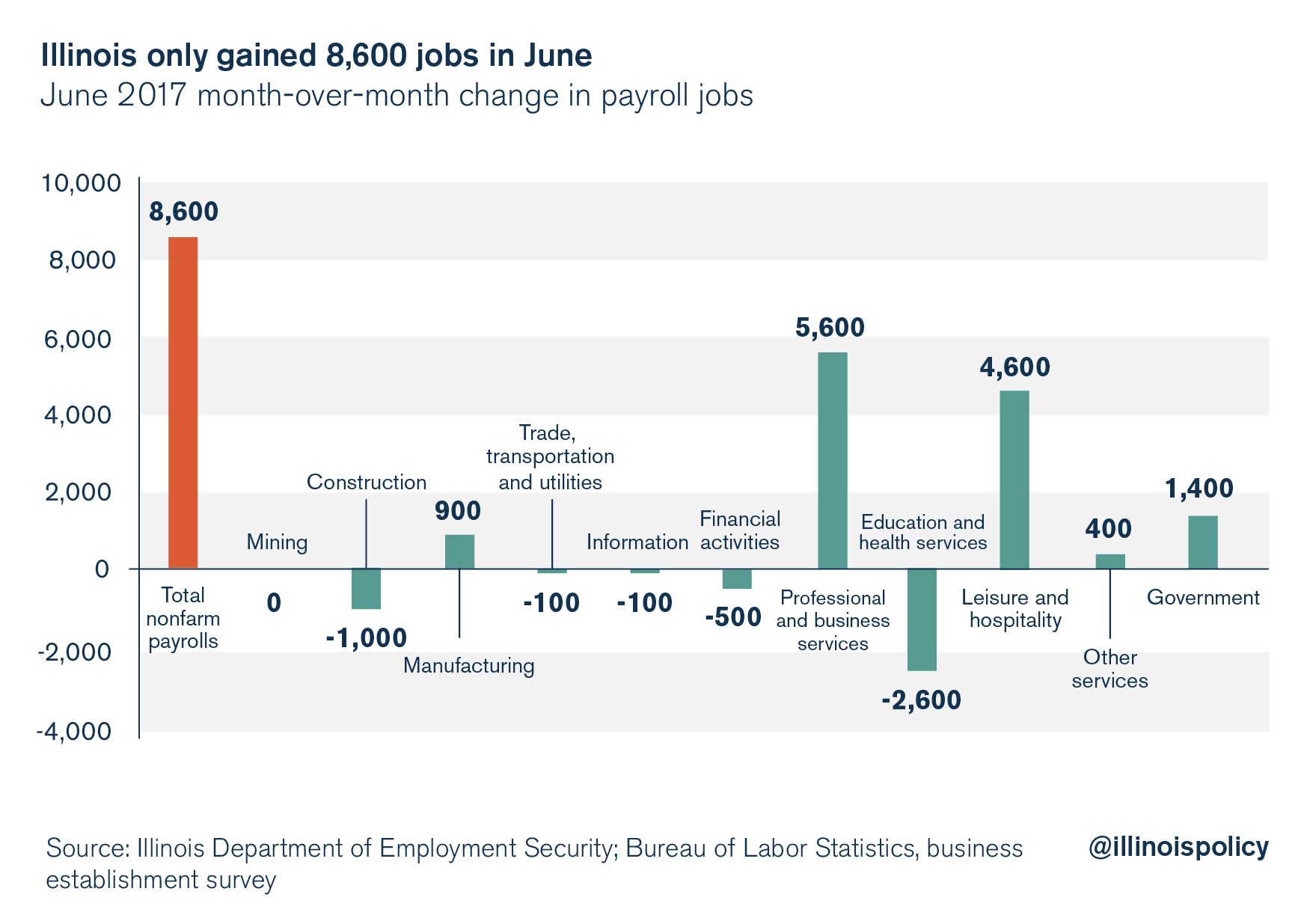 In addition to releasing the June data, IDES also significantly revised the May jobs report, amending it to reflect jobs growth of 11,300 jobs rather than the previously reported increase of 2,400. The revision was driven by larger-than-reported employment in six sectors, most significantly trade, transportation and utilities (revised upward by 3,200 jobs), professional and business services (revised upward by 3,100 jobs), and leisure and hospitality (revised upward by 2,100 jobs). Employment estimates were revised downward in four sectors, most notably education and health services, which was revised downward by 1,400 jobs.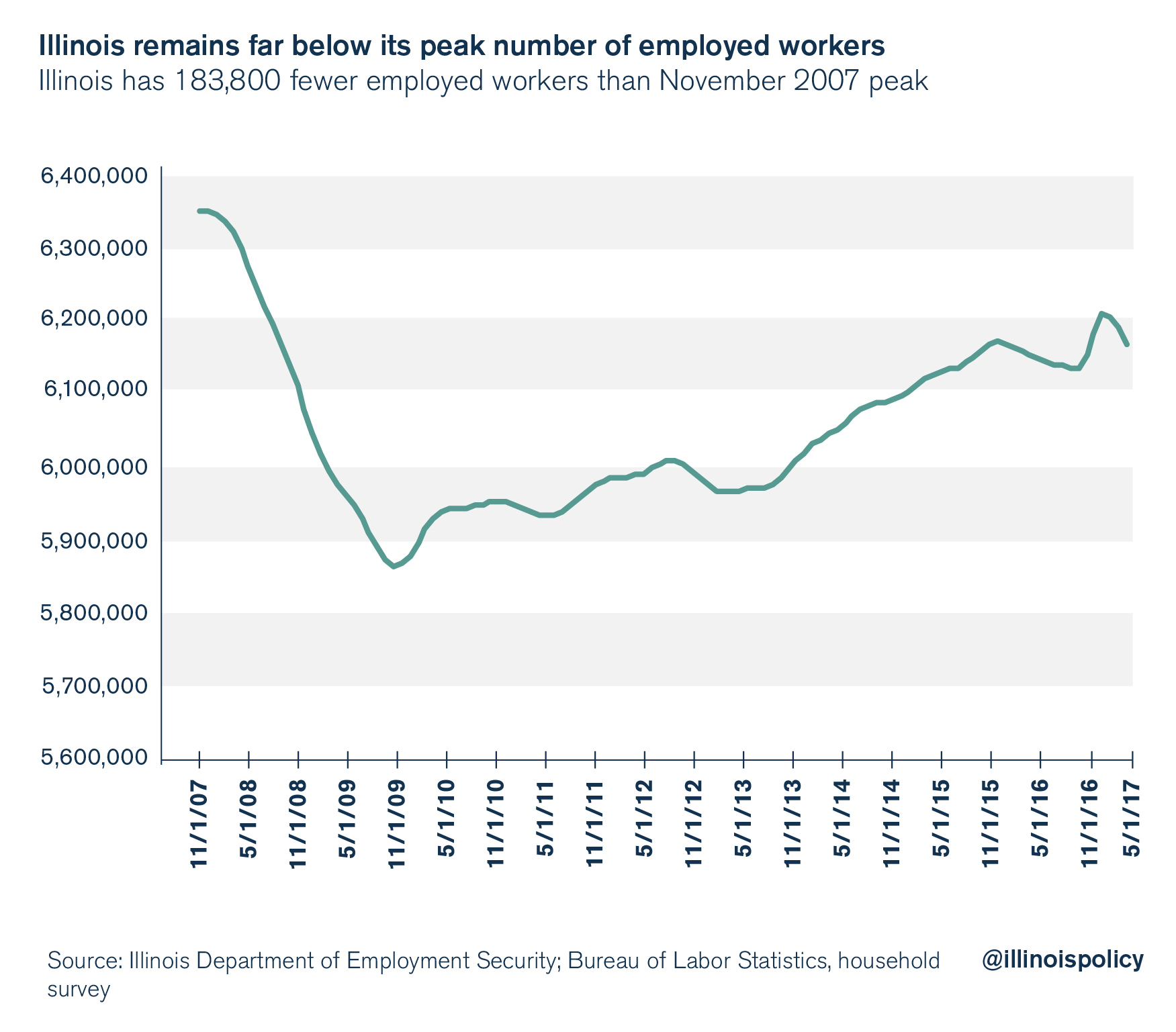 The June jobs report reflects Illinois' continued weak economic growth. BLS data show that since January 2008, which saw Illinois' highest number of jobs before the Great Recession job losses took hold, Illinois has only seen 0.9 percent growth. Illinois also has 183,800 fewer employed workers than during its November 2007 peak. This weak recovery contrasts sharply with states such as Indiana and Wisconsin, both of which recently hit record highs for numbers of employed workers.
This weak growth demonstrates Illinois' sluggish recovery from the Great Recession and exacerbates many of the economic problems Illinois faces today. Poor jobs growth contributes to Illinois' having the nation's worst personal income growth, high unemployment among minority communities, and severe out-migration to other states. Illinois residents need economic growth, not income tax hikes that eat away almost a year's worth of income.