Illinois trails surrounding states in post-recession employment growth
Illinois still has 144,000 fewer people working compared with the state's pre-recession employment level, while surrounding states have all experienced employment growth.
Illinois' employment remains well below its pre-recession level, whereas Illinois' neighbors have comfortably surpassed that same threshold. Slow economic recovery has weakened Illinois, and the state's failure to rebound continues to jeopardize future economic stability.
Employment levels are an effective tool for measuring economic conditions over time. Increased employment signals economic growth, whereas reduced employment reflects a lack of opportunity. Illinois' sluggish employment recovery indicates an opportunity void, which contributes to the state's self-reinforcing downward spiral in which meager employment prospects, rampant out-migration and excessive taxation each serve as both cause and effect of continued economic deterioration.
Getting Illinoisans back to work would disrupt that cycle, meaning fewer people would seek jobs and residences in other states, which would in turn boost state revenue and reduce the temptation to resort to constant tax hikes.
Employment growth is essential to helping long-suffering Illinoisans, while also paving the way to rebuild Illinois' fragile economy.
144,000 fewer Illinoisans are working today
Nearly eight years after the Great Recession ended, Illinois still struggles to recover. That's evidenced by the fact that 144,000 fewer Illinoisans are working today compared with before the recession, according to monthly employment data from the Bureau of Labor Statistics, or BLS.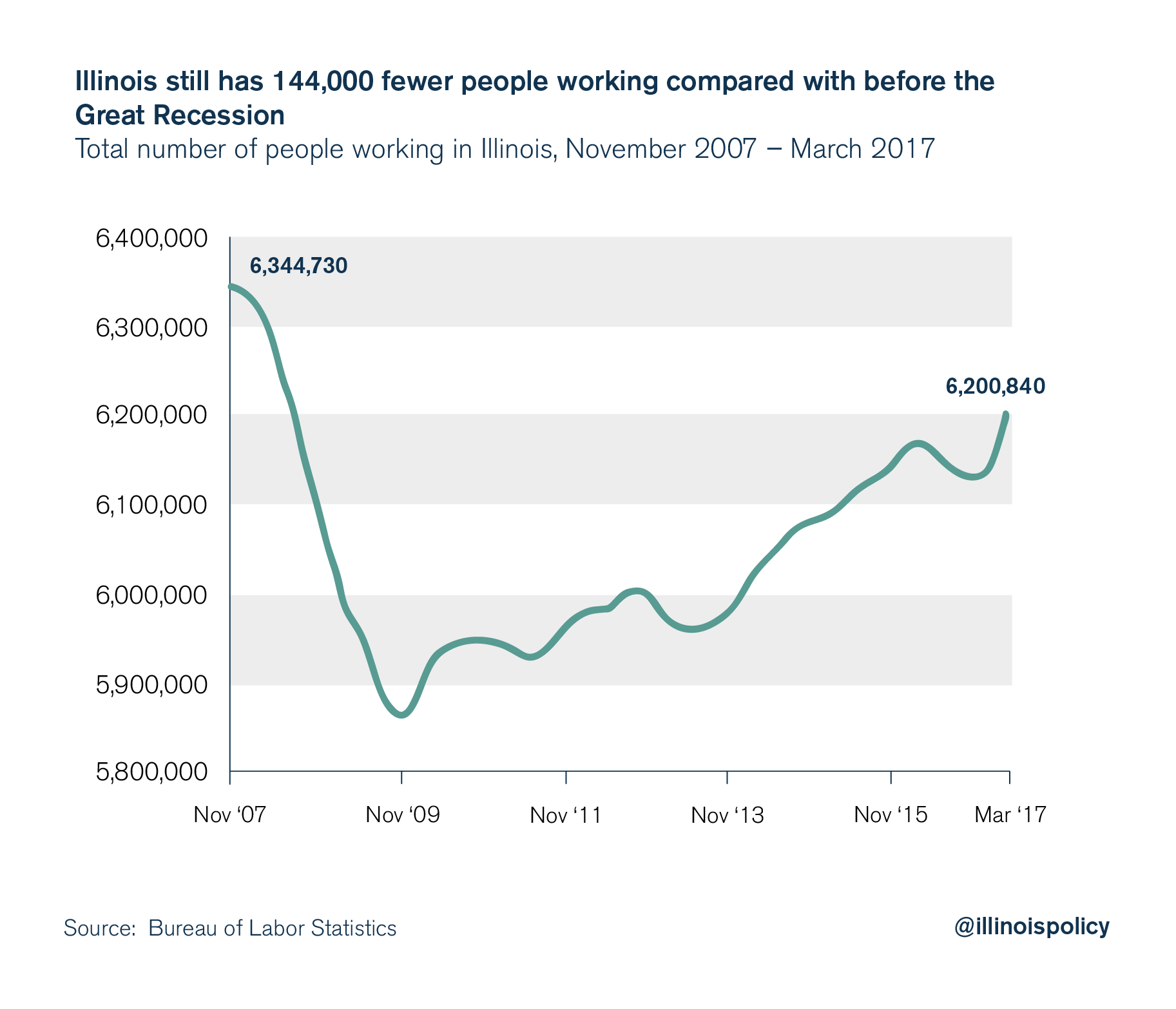 Illinois' employment is sluggishly approaching its November 2007 level; but it's troubling that it has yet to break through that ceiling. The reduced number of people working in Illinois poses a long-term problem. And it suggests that layers of tax hikes at the state and local levels and stubborn adherence to anti-growth policies have undermined Illinois' ability to put people back to work – particularly at the same rate as other states.
Illinois surrounded by states with post-recession employment growth
Economic recovery has come easier for Illinois' neighbors, which have implemented pro-growth policies that have better positioned them for post-recession entrepreneurial investment and employment growth. In fact, each has exceeded its pre-recession employment level as of March 2017, according to BLS data.
Indiana's employment increased the most compared with November 2007, growing by 148,000. Missouri's employment increased by 109,000, followed by Wisconsin at 96,000, Kentucky at 49,000, and Iowa at 33,000. Michigan's employment also increased by 54,000 over that period; however, in 2007, Michigan was already engulfed by a statewide downturn that began in 2005, so Michigan's November 2007 employment level isn't representative of the state's typical or healthy employment. In fact, Michigan's employment has yet to rebound compared with March 2000, the period representing Michigan's pre-state recession and -Great Recession employment peak.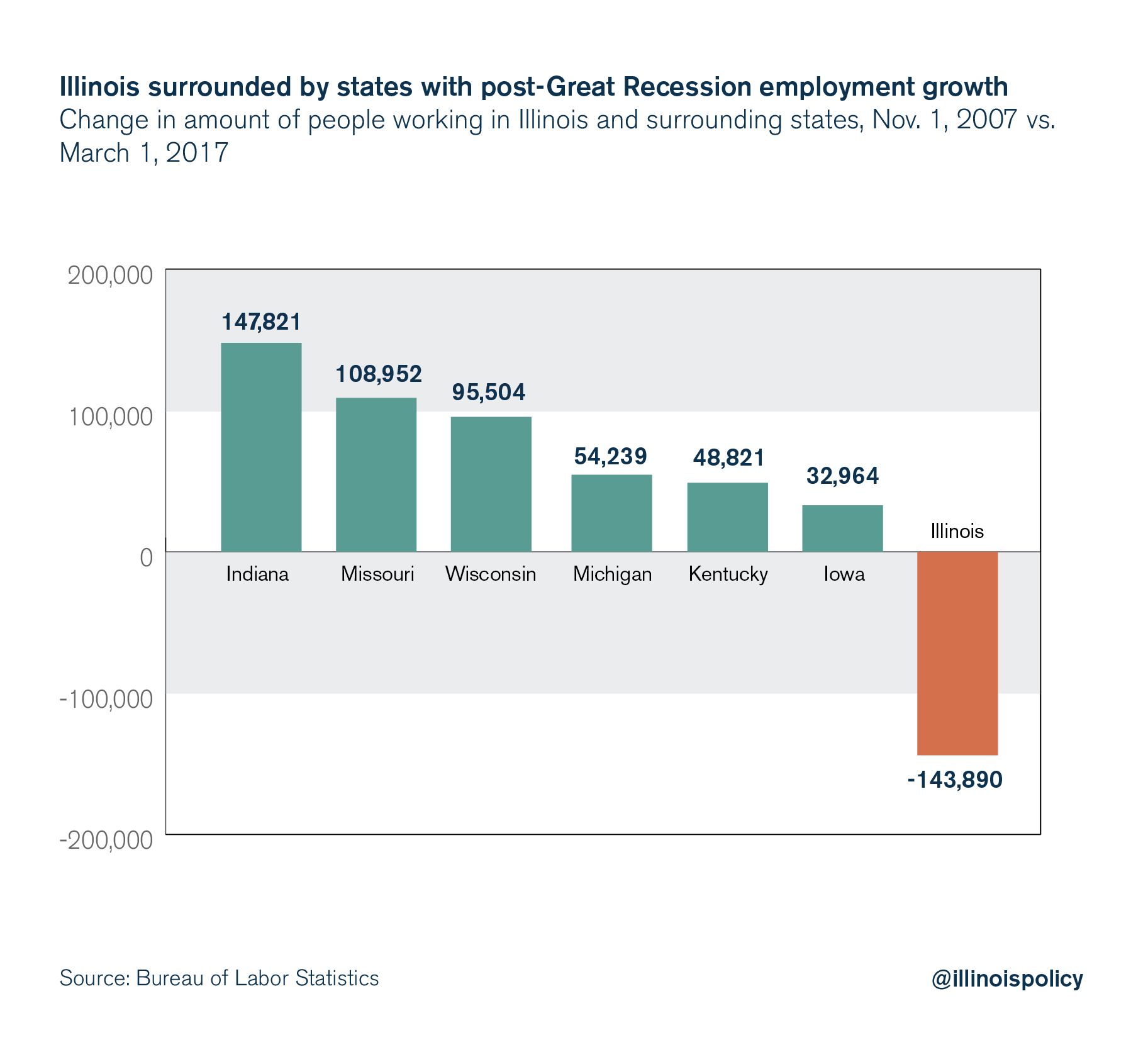 Surrounding states' employment recoveries have been far more robust than Illinois'. Rubbing salt in that wound is the fact that neighboring states outperform Illinois on other key economic growth indicators, boasting less debt, lower taxes and friendlier business climates that enhance opportunities for residents and attract new businesses and people in the process.
Illinois' net loss of 329,000 residents to neighboring states could help explain employment disparities
Bringing Illinois' employment back up to its pre-recession level may prove infeasible, if not impossible, given the state's mass out-migration. Working-age Illinoisans are leaving for other states and joining the ranks of their new states' workforces. This transfer of residents could partially explain why Illinois' employment can't seem to recover, even as surrounding states' employment levels have exceeded pre-recession thresholds.
Illinois lost 329,000 residents, on net, to surrounding states over the 10-year period from 2006 through 2015, according to state-to-state migration data from the U.S. Census Bureau. Illinois suffered the greatest net loss of residents to Indiana at 119,000, followed by Wisconsin at 86,000, Missouri at 73,000, Iowa at 48,000, and Kentucky at 13,000. Illinois actually gained 10,000 residents from Michigan, on net, over that same 10-year period, which makes sense given Michigan's concurrent economic turmoil. However, Illinois-Michigan migration reversed over the two most recent years of available data, with Illinois losing a net total of 4,000 residents to Michigan over years 2014 and 2015.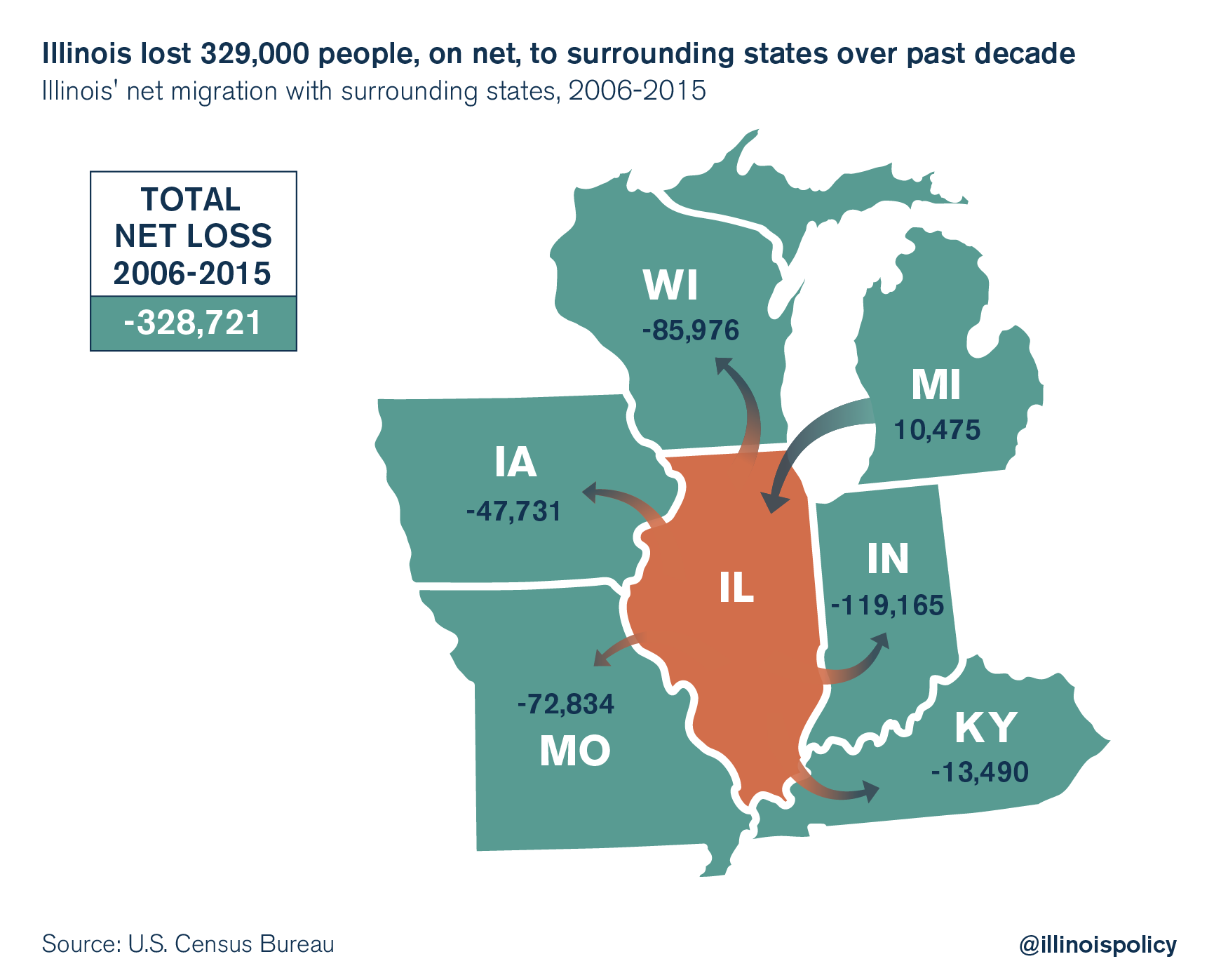 Neighboring states beat Illinois not only on employment growth, but also on net migration. That's not surprising, given that fewer employment opportunities would drive more Illinoisans to seek work in other states. Diminished employment prospects in combination with overall economic weakness undermine Illinois' regional competitiveness, making neighboring states more appealing places for beleaguered Illinoisans to call home.
Fueling employment growth in Illinois
Both reduced entrepreneurial opportunity and the fact that large segments of the Illinois workforce are crossing state borders likely contribute to diminished employment in the Land of Lincoln. And Illinois policymakers' doubling down on anti-growth policies has likely aggravated both of these factors over the years.
To boost employment, policymakers should reduce costs of doing business in Illinois by: lowering the tax burden, reducing burdensome and restrictive licensing schemes, fixing cost drivers in the state's workers' compensation system, and promoting worker freedom by implementing Right to Work. Reducing the property tax burden would also protect homeowners and potentially mitigate the ill effects of out-migration.
These policies would usher in economic growth by aligning Illinois' policies with those in surrounding states, rendering steady employment growth more viable.
Illinois has yet to make a full recovery from the Great Recession, yet the state already risks falling back into recession. Smart policy changes are necessary to get Illinois back on solid ground. Boosting employment growth would curb Illinois' self-reinforcing cycle of economic decay, therein stimulating the state's economic recovery.