Illinoisans get $6B more in long-term debt, but no reforms
While borrowing to help pay down the state's unpaid bill backlog will save money on interest payments and relieve pressure on those waiting for cash, it also perpetuates Illinois' spending problem.
Gov. Bruce Rauner has announced plans to borrow $6 billion to help pay down the state's unpaid bills. The state has accumulated over $15 billion in unpaid bills after spending more than it's taken in for more than a decade.
This latest borrowing by the state is a mixed bag for Illinoisans.
On the one hand, borrowing $6 billion will save the state – and therefore, taxpayers – money on interest payments. The interest rate Illinois will pay on the new bonds will be significantly lower than the penalty interest rate imposed on many of the state's unpaid bills.
Illinois is required to pay rates as high as 12 percent for its overdue payments, according to the Chicago Tribune. In contrast, the interest rate on the new bonds will be in the 5 percent range.
The new bond issue will also relieve pressure on Illinois' vendors and social service providers. Many have waited for almost two years for the state to pay them.
But on the other hand, this latest borrowing helps perpetuate Illinois' spending problem.
The reduction of unpaid bills will partially clear the government's "credit card" with vendors, allowing lawmakers to overspend once again. That's particularly true since the 2018 budget lawmakers passed in July included little in spending reforms and is already running a $1 billion deficit. Rauner vetoed that budget – which also included the authorization to borrow $6 billion – but was overridden by the General Assembly.
The borrowing is yet another example of how Illinois keeps piling on more debt and lurching from crisis to crisis.
Illinois has had a long history of making budget and pension deals that have increased the burden on taxpayers while avoiding real reform.
Former Gov. Rod Blagojevich's $10 billion pension bond in 2003 deliberately avoided addressing pension reform and simply left Illinoisans with more debt as pension benefits soared.
Former Gov. Pat Quinn's copycat deals borrowed another $7 billion.
Now comes the General Assembly's latest plan to borrow another $6 billion to pay off unpaid bills. It's the state's biggest single debt issue since Blagojevich's 2003 deal.
The debt is adding up. In 2000, Illinois taxpayers owed just $8 billion in long-term debt. With this latest bond offering, Illinoisans will owe over $34 billion. That's more than $7,000 for every household in Illinois.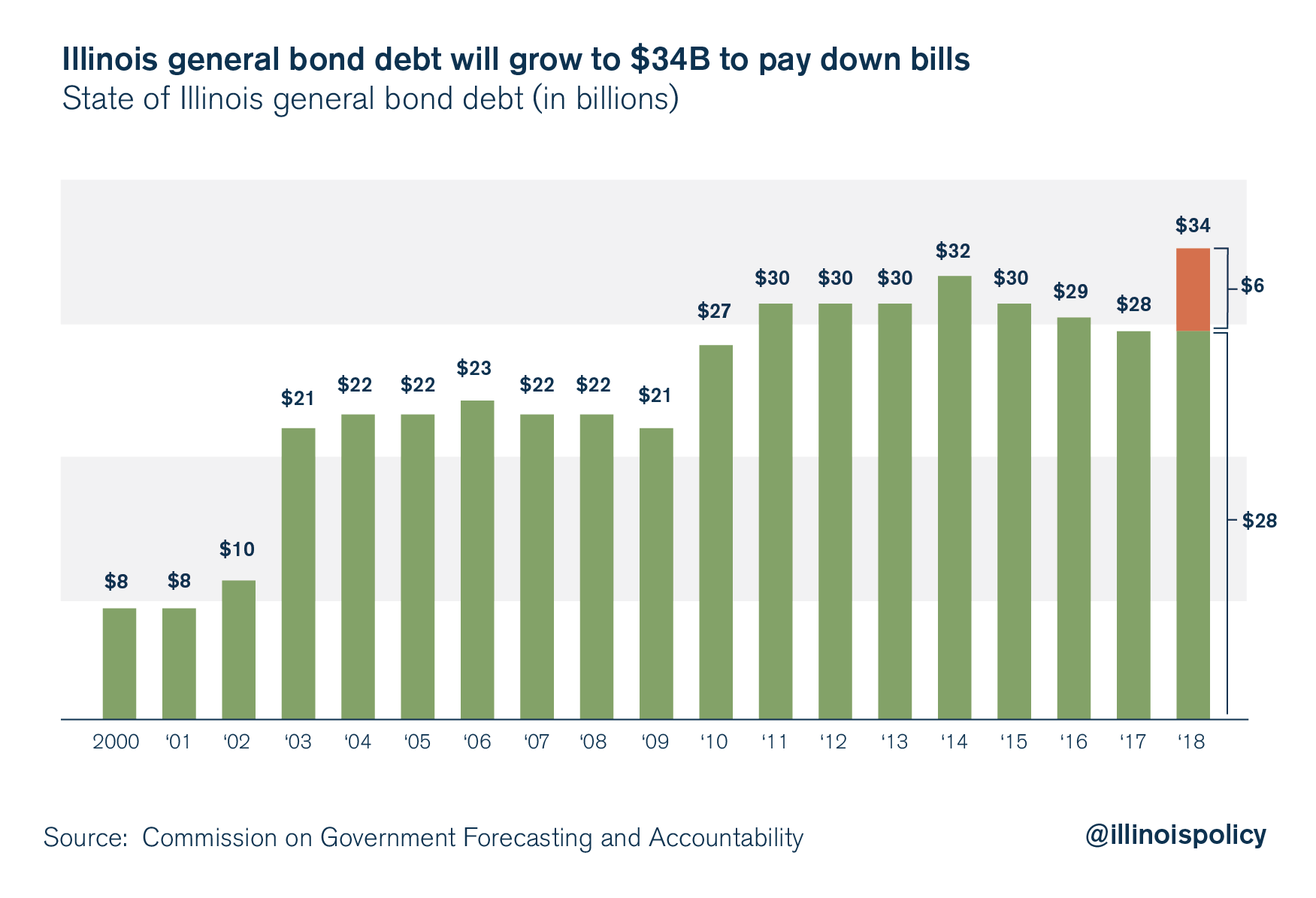 The burden of too much bond debt is on top of Illinois' already massive pension debt.
The biggest form of debt has come from the failed compromise former Gov. Jim Edgar championed in 1996. Edgar's pension ramp deal was a disaster for which Illinoisans continue to pay.
Today, the state officially reports $130 billion in unfunded pension debt, up from $35 billion in 2002. Others, including Moody's Investors Service, put the number more realistically at $250 billion.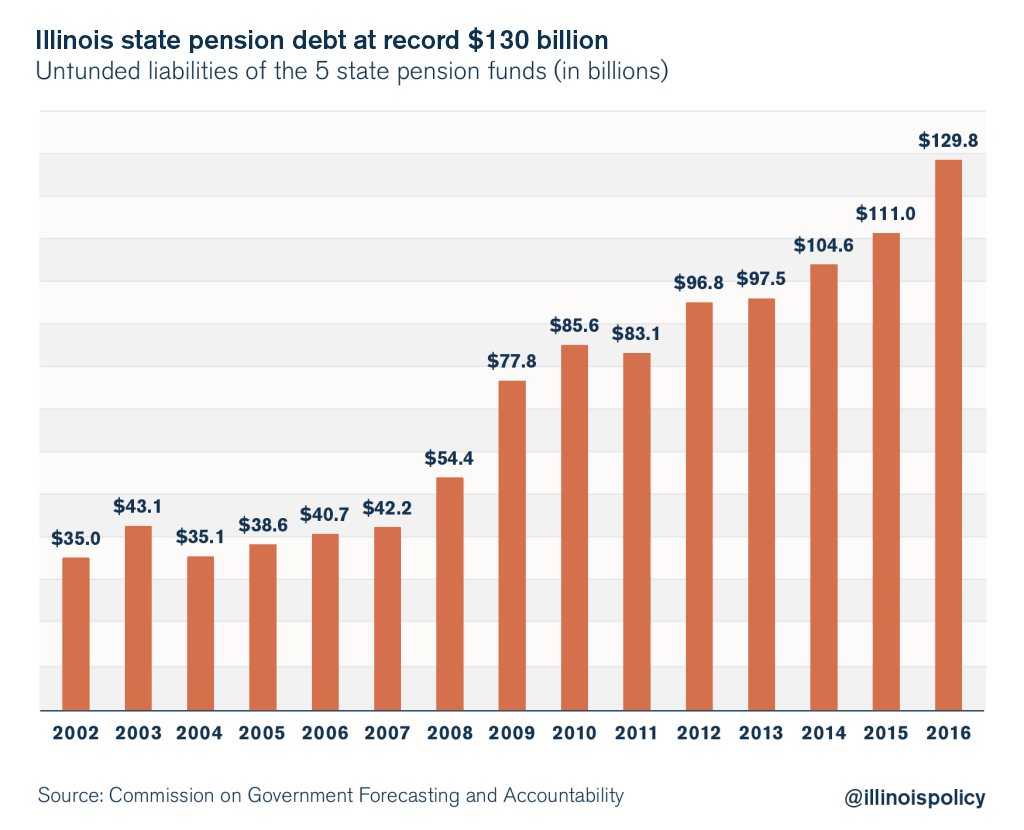 Lawmakers' pattern of spending and borrowing has not escaped the notice of credit rating agencies. Illinois' credit has been downgraded 21 times by the three main credit agencies since 2009.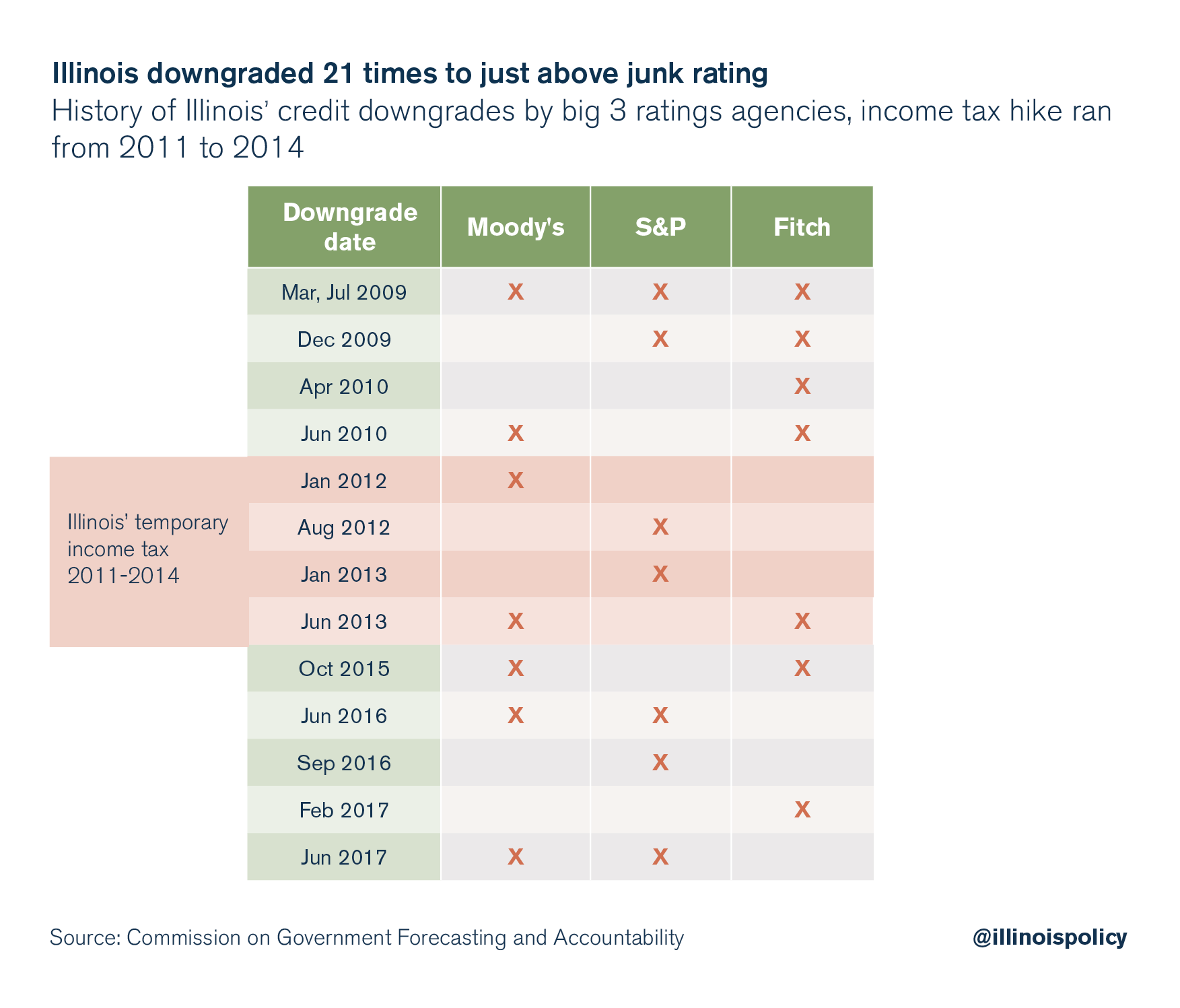 The state's credit rating is just one notch away from junk and the lowest of any state in the nation.
Don't borrow, reform
Many will praise the borrowing as a smart move to lower the interest costs of the state.
But the reality is, the state is issuing more debt because of its chronic spending problems. And unfortunately, the new budget is already in a deficit, despite a tax hike that raises income taxes by $5 billion annually.
In the absence of spending reforms, look for the unpaid bills to start rising again. And then look for politicians to borrow once again.