July jobs report shows government employment up, manufacturing down in Illinois
State jobs data shows Illinois had a net gain of 1,900 payroll jobs in July, driven by an increase in government employment.
Illinois gained 1,900 payroll jobs in the month of July, according to Thursday's economic release from the Illinois Department of Employment Security. The jobs growth was driven by gains in government employment.
The increase in payroll jobs was led by a gain of 2,600 government jobs, according to the Bureau of Labor Statistics', or BLS, business establishment survey. Several other industrial sectors reported gains, including: leisure and hospitality (+2,400); construction (+2,000); financial activities (+1,200); trade, transportation and utilities (+300); and other services (+100). Unusually heavy job losses occurred in professional and business services (-5,300); and other losses came from manufacturing (-600); education and health services (-600); information (-100) and mining (-100). Illinois lost manufacturing jobs for six out of the first seven months of 2015; June was the only month in which Illinois gained manufacturing jobs.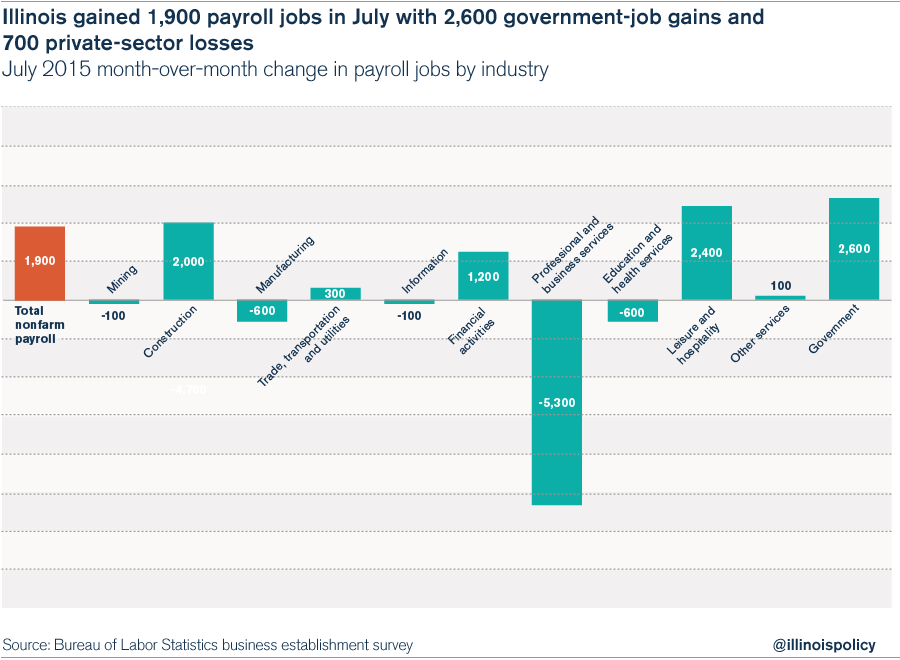 Illinois' unemployment rate fell to 5.8 percent from 5.9 percent as the workforce shrank by 1,800 workers, according to the BLS household survey. Specifically, unemployment dropped by 8,900 while employment rose by 6,900, indicating that the decline in the July unemployment rate was due both to some unemployed workers finding employment as well as to other unemployed workers dropping out of the workforce.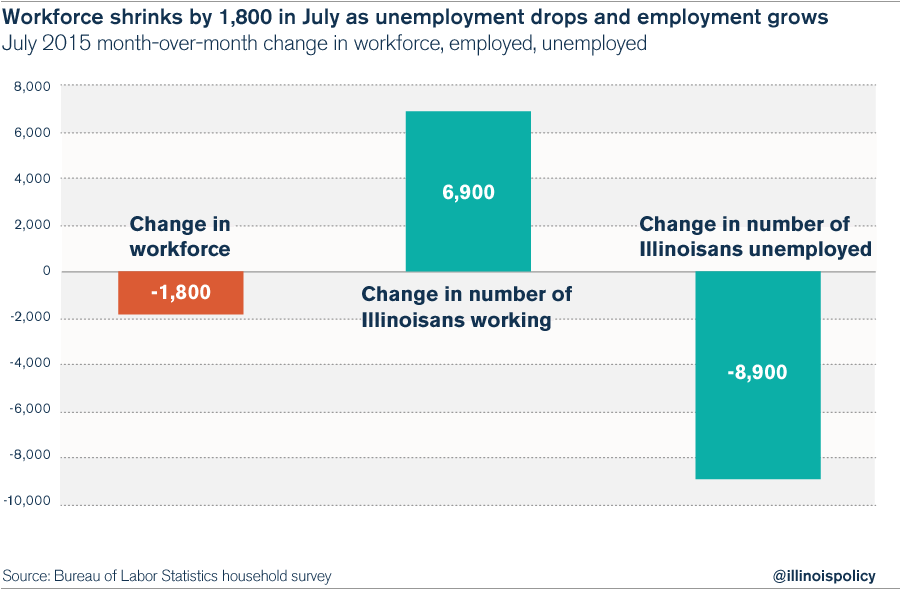 In the month of July, six major Illinois manufacturers announced that they were either completely or partially shutting down operations and laying off workers, or leaving the Land of Lincoln. Forklift manufacturer Hoist Liftruck announced that the company planned to move across the border to Indiana for three specific reasons:
Hoist's plan to move 500 manufacturing jobs paying $55,000 per year from Bedford Park, Illinois, to East Chicago, Indiana, reflects the state of the manufacturing sector across Illinois. Manufacturers move out for many economic and policy reasons, but rarely do manufacturers move into or expand in Illinois. Meanwhile, neighboring Indiana and Michigan are experiencing a manufacturing boom, with Indiana up 6,700 manufacturing jobs and Michigan up 12,800 manufacturing jobs through June 2015.
Even though the layoffs announced in July will take place in future months, the jobs report shows that Illinois lost 600 more manufacturing jobs in July. With the June manufacturing gain revised up to 1,100, the state is down 7,400 manufacturing jobs through the first seven months of 2015.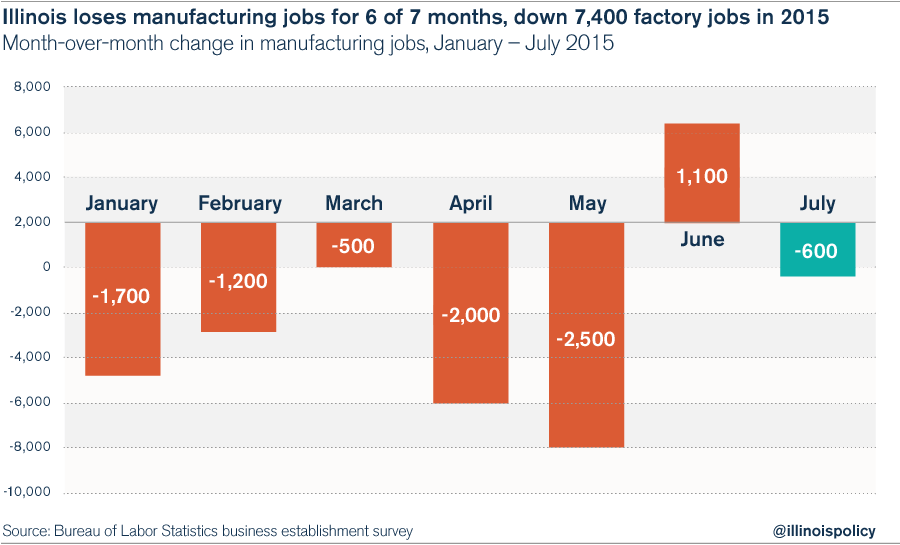 Illinois' employment gains this year have been weak. The state has seen a total increase in payroll jobs of only 17,000 through July, according to the BLS' business establishment survey, and the growth in the number of people working has been an especially anemic 1,100 for the first seven months of the year, according to the BLS' household survey. Moreover, the business establishment survey revealed heavy losses in the state's manufacturing sector, with factory jobs down 7,400 for 2015. The household survey also showed that the workforce has shrunk by 27,000.
Policy problems and political uncertainty continue to hinder solutions to Illinois' many economic difficulties. Some of the reforms in Gov. Bruce Rauner's turnaround agenda line up with what the relocating and shuttering manufacturers have urged, including:
Addressing these items is a critical first step toward creating a pro-growth environment. But Illinois can't stop there: The state must also tackle pension reform, local government consolidation, and the education system. Until the state embraces reform, Illinois residents will continue to fall behind on jobs and opportunities as other states surge ahead.