June jobs update: Illinois' workforce shrinks by 8,300, state has nation's worst jobs losses at -7,500
Indiana and Michigan laid the framework for a manufacturing and jobs recovery. Until politicians in the Illinois General Assembly get serious about pursuing real reforms, the state's jobs climate with continue to decline.
The Bureau of Labor Statistics' complete data on state-by-state jobs growth for the month of June showed more bad news for Illinois. The Land of Lincoln lost 7,500 payroll jobs for the month, the biggest drop nationwide. As a result, Illinois' total jobs growth halfway through the year is a paltry 13,200, putting Illinois on pace for a 0.4 percent annualized jobs-growth rate – the worst of all neighbors and Great Lakes states. Michigan leads the region with +61,100 jobs year-to-date, while Indiana is second in the Midwest with +32,100 jobs on the year.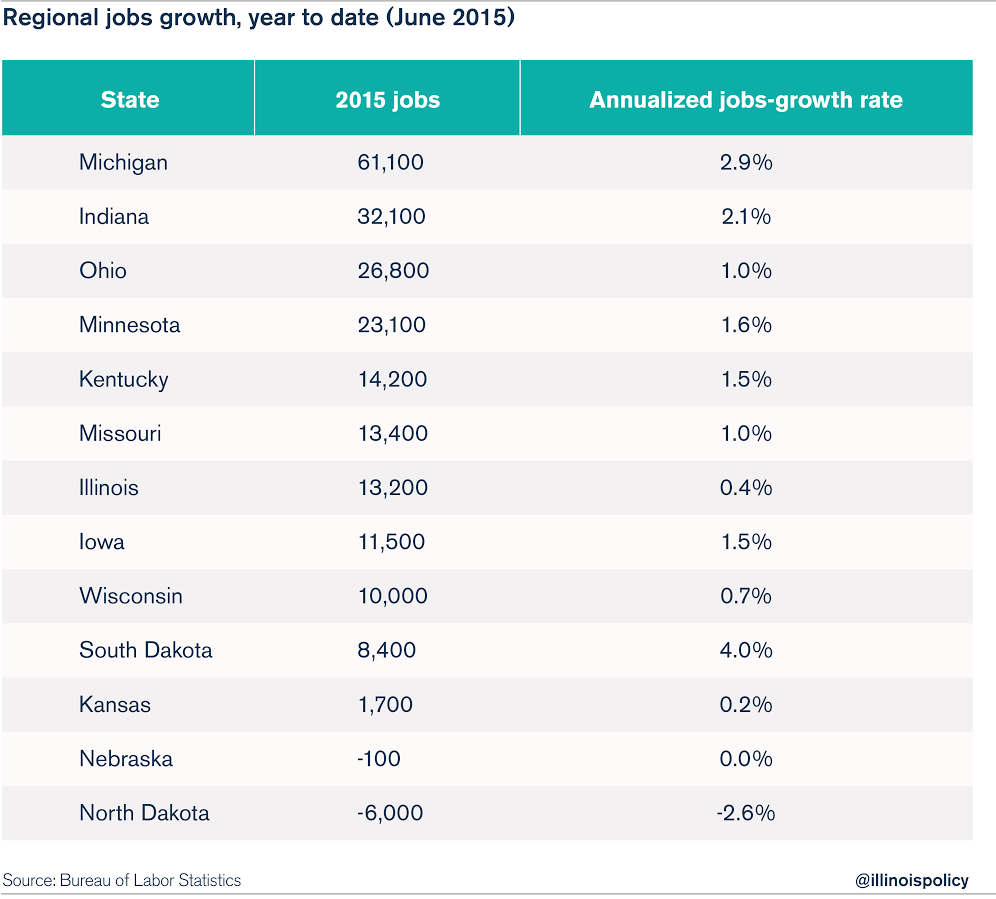 (As an interesting aside, North Dakota has seen shrinking payrolls on the year due to the energy sector slowdown. Meanwhile, South Dakota is on path to its best year in a long time, possibly experiencing a job growth boon as workers move back from high-paying jobs in North Dakota to medium-paying jobs in South Dakota)
The Illinois unemployment rate fell by one-tenth of a percent to 5.9 percent, driven almost entirely by unemployed workers dropping out of the workforce. Illinois' workforce shrank by 8,260 in June, bringing the total 2015 workforce dropout to 27,000 halfway through the year.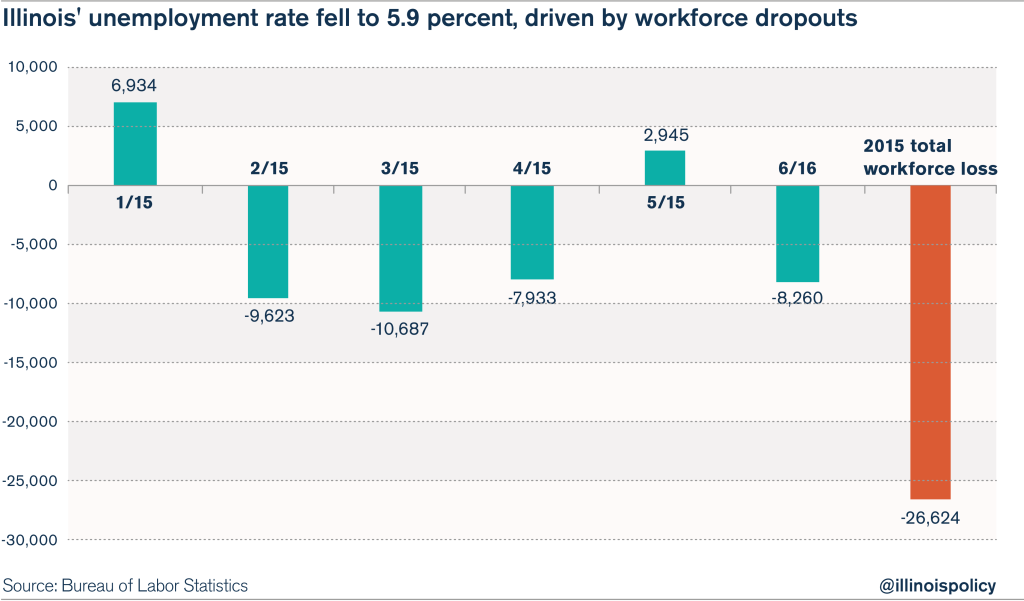 Illinois' shrinking workforce has been a long-term problem dating back to the beginning of the Great Recession. Illinois' workforce went into a free-fall with the start of the recession and hasn't bounced back. The path of decline has continued, with the workforce hitting a new recession-era low in the month of June. Illinois' workforce has shrunk by 220,000 since January 2008.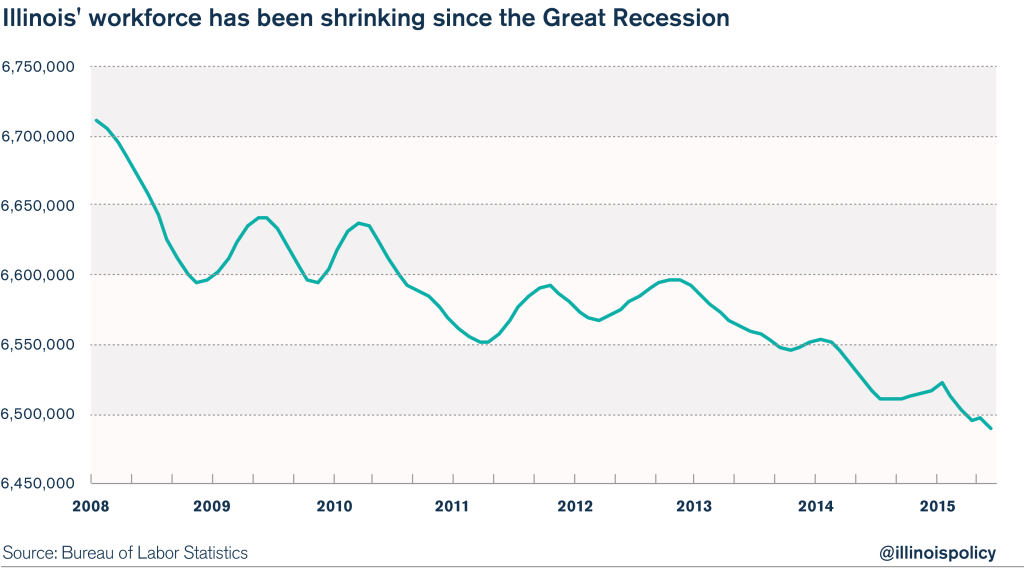 As a result of the continued workforce dropout, Illinois' labor-participation rate hit a new 38-year low of 64.4.
Illinois experienced its first manufacturing jobs gain of the year in June, however, adding 600 manufacturing jobs.
However, that small single-month gain is offset by the sobering fact that Illinois has fallen far behind its neighbors on the year. Four major manufacturers have left, for a loss of more than 1,300 jobs in the 10-day period from July 6 to July 16. Those losses include:
Food producer General Mills, which announced plans to lay off 500 manufacturing workers in Chicago
Machine-maker DE-STA-CO, which announced it would move 100 jobs from Wheeling, Illinois, to Nashville
Oil-processor Bunge North America, which announced it would lay off 210 workers in Bradley, Illinois.
A yet unnamed manufacturing company from West Chicago, which will move 510 manufacturing jobs paying $55,000 per year to East Chicago, Indiana.
These continued losses can be tied directly back to what's happening in Springfield. It is no mystery what policy reforms are needed to turnaround Illinois' manufacturing collapse and fix its overall stagnant jobs growth, which has left the state with the single worst recession recovery in the nation. Indiana and Michigan laid out the path to manufacturing success, and their directions point squarely to Gov. Bruce Rauner's proposed reforms, including workers' compensation reform, a property-tax freeze and tort reform. Rauner's agenda has been treated with great hostility by politicians in the Illinois General Assembly. With a lack of real reform, jobs will continue moving to friendlier states, and major manufacturers will continue to pack up and head out.