June jobs report: Illinois workforce shrinks by 36,000, working-age adults leaving the state
The month of June saw Illinois continue to lose jobs, as the state's long-term economic woes continue to push workers out of the state.
The June jobs report from the Illinois Department of Employment Security, or IDES, reflected Illinois' long-term economic stagnation, with 2,200 net job losses and 36,000 people dropping out of the state's workforce on net in the month. June's loss of people from the labor force comes on the heels of two research reports showing Illinois' working-age population is rapidly leaving the state, significantly contributing to the ongoing reduction in Illinois' labor force.
A July report using Bureau of Labor Statistics data showed Illinois has seen a net loss of 290,000 working age adults over the last decade due to out-migration. A follow-up report based on Internal Revenue Service migration data confirmed prime working-age adults leaving the state – with millennials leaving most rapidly – drive Illinois' out-migration problems.
The flight of working-age adults from Illinois and June's weak job numbers are more evidence of the state's long-running weak job creation trend. Moreover, in addition to overall job losses, June's numbers revealed the continuing divergence between white-collar opportunities and blue-collar opportunities. The few sectors growing are for service workers in city centers, while production workers are seeing fewer job opportunities.
The net loss of 2,200 payroll jobs in June was caused by a large job loss in education & health services (-7,300), along with a smaller loss in transportation trade and utilities (-1,000). These losses were not off-set by growth in other sectors, with the only significant jobs growth coming in professional and business services (+3,000), financial activities (+1,700) and other services (+1,500).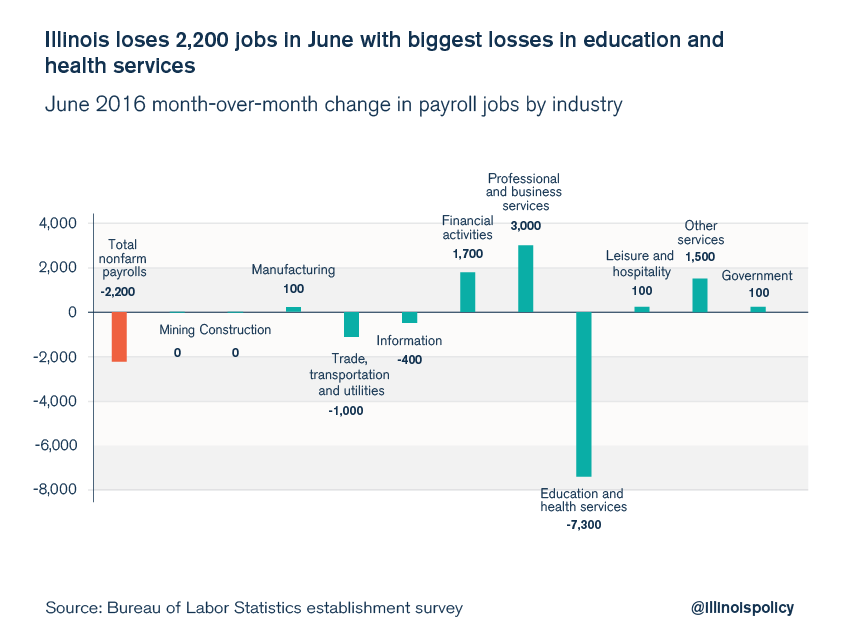 The exit of 36,000 Illinoisans from the state's workforce caused the decline in Illinois' unemployment rate to 6.2 percent from May's 6.4 percent rate, according to IDES data. Of the 36,000 people who dropped out of the labor force, 17,500 had been formerly unemployed. And an additional 18,600 formerly employed Illinoisans left the workforce. Illinois is now tied with Louisiana and New Mexico for the third-highest unemployment rate in the country, besting only Alaska's 6.7 percent and Nevada's 6.4 percent.
Divergence
Illinois' labor markets continue to show a long-term divergence between white-collar service jobs opportunities and blue-collar production job opportunities. In the month of June, Illinois gained 3,000 jobs in professional and business services, and is up 21,300 jobs in professional and business services on the year. By comparison, Illinois is down 2,900 manufacturing jobs on the year, and lost another 6,000 manufacturing jobs in 2015.
Since the year 2000, Illinois is up by 110,000 jobs in professional and business services and down 300,000 jobs in manufacturing. While some of this transition reflects changes in the national economy, it is greatly exacerbated by Illinois' anti-industrial policies on labor regulations, property taxes and workers' compensation.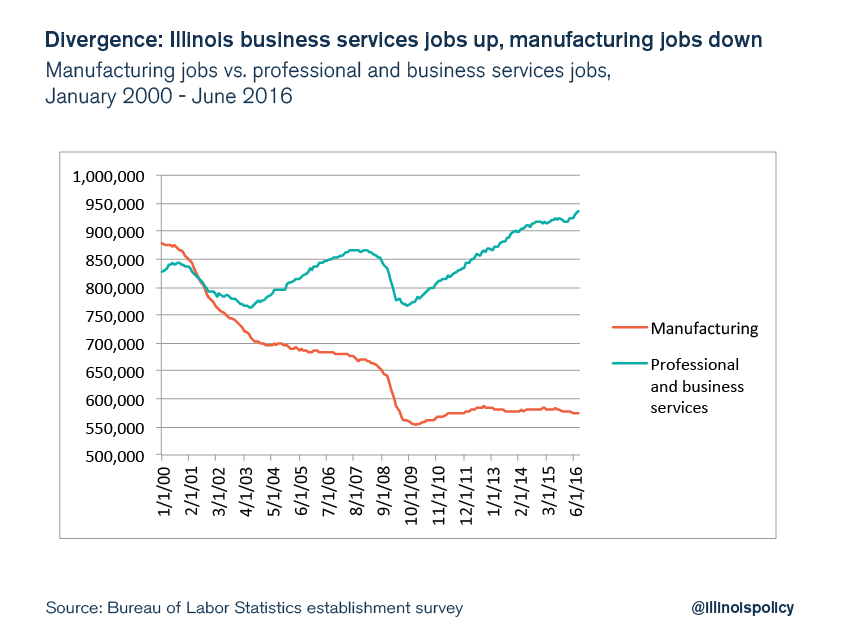 Regional comparisons
Illinois was the only state in the region to lose jobs in June. Michigan led the region for jobs growth in June with a gain of 20,000 net jobs on the month.
On the year, Illinois has gained 34,600 private-sector jobs, which is not an especially strong year but is on par with the rest of the region through the first six months of the year. In terms of percentage growth rate, Michigan, Wisconsin, Missouri and Minnesota have a faster growth rate than Illinois, while Indiana, Iowa, Kentucky and Ohio have a slower growth rate on the year.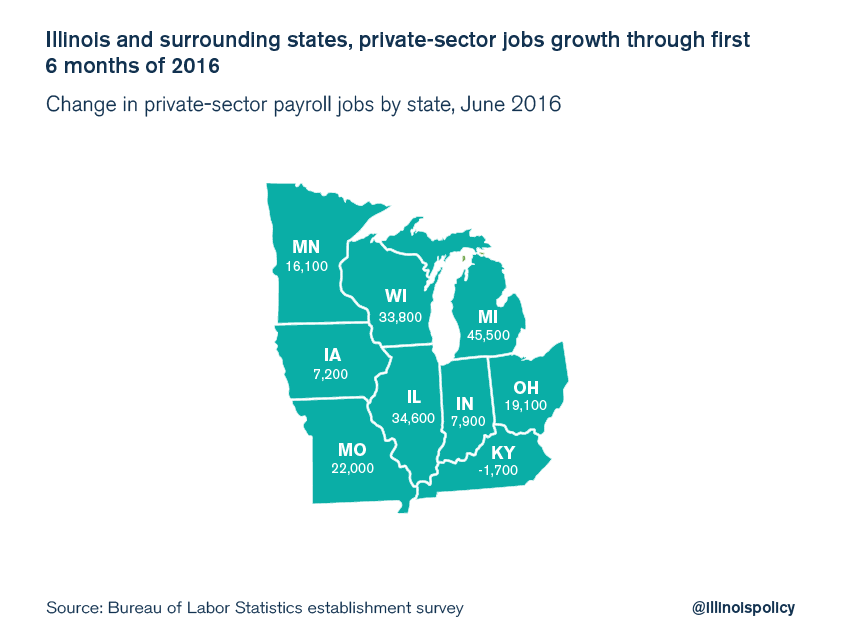 Illinois gained 100 manufacturing jobs on the month. Michigan, Minnesota, Missouri, Ohio and Wisconsin also gained factory jobs on the month, while Indiana, Iowa and Kentucky lost manufacturing jobs on the month.
Only Michigan and Wisconsin are up manufacturing jobs so far in the first six months of the year. The overall manufacturing weakness across the industrial Midwest could be indicating an oncoming recession. It's interesting to note only Michigan and Wisconsin are still gaining manufacturing jobs – and they are the two states in the region that most recently enacted Right-to-Work laws.
The U.S. economy has now completed its seventh year of economic expansion after the Great Recession. Illinois, too, has seen gradual jobs growth for nearly seven years. The overall U.S. recovery has not been strong, and Illinois' growth has been tepid compared even to the weak U.S. growth.
Illinois needs a three-pronged policy approach to generating better jobs and economic growth. It should include:
Spending reforms to decrease Illinois' tax burden over time
Tax structure reforms so the tax code encourages growth rather than punishing entrepreneurs
Economic regulation reforms to encourage jobs growth and business development in the Land of Lincoln
Illinois' workforce dropout was especially bad in June, and speaks to Illinois' continuing difficulty retaining working age adults. Illinois' problems of out-migration lack of job opportunities and broken budgets are tied together and driven by the state's weak economic growth. Fixing this problem and becoming a high-growth state should be Illinois policymakers' top goal.