Kentucky legislature votes to become nation's 27th Right-to-Work state
Both chambers of Kentucky's legislature have passed, and Gov. Matt Bevin has promised to sign, legislation bringing worker freedom to Kentucky – and further weakening Illinois' regional economic competitiveness.
Another Illinois border state has passed Right-to-Work legislation, putting more pressure on Illinois' already-beleaguered industrial investment climate. On Jan. 5, the Kentucky House of Representatives passed the Right-to-Work measure 58-39, and on Jan. 7, the Kentucky Senate passed the same measure by a 25-12 margin. The law now heads to Gov. Matt Bevin's desk. Bevin has promised to sign the legislation to make Kentucky the 27th Right-to-Work state in the country.
Worker freedom will now be guaranteed by law across every Illinois border except Missouri's. In recent years Indiana (2012), Michigan (2013), Wisconsin (2015) and now Kentucky have passed Right-to-Work laws. And the Show Me State likely will soon follow suit and enact its own Right-to-Work legislation.
In 2015 Missouri's legislature passed a Right-to-Work law, but then-Gov. Jay Nixon vetoed the bill. However, Gov.-elect Eric Greitens campaigned on making Missouri a Right-to-Work state, and Illinois will likely be surrounded on all borders by worker freedom states before the end of spring 2017.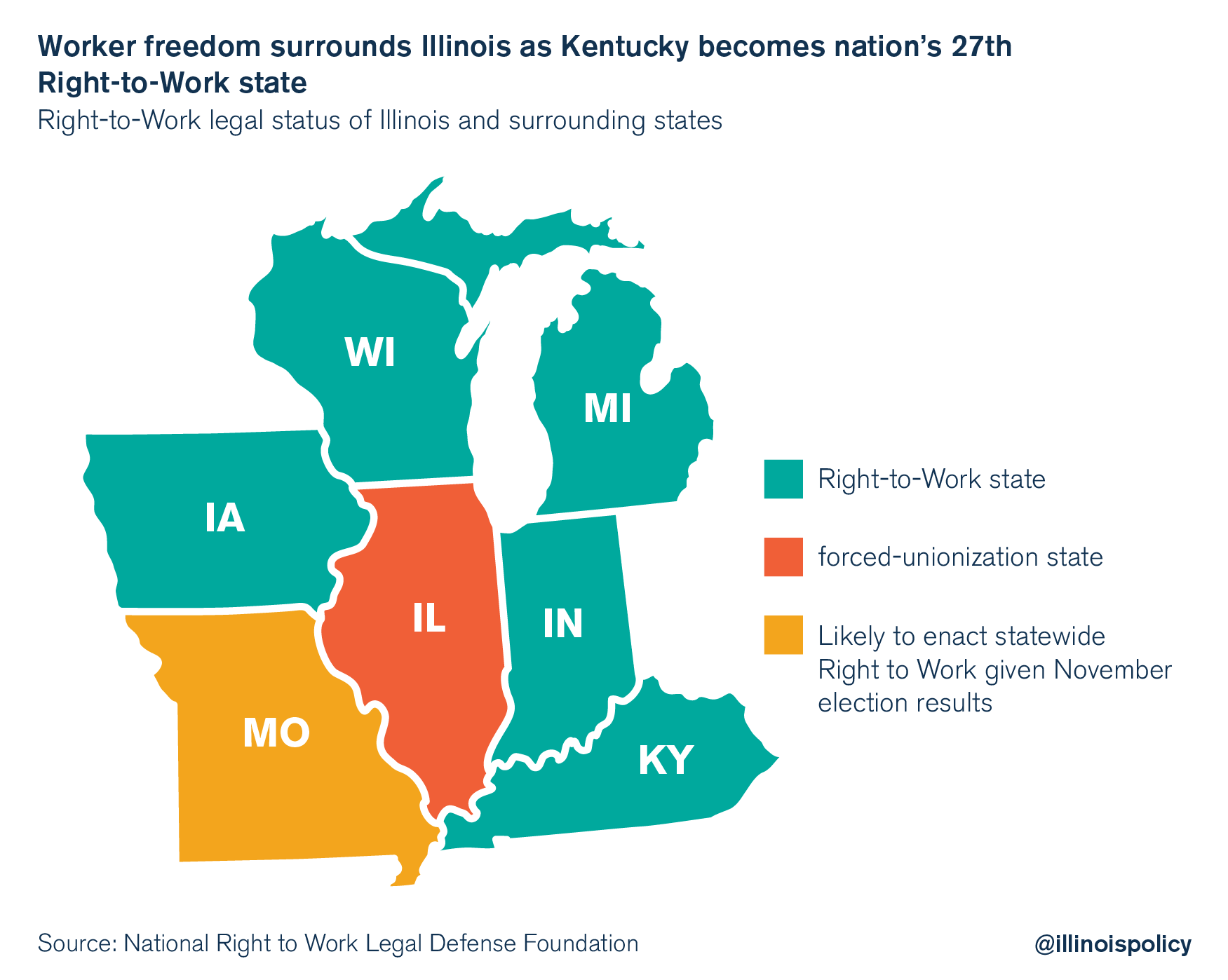 Greitens and Bevin are wise to move quickly on enacting worker freedom in order to fuel their state economies. Businesses certainly consider the Right-to-Work status of states when deciding on industrial expansions, with two-thirds of global chief financial officers surveyed by CNBC saying a Right-to-Work law is either "important" or "very important" when they decide where to grow their businesses. This puts Illinois workers at a severe disadvantage for finding jobs. Over 1,100 businesses have black-listed Illinois because it is not a Right-to-Work state, according to Jim Schultz, the former director of the Illinois Department of Commerce and Economic Opportunity.
The proof is in the job creation. Over the last 25 years, Right-to-Work states have had double the annual jobs growth rate of forced-unionization states like Illinois, with Right-to-Work states averaging 1.5 percent annual jobs growth against 0.75 percent for forced-unionization states. This differential would be worth 45,000 jobs per year in Illinois.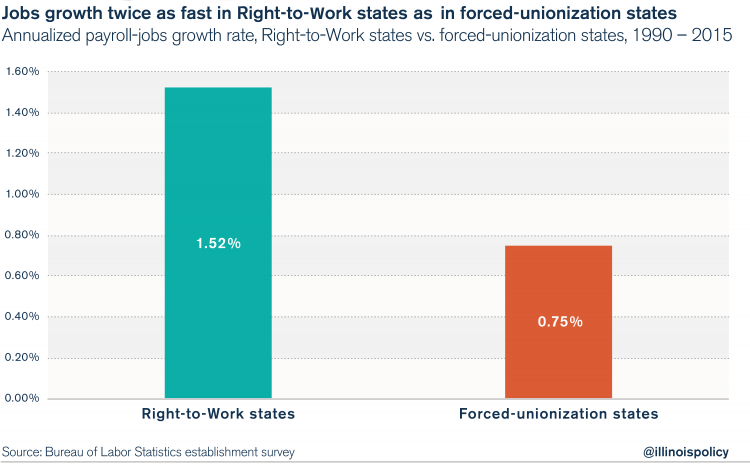 Critics have suggested Right to Work causes wages to shrink, but this claim falls flat in light of the evidence. In fact, Indiana and Michigan have seen better personal income growth than Illinois in every year since enacting worker freedom. Not only do Right-to-Work states have better jobs growth, but incomes in Right-to-Work states also grow faster.
Illinois has increasingly come under pressure for its uncompetitive business climate and for ignoring the competitive changes occurring in surrounding states. With Kentucky and then likely Missouri enacting Right to Work, Illinois' relative position will worsen.
Illinoisans are pouring across state borders at record rates, with the state losing 114,000 residents on net to other states in 2016. And many of these outbound residents are leaving for better opportunities elsewhere. In fact, over the past decade, the largest cohort of Illinois' out-migrating residents has been working-age people ages 25 to 54.
Until Illinois puts its fiscal house in order and makes its business investment climate attractive, surrounding states will continue to capture a growing share of Illinois' population through migration.