Madigan holds up budget to push bailout of Chicago Public Schools
Illinois House Speaker Mike Madigan's insistence that Chicago Public Schools receive more than its fair share of state education funding is putting any stopgap budget deal at risk.
With the chance for a full-year 2017 budget deal all but dead, an immediate stopgap budget agreement between Gov. Bruce Rauner and Illinois House Speaker Mike Madigan, D-Chicago, is the only hope for getting Illinois schools and social services funded. Already headlines across Illinois newspapers are warning of the growing crises: Social service providers are shutting down, and schools are wondering whether they'll have money to open in the fall.
But Madigan's insistence that Chicago Public Schools, or CPS, receive more than its fair share of state education funding is putting any stopgap deal at risk. Such a demand for special treatment – to the point of scuttling any potential deal – shows Madigan is willing to sacrifice social service organizations if he can't get his deal. And Madigan's choice of this sticking point would only serve to bail out CPS and Chicago Teachers' Union officials who continue to oppose any necessary reforms, even after these groups' fiscal mismanagement has brought the city's school system to the brink of collapse.
Once again, Madigan is putting politics over people.
Rauner's school funding proposal ensures that K-12 education would be fully funded – for the first time since 2009 – and that every school district, including CPS, would receive at least the same funding it received for the 2015-2016 school year. Rauner's plan increases funding for education by $240 million to meet that goal.
Unfortunately, Madigan and other lawmakers insist that CPS receive $400 million in additional state dollars – with no strings attached.
The resulting delay in a deal is the latest in a series of budget failures. Madigan and Illinois Senate President John Cullerton, D-Chicago, repeatedly failed to send a budget to the governor for his signature or veto. That includes Madigan's latest budget attempt, which proposed record spending and a $7 billion deficit. Madigan's own party struck down that deal in the Senate.
And since the regular legislative session ended, Madigan has also broken his promise to hold special legislative sessions, canceling them for three weeks in a row.
Madigan's unbalanced budget, his session cancellations and his insistence on a CPS bailout show he's not interested in compromise.
More importantly, Madigan's and other lawmakers' actions signal a profound lack of respect for Illinois taxpayers and the needy who rely on Illinois' core services.
Just look at how the state spent taxpayers' dollars over the past 15 years. The budget numbers clearly show, despite Madigan's claims, the General Assembly's priorities have not included core services.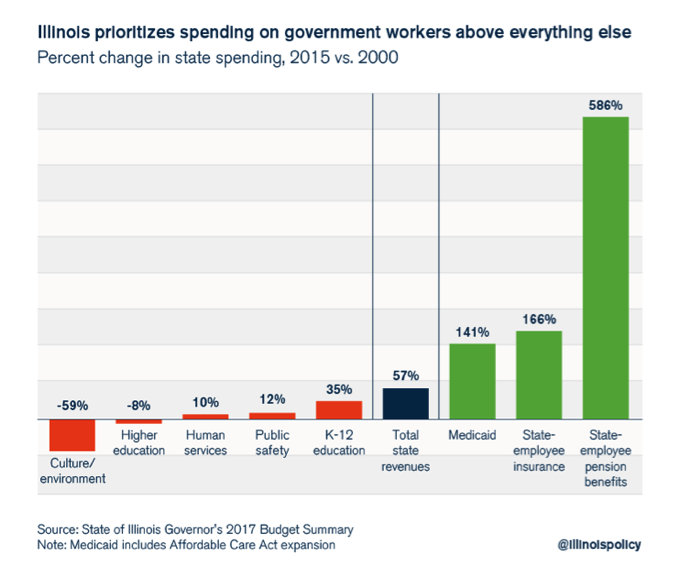 As a result of Madigan's and other lawmakers' continued games, thousands of social service agencies will remain unpaid, schools may be forced to shut their doors, and taxpayers will have the specter of a massive tax increase hanging over them.
The House speaker can't continue to ignore what everyone in the state is suffering under: the nation's third-worst business climate, a shrinking population, the nation's highest unemployment rate, collapsing manufacturing and the nation's highest property taxes.
A stopgap budget would get core services funded. But beyond that, lawmakers need to get back to putting people over politics.