Illinois has highest unemployment rate in nation
A new report from the Illinois Department of Employment Security shows Illinois gained 5,400 jobs in April, but the state's unemployment rate ticked up to 6.6 percent, tied for highest in the U.S.
Illinois added 5,400 payroll jobs in April, and the unemployment rate rose to 6.6 percent from 6.5 percent according to data from the Illinois Department of Employment Security. The state's unemployment rate rose due to an increase of 9,700 Illinoisans who are unemployed. Illinois now has the highest unemployment rate in the country, tied with Alaska.
These headlines may seem contradictory – how can jobs be up at the same time unemployment is rising? The answer: There aren't enough job opportunities for everyone who wants to work. As a result, the number of unemployed people increases even as the number of employed people also increases. Furthermore, the payroll jobs count and unemployment rate come from separate surveys: the Bureau of Labor Statistics', or BLS', household survey and business survey.
In addition to reporting Illinois' modest gain of 5,400 jobs in April, BLS revised Illinois' March job gains down to 12,400 from 14,700. The significant sector gains in April occurred in professional and business services (+7,600), along with education and health (+2,600), while the largest losses were in other services (-2,300) and financial activities (-2,200). Construction and leisure and hospitality each shed 1,400 jobs.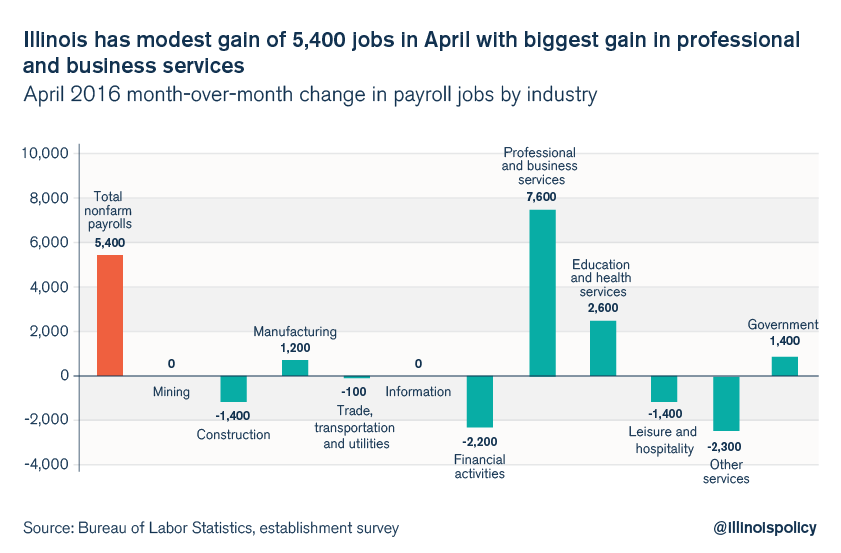 Illinois' workforce and unemployment rate
Interestingly, the number of Illinoisans who count themselves as employed also increased by 15,800 in April, according to the BLS household survey data.
Illinois' unemployment rate hit a post-recession low of 5.8 percent in July 2015, and has since risen to 6.6 percent, tied with Alaska for highest in the nation. It is notable that Illinois' unemployment rate has risen dramatically as the workforce has been growing quickly, and household employment gains have also been strong.
Here's what's happened: In January 2015, the labor force began growing for the first time in eight years. That growth has accelerated rapidly since July 2015, so that after years of shrinking, Illinois' workforce is suddenly getting close to the size it was before the Great Recession.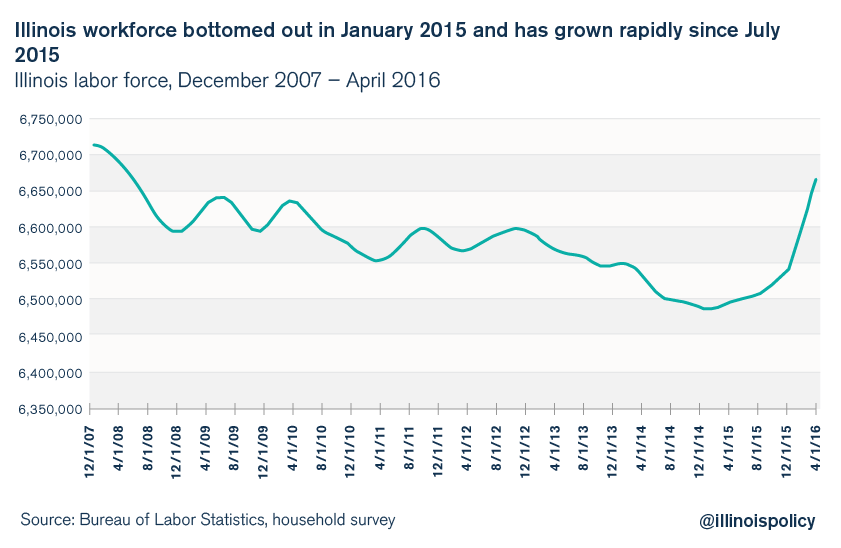 But while the workforce has grown by 166,000 people since July, 102,000 are additional people who are working, while 64,000 are people who are unemployed. Even though the number of working people has grown, the number of unemployed people has increased enough to significantly drive up the unemployment rate.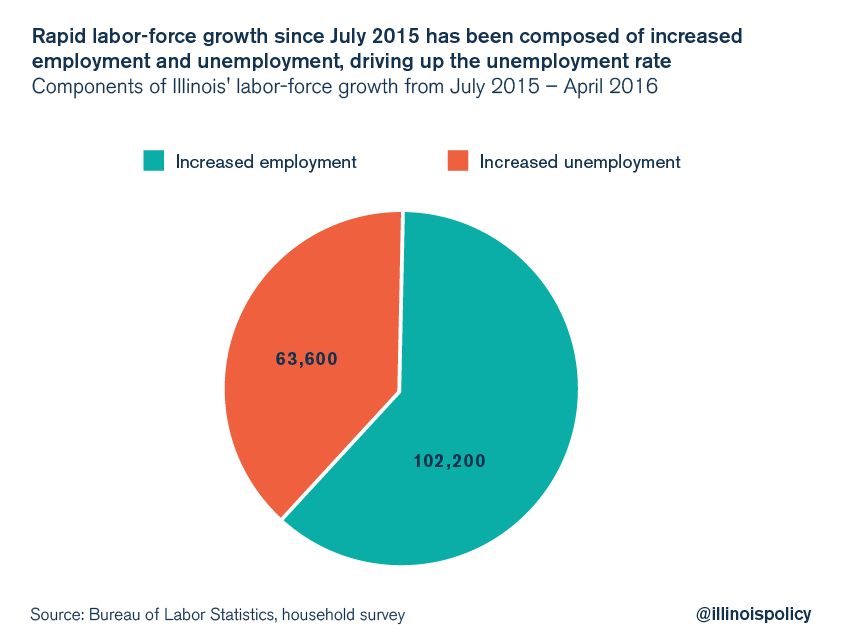 Why are more people entering the workforce?
The size of the labor force has risen in surrounding states, but in none so significantly as in Illinois. Given the timing, this could be related to Illinois' budget gridlock. Families affected by the impasse might be entering the workforce to find another source of income.
Illinois payroll jobs have increased by 40,000 since July 2015, when the state budget stalemate started, which accounts for some of the employment growth. Another possible contributor on the employment side is the explosive growth in the number of ridesharing drivers (who are counted as self-employed, not payroll jobs) that has occurred during this time. Many of the ridesharing drivers might have been previously detached from the workforce. There are undoubtedly other sources of employment as an increasing number of Illinoisans seek to earn income, but too many people are still unable to find job opportunities.
Regional comparisons
Illinois is in the middle of the pack compared with surrounding states for its jobs growth rate so far in 2016. Although it is early to make annual gain comparisons, Missouri (+1.2 percent) has had a surprisingly strong first four months of the year, followed by Michigan (+1.0 percent) and Wisconsin (+0.7 percent). Illinois has had a 0.6 percent jobs growth rate for the first four months of 2016.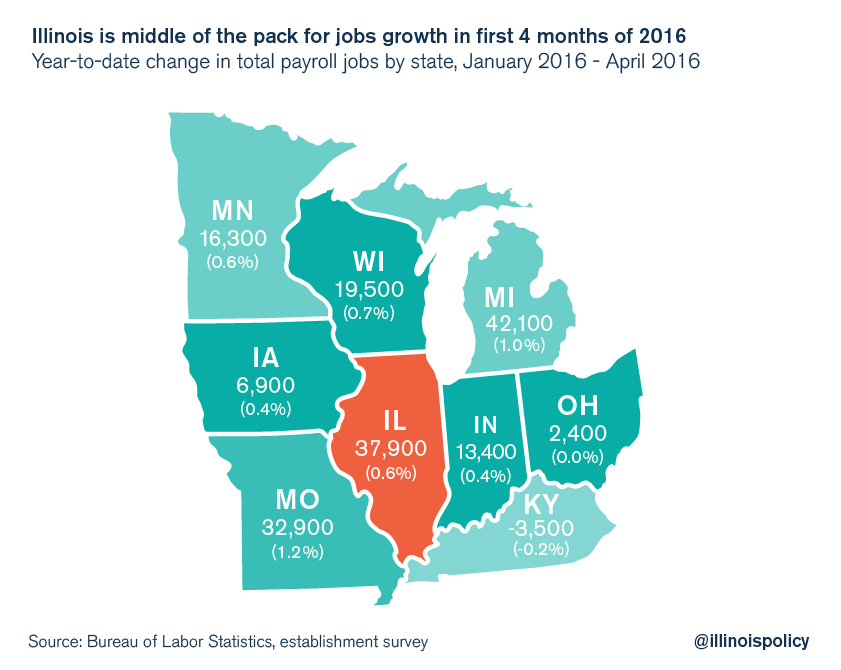 On the manufacturing front, Illinois is down 400 jobs on the year. Most surrounding states have shed manufacturing jobs year-to-date, with Michigan alone gaining a substantial 9,100 factory jobs. Ohio has the most significant loss, down 8,700 jobs on the year. The year-to-date divergence between Ohio and Michigan is unusual given that the two states are both heavily weighted toward the auto sector, though this year-to-date view is too short a time period to draw any definitive conclusions.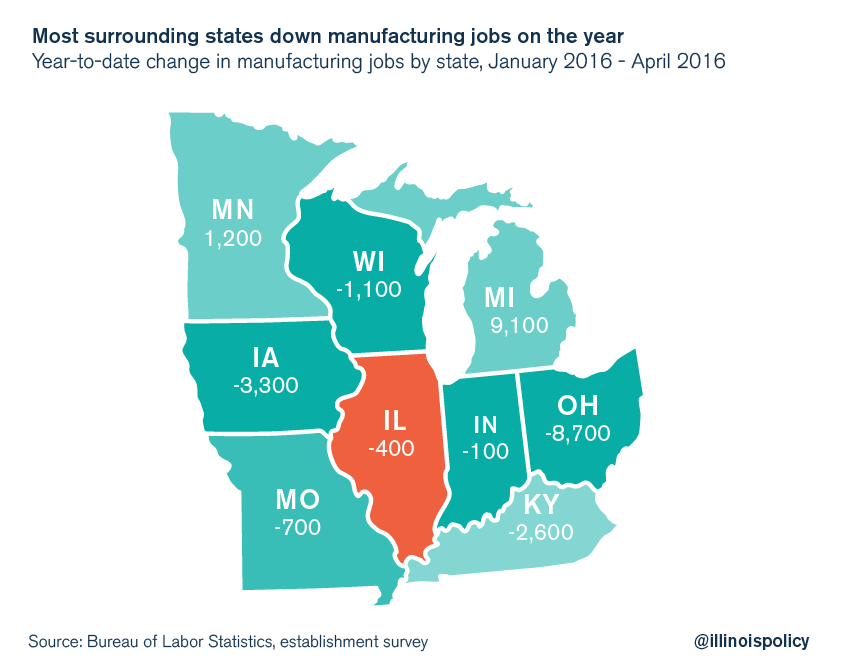 How Illinois can make the ground fertile for more job creation
Illinois' unemployment rate is significantly higher than those in surrounding states, as it has been for many years. The recent increase in Illinois' unemployment rate reflects the fact that a growing portion of Illinoisans who are seeking work are unable to find it.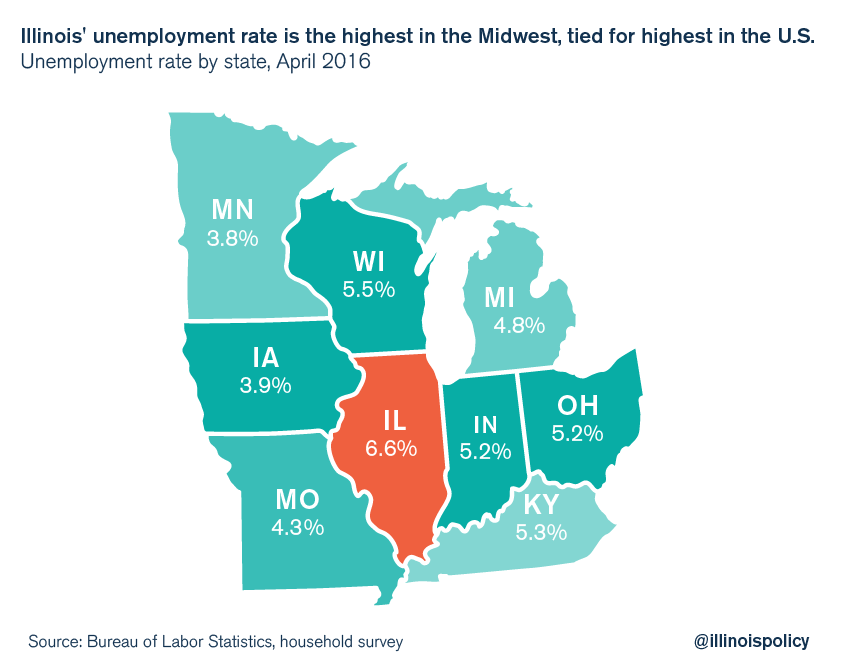 Major policy differences are affecting economic outcomes between Illinois and surrounding states. For example, for industrial jobs, Illinois is uncompetitive on workers' compensation costs, property taxes and Right-to-Work laws.
Generating strong jobs growth takes time and requires reform. The stronger long-term jobs growth and lower unemployment rates in surrounding states have unfolded after those states have fixed the industrial policies that continue to hamper Illinois. There is not a route to strong jobs growth and sustained economic recovery without addressing the state's structural uncompetitiveness on industrial policies and overly burdensome tax and regulatory policies. Illinois must freeze property taxes, and institute spending reforms to make the property-tax freeze sustainable.
Monthly jobs growth has been about the same through the course of Gov. Bruce Rauner's term as it was the year before the governor took office. However, the labor force has expanded significantly, especially since July 2015. Too many of those joining the labor force cannot find good job opportunities, which drives up the unemployment rate. The state needs broad structural reforms to strengthen Illinois' economy and bolster job opportunities so that Illinois families can then enjoy the fruits of their hard work.