More than a third of Illinois' largest cities shrinking in population
Twelve of the 29 Illinois cities with over 50,000 in population are losing residents.
Illinois' out-migration crisis is a problem throughout the Land of Lincoln, and the state's largest cities are not immune.
More than a third of Illinois cities with a population more than 50,000 have been declining in population since 2010. The largest drops were in Decatur, which lost 4.5 percent of its population from 2010-2016, and Rockford, which lost more than 3 percent.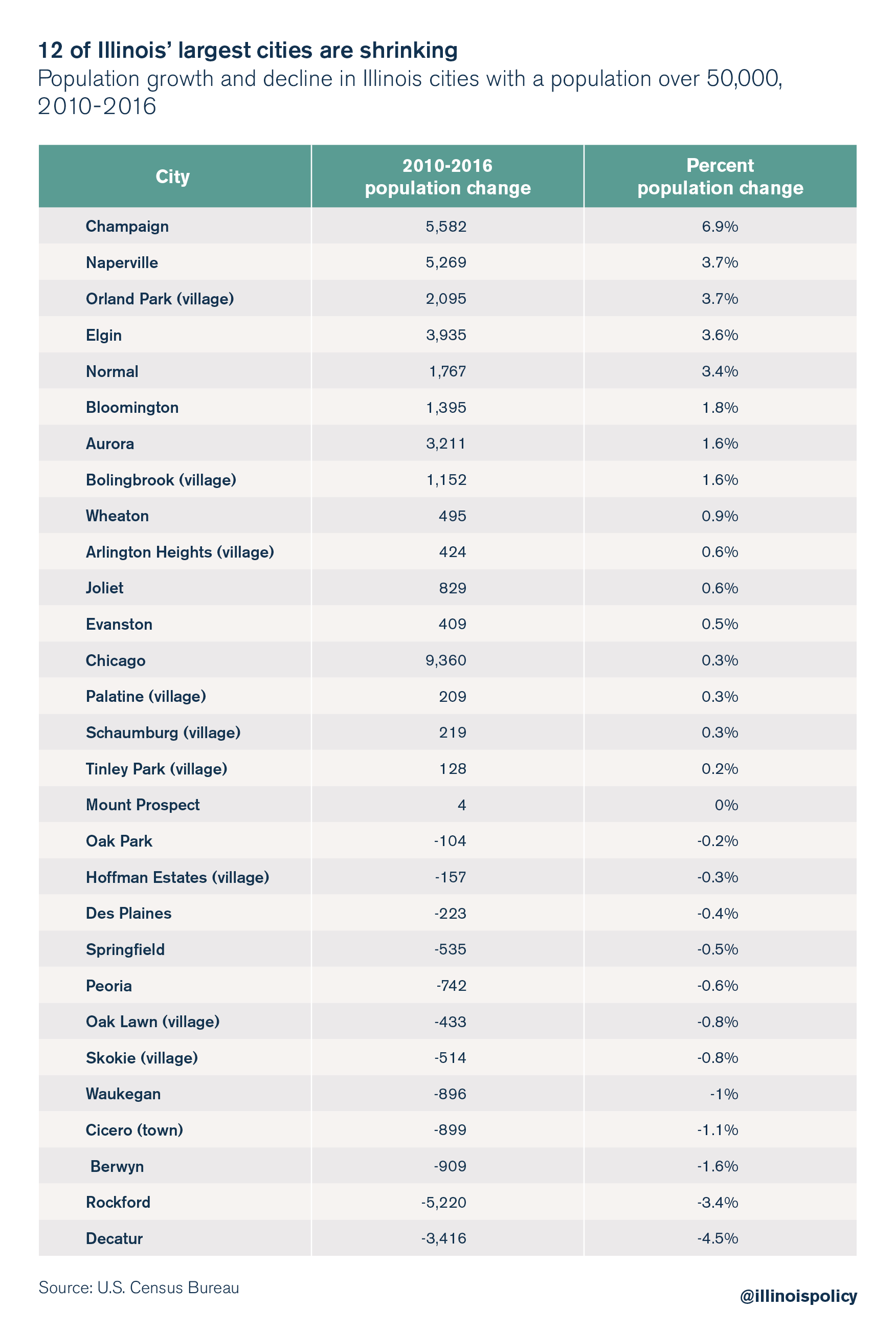 The losses came in larger towns across the state – from Cook and the collar counties down to central and southern Illinois. Given that states experience natural population gains from births outweighing deaths and people immigrating to America from overseas, it's likely that Illinois' domestic migration woes are plaguing many of these areas.
Specifically, 22 of the 29 cities over 50,000 in population are in Cook and the collar counties, with just under half seeing a population drop in the 2010-2016 timeframe.
Berwyn, Cicero, Waukegan, Skokie, Oak Lawn, Des Plaines, Hoffman Estates and Oak Park, all lost population; while Chicago, Evanston, Joliet, Arlington Heights, Wheaton, Bolingbrook, Aurora, Elgin, Orland Park, Mount Prospect, Tinley Park, Schaumburg, Palatine and Naperville all saw gains, though many small. From 2015-2016 alone, these population losses have hampered Cook and the collar counties. All six counties – Cook, Lake, McHenry, Kane, DuPage and Will ­– experienced net out-migration from July 2015 to July 2016.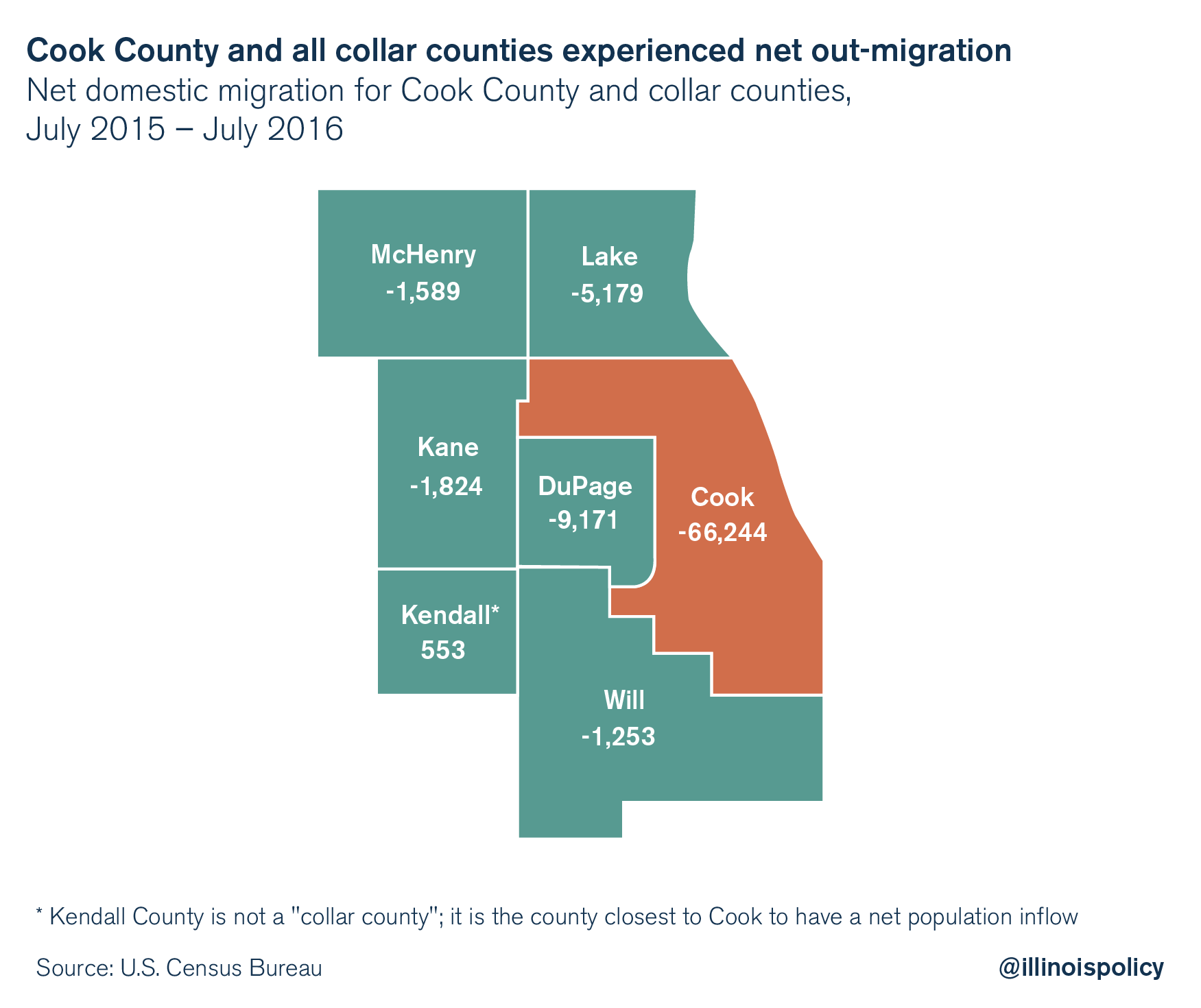 These counties also have something else in common: They pay the highest property taxes in the state and among the highest property taxes in the nation. Lake and DuPage counties pay the highest and second highest property taxes in the state and are both among the top 30 in the country. McHenry, Kane, Will and Cook are also all top 10 in the state, and in the 67 highest in the country.
These high property taxes drive up the state's overall tax burden, which is one of the highest in the nation, And Illinois' tax burden was only intensified by the 32 percent income tax hike lawmakers passed into law in July. But taxpayers have made it no secret that tax policy is one of the biggest drivers of out-migration from Illinois. A 2016 Paul Simon Institute poll found that taxes were the No. 1 reason people chose for wanting to leave Illinois, and that 47 percent of registered voters in Illinois would like to leave, with 20 percent saying at the time they were likely to leave in the next year.
With one of the highest tax burdens in the country and politicians refusing to make necessary economic reforms, it is tough to blame residents looking for greener pastures. If the growing exodus of Illinoisans actually troubles Springfield, they should work on easing the state's high tax burden, which include some of the highest property taxes in the nation, and enact pro-growth reforms that will convince people to come to and stay in Illinois – not leave.