New overtime rules in AFSCME contract could save $111 million if implemented
With AFSCME and the state at impasse for a new contract, the governor can implement his last offer to the union. That offer includes overtime pay after employees work the market norm of 40 hours in a week – as opposed to the 37.5 hour workweeks AFSCME demanded. Adjustments to overtime pay will save the state $111 million over the term of the contract.
The Illinois Labor Relations Board determined Nov. 15 that the American Federation of State, County and Municipal Employees is at an impasse, or deadlock, with the state in negotiations for a new contract for state workers.
The labor board's determination means Gov. Bruce Rauner can move ahead with the implementation of his last, best and final offer to AFSCME, including adjustments to overtime pay.
The governor's proposal on overtime pay alone will save taxpayers $111 million over the course of the contract.
Throughout negotiations, Rauner offered a number of proposals aimed at easing the state's financial burden and avoiding widespread layoffs – such as requiring employees to work the market norm of 40 hours in a week before overtime kicks in.
But AFSCME obstructed progress on the contract by continuing to demand a workweek with overtime for workers after just 37.5 hours, as well as automatic four-year raises that would increase payroll by as much as 29 percent by 2019, and platinum-level health insurance at little cost to state workers.
AFSCME's demands would cost the state an additional $3 billion in salary and benefit increases. These demands would deplete already-scarce state funds and divert them away from Illinoisans who most need them.
A 40-hour workweek will save the state $63 million
Throughout negotiations, AFSCME pushed for 7.5-hour workdays for many AFSCME employees, meaning workers would get paid overtime on a daily basis. For example, if an employee worked eight hours on a Monday, that employee would receive overtime pay for the extra half hour he or she worked. Both AFSCME and the state routinely referred to this set up as a "37.5-hour" workweek – i.e., five 7.5-hour workdays.
Of course, this daily computation of overtime pay differed significantly from the private sector, where overtime is typically earned after 40 hours in a workweek.
It also differed from federal regulations. The Fair Labor Standards Act, which regulates overtime pay, provides that overtime is computed on a workweek – rather than workday – basis. Further, the federal regulations define a workweek as 40 hours. As such, federal regulations dictate that overtime pay begins after an employee has worked a total of 40 hours in a workweek.
The governor's offer does away with the daily computation of overtime and provides instead that overtime will kick in once an employee has worked 40 hours in a week – reflecting what is typical in the private sector and required by federal law.
According to data Illinois Policy Institute obtained through a Freedom of Information Act request, taxpayers' cost savings between paying overtime after a 37.5-hour workweek and paying overtime after a 40-hour workweek is $63 million.
Adjustments to holiday pay will save the state $48 million
In addition to regular overtime pay, AFSCME employees are also eligible to earn generous overtime pay for working on a holiday. The amount earned depends on the holiday.
Under the previous contract, AFSCME employees received double time pay for working on one of the following holidays or their observed days: New Year's Day, Martin Luther King Jr. Day, Lincoln's birthday, Presidents Day, Memorial Day, Independence Day, Columbus Day, Veterans Day, the Friday after Thanksgiving, and Election Day.
This means that an AFSCME employee who worked on Election Day earned double his or her normal rate of pay for each hour worked.
But AFSCME employees received even more for "super holidays," which include Labor Day, Thanksgiving Day and Christmas Day. If an employee worked on one of the super holidays, he or she received double-and-one-half-times pay under the old contract.
Once again, this differs from what is required under the federal Fair Labor Standards Act, which does not require overtime pay for work on holidays.
The governor's proposal modifies holiday overtime pay, providing that AFSCME employees receive overtime pay at the rate of time and one-half (rather than double time) for regular holidays – which will save the state $31 million over the term of the contract. The offer still allows AFSCME employees to get paid more for super holidays, but pay is adjusted to double time (rather than double-and-one-half time) – an adjustment that will save taxpayers $17 million.
In total, taxpayers will save $48 million in holiday overtime pay over the life of the contract.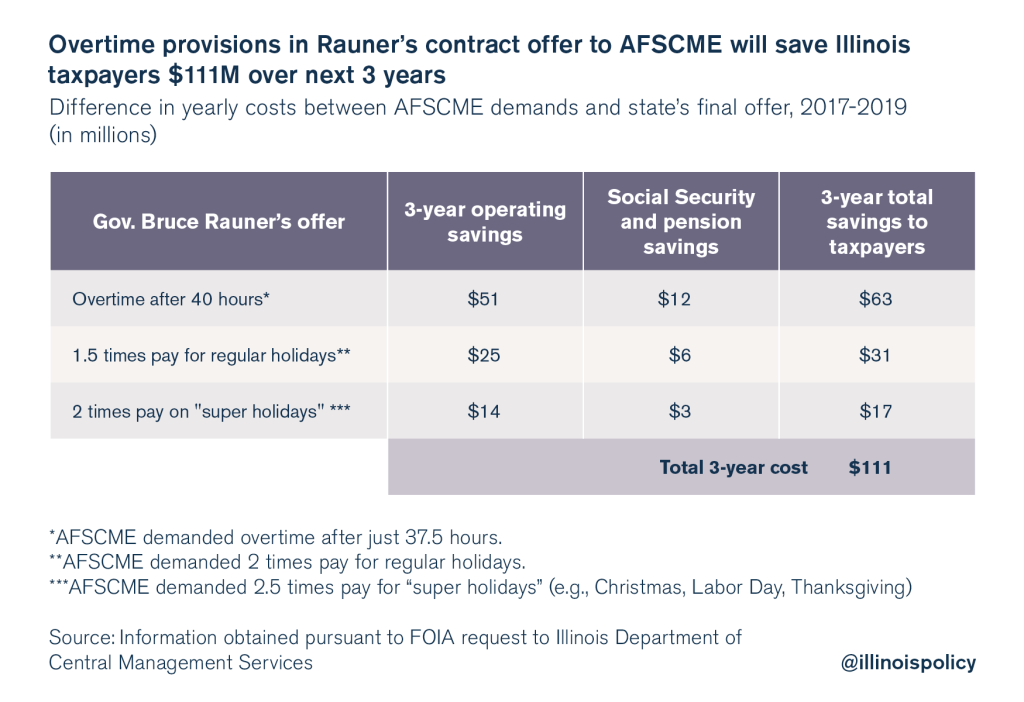 AFSCME balked at the state's suggested cost-savings
AFSCME refused to compromise on the overtime language. Throughout negotiations and the impasse proceedings, the union argued that because these provisions (and other cost-saving provisions the governor suggested) would not substantially alleviate the state's financial issues, the union was not willing to compromise on them at all.
Instead, AFSCME wanted the state to raise taxes to meet its excessive salary and benefit demands.
In other words, AFSCME didn't want to be part of the solution to the state's financial woes – it wanted to continue contributing to the problem.