This article was written by Taurean Small and originally featured on ChicagoTonight on October 21, 20114. 
Employment rates rose in most U.S. states and Illinois led the nation in job creation for the month of September. According to the Bureau of Labor Statistics' latest report, 31 states including Illinois unemployment rates fell. Illinois had the second strongest showing nationwide by adding about 19,300 more jobs last month.
View a graph of Illinois' monthly job creation rate in 2014.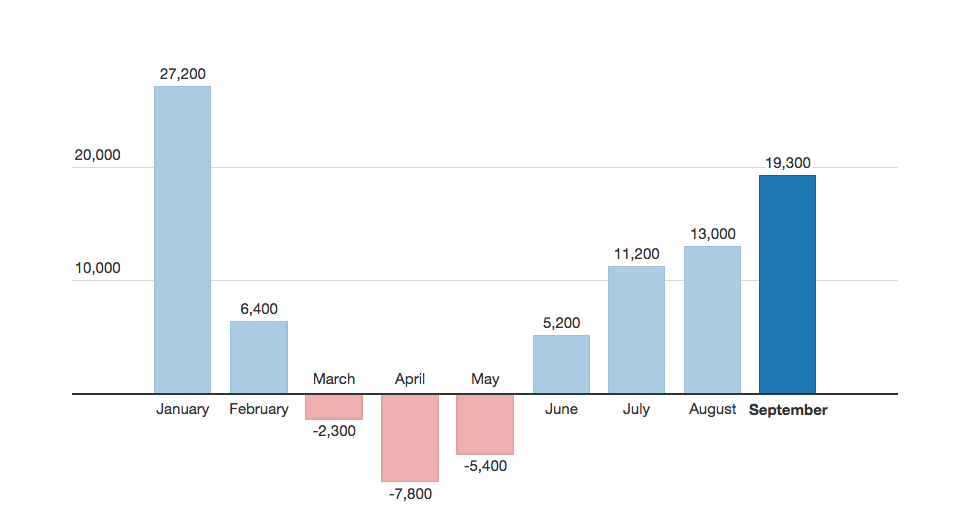 Gov. Pat Quinn released a statement touting the positive numbers as result of good economic policies.
"Today's news shows that the Illinois economy is making a comeback," Quinn said. "We are making the tough decisions necessary to drive economic growth and the statistics released today show that Illinois is moving in the right direction."
The state also led the nation in the biggest drop in unemployment rates last month. According to the report, Illinois' unemployment rate in September was 6.6 percent. That's a 2.6 percent drop from the previous year's 9.1 percent unemployment rate. The national unemployment rate is 5.9.
View a map of the nation's September 2014 unemployment rate.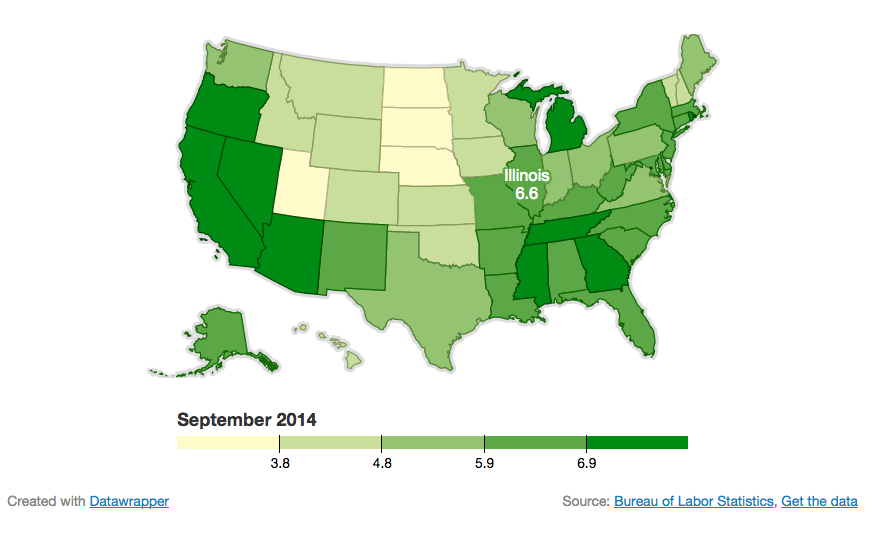 The Illinois Policy Institute expressed mixed reactions to the report. In a statement, the organization praised the job gains but expressed concern over the decline of opportunities in manufacturing. According to the report, the state lost 2,800 manufacturing jobs in the last month. The Illinois Policy Institute believes this loss is contributing to Illinois' slow economic recovery.
"Gaining more than 19,000 payroll jobs in the state is a positive sign for Illinoisans who have been struggling to find work," said Illinois Policy Institute's Director of Jobs and Growth Michael Lucci. "At the current pace of growth, it will still take Illinois seven more years to recover the losses from the Great Recession."
Illinois has 99,000 fewer manufacturing jobs since January 2008, according to the report.