October BLS jobs report: Illinois has region's heaviest manufacturing job losses in 2015 and 2016
Since the beginning of 2015, Illinois has lost 14,100 manufacturing jobs.
The results of state politicians' anti-jobs policies can be seen in Illinois' poor economic numbers: Illinois has suffered the region's heaviest loss of manufacturing jobs for the second year in a row.
The Bureau of Labor Statistics, or BLS, reported Nov. 18 that Illinois had a small gain of 2,200 jobs on the month, and the Land of Lincoln's unemployment rate rose to 5.6 percent for October due to an increase in the number of jobless Illinoisans. The unemployment rates reported for surrounding states ranged from a low of 4 percent in Minnesota to 5.1 percent in Kentucky and Missouri.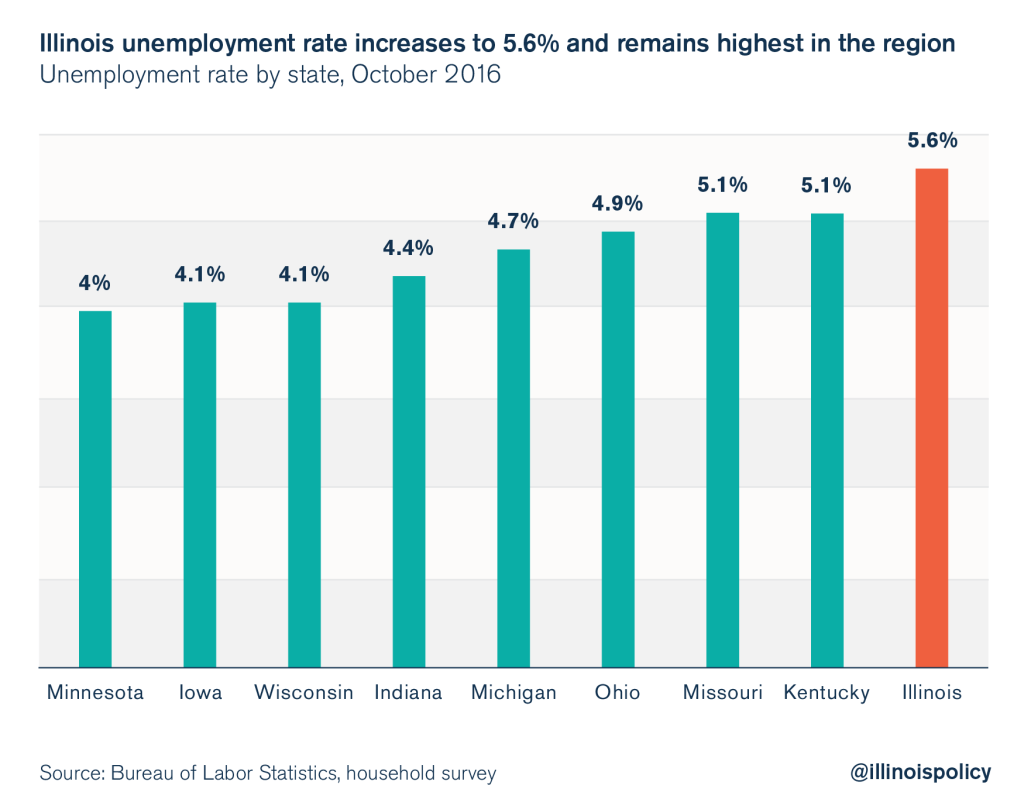 In 2015, most surrounding states had substantial job gains in the manufacturing sector. Michigan gained 11,300; Ohio gained 9,100; Kentucky gained 7,300; Indiana gained 4,000; and Wisconsin gained 3,400. Only Iowa and Illinois lost manufacturing jobs last year, with Iowa dropping 1,300 on the year and Illinois dropping 6,200.
2016 has been much less favorable to manufacturing jobs growth across the region, but one constant has remained: Illinois stands out as the worst state in the area when it comes to manufacturing hiring. Most nearby states have lost manufacturing jobs through the first 10 months of 2016, with manufacturing job changes ranging from -7,900 in Illinois to +7,100 in Michigan. But in both 2015 and 2016, Illinois performed worst in the region.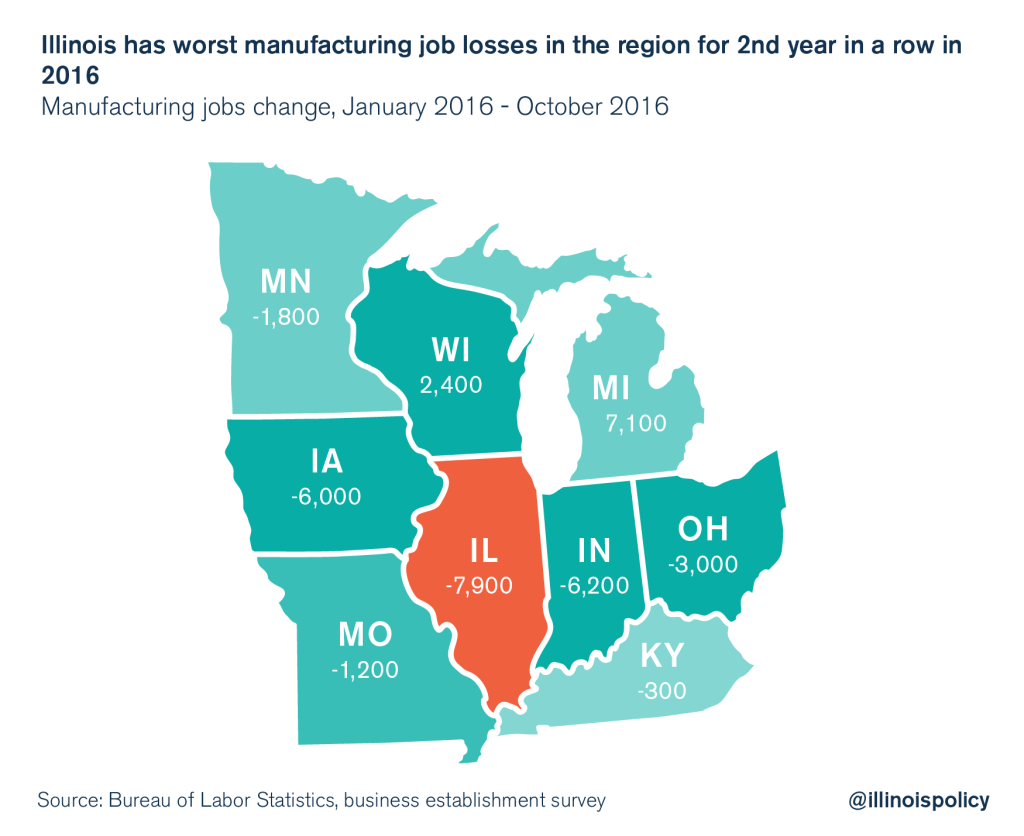 Since the beginning of 2015, Illinois has lost 14,100 manufacturing jobs, the steepest losses of any of Illinois' neighbors or other nearby states.
Within Illinois, the manufacturing job losses are part of an increasing divergence in job opportunities between different sectors of the state economy. Thus far in 2016, Illinois has lost 7,900 manufacturing jobs and gained 34,300 business and professional services jobs.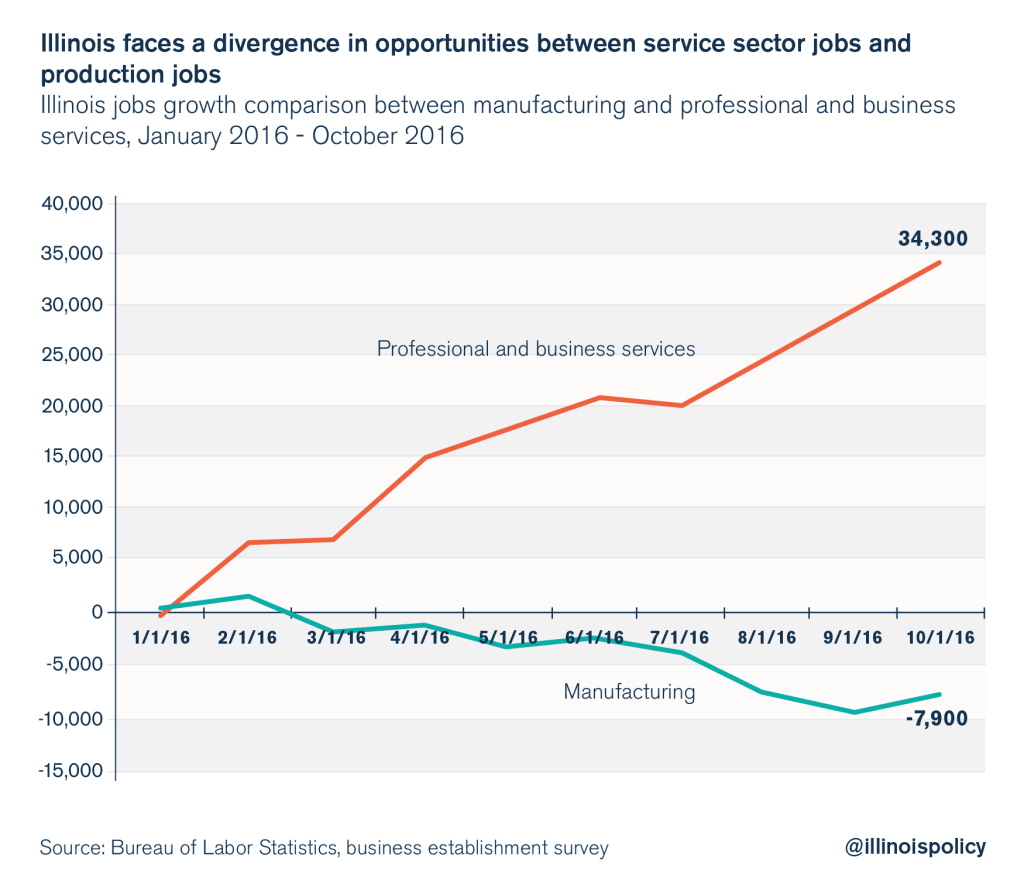 This divergence has created pronounced differences between the greater Chicago area and the rest of the state. When the state gains service jobs and loses production jobs, it means the greater Chicago area experiences some jobs growth, while much of the state loses jobs. And that's what the past year's metro jobs data point to: The greater Chicago area has gained nearly 49,000 jobs, while the rest of the state has lost 6,000.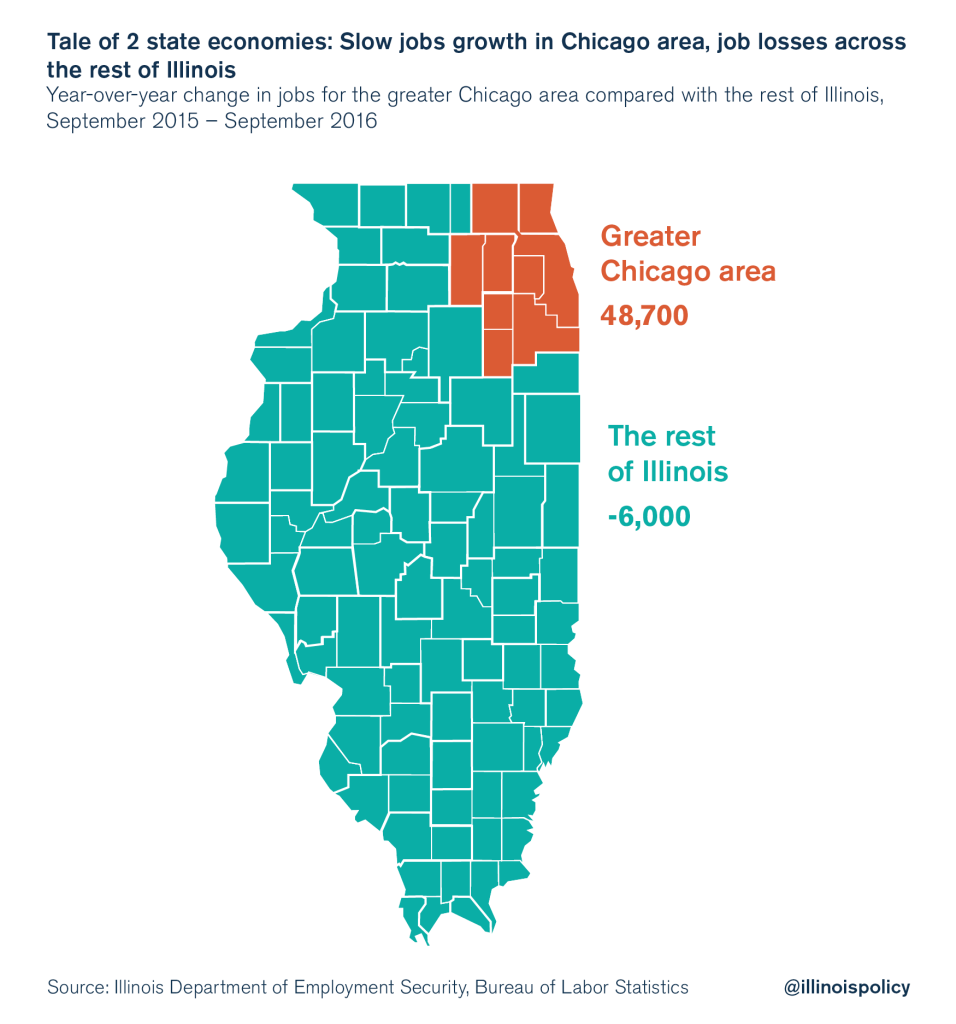 This phenomenon of service sector job creation and production sector job losses exists in many parts of the country, and is reflected in imbalanced job opportunities between large urban centers and smaller towns and rural areas. However, it is especially pronounced in Illinois, where overall job creation is weak and manufacturing jobs in particular have barely recovered since the bottom of the Great Recession.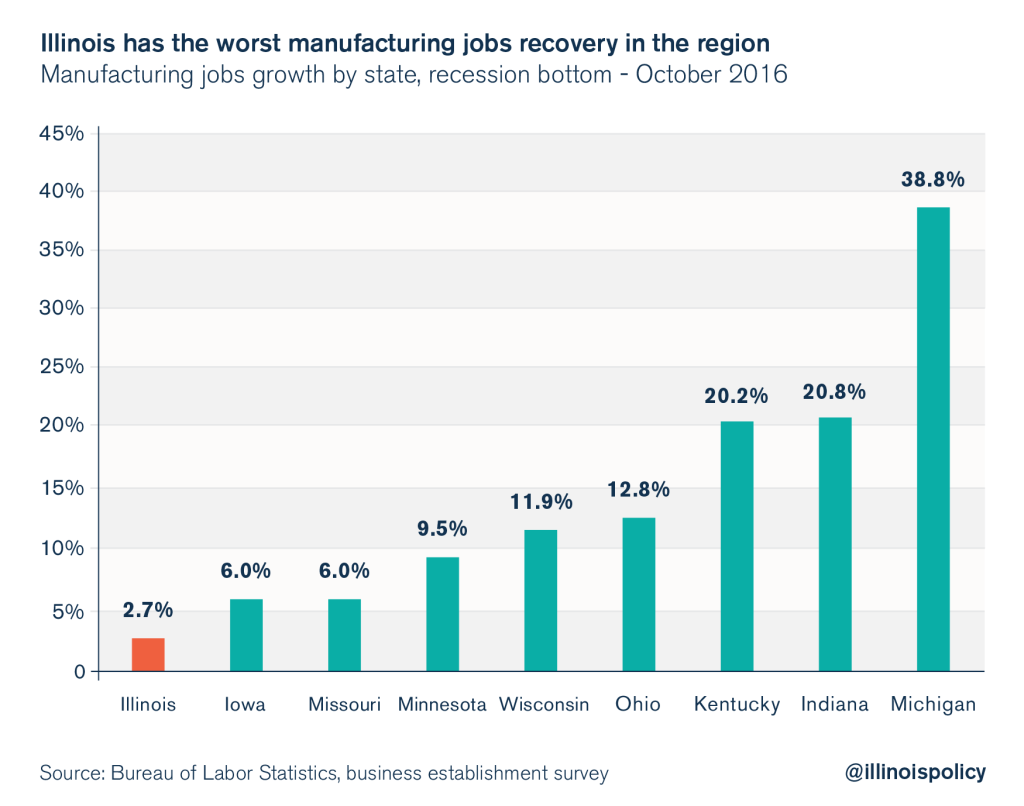 Service sector jobs growth is not strong enough in many downstate communities to compensate for production sector job losses. And manufacturing business relocations and job losses in downstate communities likely reduce economic activity in those local service sectors geared toward manufacturing workers and businesses.
Illinois' growth is weak statewide, and job creation is negative in many downstate communities. The wealth and taxpayer flight from Illinois that often results from weak jobs growth is a serious problem that strains government finances.
Stronger, sustainable jobs growth is a necessary part of any future in which Illinois avoids a financial collapse. Without more job creation there simply will not be enough economic activity to generate the taxes needed to dig out from under Illinois' monumental debts. With or without a budget, Illinois will experience increasing financial hardship until lawmakers reform economic policies to allow sustainable job creation for all industries across the state.