Onslaught of Chicago debt downgrades continues
The pension shortfall per Chicago household stands at $33,500 each.
National credit agencies continue to put pressure on Chicago to address the fiscal crisis that has the nation's third-largest city on a path toward bankruptcy.
On July 8, Standard & Poor's Ratings Services lowered its rating on Chicago's general obligation bonds to "BBB+" from "A-" and also said the outlook for the rating is negative.  That move follows the recent downgrade of Chicago's credit by Moody's Investors Services, which placed Chicago's bonds in the "junk bond" category.
S&P still rates Chicago's credit at three notches above junk-bond status.
"The downgrade is based on our view of the city's structural imbalance, which we believe will necessitate the adoption of corrective budget measures over several years," S&P said. "In our opinion, the city has not yet fully identified a credible plan to address the imbalance."
The onslaught of downgrades is not surprising given the size of the pension shortfalls for the city of Chicago and its sister governments.  Not only are the city's fire and police funds close to liquidity crises, but its sister governments and Cook County pension funds are also in deep trouble. What should have Chicagoans worried is that without massive pension reform, they'll be asked to bail out those pension funds through higher taxes, primarily property-tax hikes. Not just the four city-run pension funds, but also those of Chicago Public Schools, the Chicago Park District and Cook County.  The total pension shortfall facing Chicago households totals nearly $34.5 billion – or $33,500 each.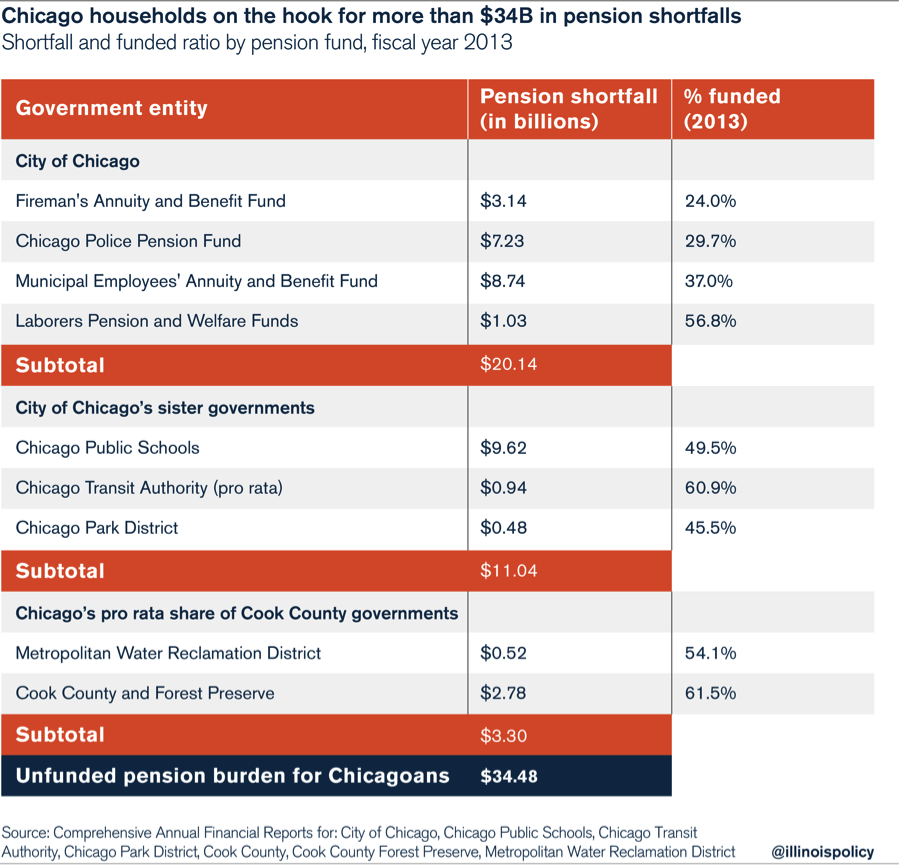 The prospect of property-tax hikes has everyone guessing just how big they'll be when the dust settles, but even then, those estimates are too low.
Especially when you consider how S&P ends its credit-rating report: "We could lower the rating further should city officials fail to identify a credible plan to address the growing budgetary imbalance within the next six months."
Without an urgent and credible solution from Springfield and Chicago that truly addresses Chicago's pension crisis, expect those downgrades to continue, taxes to rise and ultimately, people to flee.