Illinois is among the worst in the nation for job separations and hiring
PRESS RELEASE from the
ILLINOIS POLICY INSTITUTE
MEDIA CONTACT: Rachel Wittel (312) 607-4977
Illinoisans 51% more likely to be laid off, 21% less likely to be hired than average U.S. worker 
Illinois is among the worst in the nation for job separations and hiring
CHICAGO (Sept. 17, 2020) – Illinois workers are suffering worse job outcomes than the rest of the nation as states race to recover from the COVID-19 economic downturn. New analysis from the Illinois Policy Institute found Illinoisans were 51% more likely to be laid off or completely lose their jobs during the past month than the average U.S. worker. Also, unemployed Illinoisans are 21% less likely to find a new job than the average U.S. worker.
Institute research shows Illinois ranks ninth worst in the nation for both job separation and job finding. In the Midwest, only Minnesota has a worse job finding rate than Illinois.
The Illinois Department of Employment Security (IDES) today reported the state added 66,000 jobs in August. This brings Illinois' unemployment rate to 11%, which is a slight improvement from the COVID-19 downturn but still significantly above the national unemployment rate of 8.4%. There are 695,000 Illinoisans who remain unemployed.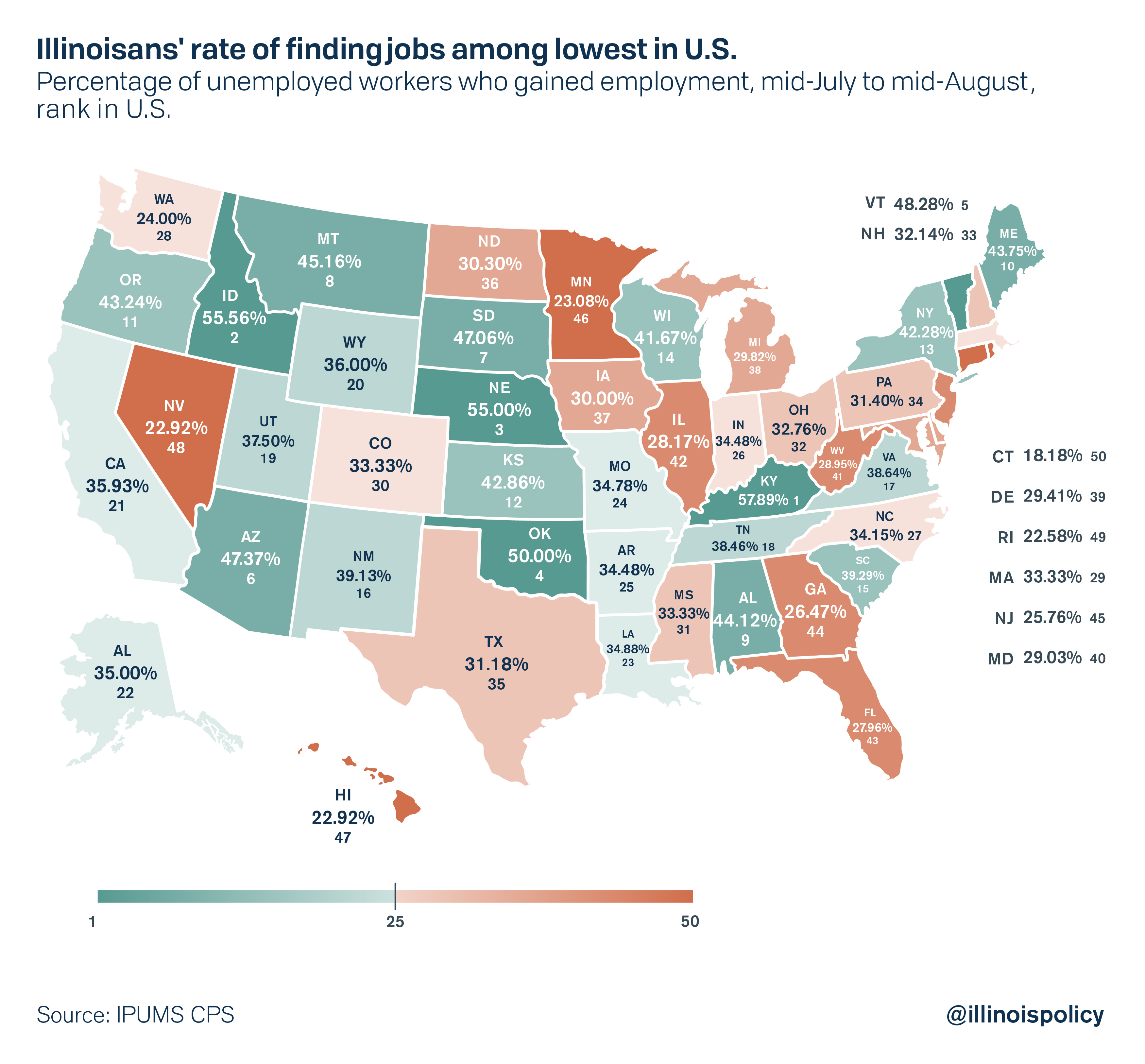 Orphe Divounguy, chief economist at the nonpartisan Illinois Policy Institute, offered the following statement:  
"Illinois' worsening job separation and job finding rates during the past month indicate businesses in Illinois are struggling more than in other states. Higher than normal separation rates mean some businesses are still bleeding jobs and reducing payrolls to stay afloat, or they are shutting their doors permanently.
"This trend not only marks concerning prospects for the state's economic recovery in the months to come, but also exposes how dangerous a $3.7 billion tax hike on small businesses would be in Illinois. To help Illinois keep up with the national economic recovery, we must ensure that Illinois' 695,000 job seekers will not be unnecessarily punished by a policy that shrinks the pool of potential employers."
To read more about the economic impacts of the COVID-19 pandemic on Illinois jobs, visit: illin.is/covidjobless.
For bookings or interviews, contact media@illinoispolicy.org or (312) 607-4977.