Red-light camera ban in Illinois pushed by more state lawmakers
As the bipartisan backlash against red-light traffic cameras continues to build, a third Illinois state lawmaker has introduced a proposal to ban the controversial devices statewide.
Red-light cameras have driven a lot of green to local government coffers, but more state lawmakers are getting the caution light about their proneness to corruption and looking to put a halt to the devices.
On Oct. 23, state Rep. Kambium Buckner, D-Chicago, filed House Bill 3927 in the Illinois General Assembly. The measure would deny local governments the ability to contract with red-light camera companies, repealing the section of state law that allows devices to record drivers at intersections.
Buckner's bill is the third to be filed that would bring Illinois in line with other states' negative view of the controversial cameras. A growing body of research calls into question the legitimacy of the devices as a tool for improving public safety.
Revenue generation is one area where red-light cameras excel: An Illinois Policy Institute analysis in October found Chicago and other local governments across Illinois have banked over $1 billion combined between 2008 and 2018, and that the presence of red-light cameras outside Chicago has tripled during that time.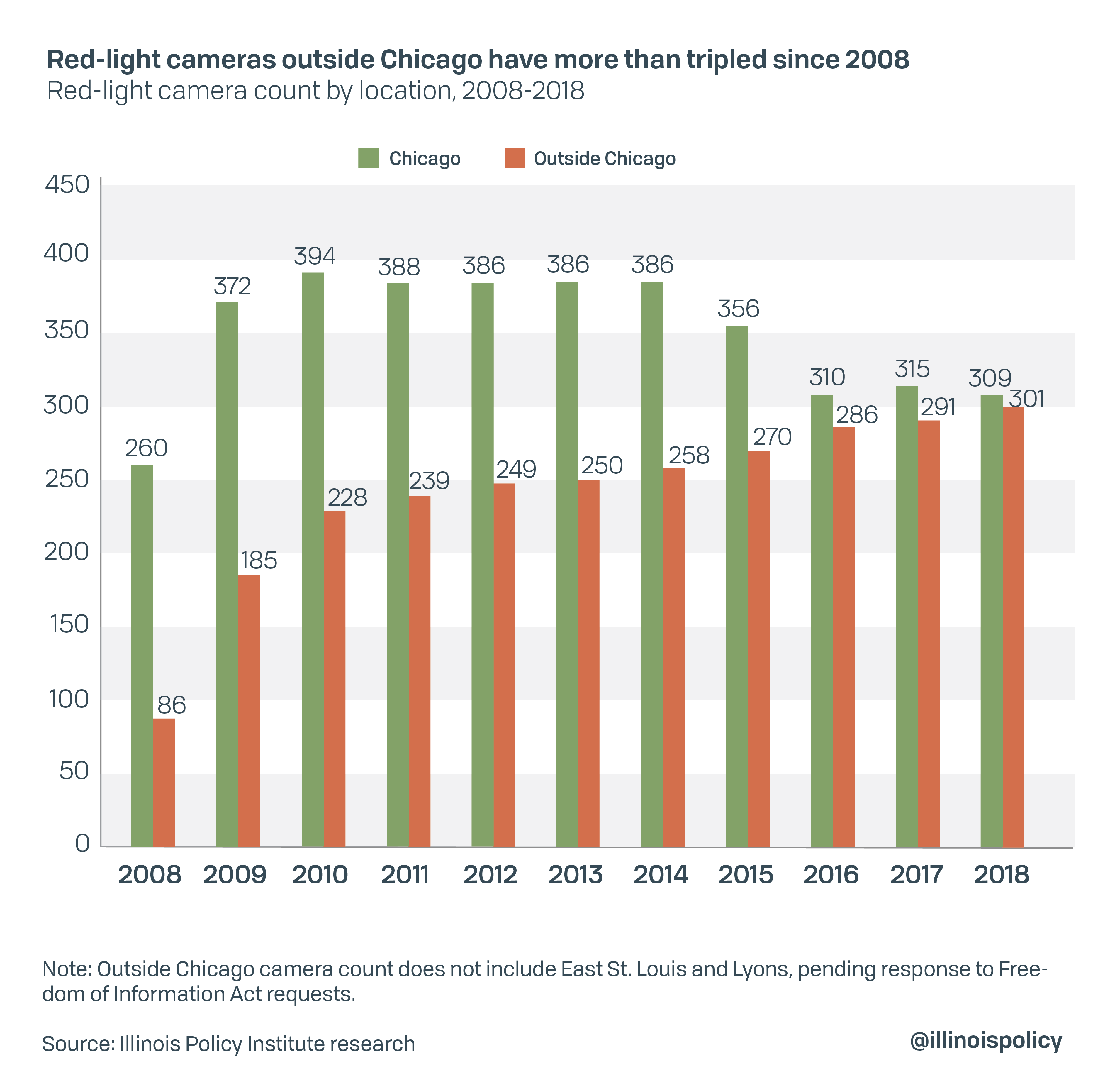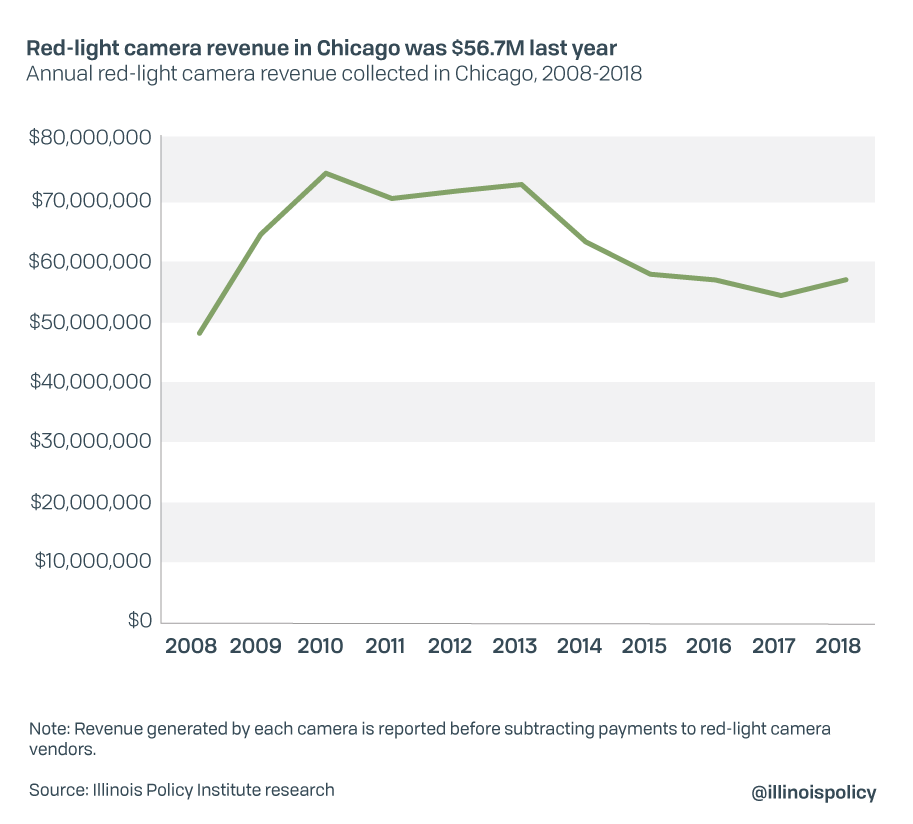 Illinois' expansion of red-light cameras came as the nation was turning off the devices. In addition to their dubious safety utility, an ongoing federal probe in Illinois has continued to underscore the strong potential for political corruption and conflicts of interest that red-light camera companies too often create.
In September, a string of FBI and IRS raids revealed state and local officeholders have connections to red-light camera company SafeSpeed LLC. Highest among them was state Sen. Martin Sandoval, D-Chicago, who shortly thereafter resigned his chairmanship of the powerful Senate Transportation Committee, a position of leadership from which he helped shape Gov. J.B. Pritzker's $45 billion capital plan that doubled the state's gasoline tax.
SafeSpeed is a longtime political donor to Sandoval. A 2017 investigation by the Chicago Tribune found the senator used his transportation chairmanship to pressure the Illinois Department of Transportation, or IDOT, into approving a SafeSpeed camera at an Oakbrook Terrace intersection after the company donated to his campaign. IDOT initially rejected the request, determining the intersection was already sufficiently safe. That Tribune report found more than half of the intersections for which IDOT approved permits were already among the safest in the state by the department's own standards.
In Chicago, home to the most red-light cameras and biggest red-light camera scandal, a report paid for by the city in March 2017 reinforced the benefits of its red-light camera program and recommended its continuation. But more recent independent research has found the devices may make intersections less safe, and at a minimum increase rear-end collisions. In August 2017, Chicago was hit with a nearly $40 million settlement after a class-action lawsuit alleged the program violated motorists' due process rights. A more recent class-action lawsuit alleges the program is "unconstitutional" and fails to satisfy a number of state law requirements.
The bipartisan push for a ban on red-light cameras has recently gained momentum in Springfield. Buckner's bill is the third so far this year. Other chief sponsors of similar proposed reforms include state Reps. David McSweeney, R-Barrington Hills; Jonathan Carroll, D-Buffalo Grove; Rita Mayfield, D-Waukegan; Sam Yingling, D-Grayslake; Grant Wehrli, R-Naperville; and Mark Batinick, R-Plainfield.
Lawmakers in Springfield should follow the lead of Buckner and others by using the remaining days of the General Assembly's veto session to finally put an end to the costly red-light camera scams in Illinois.