September jobs report: Declining job prospects and a shrinking labor force
Illinois lost 10,800 jobs on net over the month, and the state continues to experience labor force dropout.
Illinoisans were hoping the state's economy might bounce back after a rough August.
But unfortunately, the number of nonfarm payroll jobs continued their decline in September, with the state experiencing a net loss of 10,800 jobs, according to the Oct. 19 data release from the Illinois Department of Employment Security.
The leisure and hospitality sector continued its decline, and the trade, transportation and utilities sector and the education and health services sector were hit especially hard over the month, with those three sectors driving most of the month's job losses.
But the manufacturing sector finally rebounded in September, gaining 1,100 jobs after two months of employment losses that totaled 4,200 fewer manufacturing jobs . The state is still down 2,600 manufacturing jobs since September 2016.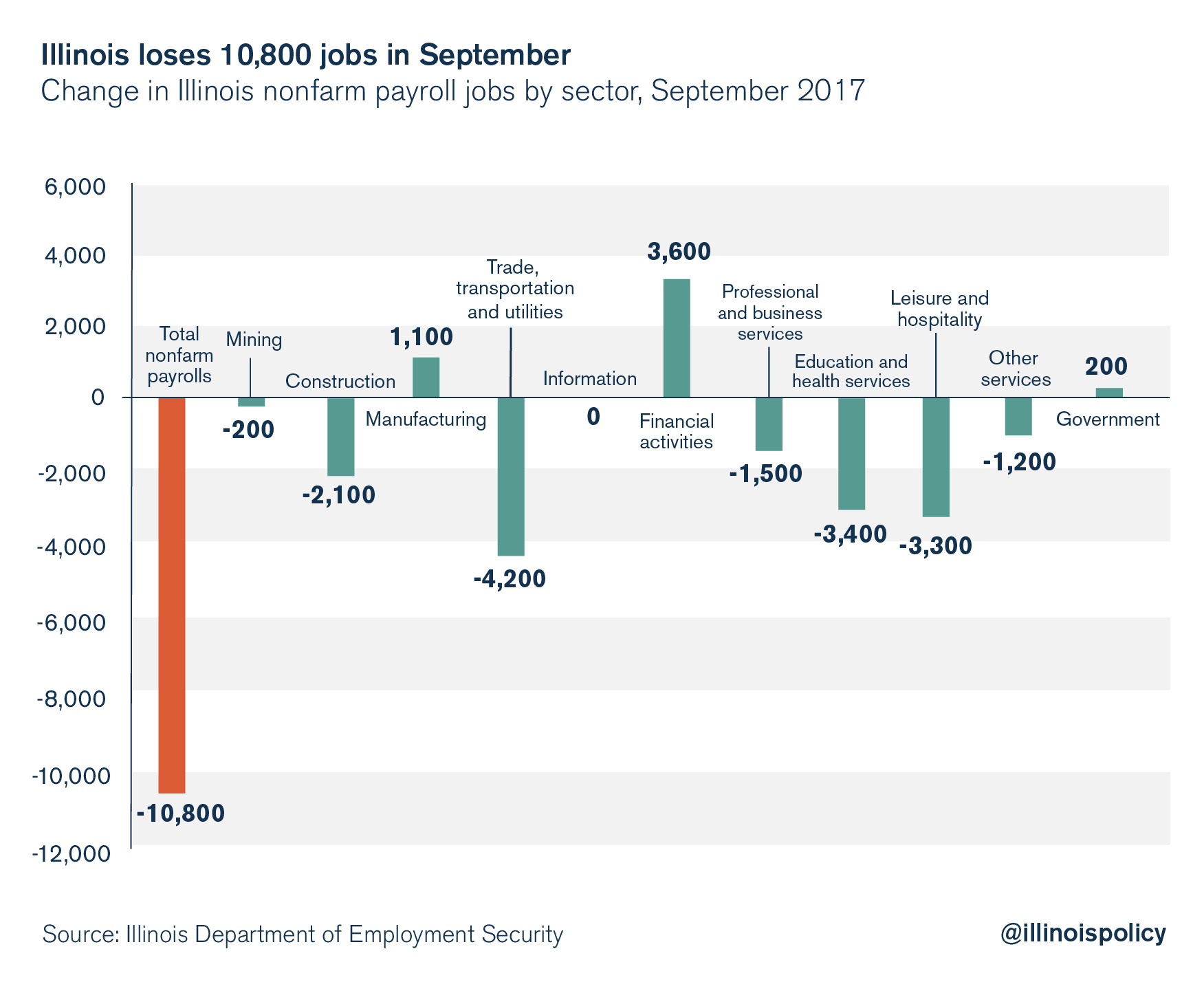 From January 2017 to September 2017, Illinois has gained 12,800 jobs, which is less than half the job creation during the same months in 2016.
Illinois' unemployment rate remained unchanged at 5 percent, but is down 0.8 percent over the year. However, the state employment situation is not healthy by any means.
Unemployment counts the number of job-seekers. A decrease in the number of unemployed would spell good news if that decrease had been caused by an increase in the number of people finding work. Instead, when total employment decreases and the number of unemployed also decreases, it is because fewer individuals are looking for jobs.
That's the case in Illinois, where the labor force has shrunk by 97,000 people since January. From August 2016 to August 2017, Illinois' labor force shrank by 1.4 percent.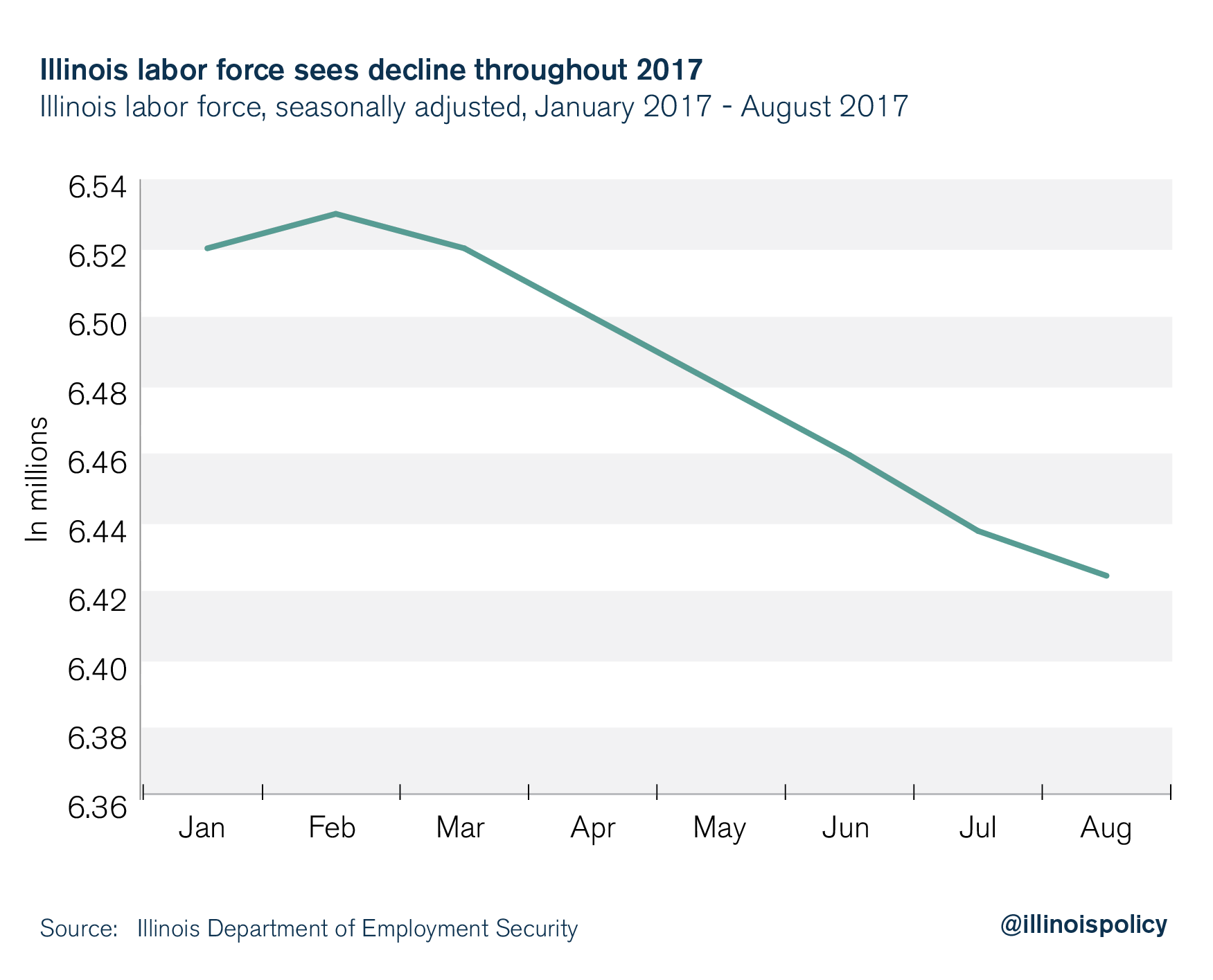 Illinois' labor force participation rate – the share of working-age Illinoisans employed or seeking employment – has also seen a slight dip in 2017, to 60.8 percent in August from 61.3 percent in January.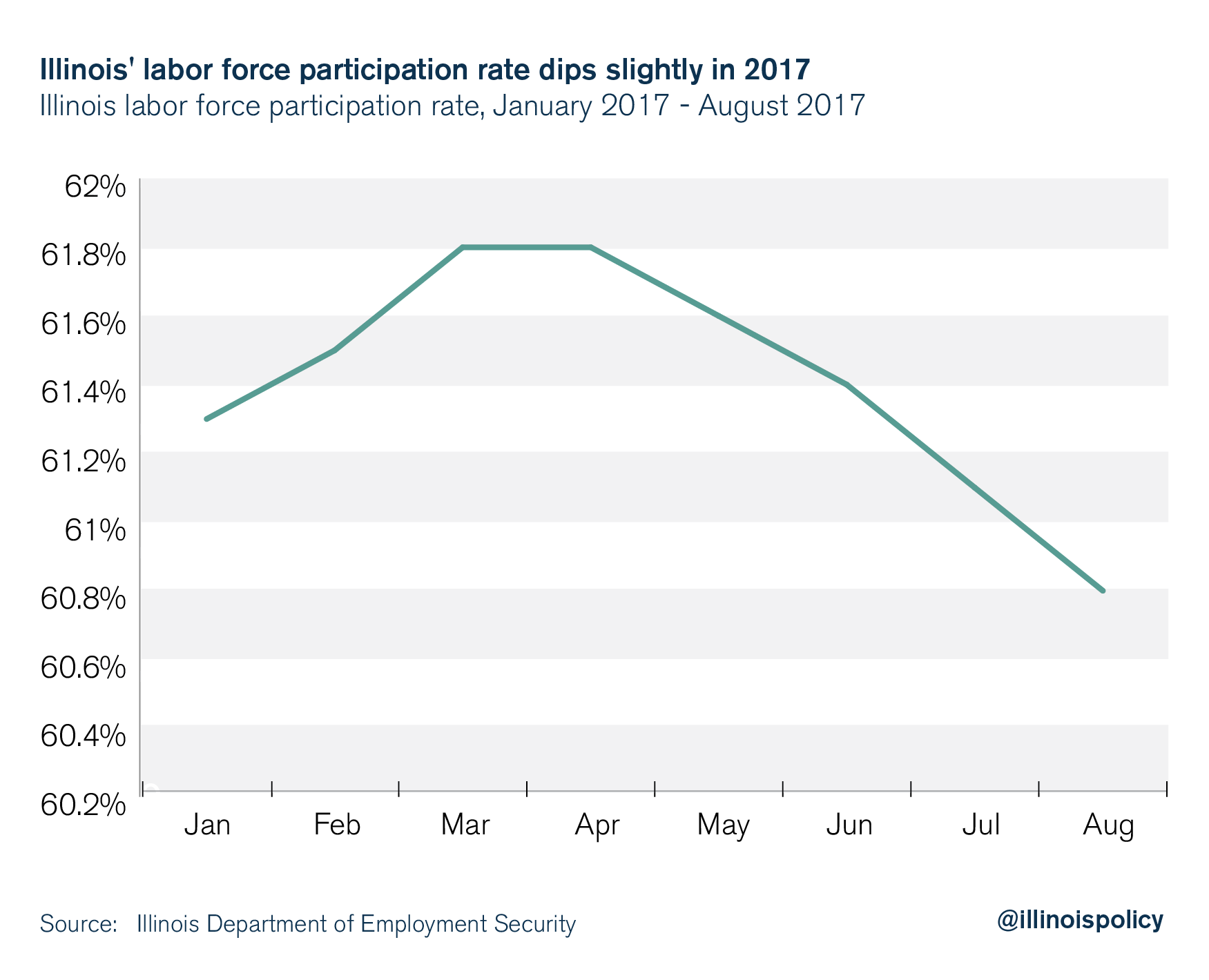 Both of these measures in Illinois stand in contrast with the national labor force trends. Nationally, both the labor force and labor force participation rate are up in 2017.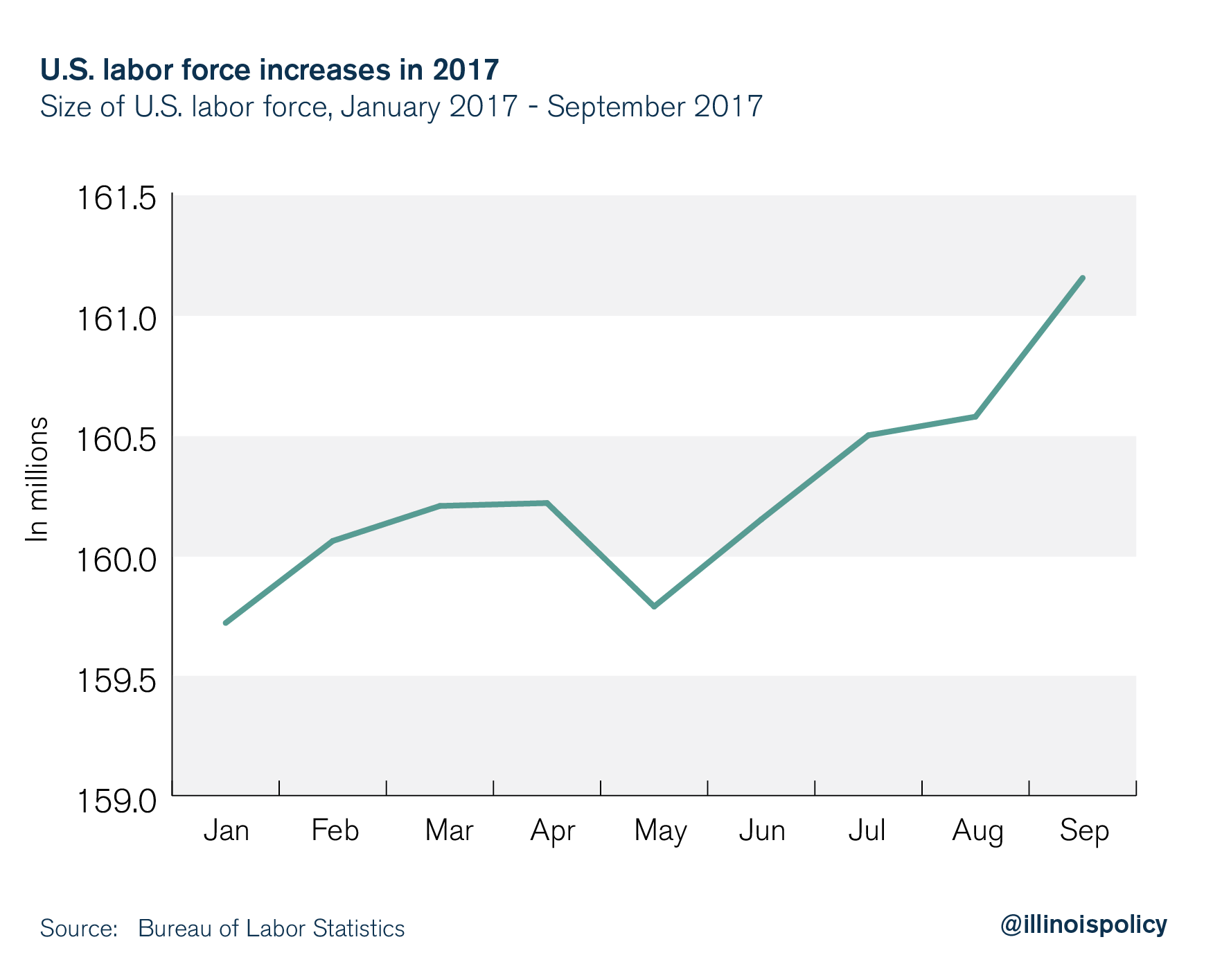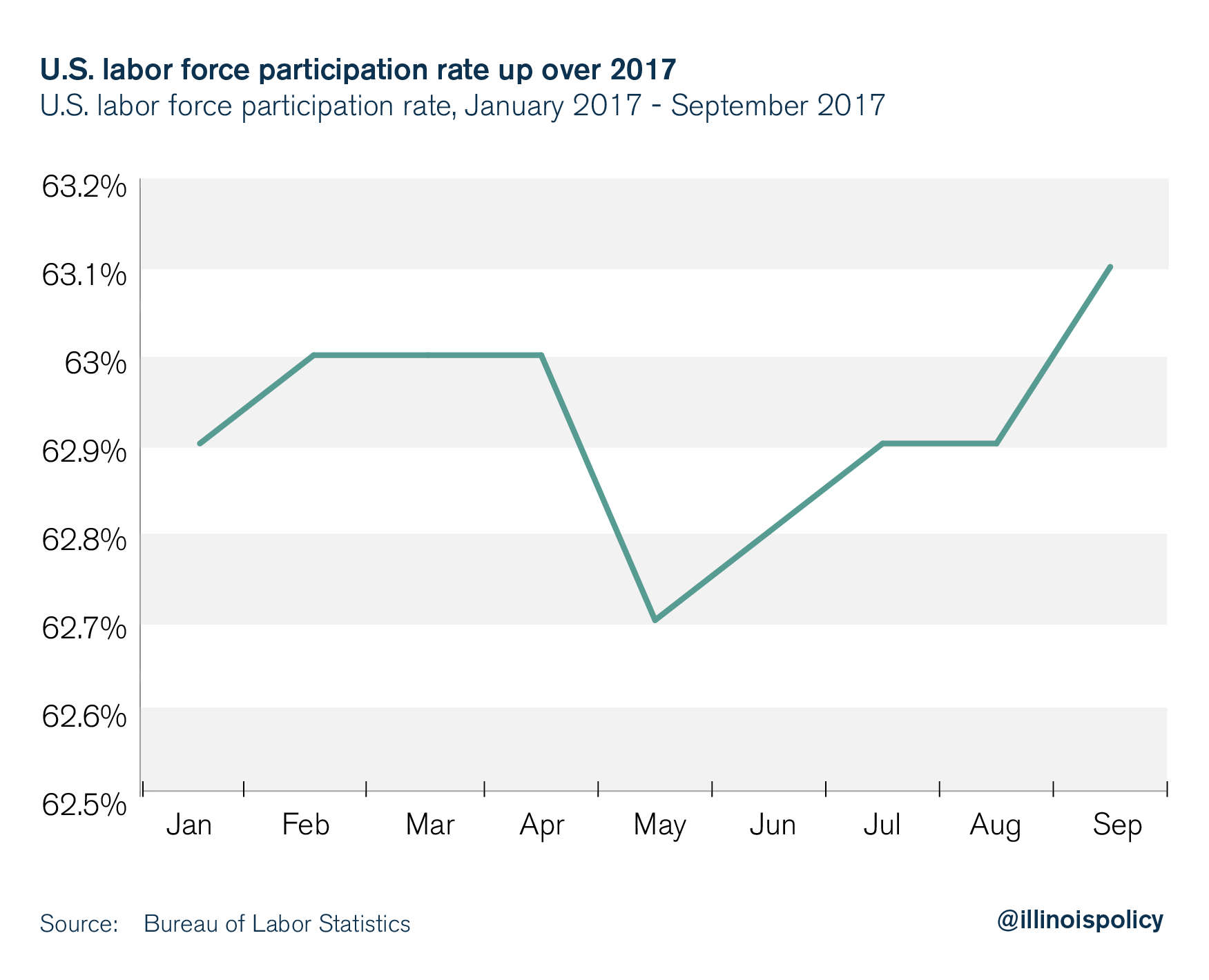 The lack of pro-growth reforms being considered in the General Assembly is an insult to the Illinoisans who are suffering under the Land of Lincoln's dismal economic performance. The state's declining labor force and continued out-migration are part and parcel of weak employment growth. Until lawmakers pass serious pro-growth economic reforms, there's little reason to think the state's long-term jobs prospects will look any brighter.