Shrinking McHenry County needs to cap and cut property taxes
Local officials' failure to address skyrocketing property taxes has pushed residents out of McHenry County at astonishing rates.
McHenry County is ahead of the curve when it comes to population losses.
McHenry County has been shrinking since the year 2010, according to United States Census Bureau data. That makes McHenry worse even than Illinois generally, which has been the only state in the region shrinking since 2013. And property taxes are a big part of the problem in McHenry County, where middle class families are being taxed out of their homes.
McHenry County's median effective property tax rate is a stunning 4 percent, the highest of all collar counties, according to a 2015 Chicago Tribune analysis. McHenry County homeowners will pay more in property taxes than their entire home is worth in just 25 years due to this incredibly high tax rate.
Imagine a McHenry County family taking out a 30-year mortgage for a home. That family will pay property taxes equal to the value of the entire home before the mortgage is paid off. Annual property taxation at 4 percent of a home's value is absurd, and amounts to government confiscation of McHenry County homes.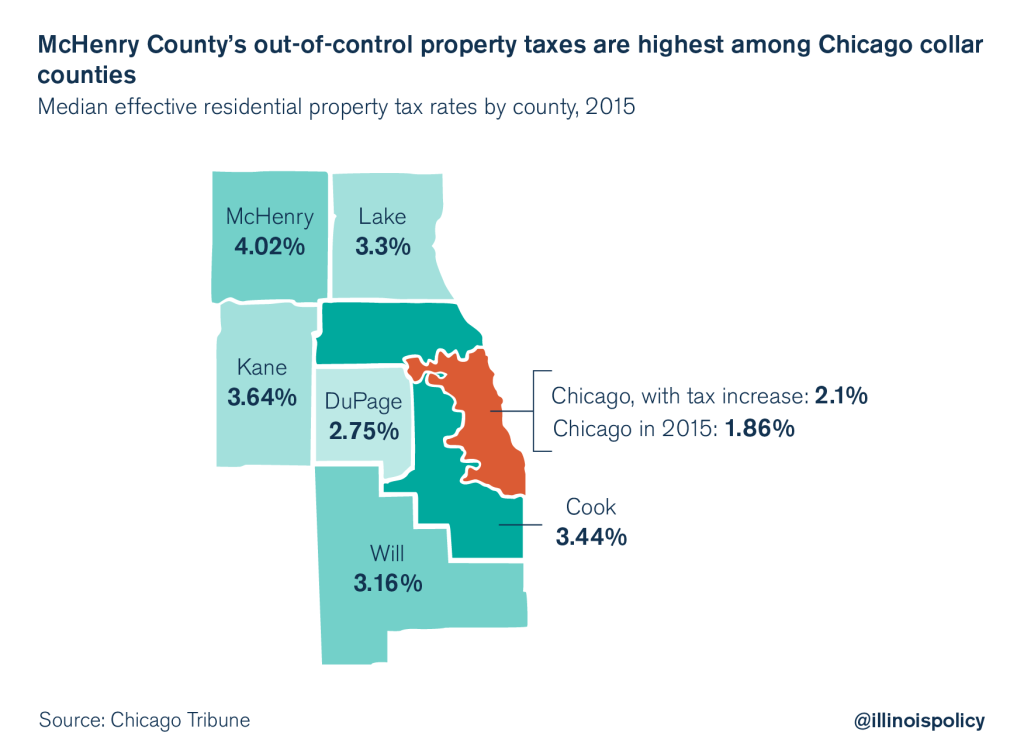 Wirepoints.com founder Mark Glennon writes of the moral outrage of such high property taxes:
Rates as high as they've become in much of Illinois are immoral. Homeowners who have seen their taxes spike to 4%, 5% and higher have essentially had their homes taken. Their "ownership" interest is junior to a perpetuity in favor of the government secured by a lien that's senior to their mortgage lender's and their own interests. It's grossly unfair to single out homeowners for such a punitive burden.
A 2010 analysis from Tax Foundation put McHenry County in the top 3 percent of counties for highest property tax rates in the country, and it's gotten worse since then. Thus, it comes as no surprise that the top county to which McHenry loses taxpayers and income-earning power is Walworth County, Wis., just across the border. In Wisconsin, property taxes as a percentage of income are at the lowest level since World War II. It's no wonder McHenry residents are headed for the northern border.
But at a Jan. 18 county board meeting, the overwhelmingly Republican board voted against allowing an advisory referendum to go to voters on whether local taxing bodies should need voter permission to raise property taxes by any amount. Newly-elected McHenry County Board Chairman Jack Franks, a long-time taxpayer advocate, championed the referendum. However, the Republican board voted 17-7 against allowing the ballot proposal on the board's meeting agenda, citing procedural rules. Franks argued that the same rules were adjusted just one month earlier in a similar situation.
The county's property tax problem – and local officials' failure to address it – has done a lot of damage to the county.
McHenry County's outmigration problem has been worse than the Illinois average for the last five years, and ranks near the bottom of all counties in the U.S. for migration gains and losses since 2010. McHenry has lost 10,000 people due to net migration to other counties in the last five years, a net migration loss equal to more than 3 percent of the county's population, according to Census Bureau data. That has resulted in the county's population shrinking by nearly 2,000 people in the same time period.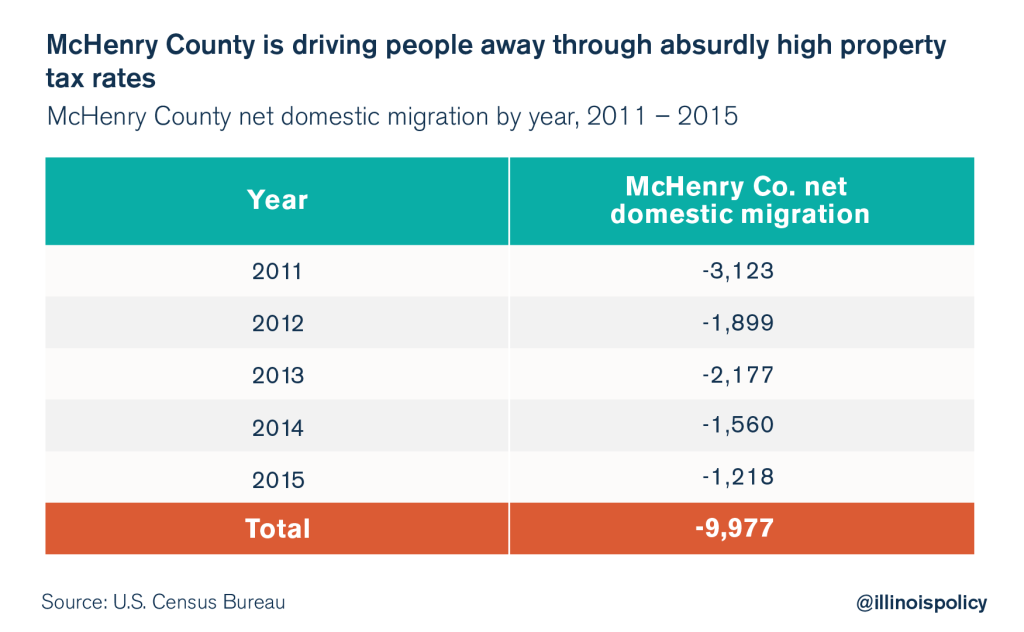 Skyrocketing property taxes are a big factor driving McHenry County residents out of their homes and out of the county. And McHenry is a significant contributor to the heavy exodus of Illinoisans to Wisconsin. During the past five years, while McHenry County has been shrinking, thousands of Illinoisans have been pouring into Wisconsin. From 2011-2015, nearly 127,000 Illinoisans decamped for Wisconsin, while only 72,000 Badgers moved to Illinois. This means that Illinois had a net loss of 55,000 people to Wisconsin in just five years.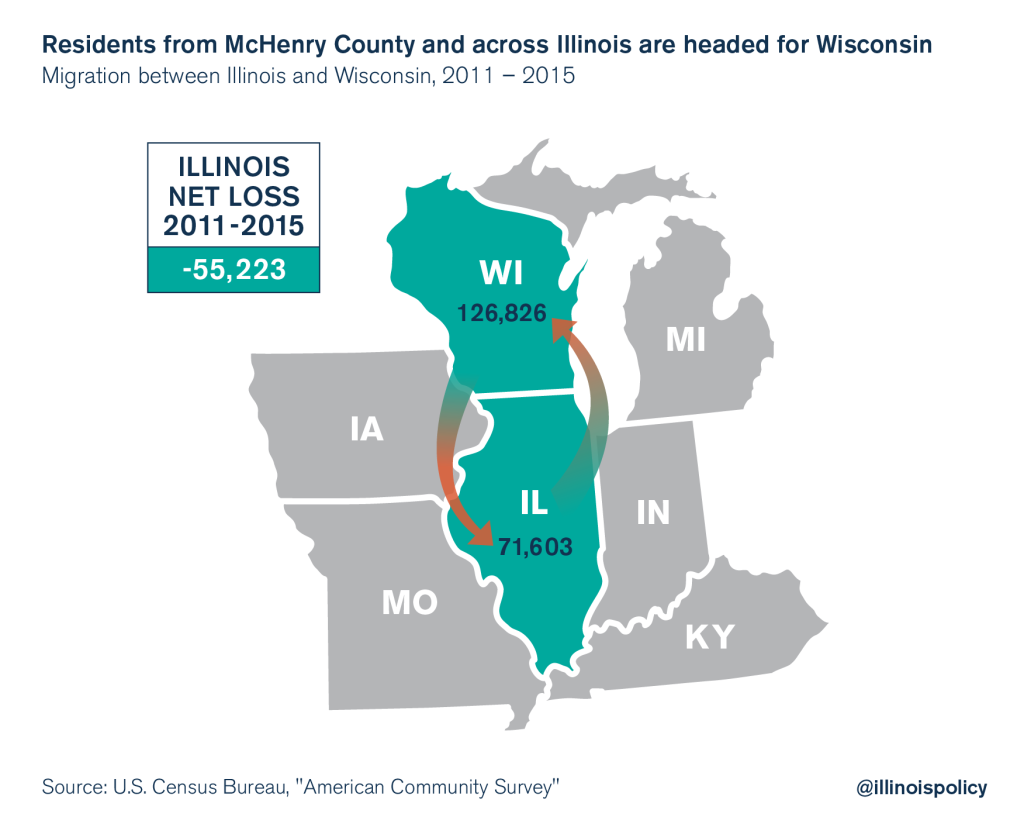 Crushing property taxes, like those in McHenry County, are destroying the value of Illinois homes. Meanwhile, population exodus is reducing the demand for homes, putting homeowners in a terrible bind as they try to preserve their home value in places like McHenry County. Realtytrac estimates that more than 500,000 Illinois homes are deeply underwater on their mortgages, and 2017 projections from Realtor.com lists the Chicago area as the worst of the nation's 100 largest metro areas for homes.
McHenry County needs to cap and cut property taxes. Current property tax rates are immoral. They're taxing families out of their homes, wiping out home equity, confiscating the value of the home through taxation and driving residents out of McHenry County.
Until property taxes are reduced, McHenry County will continue to see residents stampede across borders to live somewhere they can feel secure in ownership of their homes.