Stocking full of coal: Illinois shrinkage poses major problems
The continuing erosion of Illinois' tax base is the state's most pressing budget problem.
With the end of each year comes an exercise in perspective. One looks back at what was, and ahead at what could be.
In Illinois, both visions can be frightening. New data from the U.S. Census Bureau have brought about harrowing holiday ghosts of Illinois' past, present and future.
First, the past. From July 2016 to July 2017, Illinois shrank by nearly 34,000 people. That's worse than any other state in raw numbers, and the third worst in percentage terms. It was enough to strip the Land of Lincoln of its title as the fifth-largest state. That spot now belongs to Pennsylvania.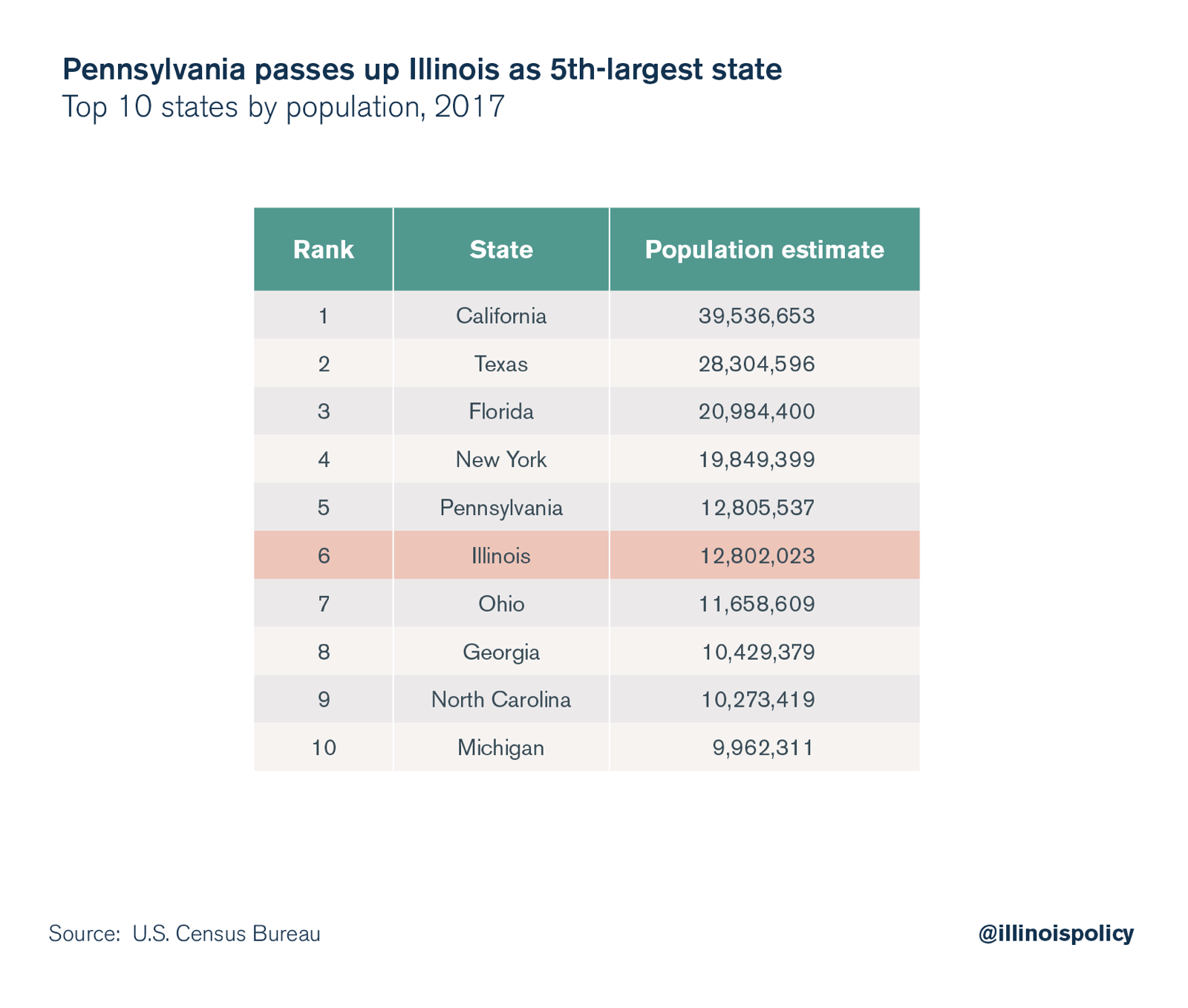 This marks the fourth consecutive year of population decline for Illinois. Only West Virginia has seen more consecutive years of population decline, with five. Meanwhile, not one of Illinois' neighboring states has seen a single year of population loss since at least 2011.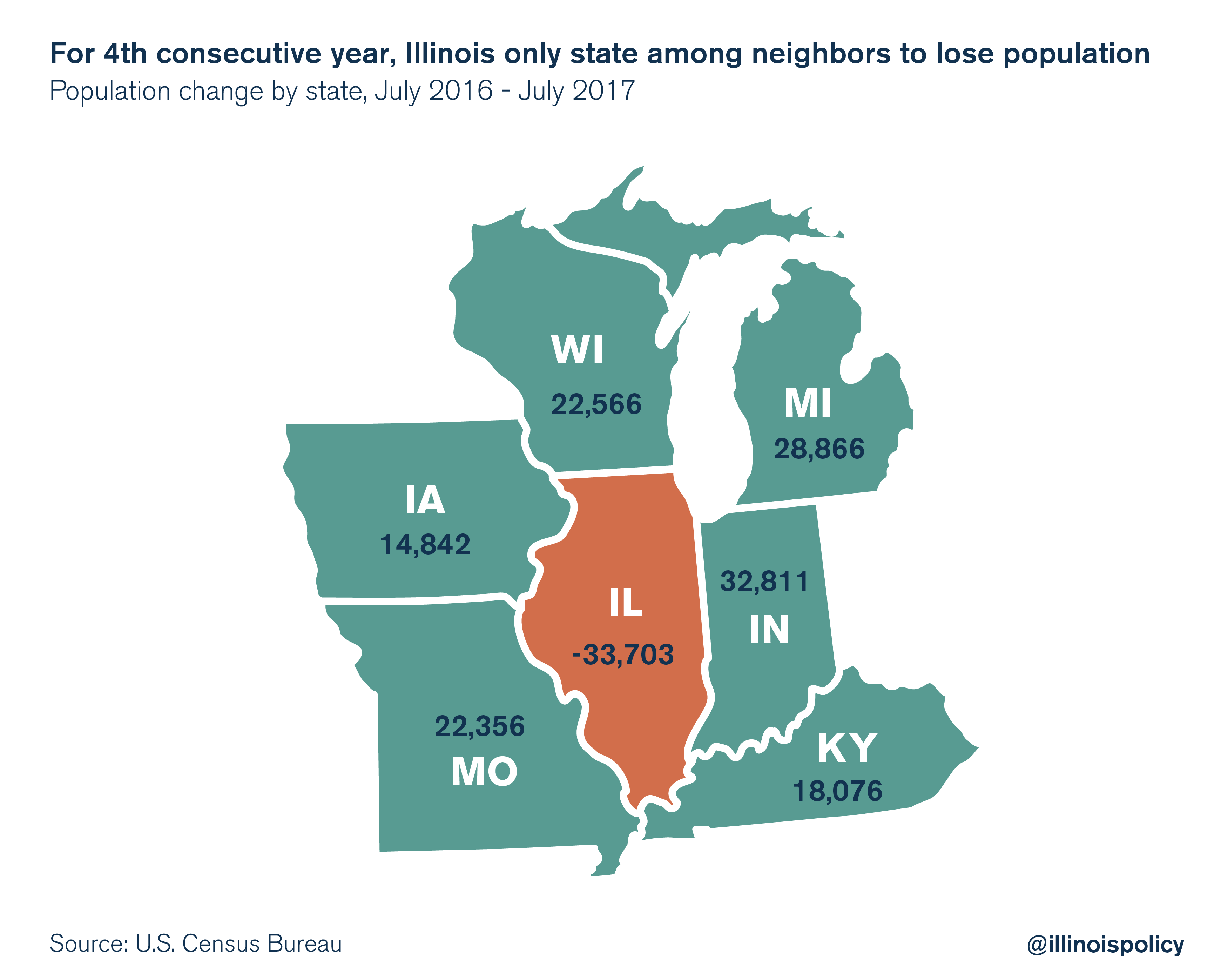 So what caused this shrinkage? The Census data provide a clear answer: heavy losses of Illinoisans to other states. Nearly 115,000 Illinoisans left for other states on net from July 2016 to July 2017, according to the Census data.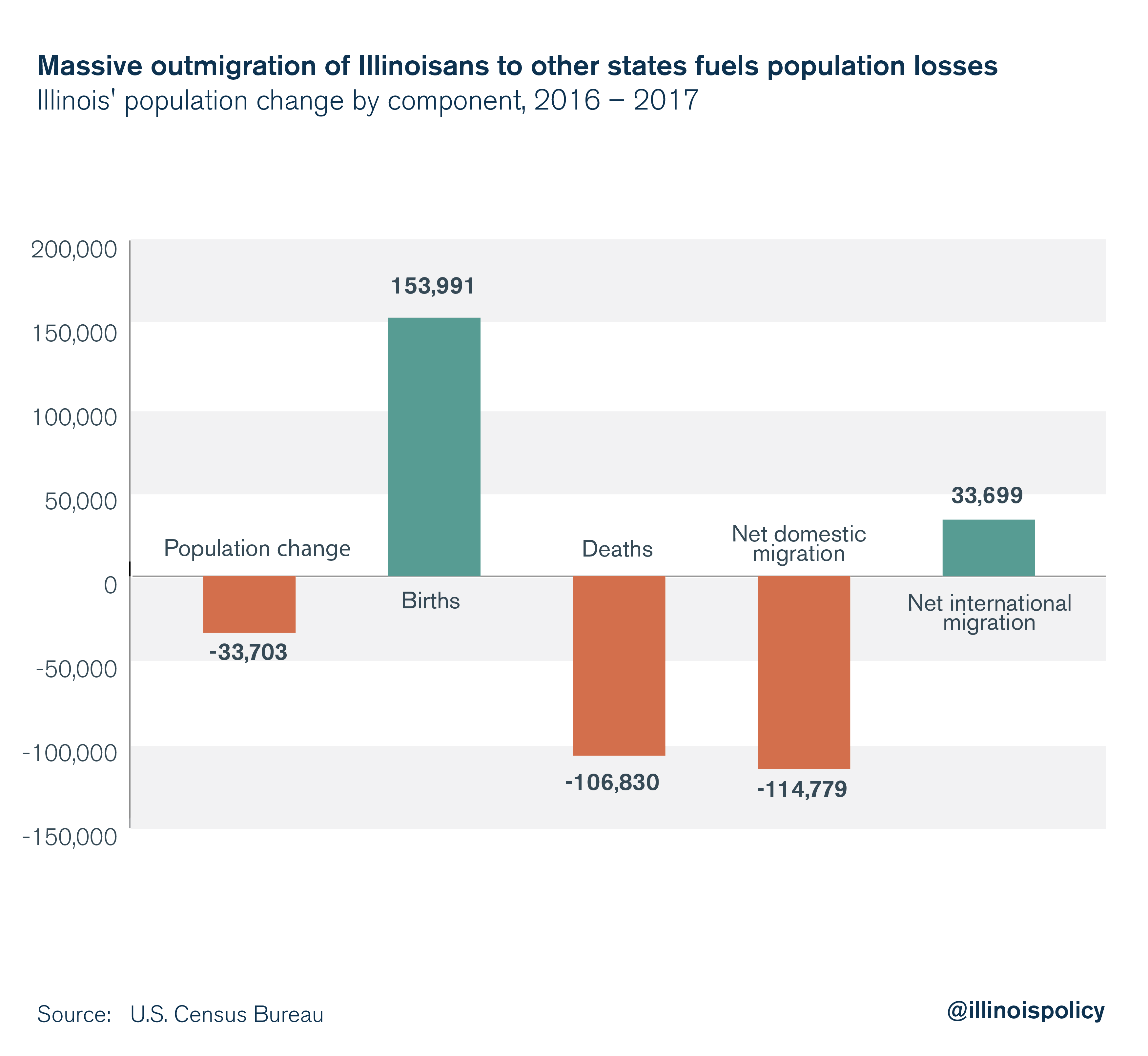 From 2010 to 2017, Illinois' losses to other states on net were equivalent to the four largest cities outside Chicago combined, totaling nearly 643,000 people.
Just imagine Aurora, Rockford, Joliet and Naperville – gone.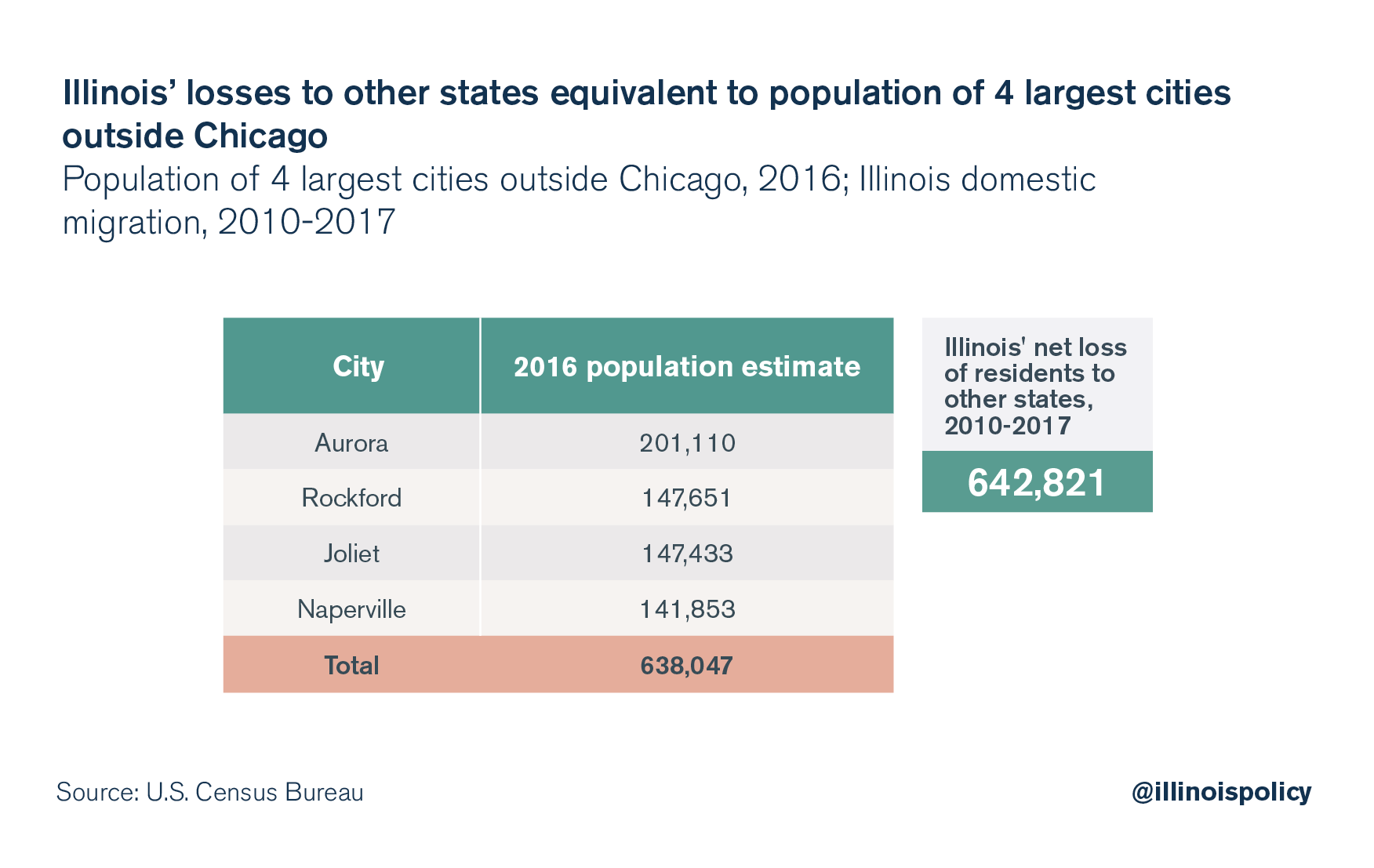 The majority of these former Illinoisans aren't retirees seeking refuge. IRS data reveal millennials have been leading the Illinois outflow. And further, the Land of Lincoln lost income and people to every neighboring state in tax year 2015 (2015-2016). It's not just a weather problem.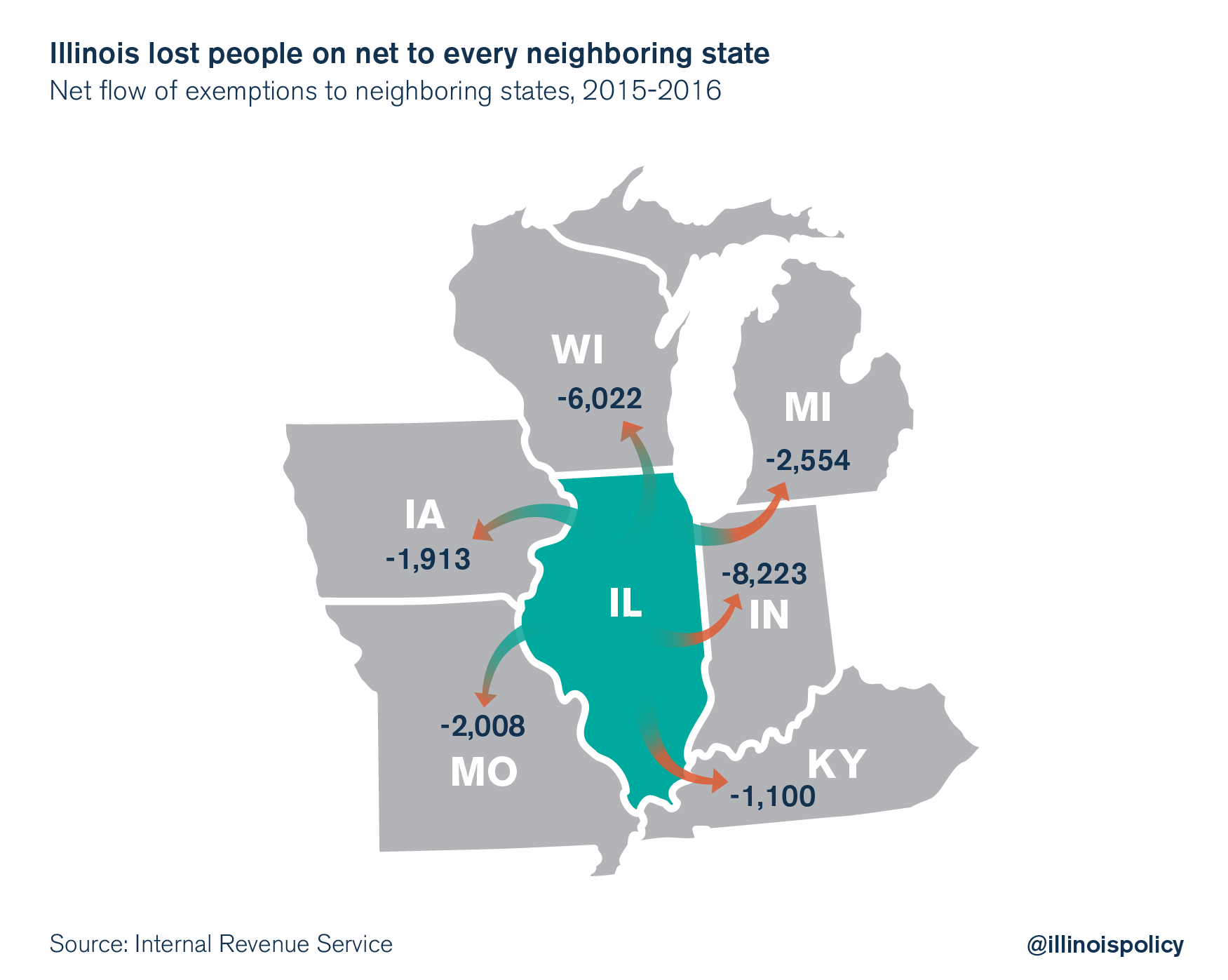 Illinoisans who bring up dire statistics such as the recent Census data are sometimes derided as bad-mouthing the state. The ghost of Christmas past offers a simple response:
"These are the shadows of things that have been. That they are what they are, do not blame me!"
The purpose of reflection is to recognize the need to change one's ways. But this year saw no signs of learning in Springfield. Lawmakers reverted back to the same tired story of large tax hikes with no real reform to how the state conducts its business.
That brings us to the present.
The continuing erosion of Illinois' tax base is the state's most pressing budget problem. And gubernatorial candidates have attempted to make the news a political issue, when in fact the data are better understood as an indictment of the policy status quo, regardless of any one politician.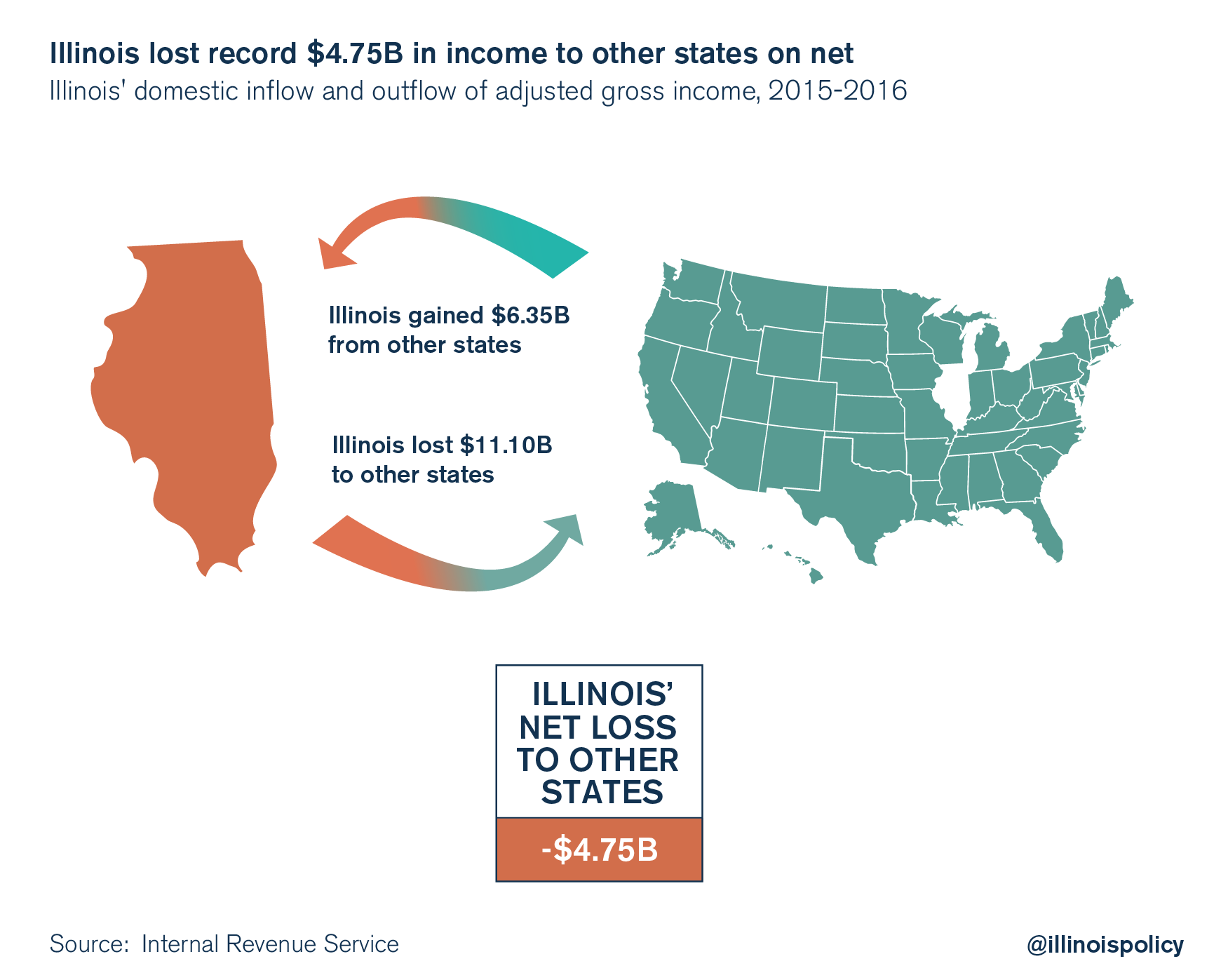 For too many families, the high cost of government has made Illinois an unattractive place in which to plant roots. That is the crux of the issue.
And that brings us to the future.
One concerning policy trend among Democratic candidates for governor is the call for further tax hikes, but this time only on the rich. Of course, those candidates are grasping for popular quick fixes. But they're providing false hope. Regardless of where one lies on the political spectrum, making it more expensive to be an Illinoisan is a suicidal strategy in the face of a shrinking population.
Higher-income earners are already leaving the state, and further tax hikes will crank that valve open even further. This hurts Illinoisans across the income spectrum who are left to pick up the tab.
To dig its way out of this mess, Illinois needs desperately to attract more residents of means, not repel them. And what a mess it is.
Scrooge pleads with the ghost of Christmas future to wipe the slate clean, to "sponge away the writing on this stone."
Illinois' trend of over-promising, over-spending and charging the difference to a credit card has failed. The writing on the stone remains. Just look at Illinois' pension crisis, which Fitch Ratings pegged as the nation's worst just last week.
The lesson in reflection is simple. Politicians must take aggressive action to rein in the growing cost of government. Even the fear of further tax hikes is enough to drive further outmigration, so time is of the essence.
Reducing government union negotiating power is one sensible place to start. Government worker unions in Illinois currently have the power to hold taxpayers over a barrel, so it's no wonder residents are stuck paying some of the nation's highest property taxes.
At the same time, leaders must move to consolidate scores of Illinois governments. The Land of Lincoln is home to more taxing bodies than any other state, by far.
Further, passing a property tax freeze on homeowners' actual bills (not just the levies of local governments) and requiring voter approval for property tax hikes are two powerful reforms that would go a long way for Illinois families dealing with stagnant incomes.
Of course, looking back on a past full of failure isn't enjoyable. But how else can one change?
Illinois lawmakers, it's time to start making those New Year's resolutions. And keeping them.