Strong Illinois jobs report in October, but manufacturing losses continue
New federal jobs data reveal Illinois gained 14,100 jobs overall during October, but lost 1,900 manufacturing jobs during this time.
Illinois had a month of strong job gains in October, with the state picking up 14,100 jobs during the month, according to new data from the Bureau of Labor Statistics, or BLS. Illinois also saw solid growth in its labor force and household employment, according to the BLS' household survey. Overall, the October jobs report is a bright spot in another year of weak job creation. However, Illinois lost another 1,900 manufacturing jobs in October, meaning the Land of Lincoln lost factory jobs in nine of the first 10 months of 2015.
All told, Illinois gained 14,100 payroll jobs in October, according to the October jobs report from the Illinois Department of Employment Security, or IDES. The IDES data, which are based on the BLS information, reveal that the drivers of Illinois' job gains were education and health services (+7,900); leisure and hospitality (3,500); trade, transportation and utilities (1,800); construction (+1,700); other services (+1,500) and government (+1,200). Job losses came in manufacturing (-1,900); business and professional services (-1,100); information (-300) and financial activities (-200).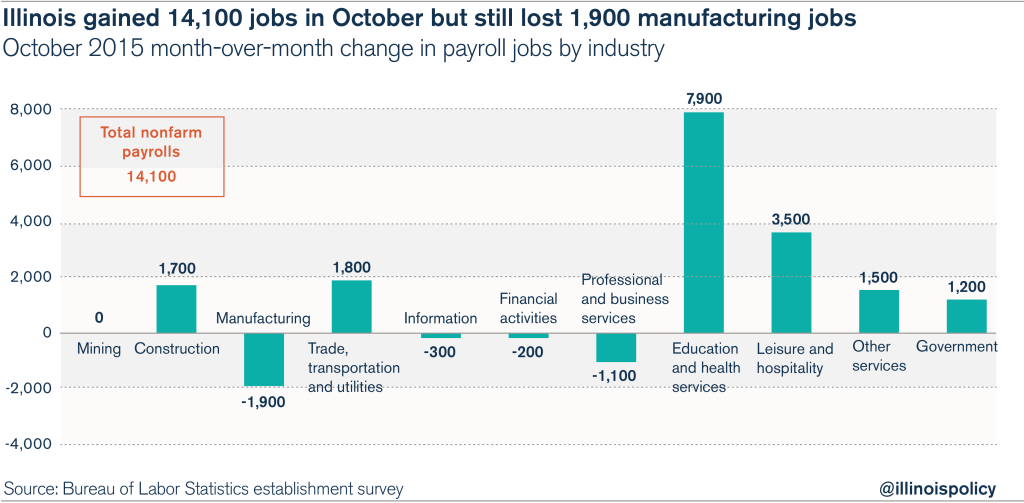 One dark spot on the state's jobs report was the loss of 1,900 more manufacturing jobs. That puts Illinois down 14,100 manufacturing jobs for the first 10 months of 2015, having lost manufacturing jobs in nine of those 10 months.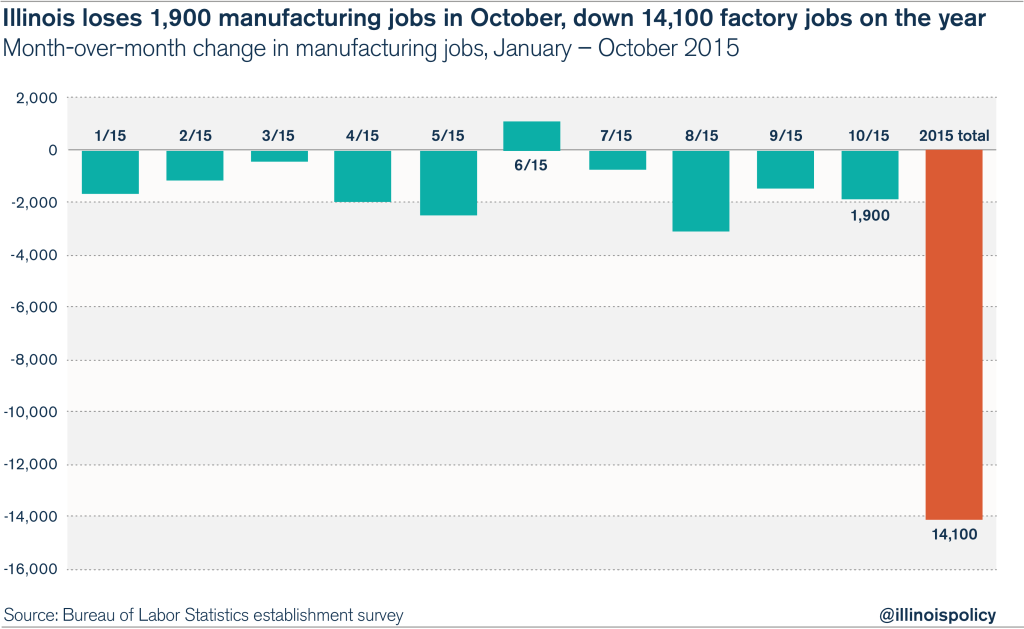 The BLS household survey also showed that an additional 18,800 Illinoisans reported having some type of employment, while the number of unemployed Illinoisans grew by 700. Illinois' labor force increased by 19,700 people in the month of October.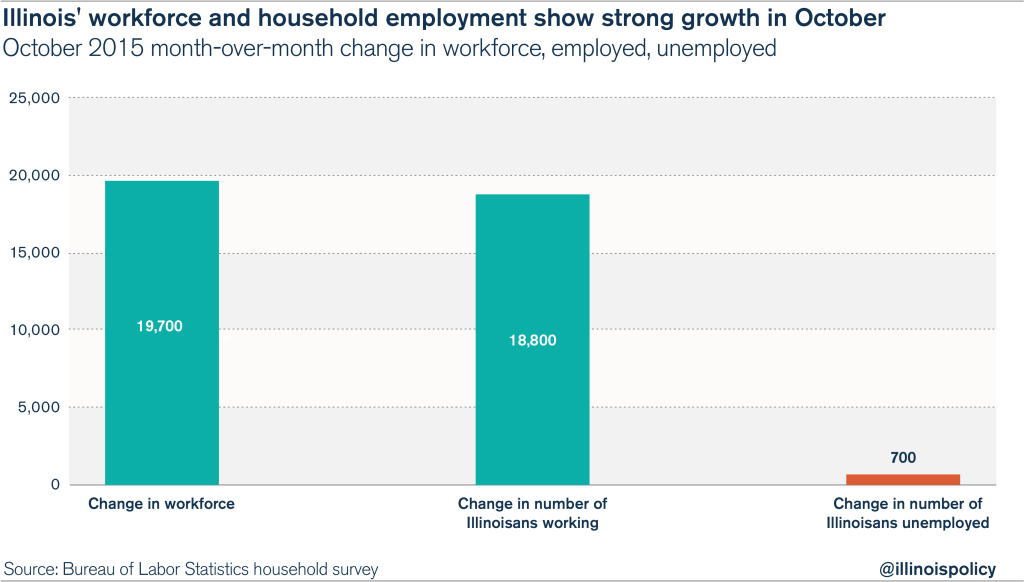 This resulted in Illinois' labor-force participation rate's climbing to 64.6 percent in October from 64.4 in September.
Policymakers should be concerned by the continuing divergence in opportunities between white-collar job opportunities and blue-collar job opportunities. During the first 10 months of 2015, Illinois' biggest jobs gain was in the professional and business-services sector (+13,900), and the state's biggest job losses came from manufacturing (-14,100). Illinois' manufacturing losses set it apart from surrounding states, which are gaining manufacturing jobs. The regional comparison section of this report illustrates these facts.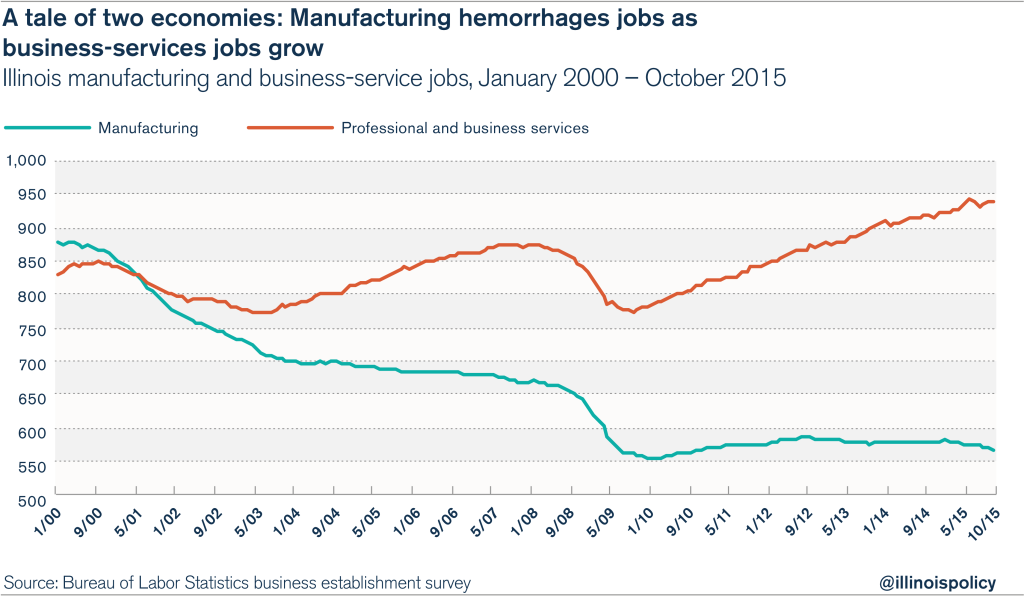 This divergence in opportunity reflects a long-term trend. Since the year 2000, Illinois has lost 310,000 manufacturing jobs and gained 107,000 professional and business services jobs.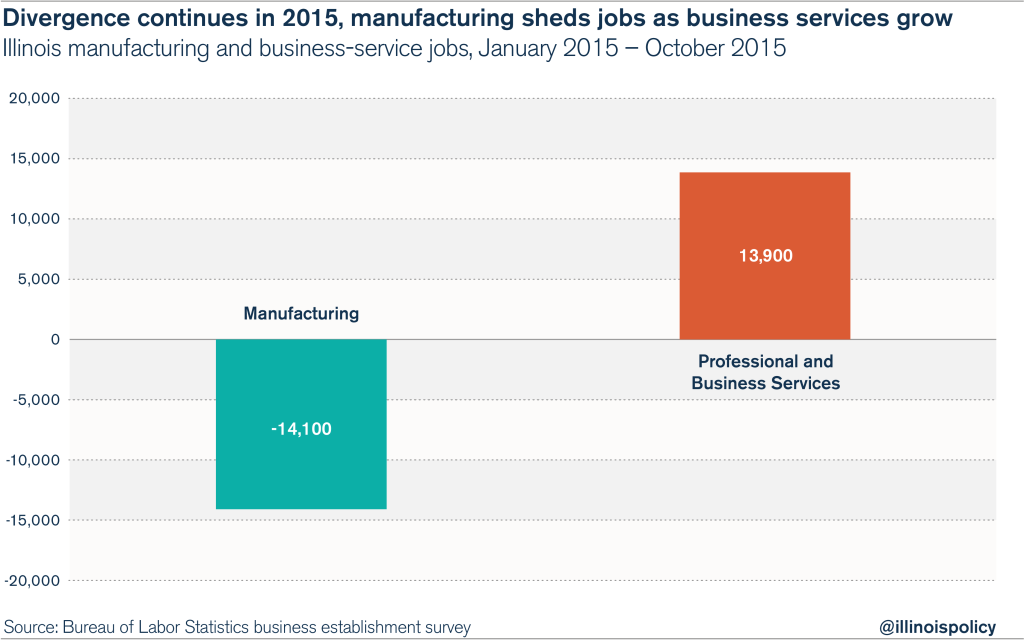 Regional comparisons
Overall job creation in Illinois' neighboring states was strong in October, with Ohio gaining 30,800 jobs, Wisconsin adding 16,100 jobs, and Michigan adding 13,600 jobs during the month.
On the year-to-date comparison, Illinois' smaller neighboring states outperformed the Land of Lincoln.
Illinois has created 20,200 total jobs so far in 2015, while Iowa has created 18,200, Missouri has added 23,100, Kentucky has created 24,100, Wisconsin has tacked on 36,900, Indiana has grown 45,100, and Michigan has added 59,300.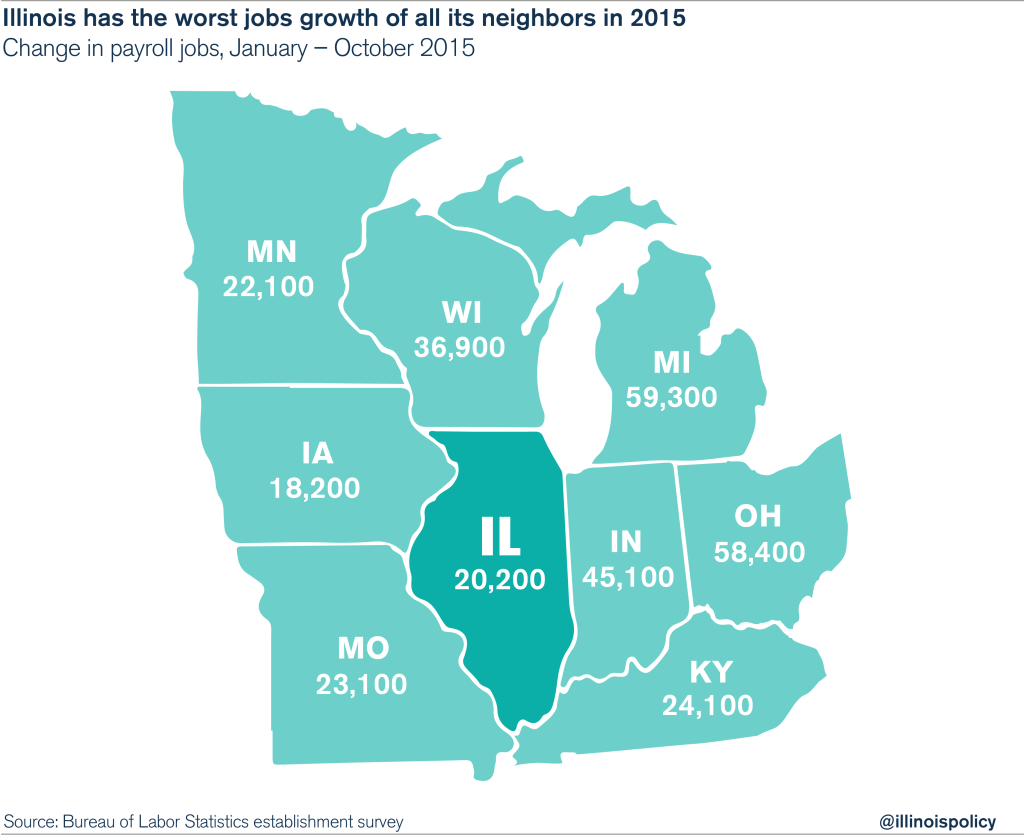 Illinois lost another 1,900 manufacturing jobs during October, even though surrounding states generally gained manufacturing workers during the same time. Illinois lost 14,100 manufacturing jobs for the first 10 months of 2015, compared to 3,700 gained in Wisconsin, 10,900 gained in Indiana, 13,500 gained in Ohio, and 17,100 gained in Michigan during this time. Combined, the other four Great Lakes manufacturing states have added 45,200 manufacturing jobs in 2015, while Illinois has lost 14,100.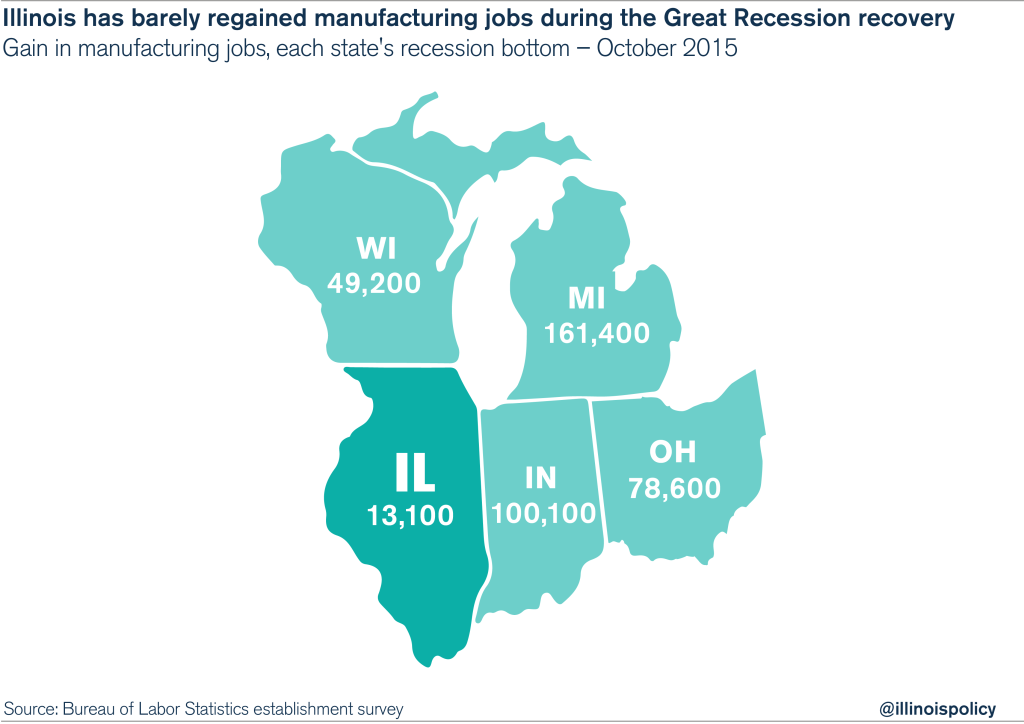 Illinois' terrible manufacturing performance this year is part of a longer-term trend. From the depths of the Great Recession, Illinois has added only 13,100 manufacturing jobs, compared to 49,200 factory jobs regained in Wisconsin, 78,600 in Ohio, 100,100 in Indiana, and 161,400 in Michigan.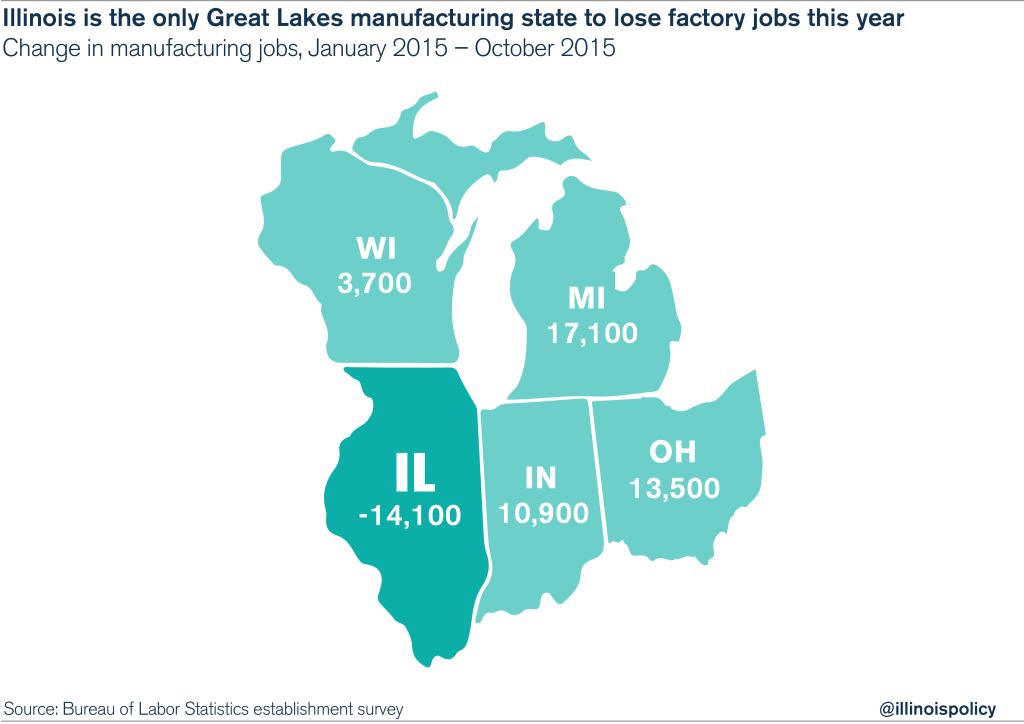 Even in strong months such as October, workers in Illinois' manufacturing sector have suffered. The steady stream of factory layoffs makes Illinois stick out compared to surrounding states. Illinois will be a stronger state when opportunities grow for both white-collar and blue-collar workers across the state, but Illinois' blue-collar economy is being held back by policy problems. Not only is blue-collar jobs growth weak, blue-collar wages in Illinois are worse than those in surrounding states.
Policy reforms should target Illinois' manufacturing and industrial sectors, where the most economic pain lies. The three economic pieces of Gov. Bruce Rauner's job-creation agenda are important for manufacturing and industry. They include:
And the state can institute additional reforms in coming years to provide further relief for manufacturers:
Tax reform to exempt businesses from sales tax on the purchase of business inputs. This would especially help goods-producing industries, and broaden the concept behind the manufacturers'-purchase credit and the manufacturing- and machinery-equipment credits so that Illinoisans only pay sales tax on final retail products, not on the inputs used to produce final products.
Statewide or local Right-to-Work laws to protect worker paychecks and attract new manufacturing facilities.
Education reform to bring shop class back to some Illinois high schools. A broader vision of education should include a manufacturing curriculum in schools near Illinois' factories and manufacturing centers so that students can specialize at an earlier age in the skills they will need to build products and succeed in rewarding manufacturing jobs.
These reforms would undo years of anti-industry policies that favor white-collar service-sector jobs and inhibit the growth of blue-collar manufacturing jobs. And they would begin to transform Illinois from a state that only works for white-collar service workers in central business districts and wealthy suburbs into a state that works for those in careers across industries, skill levels and geography.