5 reasons why Chicago can't afford to get steamrolled by another CTU contract
CPS is broke. To preserve funding for the classroom and Chicago's children, and to keep CPS from going belly up, CPS officials must broker significant concessions from the union.
With Mayor Rahm Emanuel's political career in shreds and the Chicago Teachers Union, or CTU, threatening another strike, it appears Emanuel is ready to sell out Chicago's taxpayers and its children once again. The CTU and the mayor are in negotiations to replace a teachers' contract that expired in June 2015, and CTU officials announced Jan. 29 the two sides are close to a deal.
The mayor most recently gave in to CTU demands in October 2012, when the district was already facing a $1 billion budget deficit and an $8 billion teacher pension shortfall. Emanuel's ill-fated agreement with the then-striking union cost Chicago Public Schools, or CPS, hundreds of millions of dollars, if not billions, in higher operating and retirement costs. Those higher costs eventually led to thousands of teacher pink slips, 50 school closures, the need for safe passage routes through gang areas and the district's spiral toward insolvency.
Now, even as Gov. Bruce Rauner and lawmakers discuss the possibility of bankruptcy for the district, Emanuel still won't stand up to the unions. Chicago Tribune sources report the district's offer in the latest negotiations for a new labor contract "would bar layoffs, cap the number of privately run charter schools and provide moderate pay increases as part of a four-year deal. … In exchange for those provisions, teachers would have to pay more toward their pensions and make higher health care contributions."
Not only is the mayor giving up operational flexibility and more educational choices for students, CPS will reportedly continue to give teachers "step and lane" salary bumps – automatic salary increases for length of tenure and the educational attainment of teachers, whether those factors improve educational outcomes or not. CTU President Karen Lewis has called those automatic salary bumps "part and parcel of the way we do business" and a "bedrock of our professionalism."
Though requiring teachers to pay more toward their own benefits is necessary, without structural spending and pension reforms, there's little chance the district can avoid bankruptcy.
Unfortunately, CPS' history is littered with contracts and deals that have hurt Chicago taxpayers and the children the district is charged with educating. Those deals have left CPS in tatters as multiyear, billion-dollar budget deficits and a $9.5 billion teacher pension shortfall have pushed the district's credit rating deep into junk bond territory.
To preserve funding for the classroom and Chicago's children, and to keep CPS from going broke, CPS officials must obtain significant concessions from the union. To bolster their case, here are five arguments CPS negotiators can use:
1. Chicago teachers are already the nation's highest-paid teachers when compared with teachers in the 10 largest school districts in the U.S.
According to a 2014 report from the National Council on Teacher Quality, Chicago teachers receive the highest lifetime earnings when compared with teachers in the 10 largest school districts in the nation.
Those high salaries end up costing CPS twice – first in large payroll costs, then again in higher pension costs.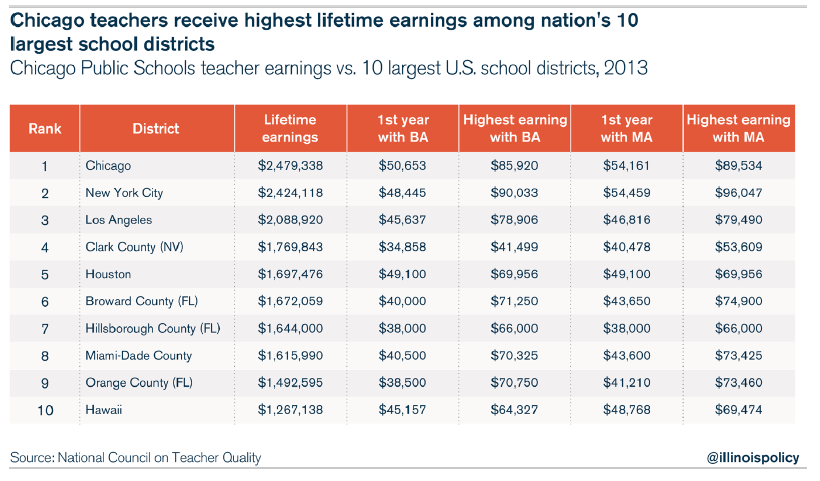 Any further increase in salaries would be unfair to struggling Chicagoans – especially when a massive new property-tax hike is already burdening city residents.
 2. The average career worker at CPS can expect to receive more than $2 million in retirement benefits
The high salaries CPS pays its teachers translate directly into high pension benefits. The average pension for a recently retired career Chicago teacher (30 years of service, retired in the last three years) is is now $72,000, meaning that teacher will go on to collect approximately $2 million in benefits during his or her retirement.
Information obtained through a FOIA request to the Chicago Teachers' Pension Fund, or CTPF, reveals that of CTPF's 25,000 retirees (including teachers who only spent a few years working for the district), 68 percent of CTPF's 25,000 retirees can expect to receive more than $1 million in lifetime pension benefits, and over 14 percent, or 3,600, can expect to receive over $2 million in benefits.
3. Chicago teacher pension benefits have grown by 400 percent since 1987
The accrued benefits for all members of the CTPF have grown by 400 percent since 1987. That's an annual rate of 6.1 percent a year, more than twice the rate of inflation and far faster than the growth in incomes of the taxpayers who pay for those pensions.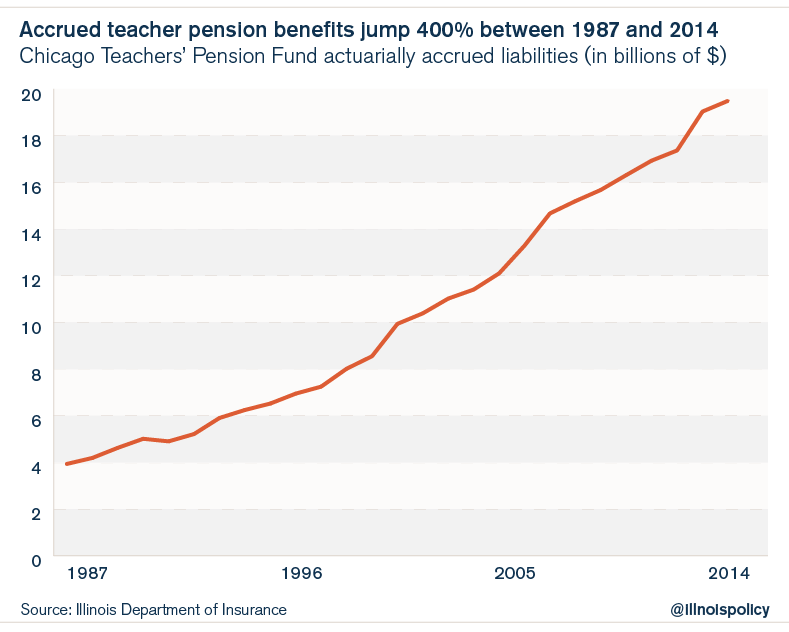 4. CPS needs every penny it has to meet its current payroll and pension costs
Since the last negotiated contract in October 2012, CTPF's shortfall has risen nearly 20 percent, to $9.5 billion in 2014. At the same time, CPS' required contributions to teachers' pensions have skyrocketed by $500 million.
With CPS in its current financial crisis, the district simply can't afford any salary or pension increases.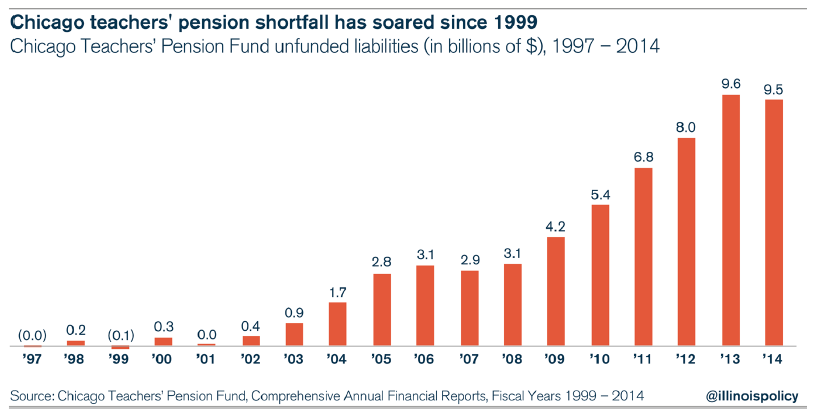 5. Chicagoans can't bear more tax hikes
CPS shouldn't expect additional tax revenue from Chicagoans anytime soon. Not only do Chicagoans already pay more in taxes and fees than residents in any other major Illinois city, they've just been hit with a record property-tax and fee increase of more than $700 million annually.