Trashed again: Fitch joins Moody's in declaring Chicago Board of Education credit 'junk'
If the district can't get its finances in order, expect more teacher layoffs, school closings and large tax increases on Chicagoans.
In yet another blow to Chicago's financial solvency, Fitch Ratings has downgraded the Chicago Board of Education's credit rating one notch, to "BB+," or junk status, from "BBB-." Chicago Public Schools, or CPS, was also given a negative outlook, meaning the ratings agency believes further downgrades are likely if the district's finances don't improve.
With this latest downgrade, Fitch joins Moody's Investors Service in declaring junk status for CPS debt. Fitch's action follows Moody's May 13 triple-notch downgrade, which dropped CPS to a junk rating of "Ba1" and triggered a crisis involving the district's long-term debt.
Fitch's downgrade comes on the heels of a ruling by a Cook County judge striking down Chicago's pension reform for the city's municipal and laborer pension funds. While the ruling did not affect CPS directly, it's made the possibility of a Chicago pension-reform plan for CPS less likely.
Fitch cited the school district's current cash crunch, its upcoming multiyear $1 billion budget deficits, and massive debt and pension liabilities as the reasons for its action.
The ratings agency also said the district's current practice of "scoop and toss" borrowing to pay for current expenses would result in even higher liabilities, putting CPS at risk for further downgrades.
In a final note on the district's pension liability, Fitch noted that CPS is not alone and that governments at every level are in crisis, saying, "Fitch is concerned not only about these plans but other city, Cook County, and state of Illinois plans which are all poorly funded."
Chicagoans in particular are stuck with billions in pension, health-care and long-term debt from overlapping local governments. Each Chicago household is on the hook for $63,800 in local-government debt, which includes CPS' $9.5 billion in pension debt.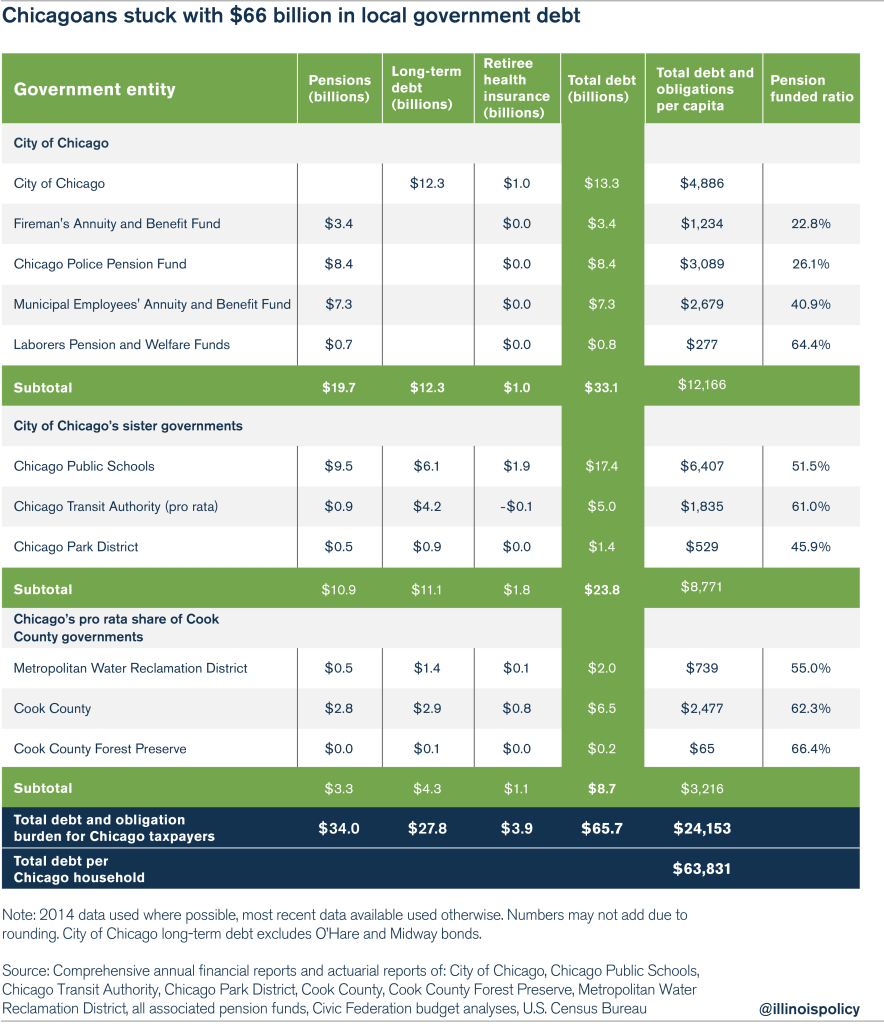 Fitch's downgrade will only make things more difficult for CPS to deal with its current cash crunch and growing deficits. If the district can't get its finances in order, more teacher layoffs, more school closings and large tax increases on Chicagoans are likely.
To avoid that outcome, the district and the city need to make bold reforms that will stabilize the district's finances, protect city taxpayers and make teacher retirements secure.
The first step in that process is a pension overhaul that removes politicians' control of teacher retirements, ends the accrual of defined-benefit liabilities, protects what workers have already earned and empowers government workers with 401(k)-style retirement plans.
Second, the city should cap the growing debt burden and pay down existing debts in a responsible manner.
Finally, real reform means negotiating levels of benefits and wages in the current teachers' contract that are in line with what Chicago taxpayers can afford, including ending teacher pension pickups.
Those reforms can start CPS on the path toward financial stability.