15 southern Illinois counties drop in population
Fifteen counties in the southernmost part of Illinois lost population from July 2015 to July 2016, fueled by significant domestic migration.
Fifteen of 17 counties in the southernmost part of Illinois saw their populations shrink over the past year, with a nearly 2,000-person drop in total population.
From July 2015 to July 2016, Alexander, Franklin, Gallatin, Hamilton, Hardin, Jackson, Massac, Perry, Pope, Pulaski, Randolph, Saline, Union, White and Williamson counties all saw their populations drop. Jackson County led the way with the largest population drop, losing 350 people on net. While Jackson County saw 718 births and only 457 deaths, and gained 237 people from international migration, the county lost 821 people to domestic migration. That trend continued throughout a large swath of counties in southern Illinois, with many losing more than 100 people on net to domestic migration.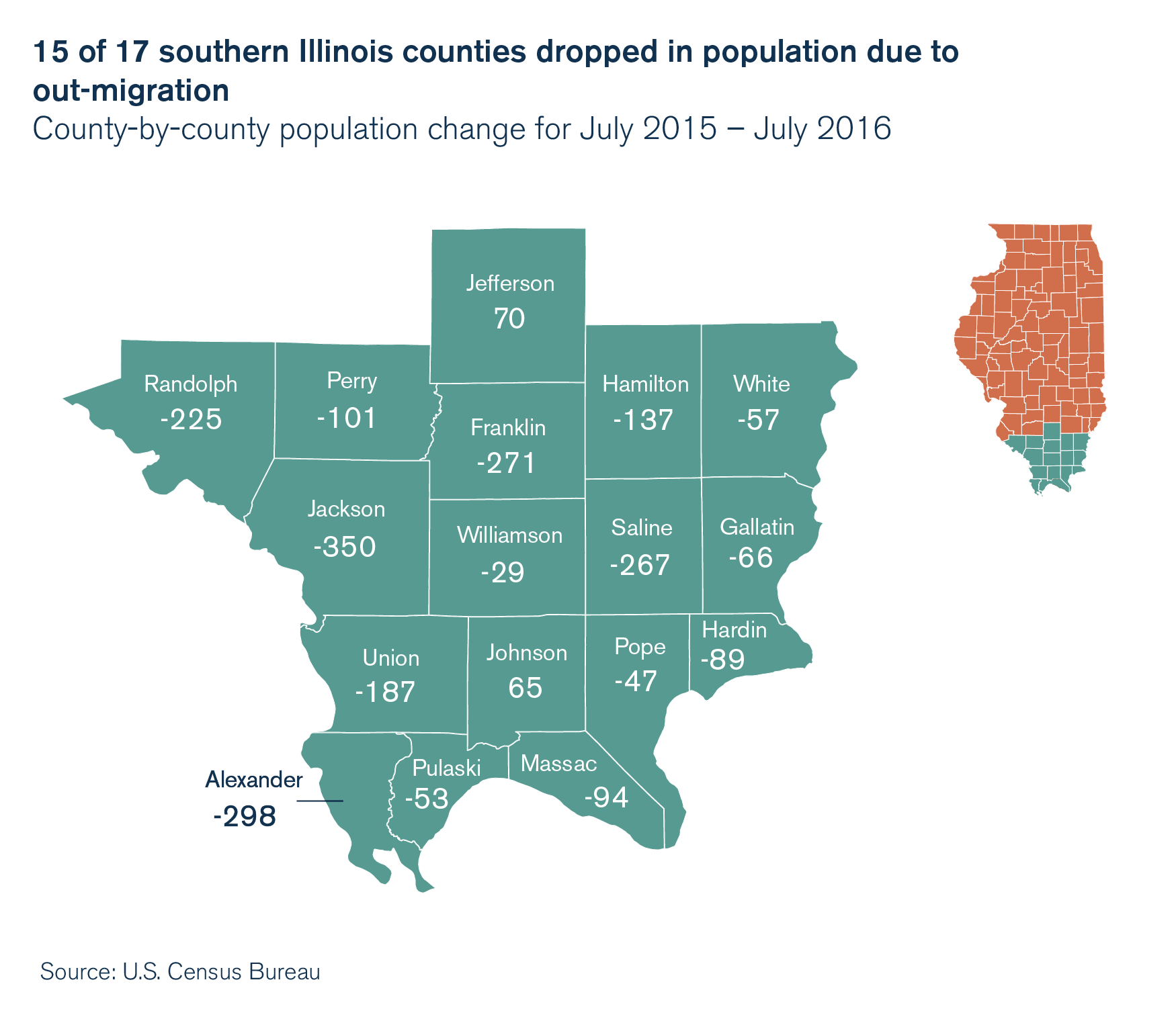 But though Illinoisans are leaving the state's southern region, many aren't heading to Illinois' other counties – 93 of Illinois' 102 counties are experiencing net out-migration, and 89 are losing population.
For southern Illinois, the competitive pressure from neighboring Kentucky doesn't help. In 2015 alone, nearly 2,000 Illinoisans left the Land of Lincoln for Kentucky – and that was before the Bluegrass State enacted key economic reforms such as Right to Work and a repeal of its prevailing wage laws. The appeal of the more business-friendly Kentucky – which already has a lower overall tax burden than Illinois –could be a draw for frustrated taxpayers looking for more opportunity and a state government with taxpayer interests in mind.
All of Illinois' border states are making or have made reforms similar to Kentucky's. Illinois is surrounded by Right-to-Work states, all of which offer lower taxes and better jobs climates. In fact, Wisconsin and Indiana combined have more people working than Illinois does – this wasn't true just a decade ago.
The alarming rate at which people are fleeing Illinois – often for neighboring states – should be a wake-up call to lawmakers that the state needs serious economic reforms to be competitive in the region. Permanently freezing property taxes – of which Illinois has some of the highest in the nation – would be a great start to allow Illinoisans to feel secure in their homes, instead of abandoning them. Illinois also needs a balanced budget that cuts and reforms the state's out-of-control spending and doesn't raise taxes. Unfortunately, lawmakers in the Illinois Senate thus far have only proposed massive, multibillion-dollar tax increases as the way forward for the state.
Those tax-hike proposals would not be encouraging for southern Illinois taxpayers, or anyone else in the state. Lawmakers should acknowledge the reality of people leaving the state, and work to make Illinois more competitive.