As enrollment drops 50%, Chicago State University continues work on new $60M campus
Lawmakers should address wasteful spending in higher education, which is hurting students, their families, instructors and taxpayers.
Chicago State University's enrollment has dropped by half since 2010 – only 86 freshmen enrolled in fall 2016. Only 1 in 10 of its students graduate. In 2016, the school cut 40 percent of its staff.
These figures stand in stark contrast to school leaders' financial investment over the past several years. The South Side university has been working on a new West Side campus, a project with a $60 million price tag, according to the Chicago Tribune.
CSU's problem isn't a lack of space – after all, the school is losing students and staff left and right. As the multimillion-dollar building project indicates, CSU's budget – like those of Illinois' other public colleges and universities – is riddled with wasteful spending. In addition to a pricey new facility, much of this spending has gone toward ever-increasing numbers of administrators, along with exorbitant administrative salaries and benefits that have skyrocketed over the past decade.
Unfortunately, these administrative payroll numbers have soared, causing tuition to go up 77 percent since 2006 – to $11,758 from $6,626. CSU is spending too much of students' and families' money on bloated administration instead of instruction.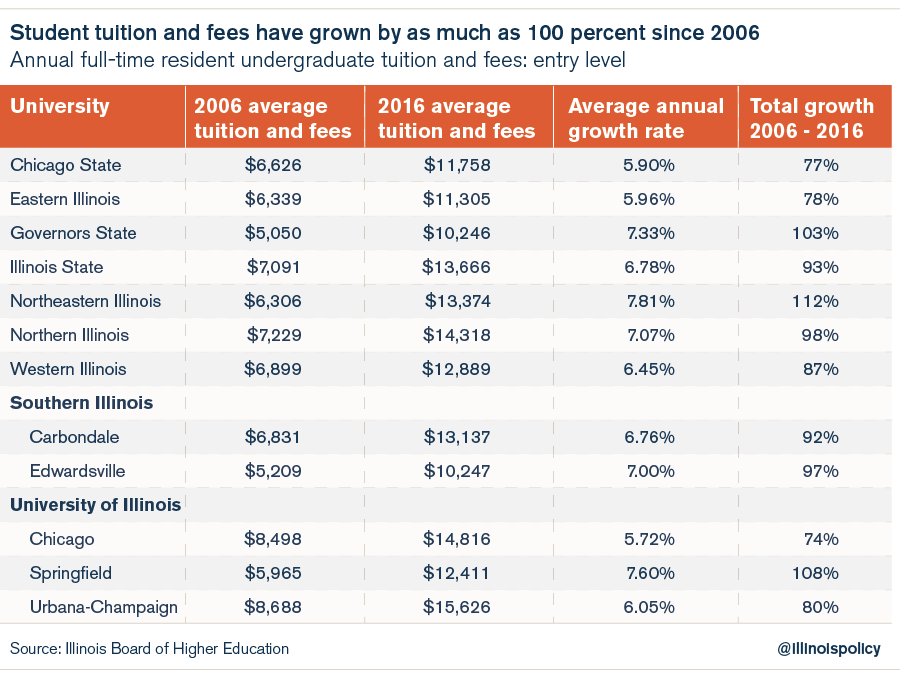 For decades Illinois, like the rest of the country, has had dramatically declining administrator-to-student ratios.
In 1975, the U.S. administrator-to-student ratio for higher-education institutions was 1 administrator for every 84 students, according to a report from the Illinois Senate Democratic Caucus.
By 2005, that ratio had declined to 1-to-68.
But Illinois is an outlier. In 2011, the average administrator-to-student ratio for Illinois' public universities was approximately 1-to-45.
And Chicago State University stands apart from the crowd. CSU has the lowest ratio of all, with 18 students for every one administrator. The school's faculty-to-student ratio is 1-to-16.
CSU's problems mirror those across the board at Illinois universities. Spending more on administrative staffing comes with another financial burden that contributes to tuition spikes – pensions. More than half of Illinois' $4.1 billion budget for state universities is spent on retirement costs. Ten years ago, pensions made up just 20 percent of university budgets.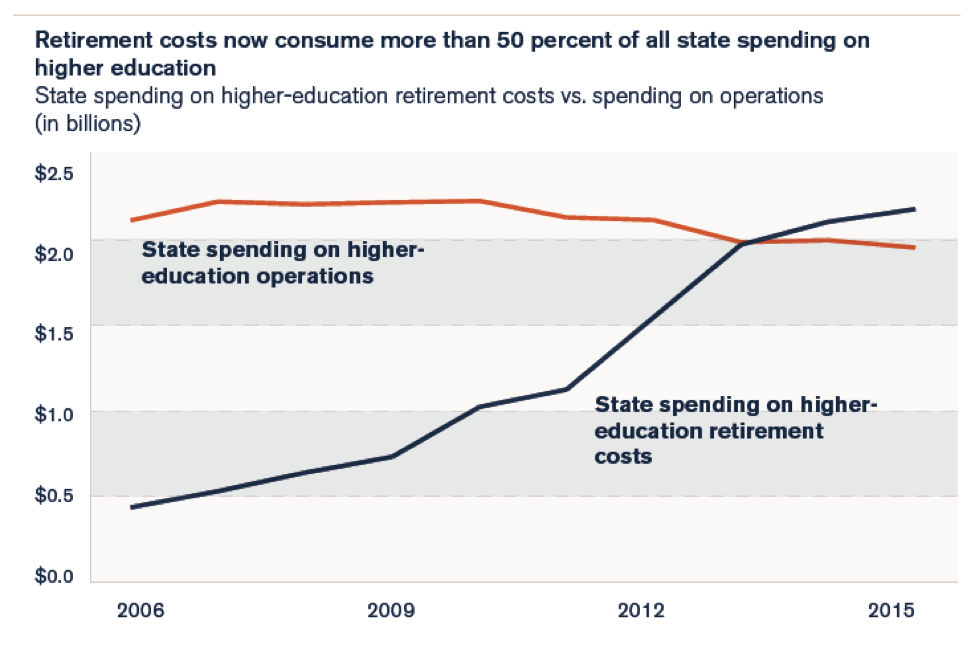 Today, 52,000 retirees participate in the State Universities' Retirement System pension fund. Half of these former workers retired in their 50s with full pension benefits. Over 40 percent will receive more than $1 million in total retirement benefits, and over 7,400 (14 percent) will receive more than $2 million in benefits.
Chicago State University knows a thing or two about painful payouts for highly paid workers. The recent layoff of 400 workers came with a $2.2 million price tag, according to the Chicago Tribune, mostly related to severance pay for administrators. The school's most recent president left after nine months on the job yet received a six-figure severance package.
The CSU example puts naysayers of spending reform to shame. As Springfield inches along in conversations regarding a budget, lawmakers have to account for mismanagement prevalent among the state's higher education institutions.
Before Illinois' leaders even think about asking for more tax money from a shrinking state population, lawmakers need to address the problem at the state's colleges and universities: namely, that schools are prioritizing administrators over students and their families. This is to the detriment of kids who want to get a degree, parents who want to give their children a good education, instructors tasked with providing that education – and taxpayers, who have to shell out more and more to cover bloated payrolls and other wasteful spending.