Black students in suburban, downstate Illinois benefit from amendatory veto of education bill
Gov. Bruce Rauner's amendments to Senate Bill 1 would bring nearly $25 million more to the 10 Illinois school districts with the highest black student enrollment outside of Chicago.
Gov. Bruce Rauner's amendatory veto of the state's latest education funding proposal, Senate Bill 1, removed many of the unfair subsidies and carve-outs that have historically benefited Chicago Public Schools at the expense of all other districts.
For too long, suburban and downstate districts have been forced to bail out Chicago's mismanaged school district at the expense of their own kids. By eliminating the Chicago-centric subsidies, the amendatory veto increases state funding for more than 97 percent of Illinois school districts. CPS would receive $242 million less under the amendatory veto of SB 1 compared with the original version of the bill, but still would receive $47 million more than in 2017.
There are 350,000 black students in Illinois. More than 200,000 are enrolled in districts outside of CPS.
Those districts would receive millions in additional state dollars as a result of the amendatory veto.
The top 10 districts with the largest black student enrollment outside of Chicago would receive nearly $25 million in additional state funding compared with the original SB 1 passed by the General Assembly.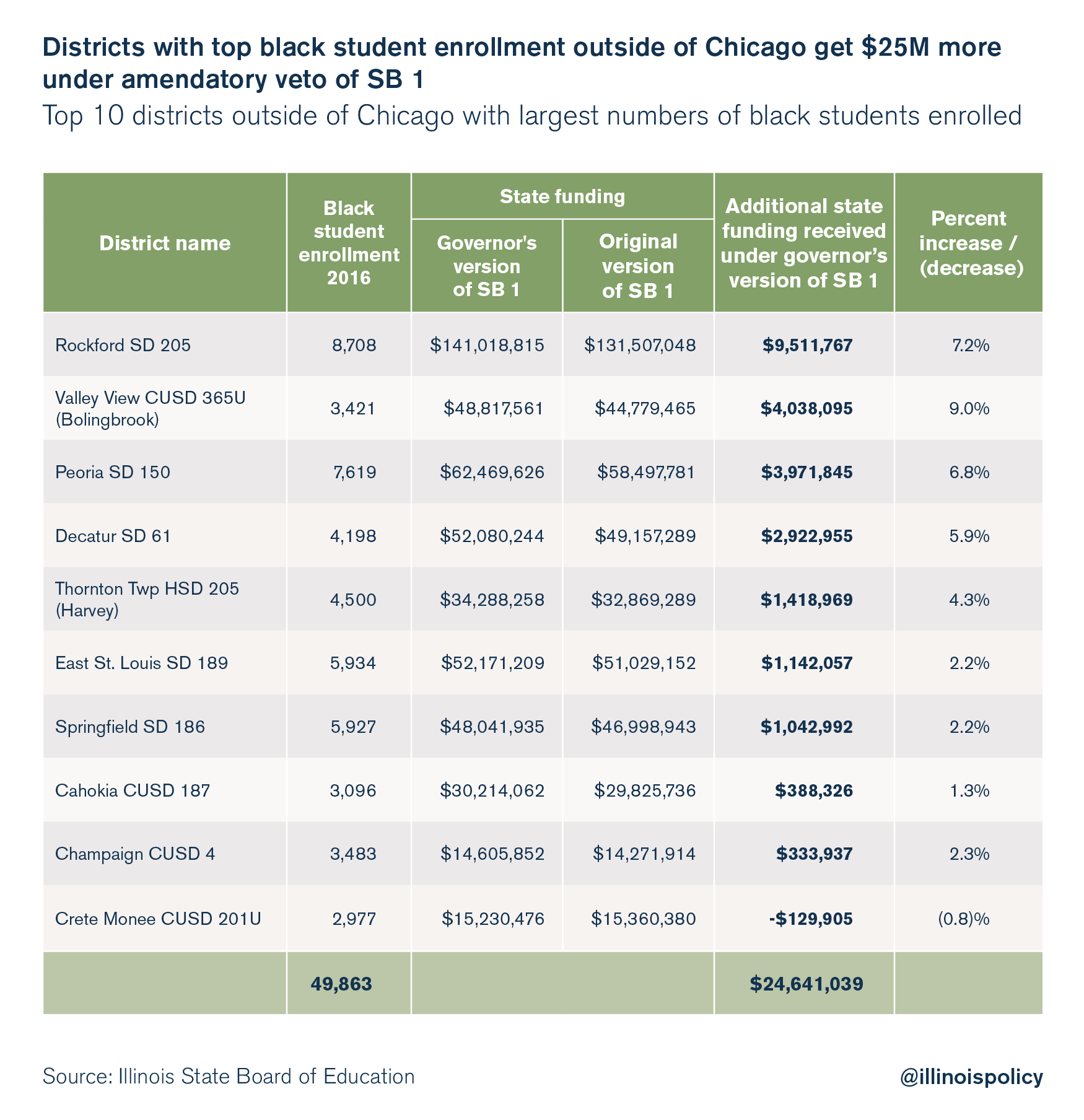 For example, SB 1 as amended would send more than $9.5 million in additional state funds to Rockford, which has around 8,700 black students. That's 7.2 percent more funding than the district would have received under the original SB 1. And Bolingbrook would receive $4 million, or 9 percent, more compared with what it would get under the original SB 1.
Peoria, Springfield and East St. Louis – which have thousands of black students enrolled – would each receive millions of additional dollars.
In 2015, Peoria spent $13,500 per student, according to the Illinois Report Card. Springfield spent about $12,300 per student, and Champaign spent a little over $13,200 per student. CPS spent nearly $15,400 per student in 2015
Many opponents of the amendatory veto are framing other school districts' gains as a loss for CPS.
But the truth is, the amendatory veto simply restores much of the parity that's been missing from the education funding formula. Districts across Illinois have lost out on state funds for more than 15 years thanks to subsidies that have favored CPS.
By eliminating those subsidies, the governor's version of SB 1 ensures that all districts – and all students – are treated more fairly.