Budget estimates fall as Illinois hits slowest economic growth since Great Recession
Illinois' slow economic growth, made worse by out-migration, needs to be addressed in order to tackle the state's budgetary problems.
Slow economic growth is one of Illinois' primary budget problems. When the economy isn't growing and businesses aren't investing in Illinois, fewer jobs for Illinoisans and less tax revenue to fund the core functions of government exist. With exploding government spending and weak economic growth, Illinois ends up like a struggling cable company – raising prices on a subscriber base shrinking because prices are already too high. That's not a sustainable business model, and it's failing the Land of Lincoln, which has seen its population shrink due to massive outmigration for two consecutive years.
A monthly report from the Commission on Government Forecasting and Accounting, or COGFA, shows that Illinois' total economic output, which is all the goods and services produced in the state, grew for the first half of 2016 at an annual rate of 1 percent. That puts 2016 on pace to be Illinois' slowest growth year since 2009 according to COGFA Chief Economist Edward Boss.
COGFA also revised downward its general revenue estimates for fiscal year 2017 to $30.9 billion from $31.9 billion. The biggest contributor to the downward revision was a decrease in expected federal funds. However, one reason Illinois' budgets are so difficult to balance is because weak economic growth in the state leads to weak tax revenue growth. Total state tax revenue sources are projected to grow by only $360 million in fiscal year 2017 compared to fiscal year 2016, a growth rate of only 1.2 percent. This natural growth in tax revenues is so weak, and politicians' urge to spend is so strong, that Illinoisans keep seeing higher and higher tax rates foisted upon them.
A key reason Illinois' income tax revenues are growing slowly is because Illinois has seen the slowest recovery in personal income in the entire Midwest over the recession era, and the second-worst in the entire U.S. Wages are not recovering strongly in Illinois, as too many workers are leaving the state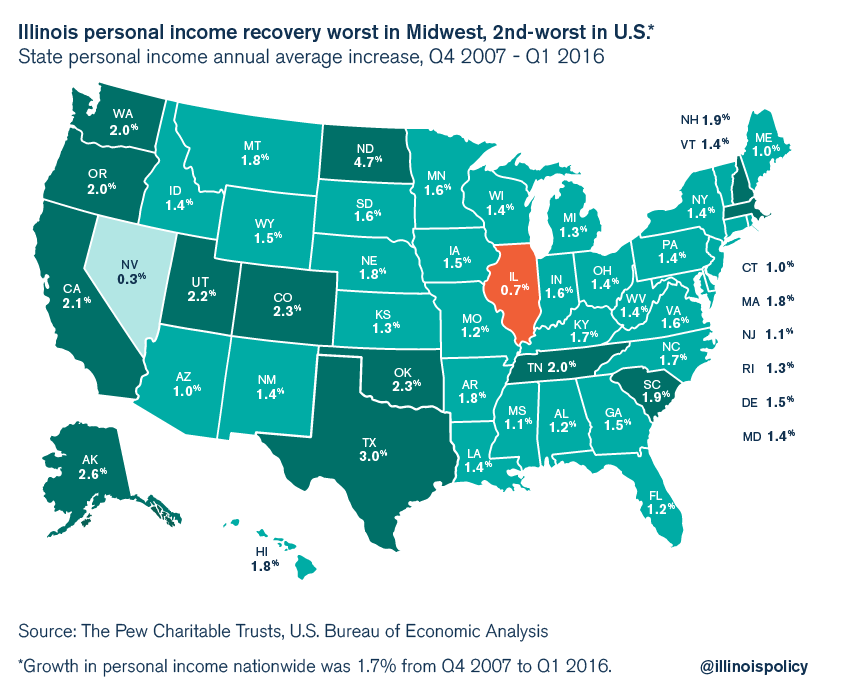 Illinois political leaders across party lines should agree weak economic growth is a major problem when it comes to budget-making, and policy strategies need to be devised to enhance growth and business investment in the state. A rising tide lifts all boats when it comes to economic growth, and it makes it easier to balance the budget.
Political leaders should embrace a three-pronged policy strategy for more economic growth:
Spending reforms such as ending mandatory collective bargaining to cap Illinois' growing tax burden
Tax reform to eliminate taxes such as the death tax and franchise tax that cost Illinois more in lost economic growth than they are worth
Regulatory reform for items like workers' compensation and licensing to make job creation easier in Illinois
In Illinois, the tide of economic growth is ebbing, and political leaders are doing little to encourage the investment and entrepreneurship that alone can arrest the outflow of workers from Illinois. Ironically, political leaders are preventing the very economic growth necessary for all the spending they want to do. Encouraging economic growth is a winning strategy, and in fact, the only strategy if Illinois is ever to fulfill its spending promises.